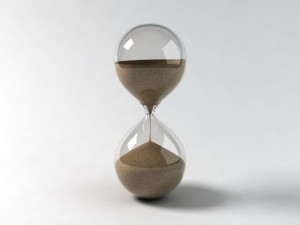 Czas jest względny, jednak zwykle nie zdajemy sobie sprawy jak bardzo. Wyjątkowo prosty eksperyment – spróbuj pokazać rękoma, gdzie znajduje się Twoja przeszłość i przyszłość. Mówię poważnie – wymaga to pewnego wysiłku, bo zadanie wydaje się wysoce abstrakcyjne, ale dużo o Tobie powie. Już wiesz gdzie? To teraz trochę psychologicznej interpretacji.
Istnieje kilka prawdopodobnych odpowiedzi. Każda z nich wiąże się z inną postawą nie tylko wobec samego czasu, ale także wobec otaczającego Cię świata.
Czas zachodni
Jeśli Twoja osobowość jest zakorzeniona głęboko w kulturze Europy zachodniej, wskazałeś przeszłość po lewej, teraźniejszość na wprost, a przyszłość po swojej prawej stronie. Widzisz czas jak na dłoni, umiesz nim gospodarować. Zapewne – nieświadomie – czas nie jest dla Ciebie ciągły, choć tak zwykłeś uważać z naukowego punktu widzenia. Prawdopodobnie postrzegasz go jako zlepek krótszych odcinków – dni, godzin, minut. Ponieważ, gdy wyobrażałeś sobie czas, dostrzegłeś go całego przed sobą, umiesz się po nim przesuwać w myślach. Dobrze lokujesz w nim przeszłe wydarzenia – wiesz, kiedy co nastąpiło i jesteś w stanie łatwo wrócić do tego momentu myślami. Jednocześnie potrafisz zaplanować przyszłość, by poszczególne wydarzenia nie nachodziły na siebie w czasie i by nie było niepotrzebnych luk. Ma to duże przełożenie na życie – generalnie nie spóźniasz się i nie lubisz, kiedy inni to robią. Dobrze odnajdujesz się w pracy wymagającej harmonogramu. Gdy ktoś Ci przerwie wypowiedź, zaczynasz od początku, a nie od faktycznej przerwy. Być może masz też pewne aspekty charakteru obsesyjno-kompulsywnego. Kosztem jest gorsza umiejętność poddawania się byciu tu i teraz, doświadczania chwili. Być może nie potrafisz do końca zapomnieć o pracy, o obowiązkach i oddać się radości i relaksowi. Podobnie z innymi emocjami – może i mniej przyjemnymi, ale niemniej ważnymi. Osoby tak żyjące wyznają zasadę "czas to pieniądz", więc nieustannie się spieszą, tracąc kontakt z sobą i swoim ciałem. Konsekwencją mogą być choroby wrzodowe i nadciśnienie – najczęstsze problemy ludzi biznesu.
Można by zadać pytanie – dlaczego przeszłość lokowana jest po lewej, a przyszłość po prawej stronie. Dlaczego nie na odwrót? A może to kwestia naszej lewo bądź praworęczności? Okazuje się, że nie. To stabilne przekonanie w naszej kulturze. Sięga jej źródeł. Od wieków słońce wskazywało ludziom porządek świata. Na naszej półkuli jego pozorny ruch następuje z lewa do prawa. To naturalne spostrzeżenie przekłada się niewidzialnie na nasze myślenie. Dlatego też "prawo" – poza kierunkiem – oznacza też coś słusznego, naturalny przykaz. A magiczne zaklęcia, z zasady przeczące naturze, robione są po lewej stronie – "splunąć przez lewe ramię". Tym samym przeszłość (wschód słońca – narodziny i dzieciństwo) widzimy po lewej, a jego zachód (zachód – starość i śmierć) po prawej stronie.
Czas wschodni
Być może wyobraziłeś sobie czas jako drogę – przeszłość za sobą, a przyszłość przed. Bardziej więc liczy się dla Ciebie chwila i doświadczanie siebie, niż ramy świata zewnętrznego. Wiąże się to z tym, że tak obrazując czas, ogniskujesz teraźniejszość na sobie – jesteś między przeszłością, a przyszłością i patrząc do przodu widzisz tylko najbliższą przyszłość. Prawdopodobnie zatem zdarza Ci się spóźniać i nie robisz z tego powodu problemów – w końcu na innych też możesz zaczekać. Pewnie też nie za bardzo umiesz gospodarować czasem i Twoje plany nie zawsze są dobrze oszacowane – czasem zbyt optymistycznie zakładasz, że coś zajmie Ci mniej czasu niż w rzeczywistości zajmuje. Masz za to dobry kontakt z sobą, ze swoimi uczuciami. Przeżywasz głęboko tu i teraz. Nie przywiązujesz też pewnie takiej wagi do porządku i skrupulatności. Bliższe Ci jest powiedzenie "co masz zrobić dzisiaj, zrób jutro", niż odhaczanie kolejnych zadań w planie dnia. Przy czym "jutro" wcale nie znaczy "kolejnego dnia", tylko "kiedyś". Podobnie Twoje "za chwilę" może oznaczać dowolnie długi, pasujący Ci odcinek czasu. Może to powodować pewne komplikacje w pracy, która wymaga punktualności. Produktywność też nie jest dominująca u osób z tą reprezentacją czasu – chyba, że pracują twórczo na własny rachunek.
Jest to sposób postrzegania czasu charakterystyczny dla ludzi wschodu – wschodu Europy (Rosjan i częściowo Polaków), ale też krajów islamu, Indii czy Dalekiego Wschodu. Występuje też w Afryce – nazywany "czasem afrykańskim". Szczególnie wyraźnie widać go w niespiesznym podejściu do życia. W opowieściach Budda zwykł przeczekiwać problemy. Sama medytacja jest też koncentracją na sobie i pewnego rodzaju roztapianiem czasu. W krajach islamu na pytanie "kiedy?" dostajemy albo jakąś enigmatyczną odpowiedź albo tradycyjne "Inshallah", czyli "jak Bóg da". Rosjanin też zwykle koncentruje się na chwili obecnej i jest spontaniczny – co przyczynia się do plagi alkoholizmu. W tych kulturach spieszenie się jest mało zrozumiałe – przynajmniej o tyle, o ile nie zastąpiły je wzorce zachodnie, związane z biznesem (czy ogólniej mówiąc przemysłem) wymagającym sztywnych terminów. Czas wschodni wiąże się z niższą produktywnością, ale mniejszą liczbą chorób wrzodowych czy zawałów serca. Życie jest drogą, więc nie chodzi o wyścigi, ale o rozwój i/lub niespieszne doświadczanie życia.
Czas północny
Istnieje także możliwość, że pokazałeś czas bardziej "egocentrycznie". Być może mając na myśli "przeszłość" wskazałeś ręką na siebie, a przyszłość ulokowałeś dookoła, w otoczeniu. W tym przypadku uważasz się za swoją własną przeszłość, wynik tego, co się zdarzyło. Jest to podejście dość introwertyczne – doświadczenie jest kierowane do wewnątrz. Może to pociągać za sobą tendencję do obwiniania się – przeszłość się magazynuje w Tobie, więc także Twoje błędy, od których nie ma ucieczki. Koncentrowanie na sobie może Cię stawiać niejako w roli biernego odbiorcy świata, który utożsamiasz ze swoją przyszłością. Osoby tak widzące czas mogą mieć tendencję do zewnętrznego poczucia kontroli, czyli umiejscawiania przyczyn wydarzeń po stronie otoczenia, jednocześnie minimalizując swój wpływ na bieg zdarzeń.
Takie widzenia świata jest szczególnie częste u ludzi północy – np. Skandynawów. Prawdopodobnie związane jest z klimatem – zimno i panująca zimą ciemność nie sprzyjają rozwojowi ekstrawersji. Między ludźmi zauważalny jest też stosunkowo duży dystans. Wiąże się to również z gęstością zaludnienia – mała populacja zamieszkująca dużą powierzchnię socjalizuje się w mniejszym stopniu. Szwed jest zwykle mniej otwarty i ekspresyjny niż południowiec. Także dystans fizyczny (odległość od rozmówcy), jaki przyjmuje w rozmowie, zwykle jest nieco większy, zwłaszcza jeśli porównywać do – na przykład – Włochów, chwytających się nawzajem za ręce (co jest sygnałem, że druga osoba chce zabrać głos). Takie postrzeganie czasu predysponuje do przeżywania stanów depresyjnych. Zapewne nie jest przypadkiem, że Skandynawia ma najwyższe wskaźniki samobójstw.
Czas południowy
Być może wskazałeś odwrotnie. Sam siebie widzisz jako swoją przyszłość, a otoczenie jako przeszłość. Wtedy masz zapewne tendencję do wewnętrznego poczucia kontroli – jesteś bardziej skłonny upatrywać przyczyn zdarzeń w swoich cechach i działaniach, niż w otoczeniu. Czujesz się panem swojego losu, wierzysz, że przede wszystkim od Ciebie tak naprawdę zależy Twoja przyszłość. Takie spostrzeganie czasu sprzyja ekstrawersji – prawdopodobnie jesteś towarzyski, otwarty, gadatliwy albo nawet beztroski czy niefrasobliwy. Czasem pewnie też przeceniasz swoje możliwości, a zdarzające się porażki przyjmujesz z trudem.
Takie umiejscowienie czasu cechuje południowców – np. Włochów czy mieszkańców Bałkanów. Osoby tego typu nastawione są na radość życia, zabawę, bywają kochliwe i porywcze. Wydaje się, że czas południowy jest bliższy wschodniemu – tyle, że bardziej "egocentryczny". Być może jest po prostu jego indywidualistyczną wersją, w odróżnieniu od kolektywistycznej wersji powstałej w kulturze wschodniej.
Czas polski
W kraju w stanie transformacji kulturowej, jakim jest Polska, czas wschodni i zachodni ulegają szczególnemu przemieszaniu. Starsze pokolenie bardziej trzyma się wciąż czasu wschodniego, młodsze – rozpychające się coraz skuteczniej w kapitalistycznej rzeczywistości – przerzuciło się już zazwyczaj na zachodni. Można przypuszczać też, że różnice zależą także od regionów naszego kraju. Zachód – głównie Wielkopolska – przez ponad sto lat pozostawał pod wpływami mentalności niemieckiej (pruski dryl, ciekawe z psychoanalitycznego punktu widzenia powiedzonka typu "Gówno na stole, ale porządek musi być"). Naturalnie szczególnie blisko tej części kraju do czasu zachodniego. Tymczasem wschód Polski zawsze cechowała "ułańska fantazja", "zastaw się, a postaw się", czyli czasowe "tu i teraz". Ostatecznie geograficzne strefy czasowe, wcale nie muszą pokrywać się z kulturowymi.