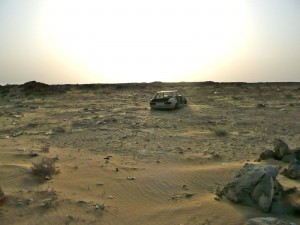 Szarawy pył unosi się w powietrzu przesłaniając słońce. Mdła poświata z lekka tylko oświetla kontury porozrzucanych po okolicy, częściowo wypalonych samochodów. Ich ogołocone wraki stoją chaotycznie pośród zwietrzałych, szarych skał obsypanych brudnym piaskiem. Wszędzie walają się śmieci i oderwane resztki pechowych aut. Nasz samochód samotnie lawiruje pośród nich, szukając przejazdu i omijając dziury. Świadomość, że skok w bok może się okazać skokiem w górę, powoduje osobliwą ekscytację. W końcu niecodziennie przejeżdża się przez pole minowe. Jak na ironię, nie jest to sceneria z ogarniętego wojną Afganistanu, tylko jedyne dostępne przejście graniczne między Mauretanią a pozostającą pod kontrolną Maroka Saharą Zachodnią. Zaminowana granica, przez którą trzeba się przedrzeć, to apokaliptycznie wyglądający trzykilometrowy, pozbawiony oznakowanych dróg odcinek pustyni. Stanowi on pas ziemi niczyjej, rozpięty między posterunkiem granicznym Mauretanii, a obwarowaną bazą wojsk marokańskich.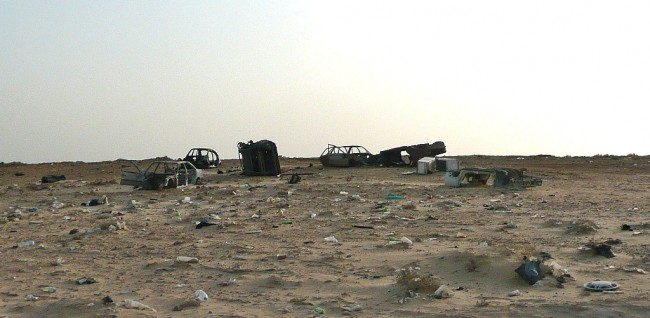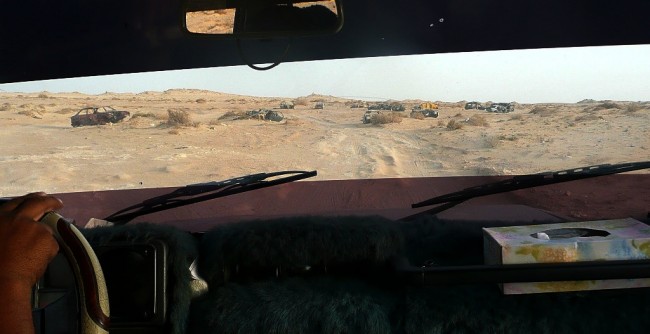 Dobrze oddaje to sytuację tego jałowego zakątka pustyni. Jeszcze w latach siedemdziesiątych był on częścią upadającego imperium kolonialnego Hiszpanii, znaną światu jako Sahara Hiszpańska. Być może sytuacja ta trwałaby do dzisiaj, gdyby nie Front Polisario. Ta narodowowyzwoleńcza organizacja mieszkańców tego regionu zaczęła zbrojnie nękać kolonizatorów. Pod jej presją Hiszpanie postanowili przeprowadzić referendum wśród miejscowej ludności na temat nieodległości regionu. Niestety nie zdążyli, ponieważ z niepewnej sytuacji skorzystało sąsiednie Maroko. Zorganizowało ono dość specyficzną formę przejęcia kraju, zwaną dzisiaj Zielonym Marszem. Była to demonstracja, polegająca na wysłaniu ogromnego pochodu ludności cywilnej (300 tys.), który po prostu wszedł sobie na teren kolonii i już się stamtąd nie ruszył. Tym samym Maroko postawiło Europejczyków przed faktem dokonanym. Cała akcja była czymś w stylu współczesnej "krucjaty ludowej", która wyruszyła w średniowieczu aby zająć Jerozolimę. Oczywiście z tą różnicą, że o ile w dawnych czasach nikt nie miał moralnych skrupułów, by wybić taką arogancką tłuszczę, to Hiszpanii nie wypadało walczyć z nieuzbrojonym tłumem i się po prostu wycofała.
Niestety nie zakończyło to problemów tej krainy. Z południa nadeszło wojsko Mauretanii, również zgłaszając pretensje terytorialne do Sahary Hiszpańskiej. Sytuacja lokalnych plemion stała się jeszcze gorsza niż za czasów europejskiej okupacji. Żyjąc w bardzo trudnych warunkach, pośród jałowej pustyni, nie mogli wystawić dużej armii, a ich jedyną przewagą była znajomość terenu i determinacja. Sahrawi, rodowici mieszkańcy tych terenów, przypominali Fremenów z powieści Herberta. Analogia ta jest jednak głębsza. O ile na książkową pustynną Arrakis przyciągały okupantów złoża melanżu, to Sahara Zachodnia kusi swoimi skarbami. Są nimi bogate złoża fosforytów, minerałów służących do produkcji nawozów sztucznych. Gdyby nie ten "dar", chęć okupacji kawałka skrajnie jałowej pustyni byłaby zapewne dużo mniejsza.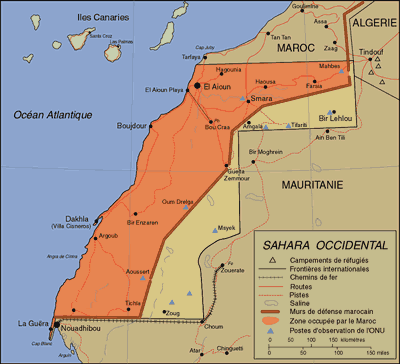 Frontowi Polisario udało się nawet zmusić do odwrotu mauretańską armię. Ostatecznie okopała się ona po swojej stronie granicy, po czym… kompleksowo zaminowała. Miała ku temu dobre powody, bo zaraz koło granicy ciągnie się jedyna w Mauretanii linia kolejowa. To arteria kluczowa dla istnienia tego państwa z tego prostego powodu, że łączy kopalnie położone w głębi Sahary z portem przeładunkowym na wybrzeżu. Tak więc w obawie przez kolejnymi sabotażami transportów rudy żelaza podejmowanymi przez Front, kraj ten osłonił swoje miękkie podbrzusze minami.
Nie był to jednak pełen sukces Sahrawi, bo na tereny opuszczone przez Mauretańczyków weszła bardziej zdeterminowana armia marokańska. Wojna partyzancka toczyła się dalej. Ostatecznie do sprawy włączyło się ONZ, proponując przeprowadzenie referendum. I na tym kwestia utknęła, ponieważ daty tego referendum przez wiele lat nie udało się ustalić. I zapewne nigdy się nie uda, ponieważ Maroko nie po to zajmowało te ziemie by je potem oddawać. Kraj ten dalej kontynuuje swoją politykę stawiania świata w obliczu spraw dokonanych i odwleka głosowanie, mówiąc, że zgodzi się na nie, tylko o ile będą mogli w nim wziąć udział nowi mieszkańcy, którzy przyszli na te tereny wraz z Zielonym Marszem. To tak jakby zająć jakiś kraj i powiedzieć, że będziemy głosować nad jego przyszłością, tylko o ile podliczymy głosy okupującej go ludności.
Obecnie sprawy utknęły w martwym punkcie, a teren Sahary Zachodniej podzielony jest między Maroko, a Front Polistario. Różnica jest jednak wielka – o ile Sahrawi dalej żyją w swoich lichych oazach, o tyle Maroko buduje coraz to nowe linie wałów i umocnień, raz za razem odcinając dla siebie kolejne kawałki cennej pustyni.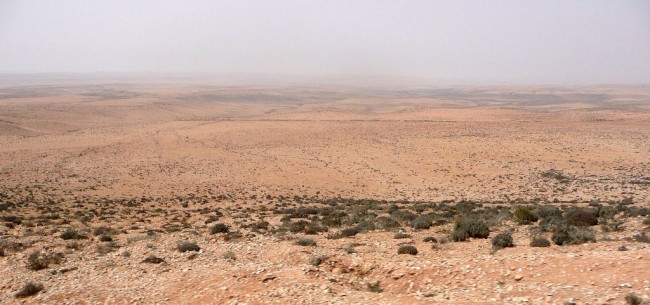 Dla postronnego turysty ma to jednak swoje plusy. Teren wzdłuż wybrzeża stał się znowu bezpieczny. O wciąż niepewnej sytuacji przypominają jedynie bardzo częste posterunki i kontrole policyjne. Co by nie mówić Maroko zna siłę PR-u. Świadomie zachęca zachodnich turystów do odwiedzania tego obszaru, chcąc przestawić go zachodniemu światu jako miejsce gościnne i bezpieczne. A przede wszystkim rdzennie marokańskie – wszystkie mapy Maroka jednoznacznie zaliczają Saharę Zachodnią w zakres terytorium państwa marokańskiego, pod nazwą Prowincja Południowa. Także nastawienie policjantów jest tu bardzo przyjazne. Co więcej, mundurowi potrafią porozumiewać się z turystami po angielsku, co w centralnym Maroku nie jest codziennością. Jedyny problem polega na tym, że praktycznie nie ma czego tu zwiedzać. Zabytek to na Saharze Zachodniej pojęcie czysto abstrakcyjne, a miasta są nowe lub wręcz w trakcie budowy. To także jest efektem polityki Maroka. Zaczęło ono inwestować duże sumy pieniędzy w lokalną infrastrukturę. Powstała licząca grubo ponad tysiąc kilometrów asfaltowa trasa wzdłuż wybrzeża, a przy niej smętne mieściny, rozsiane co… kilkaset kilometrów.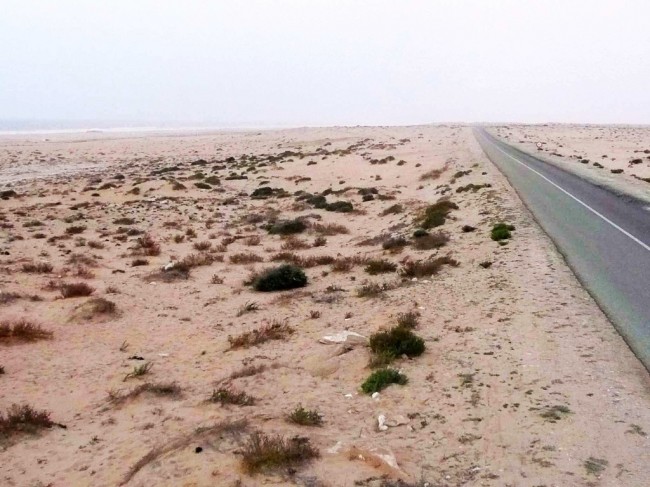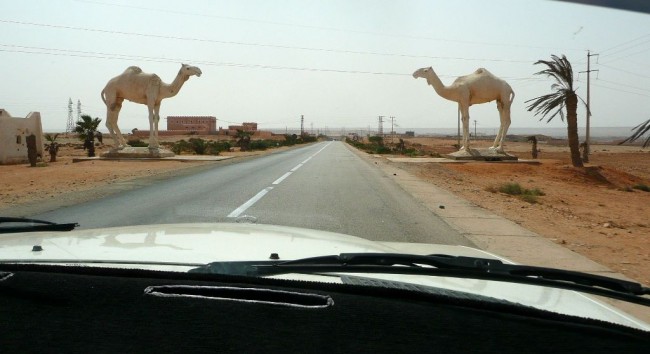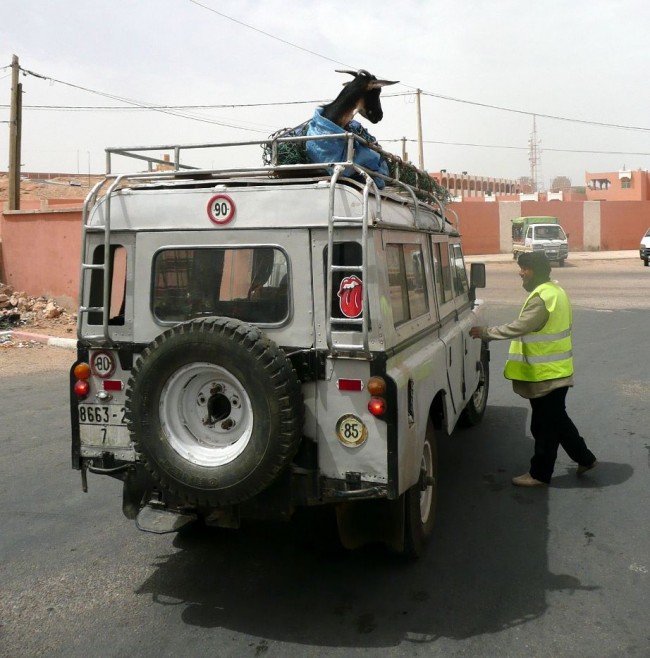 Jazda przez Saharę Zachodnią jest strasznie męczącym przeżyciem. Kilometry mijają powoli, a droga ginie gdzieś za mdłym horyzontem. Podróż płynie samotnie, bo ruchu na drodze praktycznie nie ma. Czasem przejedzie jakiś stary mercedes w roli międzymiastowej taksówki zbiorowej lub pamiętający czasy kolonialne Land Rover Defender. Kilka razy na dobę mignie też autobus, który stanowi jedyne realne połączenie oddalonych miast ze światem – przejazd z odległej Dakhli do Marakeszu to prawie dwie doby nieustannej jazdy.
Czasem można natknąć się na bardzo samotną stację benzynową. To kilka budynków wyłaniających się z brudnej pustyni, które pełnią rolę dawnych karawanserajów, czyli miejsc postoju dla wędrowców. Kiedy były to wielbłądzie karawany, które dziś zastąpiły samotne samochody i jeszcze rzadsze autobusy. Pasażerowie zmęczeni wielogodzinną jazdą zatrzymują się na nich aby zatankować, zjeść, a nawet… pomodlić się, ponieważ z braku miast na większych stacjach buduje się też "firmowe" meczety.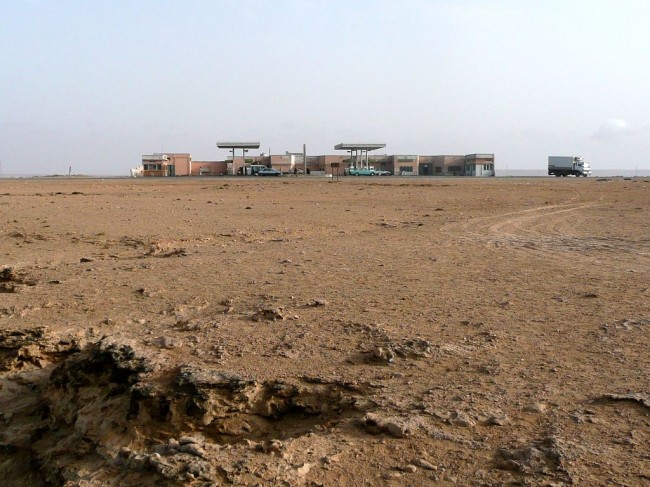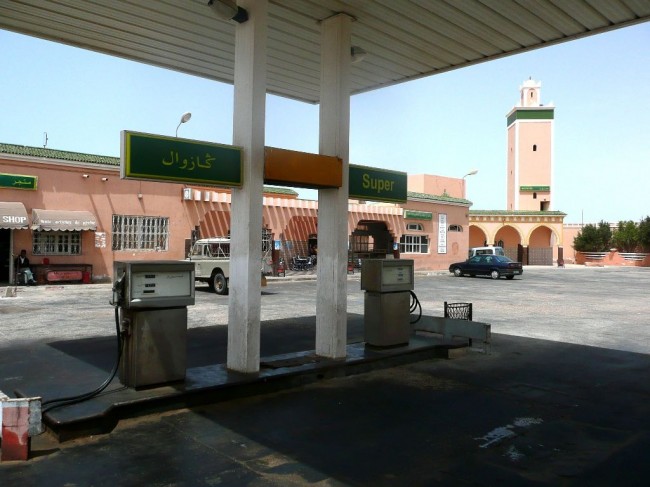 Także przyroda nie zachęca do odwiedzenia tego regionu. Monotonnie płaska, szara pustynia, wpada w morze urwistymi klifami ze zwietrzałej skały. Ocean jest wzburzony, a plaże nieprzystępnie skaliste. Trudno byłoby rozwijać tu turystykę z prawdziwego zdarzenia. Także pogoda jest dość zaskakująca – wbrew pierwszym skojarzeniom nawet w środku lata bywa tu chłodno i wietrznie.
Duże miasta regionu nie wybijają się ponad marokański standard. Trochę kilkupiętrowych domków, gdzieniegdzie jakiś meczet, małe sklepiki i kafejki plus nieco slumsów na przedmieściach. To i tak dużo w porównaniu z życiem na pustyni, gdzie za dom może służyć namiot, a za źródło utrzymania – łowienie ryb w oceanie.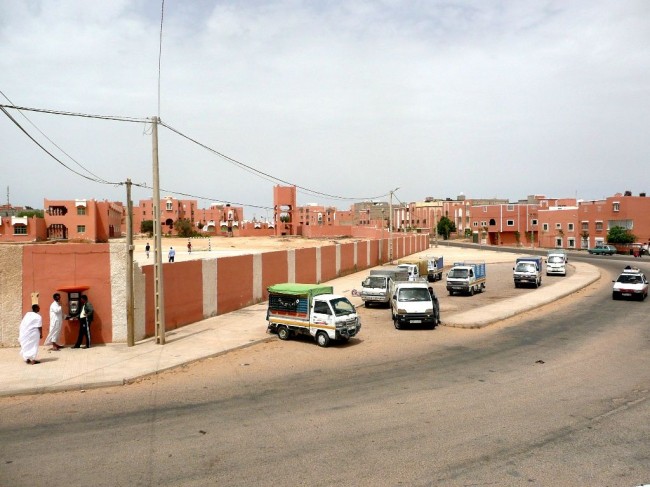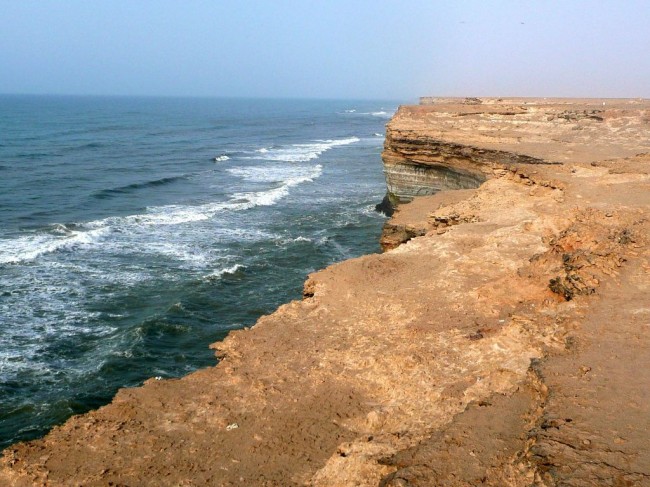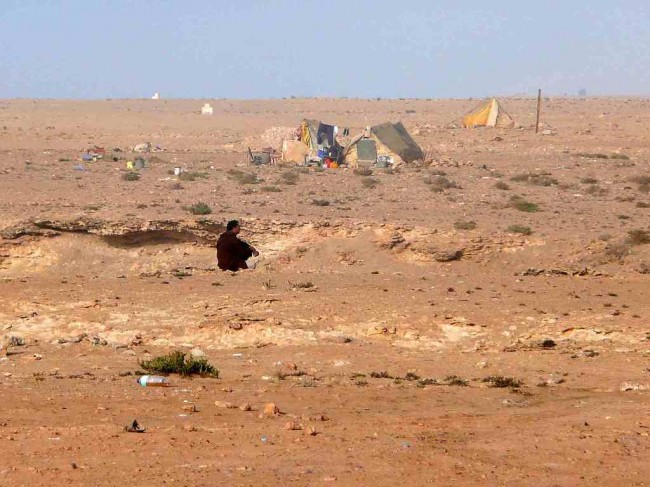 Przejechanie całego obszaru Sahary Zachodniej to co najmniej dwie doby nieustannej, męczącej jazdy, która wraz z przekroczeniem granicznego pola minowego miała się dopiero rozkręcić… w coś dużo bardziej męczącego. Ale o tym opowiem już w jednym z kolejnych wpisów.