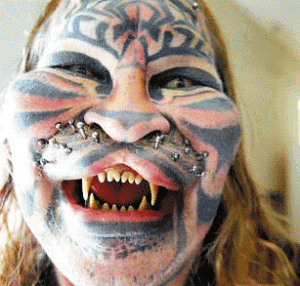 Kto jest dziś zdrowy psychicznie? Na to pytanie bardzo trudno znaleźć jednoznaczną odpowiedź, bo to, co jednym wydaje się zupełnie normalne, dla innych jest wciąż istotną patologią. Dodatkowo żyjemy w czasach niezwykle poprawnych politycznie i ludzie stają się coraz mniej "zaburzeni", a coraz bardziej "inni". Poza tym kryterium zaburzenia zdryfowało ostatnio w kierunku poczucia komfortu. Zgodnie z nim zdrowe jest wszystko to, co prowadzi do przyjemności. Zatem z katalogu zaburzeń należy wykreślić też przysłowiowe w pewnych kręgach "sranie do ryja". Oczywiście o ile nie powoduje zaburzeń gastrycznych.
Jak wyznaczyć granicę między tym, co jest zdrowe, a tym, co już nie? Obiektywnie nie da się tego zrobić. Można próbować odwołać się do statystyki. Wtedy dobre i pożądane staje się wszystko, co cechuje statystycznego Kowalskiego. W powyższym modelu to przeciętne nasilenie wszelkich cech jest ideałem zdrowia, który odnosi się tylko do danej grupy ludzi. Ma to swoje podstawy, bo w końcu trudno zakładać, że da się wypracować jakiś uniwersalny model psychiki, typowy zarówno dla Europejczyka jak i półdzikiego mieszkańca Nowej Gwinei. Jednak jeśli przyjąć perspektywę średniej populacyjnej, okazałoby się, że modelem zdrowia jest człowiek: autorytarny  (bezrefleksyjny konformista), o agresywnej postawie oraz narcystycznym poczuciu własnej wyższości. Wystarczy, żeby za punkt odniesienia przyjąć społeczeństwo Trzeciej Rzeczy – ludzi masowo wierzących w siłę, zemstę, ekspansję, bezgraniczne podporządkowanie przełożonym oraz wyższość własnej rasy i nacji. Nie da się zbudować sensownego modelu zdrowia psychicznego w oparciu o statystykę, ponieważ pojęcie normalności całkowicie zatraciłoby sens, gdyby mieściła się w nim postawa typowa dla nazistów. Pozostaje więc przyjąć, że zaburzone mogą być także całe narody, a wzoru zdrowia psychicznego trzeba szukać gdzie indziej.
Tu jednak dochodzimy do ważnego problemu – jakie cechy powinny występować u takiej zdrowej osoby? Trzeba w tym miejscu odwołać się do pewnych wartości, które uznamy za naturalne lub docelowe dla każdego człowieka. Niestety, wszystko zależy w tym momencie od teorii, za którą pójdziemy.
Najpopularniejszy obecnie model medyczny definiuje zdrowie jako… brak choroby. Podejście psychiatryczne jest więc dość proste. Aby stwierdzić, że ktoś cierpi na daną przypadłość, należy znaleźć u niego np. 4 z 7 ustalonych odgórnie cech. Kryteria zaburzeń są wypisane autorytatywnie przez specjalistów, a diagnosta musi jedynie sprawdzić, czy dane podpunkty występują, czy też nie. Tak więc to, co jest zdrowe, definiuje grupa lekarzy i/lub psychologów, najczęściej w głosowaniu. Czy jest to model gwarantujący obiektywność? Teoretycznie nie ma podstaw, żeby wątpić w fachowość specjalistów oceniających sytuację. Warto jednak zdać sobie sprawę, że grupa niemieckich psychiatrów budująca taką listę w czasach Trzeciej Rzeszy mogłaby wydać zupełnie inne wytyczne diagnostyczne niż ich amerykańscy koledzy. Co prawda nie żyjemy już w świecie rządów autorytarnych, jednak także w naszych czasach przegłosowano kilka niejednoznacznych kwestii. Z listy zaburzeń wyrzucono np. masochizm, ponieważ… szkodziłoby to gospodarce, której potrzebne są jednostki ofiarne. A także stygmatyzowałby ofiary przemocy domowej jako współodpowiedzialne na nią, bo wychodziłoby, że nieświadomie dążą do osób, które je krzywdzą. Problem w tym, że tak właśnie jest, a osobowość masochistyczna (samoniszcząca) przestała figurować jako zaburzenie nie z uwagi na wyniki badań medyczno-psychologicznych, ale wskutek nacisków środowiska feministycznego. Takie wyjaśnienie zakulisowych motywacji wykreślenia tej jednostki podaje m.in. psychoterapeuta dr Stephen Johnson.
Podobne rozgrywki toczyły się w czasach, w których rehabilitowano homoseksualizm. Do dziś przez psychoanalizę jest on uznawany za zaburzenie, choć relatywnie nieszkodliwe i nie zawsze wymagające leczenia. Jednak do 1973 homoseksualizm figurował oficjalnie na międzynarodowej liście zaburzeń DSM. Został wykreślony większością 2/3 głosów (więc trudno mówić o jednomyślności) w dość niejednoznacznej atmosferze. Zbliżały się właśnie wybory, a partia demokratyczna bardzo liczyła na głosy mniejszości gejowskiej. Co prawda w Amerykańskim Towarzystwie Psychiatrycznym zasiadają osoby spoza polityki, ale powszechnie wiadomym było, że granty na badania przyznają organy państwowe, zależne od aktualnej władzy. Zapewne miało to wpływ na wynik głosowania, o czym pisał m.in. prof. Kazimierz Pospiszyl.
Pewnego zamieszania w diagnostyce narobiła też genetyka. Wraz z rozszyfrowaniem ludzkiego genomu zaczęły się dociekania, który gen na co wpływa. Niestety, nie są to zwykle układy zero-jedynkowe, czyli mówiące, że jeśli wystąpi dana sekwencja genów, to ktoś doświadczy takiej choroby czy zaburzenia. To raczej relacje prawdopodobieństwa mówiące o tym, że statystycznie więcej osób, u których stwierdzono dany gen, wykazuje konkretną cechę. Jednak tak naprawdę nie jest to żadne ostateczne wyjaśnienie. Dla przykładu, badania korelacyjne pokazują niezmiennie, że najwięcej osób chorych na schizofrenię urodziło się w lutym i marcu. Ale jakoś nikogo poważnego nie zadowala kalendarzowe wyjaśnienie powstawania tej choroby. Jeśli nawet schizofrenia wiąże się w pewnym stopniu z częstością zachorowania na grypę wśród matek w ciąży (tak próbuje się wyjaśniać ten fenomen), nikt spod znaku Wodnika czy Ryb nie jest na schizofrenię skazany. Bezpośrednich źródeł tej choroby należy więc szukać gdzie indziej.
Cały urok podejścia opartego na genach polega na jego poprawności politycznej. Za taką a nie inną konfigurację genów nikt nie jest przecież odpowiedzialny. Ani sam diagnozowany, ani jego rodzice czy opiekunowie. Ktoś taki jest, bo takie geny mu się "wylosowały". To bardzo wygodne podejście, ponieważ zdejmuje odpowiedzialność i z samego pacjenta i jego bezpośredniego otoczenia. Jednak ten kij ma dwa końce. Co raz zostało dane, nie może już zostać zmienione. Zatem osoby, które przyjmą, że ich problemy zostały zakodowane w genach, tracą motywację, aby się zmieniać. Wyzdrowienie wydaje się niemożliwe, więc nie warto się wysilać. A inni muszą nas zaakceptować w całości, bo w końcu nic za siebie nie możemy. A co, jeśli terapia była możliwa, wystarczyło tylko przyjąć inną genezę problemu?
Bardzo bliskie genetycznemu jest też podejście biologiczne. Na przykład osoby cierpiące na problemy zwane osobowością "bordeline" mają zauważalnie mniejsze ciałko migdałowate. Zdaniem zwolenników podejścia biologicznego jest to ostateczne rozwiązanie zagadki pochodzenia tego zaburzenia – zmiany w mózgu, zapewne genetycznego pochodzenia. Jednak trzeba sobie uzmysłowić, że mózg człowieka kształtuje się wraz z wiekiem. Deficyty pewnych doznań emocjonalnych w dzieciństwie lub wystąpienie jakichś innych, negatywnych doświadczeń, mają wpływ na rozwój tego organu. Tak więc rola wczesnych doświadczeń wcale się z obserwacjami biologicznymi nie wyklucza. Niemniej braki w mózgu brzmią jak wyrok. Jeśli ktoś czegoś nie ma, to raczej mu już nie odrośnie. Na szczęście to także ślepa uliczka myślenia o tego typu zaburzeniach. Sama neurobiologia opisuje, jak zadziwiającym urządzeniem jest mózg. Ludzie, którzy w wyniku pewnych dramatycznych wypadków tracili jego istotne części, często z czasem odzyskiwali utracone umiejętności. Mózg potrafi się adaptować i funkcje jednych obszarów potrafią być zastępowane przez inne. Tym samym zmniejszona objętość ciałka migdałowatego nie jest wyrokiem, co tłumaczy m.in. właśnie udane terapie zaburzeń typu borderline.
Ciekawie dryfuje także podejście do zaburzeń w sferze seksuologii. Obecnie dominuje pogląd, że zdrowe jest wszystko to, co przyjemne i niekrzywdzące dla innych. Tym samym do kanonu pożądanych zachowań seksualnych weszły skłonności, w których kiedyś widziano przejawy jednoznacznych zaburzeń psychicznych. Podobnie zrelatywizowało się podejście do samego pacjenta i teraz to on sam wie najlepiej, co jest dla niego dobre. Jest to dość znamienne, choćby w przypadku operacji zmiany płci. Jeśli ktoś jest przekonany, że urodził się w nie swoim ciele, może bez przeszkód (choć odpłatnie) skorzystać z modyfikacji chirurgicznych i hormonalnych, a ewentualne próby skorygowania jego myślenia byłyby uznane za przejaw uprzedzeń. Niemniej – jak wciąż po cichu argumentuje grupa sceptycznie ustosunkowanych psychiatrów – "kiedy ktoś jest przekonany o tym, że jest łabędziem, nie wydłużamy mu szyi." Choć nieraz bywa, że sam sobie "wydłuży", czego dowodzą dość słynne przykłady człowieka-kota czy człowieka-jaszczurki. Gdyby traktować wszystkie problemy tożsamościowe jedną miarą, należałoby albo fundować operacje modyfikacji ciała wszystkim zainteresowanym, albo zrezygnować z wyróżniania zaburzeń tożsamości płciowej.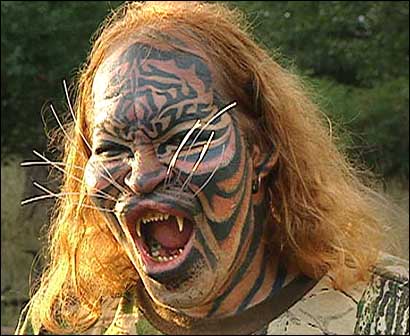 Profesor Andrzej Kokoszka (nota bene kierownik II Kliniki Psychiatrycznej Warszawskiego Uniwersytetu Medycznego), który z pewną obawą wygłaszał na wykładzie wspomniane poglądy, przytoczył też dość znamienny przypadek z własnej praktyki w tym zakresie. Pewna kobieta uparcie chciała stać się mężczyzną. Nie zawahała się wcale, kiedy dowiedziała się o seksualnych mankamentach zabiegu zmiany płci. Pacjentce nie przeszkadzało to, że choć z jej warg sromowych zostałby uformowany penis, nigdy nie doznałaby erekcji ani orgazmu. Zrezygnowała jednak, kiedy usłyszała, że nie będzie mogła… sikać na stojąco. Panu profesorowi dało do myślenia to, że dla owej kobiety skarżącej się na nieadekwatną tożsamość płciową, nie liczyło się nabycie zewnętrznego podobieństwa do mężczyzny ani też spełnianie męskiej roli seksualnej. Dla niej kluczowe było uzyskanie pewnej konkretnej i obiektywnie mało istotnej cechy. Pozostaje więc pytanie, czy gdyby operacja pozwalała jej oddawać mocz w pozycji typowej dla mężczyzn, rozwiązałoby to problem jej tożsamości? Być może faktycznie zmiana płci uczyniłaby ją osobą szczęśliwszą, tak jak i jako szczęśliwego ze swoją metamorfozą opisuje się człowiek-kot. Pytanie tylko, czy na pewno jest to sensowna droga na skróty wobec prawdziwej (psycho)terapii.
Poprawność polityczna w nauce jest mieczem obosiecznym. Zdejmując ciężar z matek i ojców pacjentów cierpiących na zaburzenia psychiczne, w jakiś sposób zmniejsza ilość psychicznego cierpienia u rodziców. Jednocześnie takie postawienie sprawy daje też sensowną wymówkę samemu pokrzywdzonemu – skoro i tak jestem zdrowy, tylko "inaczej", to nie możecie się mnie czepiać i oczekiwać poprawy. Tym samym nowoczesne podejście zamyka drogę do zmiany i odbiera szansę, która – zdaniem wielu – istnieje. Sporu między zwolennikami twardej psychiatrii i psychologii (wyjaśnienia genetyczne i biologiczne) a miękkiej (kierunki psychodynamiczne i humanistyczne) nie da się rozsądzić w jednoznaczny sposób. Ci pierwsi zawsze znajdą argumenty przemawiające za tezą, że dane problemy są wdrukowane na stałe i jedyne, co można zrobić, to nauczyć się z nimi żyć lub uporczywie tłumić lekami psychotropowymi. Drudzy znajdą przypadki ludzi, którym udało się skutecznie pomóc i wyciągnąć ze stanów, jakie ci pierwsi uznaliby za przesądzone. Wybór, w którym kierunku nastawić uszy, zależy jednak od samego pacjenta. Grunt żeby żaden pogląd nie był zagłuszany, nawet jeśli aktualnie popadł w społeczną niełaskę..