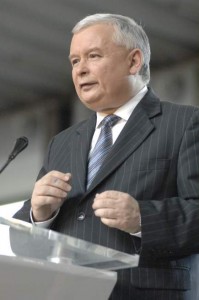 W tym tygodniu mija szeroko komentowana "półrocznica" tragedii smoleńskiej. To dobry moment, żeby się przez chwilę zastanowić, jakie długoterminowe skutki miało dla nas to wydarzenie. Oczywiście z punktu widzenia ludzkiej psychiki.
O pewnych fundamentalnych aspektach pisałem już w tekście "Katastrofalna projekcja". Z jednej strony medialna egzaltacja poczucia straty pomogła nam choć na chwilę poczuć się społecznie uduchowionymi. Dostaliśmy skoncentrowaną dawkę wrażenia wspólnoty i jedności. Z drugiej strony powstał olbrzymi ekran projekcji, dzięki któremu każdy mógł przypisać zewnętrznej sytuacji swoje własne skrywane uczucia. Ludzie, którzy nosili w sobie wrogość wobec innych, teraz przypisali ją otoczeniu i wszędzie widzieli spiski. Inni z kolei poczuli się opuszczeni przez symbolicznego "ojca" (ojca narodu, ale i w głębszym psychologicznym sensie odpowiednika własnego rodzica).  Podobnie mogło być z Marią Kaczyńską. Stała się ona obiektem projekcji dobrej matki, której wielu ludziom brakowało w ich własnym dzieciństwie. Krótko mówiąc – przy tak nagłej i silnej dekompensacji własnych uczuć, jaką była katastrofa smoleńska, ludzie zaczęli dostrzegać w niej swoje własne nieświadome potrzeby. Przeżywali ją w ekstazie egzaltowanych uczuć, które widzieli jednak jako odległe od swojej psychiki. Ale katastrofa uruchomiła także dużo innych mechanizmów.
Już od chwili pierwszych wiadomości o wypadku prezydenckiego samolotu zaczął ujawniać się kolejny mechanizm. Był to oczywiście mechanizm… obronny.  Objawiał się jednak w dość zakamuflowany sposób. Jak napisał jeden z internautów:  na pokład samolotu do Smoleńska wsiadł człowiek "mały", kłótliwy, przeciętny prezydent, zaściankowy, ksenofobiczny, mierny polityk, a w trumnie ze Smoleńska przywieziono "wybitnego męża stanu", "patriotę", "bohatera narodowego", "ojca narodu", "największego Polaka", "równego królom". Kto podmienił zwłoki? Oczywiście zwłok nikt nie podmienił. Zmiany zaszły jedynie w psychice komentatorów. Sam nie mogłem wyjść ze zdziwienia, jak to możliwe, że główni krytycy prezydenta nagle stają się jego piewcami. Nawet tak światłe umysły, jak profesor Jacek Hołówka (etyk i filozof) czy dziennikarka Monika Olejnik, nagle odkryły, jak bardzo się myliły w ocenie zmarłego właśnie prezydenta. Już na chłopski rozum coś tu śmierdzi. Jeśli zawodowi myśliciele i recenzenci cudzych zachowań mogą tak skrajnie się mylić, to ile jest warta ich praca? Czy była to więc zwykła hipokryzja?
Nie, był to mechanizm obronny zwany reparacją oraz jego mniej zdrowy kolega, zwany odczynianiem (lub anulowaniem). Jednak ich działanie było nieco zawikłane. Wiele osób najzwyczajniej w świecie nie lubiło prezydenta Kaczyńskiego. Z tym, że "nielubienie" to tylko taki dyplomatyczny eufemizm. Tak naprawdę w swoich prywatnych opiniach ludzie często mieli go za buca, pyszałka lub – mówiąc jeszcze dosadniej – głupca. A co za tym idzie – źle mu życzyli. Jednak w tym przypadku "źle życzyć" oznaczało jedynie tyle, żeby przegrał wybory, zdobył jak najmniej głosów lub znowu się ośmieszył. Nie bądźmy hipokrytami, to właśnie jest ludzkie. Nasze uczucia dalekie są od poprawności politycznej i dyplomatycznych rozwiązań. Prywatne, intymne odczucia są najczęściej radykalnie ocenne i bezceremonialnie wartościujące.
Mając to na uwadze – nieco przewrotnie – spróbujmy wniknąć w umysł takiego nawróconego krytyka zmarłego prezydenta. Z założenia dana osoba źle ocenia Lecha Kaczyńskiego, czyli de facto źle mu życzy. Objawia się to nadzieją na porażki nielubianej osoby. Do tej pory jest ok – zazwyczaj tolerujemy wielu ludzi, za którymi nie przepadamy. Jednak niespodziewanie ten nielubiany człowiek ginie w dramatycznych okolicznościach. W naturalny sposób w ego naszego krytyka pojawia się konflikt między tym złorzeczeniem, a współczuciem. Jest to konflikt między agresją (id), a poczuciem winy (superego). Pojawia się lęk, czyli bardzo nieprzyjemny stan, który często jest bezprzedmiotowy lub przypisywany zastępczym elementom otoczenia – w ten sposób nasze ego broni się przed uświadomieniem sobie tego niewygodnego konfliktu. Wraz z wiadomością o śmierci prezydenta dla ego staje się jasne, że człowiek, któremu źle życzyliśmy, nie żyje, więc nasze "złożeczenie" się owocnie spełniło. Ale superego w tym samym czasie wyraźnie mówi, że każda śmierć jest zła. W efekcie pojawia się lęk moralny, bo psychika nie różnicuje działań (krytykowanie to nie zabijanie) i ważne jest dla niej nastawienie, a wszak było ono negatywne. Aby zminimalizować poczucie winy, ego uruchamia mechanizmy odczyniania i reparacji. Ten pierwszy polega na zanegowaniu agresji w rytualny, przesadzony sposób poprzez wylewne wynagrodzenie obiektowi agresji  swoich złych intencji. Motywacją jest nieświadomy wewnętrzny przymus, który nie poddaje się intelektualnej ocenie. Stąd w naszym krytyku pojawia się chęć masochistycznego samoupokorzenia się i publicznej autodeprecjacji.
Drugi mechanizm – reparacja – polega na bardziej świadomym wynagrodzeniu swoich win. Z natury jest więc bardziej racjonalny. To dzięki niemu przepraszamy i staramy się naprawić swoje złe uczynki. W przypadku katastrofy smoleńskiej te dwa mechanizmu uległy przemieszaniu. Im więcej było przesadnej egzaltacji w zachowaniu neofitów wielkości Kaczyńskiego, tym bardziej to zachowanie było zdominowane przez odczynianie.
Niebagatelne znaczenie tragedia smoleńska miała też dla polskiej polityki, a więc i dla życia nas wszystkich. Efekty rządów poszczególnych partii są odczuwalne dla całego społeczeństwa, nawet jeśli ono w większości nie zdaje sobie z tego sprawy. Jednak w tym przypadku znaczenie ma przede wszystkim wpływ owej tragedii na jednostki, a najbardziej na samego Jarosława Kaczyńskiego. Jeden z głównych animatorów polskiej sceny politycznej jest katastrofą przesiąknięty i trudno mu się dziwić. W końcu zginął jego brat (i to najbliższy możliwy – brat bliźniak), a do tego najbardziej zaufany współpracownik. Nie jest chyba zbytnią tajemnicą, że Jarosław ma w sobie dwa zauważalne rysy osobowości – paranoiczny i narcystyczny. Narcyzm w tym przypadku prezentuje się w swojej "edypalnej" formie, o czym wspominałem już w jednym z poprzednich wpisów. Jarosław był tym starszym, ważniejszym i… bardziej zżytym z matką, której poświęcił w jakiś sposób swoje życie, mieszkając z nią i nie decydując się na założenie swojej własnej rodziny. Nie jest też tajemnicą, że czuł z tego powodu wyższość w stosunku do brata, a Lech uważał się na tym polu za gorszego (informacje te pojawiały się w mediach). Nie jest też niczym nowym stwierdzenie, że Jarosław ma również skłonności paranoiczne. Wielokrotnie mówił o spiskach, którymi tłumaczył otaczający go świat. To "układ" był jego głównym przeciwnikiem, a zmowa sposobem działania tego wszechobecnego "układu". Ponieważ naczelnym mechanizmem obronnym osobowości paranoicznej jest projekcja, u ludzi o tym typie charakteru podejrzliwość rośnie wraz w wielkością własnej nieakceptowanej agresywności. W kontekście katastrofy smoleńskiej i tego, jakie naturalnie reakcje może ona budzić w Jarosławie, nie wróży to nic dobrego.
Tak więc mamy polityka, który nie uznaje swoich porażek, a wewnętrzną agresję projektuje na innych. Wygląda to tak, że własną złość wypiera i przypisuje otoczeniu, przez co świat z jego perspektywy staje się wrogi i zagrażający. W efekcie pełen jest spisków, złej woli i ludzkiej nieuczciwości. A im więcej wypartej agresji w Jarosławie Kaczyńskim, tym groźniejszy i bardziej realny staje się spisek przewrotnego premiera Tuska i zdradzieckich Rosjan. I w tym momencie koło się zamyka, bo posądzeni o tę straszną zbrodnię próbują protestować, co w przekonaniu paranoików stanowi tylko dowód ich winy – w końcu "tylko winny się tłumaczy".
Jak to w przypadku typów edypalnch bywa, nie potrafią one przegrywać. Każda porażka to dla nich cios w samo serce i wyjątkowość – podstawę "ja". Aby jakoś znieść upokorzenie przegranej, osoby tego typu szukają usprawiedliwień. W efekcie odpowiedzialnością obarczają okoliczności lub po prostu inne osoby. Trudno się zatem dziwić, że przegrana Jarosława Kaczyńskiego w wyborach prezydenckich spowodowała lawinę oskarżeń. Z jednej strony doszedł on do wniosku, że winni są twórcy jego kampanii i sztab wyborczy, a z drugiej nie potrafił uszanować zwycięstwa przeciwników. W efekcie Bronisław Komorowski został nazwany "uzurpatorem", czyli kimś nie na swoim miejscu, który "został wybrany przez pomyłkę". Nie jest to nowy sposób reagowania Jarosława Kaczyńskiego, o czym wiedzą zapewne co uważniejsi obserwatorzy życia politycznego – po porażce w wyborach do Sejmu winą obarczył… ten banalny rysunkowy filmik.
Nasuwa się pytanie, czy Jarosław Kaczyński cały czas udawał, pokazując w czasie kampanii swoje łagodniejsze oblicze? Czytając opinie politologów, można dojść do wniosku, że jest to cyniczny gracz, który wszystko kalkuluje na chłodno. Obawiam się jednak, że takie opinie więcej mówią o podejściu samych politologów, niż o sposobie myślenia omawianych przez nich osób. Politycy to też są ludzie. Miotają nimi osobiste emocje, mają swoje problemy i cechy osobowości. Czy Jarosław Kaczyński jest wyrachowanym graczem? Na pewno potrafi być. Inaczej nie odniósłby takiego powodzenia w tej dyscyplinie. Jednak nie odzierajmy polityków z człowieczeństwa. Zapewne gdyby wygrał wybory prezydenckie, jego wrażliwe ego nie zostałoby narażone na tak duże cierpienia, bo nie doświadczyłby czegoś, co przeczyło jego wyjątkowości i było ciosem w narcystyczne przekonania. W efekcie potrafiłby zdobyć się na większą wspaniałomyślność wobec rywali, jak i owych nieszczęsnych Rosjan. Zapewne byłby też mniej podejrzliwy – ostatecznie paranoja polityczna jest efektem projekcji własnej, nieakceptowanej w sobie wrogości.
Niestety, skłonności paranoiczne nie ograniczają się do samego Jarosława Kaczyńskiego. Jak celnie zauważył profesor Janusz Czapiński (w ostatnim numerze "Wprost"), tendencja ta dotyczy znacznej grupy Polaków. Świadczy o tym to, że odejście Jarosława od nowego łagodnego wizerunku, nie spowodowało wielkiego spadku popularności tego polityka. Odsunęli się od niego tylko umiarkowani wyborcy, ale żelazny elektorat pozostał wierny. Dzieje się tak, ponieważ te miliony Polaków myślą tymi samymi kategoriami co paranoiczny prezes. Profesor Czapiński szacuje potencjalny elektorat PiSu na blisko 60 (!) procent Polaków uprawnionych do głosowania. Wypada mieć nadzieję, że się myli, bo jeśli każda, nawet domniemana, zbrodnia wymaga kary, to jeszcze mogą wyrosnąć w Polsce szubienice.