Wielu z nas kocha zwierzęta. Lubimy je karmić, głaskać, przytulać, a przynajmniej podglądać ich życie przez szybkę akwarium. W tym względzie jesteśmy zoofilami, czyli "kochającymi zwierzęta". Jest jednak grupa osób, które kochają je w sposób pełniejszy – nie tylko duchowo, ale także cieleśnie. Przyjrzyjmy się przez chwilę ludziom, którzy rozszerzyli znaną maksymę humanistów do "Nic, co ZIEMSKIE, nie jest mi obce".
"Ziemskie", tak właśnie opisywał swoje zamiłowania jeden z badanych zoofili. W istocie powoływał się on na pewną więź nie tylko ze zwierzętami, ale ogólnie z całym światem. Myślicie, że był on bardzo odosobnionym przypadkiem? Nic z tych rzeczy. Badania wykazują, że do jakiejś formy seksu ze zwierzętami przyznaje się dobre kilka procent społeczeństw zachodnich. Mówiąc obrazowo – idąc codziennie do pracy czy na uczelnię, mijasz zapewne kilka osób, które przynajmniej raz spróbowały zrobić "to" z jednym z naszych "mniejszych braci", jak ładnie nazywał zwierzęta św. Franciszek z Asyżu.
Zoofile są wśród nas
Ile jest osób, które mają na swoim koncie kontakt seksualny ze zwierzęciem? Ano to zależy od badań. Pierwsze szacunki w tym względzie poczynił legendarny Alfred Kinsey, który analizował seksualne obyczaje Amerykanów na przełomie lat 40-tych i 50-tych. Wtedy wyszło mu, że przynajmniej raz w życiu ze zwierzętami obcowało 8,3% mężczyzn i 3,6% kobiet, choć odsetek ten wzrastał znacząco na obszarach wiejskich (do ponad 40%). Raport Kinsey`a został co prawda podważony z uwagi na niezbyt reprezentatywną próbę osób, które zdecydowały się odpowiedzieć na różne mało dyskretne pytania, ale wyniki wersji poprawionej zmieniły się bardzo nieznacznie. Pierwotne wnioski okazały się słuszne – zoofile są wśród nas. Co prawda w mniejszości, ale wcale nie takiej wielkiej, jak powszechnie zwykło się sądzić. Z czasem jednak procent ludzi, którzy angażowali się w seksualne interakcje ze zwierzętami, zaczął maleć i w innym badaniu z 1974 roku wynosił już odpowiednio 4,9% dla mężczyzn i 1.9% dla kobiet. Czyżby ludzie przestali interesować się zwierzętami? Nic z tych rzeczy. Wyjaśnienie jest dużo bardziej banalne – Amerykanom z lat 70-tych było statystycznie trudniej znaleźć czteronogiego partnera. A to dlatego, że w międzyczasie diametralnie spadł odsetek obywateli USA mieszkających na wsi – z 23% farmerów w latach 40-tych do zaledwie 4.8% w 70-tych. Tak więc nie tyle spadła ludzka gotowość do zoofilii, co po prostu brakło okazji, by ją w sobie rozwinąć.
Jesteście ciekawi, jak zabawiano się w tamtym czasie za wielką wodą? I tak Wam powiem ;) Zwykle w takie zachowania angażowali się młodzi chłopcy mieszkający na farmach, traktując zwierzątka jako swoiste maszyny do masturbacji. "Kija zamoczyło" tylko około 1/3 z tej liczby, a większość ograniczyła się do "zrobienia loda" zwierzęciu lub masturbowaniu go. 30% praktykowało także ocieranie się o zwierzę w celu osiągnięcia orgazmu (swojego). W sumie warto zauważyć, że młodzi – zwykle między 10 a 15 lat – Amerykanie nie są egoistami i całkiem spora część z nich zajmowała się nie tylko sobą, ale i starała się sprawić przyjemność swojemu czworonożnemu partnerowi. Uczciwie trzeba też przyznać, że znakomita większość z nich rezygnowała z tych "relacji", jak tylko miała możliwość przerzucić się na dziewczyny. No ale nie wszyscy… Pewien niewielki procent zostawał przy zwierzątkach lub przynajmniej nie chciał z nich do końca zrezygnować, bawiąc się na dwa fronty także po uzyskaniu pełnoletniości.
A jak to wygląda w Europie? Ano nie mamy się co oszukiwać – jesteśmy co najmniej tak samo zainteresowani zwierzętami jak Amerykanie. A nawet bardziej. Dane ze Szwajcarii każą nam szacować liczbę osób, które miały seksualny kontakt ze zwierzęciem na 275 tysięcy. Przy populacji tego kraju liczącej 8 mln, daje nam to 3,5% i to uwzględniając dzieci. Realna liczba może więc wynosić z 5%. Mówimy tu jednak o bardzo szerokiej definicji zoofilii, która uwzględnia także pojedyncze próby we wczesnej młodości. Ilu jest takich "rasowych" zooseksualistów? Szacunki Niemieckie mówią z kolei o 10 000. Czy to dużo? Nieco ponad 1 promil, czyli co tysięczny nasz zachodni sąsiad bawi się z pieskiem czy innym swoim zwierzakiem tak jak pan David z tego artykułu. W sumie nie musi to być nawet jego własny zwierzak. Tak jak mężczyźni często nad stałe związki przedkładają przelotne kontakty seksualne, tak Niemcy i Duńczycy mogą skorzystać z zooburdeli. W sumie to raczej gospodarstwa agroturystyczne z rozszerzoną ofertą. Ile kosztuje numerek z, dajmy na to, konikiem? W przeliczeniu na złotówki jakieś 300 – 400 zł. Co bardziej obyci w tematyce czytelnicy pewnie zauważą, że ludzkie prostytutki są nawet kilka razy tańsze. No cóż, wygląda na to, że zoofilowi zawsze wiatr w oczy, ale niszowe rzeczy zwykle są droższe.
Z kamerą wśród zwierząt
Napiszę szczerze – kiedy zaczynałem zbierać materiały do tego artykułu, miałem wrażenie, że poruszam się po miniaturowym marginesie, na którym można znaleźć tylko kilku dewiantów. No cóż, byłem w błędzie. To naprawdę silna i liczna grupa. Jeśli nie jesteście właśnie po jedzeniu, wpiszcie w Googla "zoo porn" i rzućcie okiem na kilka pierwszych stron. Tysiące filmów! Mamy tam nawet specjalistyczne sklepy, choćby ten www.beastdvds.com. Jakichś większych zakupów nie polecam robić, bo stosowne filmiki dla koneserów dostępne są za darmo nawet w powszechnie dostępnych bazach filmów. Na przykład tutaj mamy wybór 21 filmików elegancko podzielonych na trzy kategorie. To serwis jak najbardziej uniwersalny i ogólnodostępny. Nie wiem, jaka reklama Wam się wyświetli, ale mnie nieco rozśmieszyła facjata Krzysztofa Hołowczyca w kontekście produkcji o wiele mówiącym tytule "Miniature horse fucks guy".
Długa historia o pieprzeniu zwierząt
A teraz kilka faktów historycznych. Czy nam się to podoba czy nie, nasi przodkowie byli miłośnikami seksu międzygatunkowego. Właściwie to trudno im się dziwić. Z ewolucyjnego punktu widzenia nie ma to większego sensu, bo klacz ani jałówka potomstwa nam nie dadzą. Ale powiedzmy sobie szczerze – masturbacja też nie sprzyja prokreacji, a jednak jej powszechność nie doprowadziła ludzkości do wymarcia. Zoofilia z punktu widzenia ewolucjonizmu to po prostu efekt pewnej pomyłki i pójścia na skróty. Nasi małpi przodkowie nie mieszkali w jednych jaskiniach z psami ani bydłem, więc takie rozszerzenie swojej seksualności na inne gatunki nie było istotnym zagrożeniem dla populacji. Chociaż, żeby być uczciwym, muszę dodać, że i małpom zdarza się pomylić. Nawet te w zoo nieraz zaczynają się masturbować, czując w pobliżu ludzką kobietę w okresie menstruacji. Co więcej, małpy wychowane wśród ludzi bywają przyłapywane na onanizowaniu się podczas oglądania zdjęć kobiet. Chcąc być konsekwentni, powinniśmy oskarżyć je o dewiację analogiczną do zoofilii – "homofilię". Gdyby ktoś jeszcze miał wątpliwości, czy zwierzęta bawią się w seks międzygatunkowy, proponuję spojrzeć na ten filmik. Co tu dużo mówić – jest to forma gwałtu, ale przynajmniej szympans wydaje się spełniony.
Wróćmy jednak do homo sapiens. Niestety – nasi przodkowie byli praktykującymi zoofilami. Przedstawienia znane z jaskiń i pradawnych świątyń nie pozostawiają co do tego żadnych wątpliwości, a stosowne ilustracje znajdziemy w różnych miejscach Starego Świata – od piasków Sahary po zimną Skandynawię. Dla przykładu poniżej znajduje się rysunek pochodzący z Alp i datowany na 7 tysiąclecie przed naszą erą.
Pokuśmy się o małe omówienie tego, co według ekspertów od prehistorii artysta miał na myśli. Otóż widzimy tu mężczyznę kopulującego z osłem, koło którego namalowano węzeł, czyli symbol jedności. Końcówka tego węzła ma formę falliczną, a punkty powyżej naszej pary symbolizują spermę, czyli płodność i obfitość. Podsumowując – akt zoofili był prawdopodobnie formą kultu płodności i w jakiś magiczny sposób miał przełożyć się na powodzenie i bogactwo. Skoro życie ludzi było nierozerwalnie związane z obfitością zwierzyny (symbol węzła), warto było temu dopomóc i metafizycznie "zapłodnić" naturę reprezentowaną tutaj prawdopodobnie przez oślicę. Żeby nie było niedomówień – zoofilia nie była domeną wyłącznie naszych męskich przodków i znane są też malowidła przedstawiające kobiety, np. podczas kopulacji z psem.
Seks ze zwierzętami nie zaginął bynajmniej także w historycznych czasach. W starożytnym Babilonie używano psów do prowadzenia świętych orgii trwających równo siedem dni i siedem nocy. Psy były pobudzane i wykorzystywane do seksu zarówno z kobietami jak i z mężczyznami. Fenicjanie kopulowali z krowami, które były wówczas zwierzętami świętymi. Wiązało się to z ich kluczową rolą dla pradawnej gospodarki, która zaczęła korzystać nie tylko z mięsa i mleka, ale przede wszystkim z siły pociągowej tych zwierząt wykorzystywanej podówczas do transportu. Generalnie bydło nie tylko w Indiach otaczano kultem. Robiono to także… na Słowiańszczyźnie. Jako, że woły były niezbędne dla naszych bezpośrednich przodków, bo służyły do orania – otaczano je wielką czcią. Jeszcze wczasach pierwszych Piastów zwracano się do tych zwierząt per "Ojcze".
Również w powszechnie znanych mitach greckich znajdujemy wiele odniesień do zoofilii. Zeus posiadł Europę pod postacią byka, a Pan – ten od fletni pana – sypiał tak z kobietami, mężczyznami jak i kozami. Zresztą zoofilskie tendencje nie były zarezerwowane tylko dla bogów. Pazyfae, królowa Krety, zakochała się w świątynnym byku i żeby zrealizować swoje chuci, zamykała się w specjalnie do tego skonstruowanej drewnianej krowie. Efektem tych zbliżeń był słynny Minotaur. Przykłady można by mnożyć. Bezspornym faktem jest natomiast, że nie istniało wtedy wśród starożytnych Greków żadne prawo zakazujące zoofilii. Co więcej, była ona wręcz uświęcona obrządkami religijnymi. W świątyni Afrodyty Parne, mieszkały piękne kobiety wraz z psami i nie ma raczej wątpliwości, jak wyglądały "modlitwy". O świątyni w Koryncie wiemy natomiast, że była domem dla kilku tysięcy zarówno męskich jak i żeńskich prostytutek oraz… setek psów.
Jeszcze łatwiej o zoofilskie pasje było w Egipcie, jakby z natury predysponowanym do otwartości na inne gatunki. Tak się bowiem składa, że bogowie nad Nilem mieli postać pół ludzką a pół zwierzęcą. Między innymi Cheops – ten od piramidy – był znany ze swojego szczególnego zamiłowania do klaczy, a Totmes II wyjątkową pasją pałał do świni, którą trzymał w swoim pałacu. Także kobiety lubiły te zabawy, bo zachowały się zapiski mówiące, że królowa Hatasu trzymała psy, szkolone w robieniu jej dobrze językiem. Ogólnie rzecz biorąc przykład szedł od góry i często był związany z motywami religijnymi. Na przykład obrzędy, które odprawiał najwyższy kapłan Ozyrysa, obejmowały kopulację ze świętą krową. Z kolei kapłanki Hapisa, boga Nilu, były odpowiedzialne za pozyskiwanie nasienia od świętego byka, co odbywało się poprzez stosunki seksualne ze zwierzęciem (także oralne czy waginalne). Podobne praktyki miały miejsce w świątyni innego bóstwa, czczonego pod postacią kozła. Przetrzymywano tam specjalnie szkolone kozy i kozły, które kopulowały z pielgrzymami.
W starożytnym Rzymie kontakty seksualne ze zwierzętami były teoretycznie objęte zakazem, ale jak tu mówić o jego egzekwowaniu, skoro seksualne pokazy zoofilskie były po prostu powszechne. Nawet w słynnym Koloseum urządzano spektakle, podczas których niewolnice były gwałcone przez byki, psy czy małpy. Opracowano nawet specjalne metody nakłaniania zwierząt do współpracy, co wcale nie było aż takie trudne. Przywiązywano kobietę w stosownej pozycji, po czym smarowano jej łono wydzieliną z pochwy samicy adekwatnego gatunku. Zwykle zaczynano od psa (tak na rozgrzewkę), potem wprowadzano byka (którego prącie nie jest wcale aż tak ogromne, jak można by przypuszczać), a na koniec do akcji wkraczał koń. Zwykle to ostatnie zwierzę kończyło spektakl, bo konfrontację z jego gigantycznym organem płciowym raczej trudno przeżyć. Ale jeśli którejś niewolnicy się to przez przypadek udało, nierzadko zwracano jej wolność.
Zważając na legendarną wręcz rozwiązłość rzymskich elit, nie powinno też dziwić to, że praktyki zoofilskie były bliskie również wielu cesarzom. I to do tego stopnia, że słynny Konstantyn Wielki cieszył się wśród współczesnych dość jednoznacznym przydomkiem "krowojebca". Z kolei Teodora, żona innego znanego cesarza Justyniana Wielkiego, przed ślubem pracowała jako aktorka "porno". Odbywała na scenie stosunki seksualne z kobietami, mężczyznami, dziećmi oraz zwierzętami. Jej popisowym numerem było włożenie sobie ziarna do pochwy i umożliwienie gęsi wyjadania go. Nie byłbym sobą, gdybym nie nadmienił, że oboje umarli w aurze świętości, a Konstantyn figuruje nawet na liście świętych Kościoła Prawosławnego.
Barbarzyńcy tamtych czasów także nie mieli żadnych znanych nam oporów przed kontaktami ze zwierzętami. W wierzeniach germańskich herosi byli potomkami ludzi i dzikich bestii, co mówi dużo o wierze w owocną interakcję między człowiekiem a zwierzęciem. Nie istniało też żadne prawo zakazujące zoofilii, którą traktowana jako prywatną sprawę.
Nie mieliście o tym na lekcjach historii? No cóż, nasza seksualna cenzura działa widać bardzo dobrze. Warto się jednak zastanowić, skąd się ona wzięła, skoro w czasach przed- i wczesnochrześcijańskich zoofilia była aż tak powszechna. Winni są jak zawsze… Żydzi!
Seks koszerny
Pierwsze ograniczenia w kontaktach ze zwierzętami poczynili Hetyci, czyli przodkowie Izraelitów. Wprowadzili oni podział na zwierzęta czyste, takie jak koń i muł, oraz nieczyste, np. świnia czy pies. Bezkarnie kopulować można było tylko z tymi pierwszymi, za seksualne interakcje z drugimi groziła kara śmierci. Dalekim echem podziału na zwierzęta czyste i nieczyste jest do dziś praktykowana przez Żydów koszerność potraw mięsnych, które muszą być przygotowywane z tych właściwych gatunków i to zabitych w odpowiedni sposób. Kompletne odrzucenie praktyk zoofilskich wymógł dopiero Mojżesz wraz z wprowadzeniem kultu Boga Jahwe. Żydzi uciekając z niewoli egipskiej byli zlepkiem różnych plemion wyznających wtedy jeszcze wielu bogów. Opracowywanie koncepcji judaizmu zostało zapoczątkowane przez tego mądrego wodza, który dążył do skupienia całej władzy w swoich rękach. Stąd też nieustannie powoływał się on na jednego najwyższego Boga, z którym miał być w osobistym kontakcie (tablice z nowym prawem znanym jako "10 przykazań" i inne historie znane z Pisma Świętego). Opozycja wobec Mojżesza skupiła się wokół alternatywnego bożka starego typu, czyli biblijnego "złotego cielca". Był to posąg ze złota przedstawiający świętą krowę, czyli bóstwo typowe dla większości kultur z tamtych czasów. Jak okoliczne ludy oddawały cześć swoim krowim bogom, opisałem już w poprzednim rozdziale. W wyniku konfliktu zwolenników Jahwe i złotego cielca (którego imię nie zostało w Biblii zapisane), nawiązała się bitwa, którą wygrali ludzie Mojżesza, o czym możecie dokładniej przeczytać w 32. rozdziale Księgi Wyjścia.
W efekcie tego zwycięstwa bóstwa zwierzęce zostały zdelegalizowane, tak jak i obrzędy z nimi związane. Chcąc utrzymać odrębność kulturową i religijną w obcym, wrogim świecie, przez który przemierzali uciekający z Egiptu Izraelici, zakazano wszelkich tradycyjnych kultów. W konsekwencji zdelegalizowano też dawne obrzędy, takie jak prostytucja świątynna – także homoseksualna – oraz obrządki związane z zoofilią. "Nie będzie nierządnicy sakralnej wśród córek Izraela, ani mężczyzn uprawiających nierząd sakralny wśród synów Izraela. Nie zaniesiesz do domu Pana, Boga twego, zarobku nierządnicy, jak i zapłaty dla psa, jako rzeczy ofiarowanej ślubem. Tak jednym, jak i drugim brzydzi się Pan, Bóg twój", mówi Pismo Święte w Księdze Powtórzonego Prawa (23, 18-19). Praktyki zoofilskie musiały być zresztą dla Izraelitów bardzo kuszące, bo ich zakaz jest powtarzany w Biblii kilka razy.
W tym miejscu dochodzimy do problemu z nazewnictwem. Zoofilia określana jest często mianem sodomii, choć inni pod tym ostatnim pojęciem rozumieją homoseksualizm. Odpowiedź znajduje się oczywiście w Biblii. Wyraz "sodomia" pochodzi od nazwy miasta Sodoma, która razem z Gomorą zostały uznane za siedlisko zła. Zła, pod którym rozumiano właśnie te dawne kulty, będące zagrożeniem dla nowo wypromowanego wśród Izraelitów Boga Jahwe. W efekcie pojęciem sodomia określano stosunki zarówno homoseksualne, zooseksualne jak i rozwiązłość w ogólności, której korzenie sięgają odrzuconych praktyk religijnych. Z czasem wrogie podejście do zoofilii rozprzestrzeniło się wraz z chrześcijaństwem i powoli zaraziło swoją niechęcią cały zachodni świat. Jeszcze we wczesnym średniowieczu seks ze zwierzętami uważano za mniej grzeszny niż stosunki homoseksualne i przyrównywano go do masturbacji. Przez pewien czas przywrócono nawet podział na zwierzęta czyste i nieczyste, a w konsekwencji surowiej karano kontakty ze ssakami niż z drobiem. Jednak wraz z rozkwitem teologii późnośredniowiecznej, która rozwijała teorie dotyczące Szatana, zoofilia stała się równoznaczna z czarami. Inkwizytorzy doszli do wniosku, że diabeł przyjmuje postać zwierząt i akty zoofilii są w istocie spółkowaniem ze Złym. Analizy historyczne wykazują, że faktycznie więcej osób skazano na śmierć za seks ze zwierzętami niż za czary jako takie. Nawet więcej – zoofilia była ogólnie najczęstszą przyczyną orzekania kary śmierci. Dla przykładu, w latach 1634 – 1756 w Szwecji stracono 1074 ludzi, z czego ponad 500 za seks ze zwierzętami. Były nimi głównie krowy, jałówki, klacze, owce, kozy, suki i psy, które jako współwinne także zostały zabite. Prawie wszyscy skazańcy byli młodymi mężczyznami, co jest w sumie zgodne z późniejszymi o dobrych kilka wieków badaniami Kinseya.
Nic, co zwierzęce…
A jak to jest w innych kulturach? Zadziwiająco liberalnie. Generalnie działa tutaj zasada, że im bliżej natury jest dana społeczność, tym mniejszy jej opór przed zoofilią. Dzicy Aborygeni akceptowali seks ze zwierzętami, tak jak i sami czuli się nierozerwalnie z nimi związani. Patronami poszczególnych plemion są konkretne gatunki, a mity tej grupy ludów mówią o kontaktach seksualnych ludzi i zwierząt jako o czymś normalnym. Podobnie było u wielu społeczności Indian, zarówno z Ameryki Północnej jak i Południowej. Ci ostatni byli nawet przekonani, że w ten sposób człowiek zaraża się syfilisem, co jest całkiem prawdopodobną teorią. Kiłę powoduje krętek blady, żyjący w ciepłych i wilgotnych miejscach ciała. Indianie jak najbardziej mogli zakażać się nim od lam i alpak, ponieważ bakteria ta bytuje także u zwierząt. Hiszpanie wracający z Nowego Świata złapali nową chorobę od tamtejszych kobiet i przywieźli ją do swojego kraju. Stąd drogą morską przypadłość dotarła do Anglii jako "choroba hiszpańska", a potem Francji, gdzie była znana już jako "choroba angielska". Z Francji doszła do Niemiec jako "choroba francuska", a potem do Polski, zwana już "francą" lub "chorobą niemiecką". Ostatecznie od nas zawędrowała do Rosji jako… "choroba polska". Tak oto zwierzęta zaocznie zemściły się na homo sapiens, przyczyniając się do śmierci milionów przedstawicieli naszego gatunku. Podobne losy mogły być udziałem wirusa HIV, ponieważ na AIDS chorują także małpy w Afryce.
Wróćmy jednak do Indian. Ci z Ameryki Północnej, których znamy z westernów, też angażowali się w zoofilię. Wiemy, że czynili tak Apacze, Navaho, Siuksowie, Hopi, Mohave oraz cała gromada plemion z Wielkiej Równiny. Kopulowano zarówno ze stworzeniami żywymi jak i z tymi już upolowanymi. Czasem wręcz zachęcano młodych chłopców, by zajęli się zwierzętami i zostawili dziewczęta w spokoju. Podobne doniesienia mamy z terenów Kanady, choć nie ma już chyba sensu wymieniać plemion, których nazwy dla odmiany nie zostały nam zakodowane przez produkcje z Hollywood. Nawet dla Eskimosów kopulacja ze zwierzęciem nie była niczym zdrożnym ani skazanym na potępienie. Przynajmniej do czasu przybycia wysłanników Jahwe, który przybrał już wtedy uproszczone imię Bóg.
Także w Afryce korzystano okazjonalnie ze zwierząt. Kontakty zoofilskie nie były niczym nadzwyczajnym u szeregu plemion, np. u Masajów. U niektórych ludów były wręcz rytuałem wejścia w dorosłość, np. u ludu Joruba młody myśliwy miał za zadanie odbyć stosunek z pierwszą upolowaną antylopą. Musiał się jednak spieszyć, bo zwierzę miało być wciąż ciepłe.
Seksualne wykorzystywanie zdarza się jednak także z drugiej strony i znane są przypadki, gdy duże małpy w rodzaju goryla gwałciły ludzkie kobiety. Choć może wydać się to zaskakujące, historia o King Kongu jest tylko wyolbrzymioną (nomen omen) opowieścią, mającą swoje realne podstawy. Na atak szczególnie narażone są kobiet w okresie menstruacji, ponieważ wtedy ich zapach przesycony jest hormonami, na które reagują małpi samce. Zresztą hormony płciowe są na tyle uniwersalnym sygnałem, że spryskanie powietrza ludzkim testosteronem wprowadza w seksualny szał nawet zwykłe, polskie świnie.
Wróćmy jednak do homo sapiens. Wśród ludzi sławą największych zoofilów cieszą się Arabowie, choć nie wiem, czy w tym kontekście wyraz "cieszyć się" jest tu najwłaściwszy. Istnieje nawet powiedzenie, że "Żadna pielgrzymka do Mekki nie jest kompletna bez seksu z wielbłądem". Choć kopulacja ze zwierzętami jest oficjalnie zakazana, obyczaje rozmijają się tam wyraźnie z oficjalnymi wytycznymi prawnymi. Ciekawe jest też to, że zoofilia nie jest zakazana przez Koran, choć Biblia robi to aż kilka razy. Być może dlatego w krajach kultury arabskiej wykształciło się przekonanie, że seks ze zwierzętami przydaje odwagi, powiększa penisa oraz leczy z chorób wenerycznych. Co więcej, młodzi chłopcy są powszechnie wyśmiewani za masturbację, którą uważa się za coś gorszego od seksu, nawet ze zwierzęciem. Ma to także swój wymiar techniczny. Obrzezani młodzieńcy mają problem z samozadowalaniem się, a to z tego banalnego powodu, że brakuje im napletka, który normalnie byłby źródłem przyjemnego tarcia. Jako że lubrykanty nie są w tych krajach szczególnie powszechne, pozostaje im ulżyć sobie poprzez kopulację ze zwierzęciem, która uchodzi za dużo mniej patologiczną od innej alternatywy, jaką jest analny stosunek homoseksualny. A nie trzeba chyba wspominać, że kultura tego regionu traktuje kobiety jako własność rodziny i nie pozwala im swobodnie spotykać się z obcymi mężczyznami, więc młodzi chłopcy niejako z definicji skazani są na rozładowywanie napięcia środkami zastępczymi.
Podobnie entuzjastyczne nastawienie do zoofilii zachowały inne narody z kręgu kultury islamu, który – w odróżnieniu od judaizmu i chrześcijaństwa – nigdy nie walczył tak zawzięcie z tego rodzaju aktywnością. Wytłumaczeniem może być fakt, że w okresie rodzenia się tej nowej religii, kulty zwierzęce praktycznie już zanikły wskutek dominacji wspomnianych wyznań w najbliższym otoczeniu Arabów. Nie istniała zatem presja na negację zoofilii i Mahomet skupił się na walce z kultem posągów i grobów osób uznanych za świętych, jako elemencie najbardziej zagrażającym jego monoteistycznym koncepcjom świata.
W efekcie wiara w lecznicze właściwości kontaktu ze zwierzętami obecna jest też wśród Maurów oraz w Iranie. Przekonanie o tym, że penisa można powiększyć, kopulując z osłem, występuje także w Maroku oraz w Turcji, gdzie powszechne były także kontakty z klaczami. Już sam mit założycielski tego ostatniego narodu zakłada kontakty zoofilskie, ponieważ legenda mówi, że Turcy są potomkami człowieka i wilczycy.
Generalnie seks ze zwierzętami mą tę wielką zaletę, że potrafi zaspokoić potrzeby seksualne, a nie grozi zapłodnieniem. Ten fakt szczególnie doceniany był w haremach, w których często trzymano odpowiednio szkolone psy i małpy. W ten sposób władca nie musiał obawiać się, że odseparowane od seksu kobiety będą go szukały wbrew zakazom, a przy okazji miał pewność, że wszystkie dzieci są naprawdę jego. Poniżej pozwoliłem sobie wkleić małą ilustrację pochodzącą z XV wiecznego podręcznika seksualnego z terenu obecnego Iranu, która pokazuje, jak profesjonalnie podchodzono do wspomnianego zagadnienia.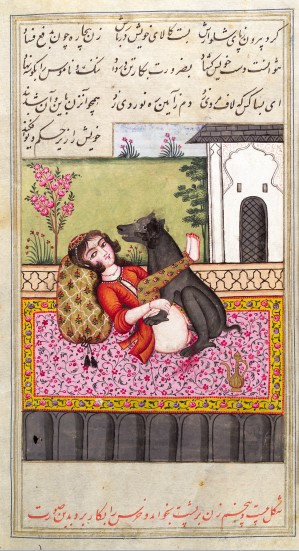 Na drugim miejscu na liście najbardziej zatwardziałych zoofilów – według badaczy tematu – figurują Gaucho, czyli tacy południowoamerykańscy kowboje. To grupa pasterzy żyjących na terenie trawiastych równin pogranicza Brazylii, Urugwaju, Paragwaju i Argentyny, dla których nadrzędnymi wartościami są honor, wolność, odwaga i dzikość. Właśnie ta ostatnia cecha Gaucho popycha ich do zoofilii. Stworzyli oni nawet pewnego rodzaju hierarchię ważności. Najniżej stoi drób domowy, bo najłatwiej się do niego dobrać. Pośrodku mamy owce, maciory, krowy i muły, a piramidę zwieńcza klacz. Co ciekawe – Gaucho nie kopulują z psami ani kotami, ponieważ są to zwierzęta w pełni udomowione. Kontakty zoofilskie w tej społeczności uważane są za niezbędną i potrzebną formę rozwoju seksualnego młodych chłopców, którzy zwykle zaczynają swoje przygody z kurami, by potem zdobywać kolejne stopnie wtajemniczenia. Kultura ta w kopulacji ze zwierzętami upatruje czegoś na wzór ujarzmiania natury, dlatego im trudniejsze jest dane zwierzę do okiełznania, tym większy splendor dla – powiedzmy to sobie szczerze – gwałciciela.
Jaka jest skala tego zjawiska? Duża. Przyjmuje się, że większość mężczyzn z tego regionu (wliczając miasta) przynajmniej raz w życiu miała kontakt seksualny ze zwierzęciem. Z antropologicznego punktu widzenia ma to swoje uzasadnienie. Gaucho przez większą część roku żyją z dala od kobiet, zajmując się zwierzętami na odosobnionych pastwiskach i pracując na farmach. Zoofilia jest dla nich sposobem rozładowania się, który z czasem został włączony do kultury jako jej jawny element. Do tego stopnia, że zoofilia jest w Brazylii w pełni legalna. Mimo pozornej powszechności Gaucho nie wyginęli, bo seks z kobietami postrzegany jest jako wartościowszy i bardziej pożądany. Tym niemniej wyjątkowo wymowne jest pewne powiedzenie z tego regionu: "Nie każda kobieta jest krową, ale każda krowa jest kobietą."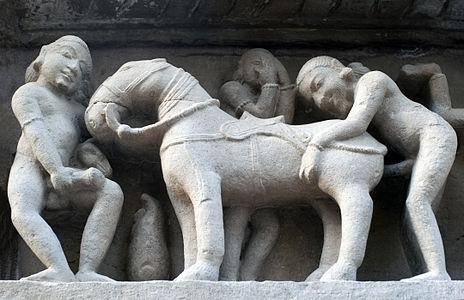 Zoofilia występuje także częściej w społecznościach wierzących w reinkarnację, ponieważ w tej koncepcji świata przepaść między człowiekiem a zwierzęciem nie jest wcale taka wielka. A także tam, gdzie bogowie mają postać przynajmniej częściowo zwierzęcą. Oba te warunki są spełnione w Indiach, które od zawsze słynęły z dużej otwartości na doznania seksualne. W słynnej świątyni Lakshmana przedstawiono nawet akt zoofilski w formie rzeźby (zdjęcie powyżej). Nie jest to bynajmniej scena wyjątkowa, bo hinduska sztuka zna wiele ilustracji kontaktów zooseksualnych, jak choćby poniższą "zoo-kamasutrę" z XVIII wieku.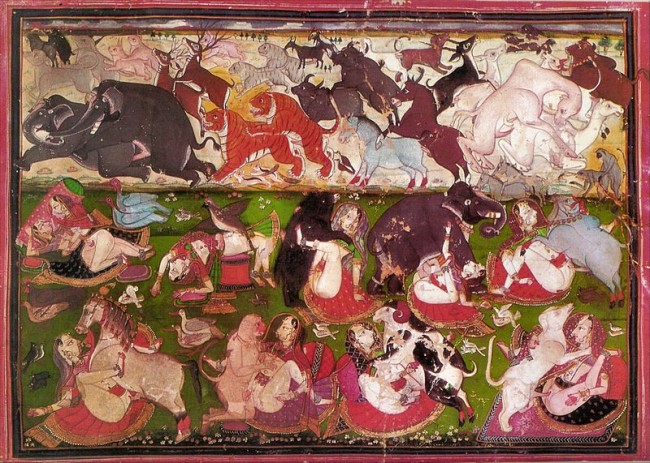 W tym regionie świata dominuje przekonanie o świętości niektórych zwierząt (tu pisałem o szczurach), stąd seks ze święta krową lub świątynną małpą uchodził za akt przynoszący szczęście. Dzisiaj co prawda kontakty zoofilskie zostały w Indiach zdelegalizowane, zakazy dotyczą jednak tylko sytuacji kontaktu penisa z waginą. Kobiety pragnące być "bliżej boga" dalej praktykują jednak jednak seks oralny, wykonywany na świętym byku. Szczególną okazją ku temu jest święto Holi, które czytelnikom National Geographic kojarzy się pewnie wyłącznie ze zdjęciami ludzi obsypanych kolorowych proszkiem. A tymczasem to tylko ta bardziej kolorowa część obrzędów.
Dla zasady wspomnijmy też pokrótce obyczaje z Dalekiego Wschodu. Z uwagi na podobne problemy z dostępem do kobiet jak w krajach muzułmańskich, młodzi Chińczycy także zwykli angażować się w kontakty zooseksualne, które są tam powszechniejsze niż w kulturze zachodniej. Wiąże się to też zapewne z większym otwarciem kultury dalekowschodniej na seksualność niż naszej judeo-chrześcijańskiej. Warto wspomnieć też, że jednym z wyroków wykonywanych na kobietach za czasów dynastii Han była "kara końskiego prącia", która, jak wiemy już z opowieści z Koloseum, potrafi być śmiertelna. Sam dwór cesarski także lubił zwierzęce rozrywki. Specjalnie w tym celu szkolono specjalną rasę psów – pekińczyki. Cesarscy hodowcy masowali języki zwierząt, by były silniejsze i dłuższe, a tym samym bardziej zdatne do użytku przez spragnione damy z wyższych sfer. Z czasem wyhodowano nawet nową rasę psów – chow chow – których genitalia są idealnej wielkości do penetrowania człowieka.
Bardziej wyszukaną zabawę stanowił seks z drobiem. Była to dość kosztowna sprawa, ponieważ ptakowi należało skręcić kark. Wszystko po to, aby agonalne skurcze odbytnicy zwierzęcia doprowadziły "użytkownika" do orgazmu. Jeśli ktoś czytał "Shoguna" Clawell`a, być może pamięta scenę, kiedy pilnujący głównego bohatera samurajowie – chcąc zadbać o jego zdrowie – próbują nakłonić go do seksu. Po tym jak Blackthorne odrzucił już zarówno dziewczynę jak i chłopca, wpadają na pomysł, by podrzucić mu kaczkę, bo z takim obyczajem spotkali się podczas wojen w Korei. Co tu dużo mówić – Clawell nie wymyślił sobie tego, tylko sięgnął do autentycznych obyczajów.
To tylko mały wyrywek bogatej literatury opisującej historyczne i antropologiczne dane z zakresu zoofilii. Jeśli ktoś pragnie poszerzyć swoją wiedzę jeszcze bardziej, polecam książkę "Understanding Bestiality and Zoophilia" autorstwa seksuolog Hani Miletski. Można w niej znaleźć mnóstwo przykładów wraz z odwołaniem do konkretnych źródeł. Fakt jest jednak faktem – zoofilia nie była ludziom nigdy tak obca, jak z perspektywy współczesnego Europejczyka może nam się to wydawać. Tym bardziej, że higiena osobista, która wielu z nas każe odrzucić nawet przelotną myśl o seksie ze zwierzęciem, to wymysł stosunkowo nowy, sto lat temu praktycznie jeszcze nie do pomyślenia. Średniowieczny chłop dosłownie spał w jednej izbie, a w drugiej trzymał swoją trzodę, co miało dodatkowo wymiar czysto praktyczny, bo odchody zwierząt pomagały utrzymać ciepło pomieszczenia w zimne dni. Czy ktoś taki czuł jakiś większy wstręt przed kopulacją z, co prawda czworonożnym, ale za to – w odróżnieniu od często brzemiennej żony – zawsze dostępnym seksualnie domownikiem? Wątpliwe.
Co by Freud na to powiedział?
Skoro zoofilia jest aż tak powszechna, to czy jest ona tym samym "normalna"? Z punktu widzenia psychologii sprawa nie jest wcale taka oczywista. Wujek Freud, tak jak i współcześni psychologowie pracujący w teoriach psychodynamicznych, nie mają co do tego żadnych wątpliwości. Mogą się różnić w koncepcjach, jakie dokładnie doświadczenia prowadzą do rozwoju orientacji zoofilskiej, ale stawiają sprawę jasno – przedkładanie kontaktów ze zwierzętami nad te z ludźmi to zaburzenie. Nowomodna, postmodernistyczna psychologia nie jest już jednak tego taka pewna. Obowiązuje w niej zasada przyjemności i dobrowolności. To podejście do seksuologii uznaje, że jeśli seks sprawia przyjemność obojgu partnerom, wtedy relacja jest zdrowa. W tym kontekście wystarczy, że – dajmy na to – pies sam zainicjuje zbliżenie płciowe, a przynajmniej nie będzie mu niechętny, by uznać, że wszystko jest tak, jak być powinno. Tutaj oczywiście pojawia się problem kwestii zgody zwierzęcia i wątpliwości, czy jesteśmy w stanie ją stwierdzić. Bądźmy szczerzy, odnośnie większości gatunków domowych nie wydaje się to być szczególnie trudne. W przypadku dezaprobaty pies gryzie, koń kopie, a owca przynajmniej próbuje uciekać. Zoofile często są jednak przekonani, że zwierzę nie tylko czerpie przyjemność z seksu z ludźmi, ale nawet samo go inicjuje. Nie będę Was tu karmił wypowiedziami osób uprawiających seks z psami, ale jeśli zwierzę po stosunku faktycznie merda ogonem, to dla współczesnej seksuologii relacja taka jest jak najbardziej zdrowa. Co bardziej sceptyczna osoba może jednak powątpiewać, czy czworonóg nie jest w taki czy inny sposób zachęcany albo szkolony do uczestniczenia w erotycznych zabawach z ludźmi. Wystarczy jednak rzucić okiem na poniższy filmik (w którym nie ma nic pornograficznego), aby spostrzec, że takie spontaniczne chuci jak najbardziej u psów można zaobserwować.
Wraz ze zmianą dominującego w psychologii podejścia ewoluowała też medyczna ocena zoofilii. Psychoanalitycy wychodzili z założenia, że człowiek jest z natury rzeczy predestynowany do pewnej stosunkowo uniwersalnej drogi rozwoju, a wszelkie odstępstwa od tej normy są wynikiem zejścia z tej pożądanej ścieżki, najczęściej wskutek napotkania problemów w rozwoju psychoseksualnym. Stąd też w amerykańskim systemie diagnozy DSM z 1952 roku zoofilia zadebiutowała jako dewiacja seksualna w roli jednego z socjopatycznych zaburzeń osobowości. W 1980 roku w jednym z kolejnych wydań "zaburzenia seksualne" zostały zastąpione przez kategorię "parafilie", co z greki oznacza "kochających inaczej" (prawda, że to już brzmi bardziej znajomo?). W tym kontekście, aby być zdiagnozowanym, potencjalny zoofil musiałby przedkładać seks ze zwierzętami nad ten z ludźmi. Gdyby kontakty zoofilskie były tylko dodatkiem do tradycyjnych kontaktów z ludźmi, DSM-III już by tego kogoś nie zdiagnozował jako osoby zaburzonej. Z kolejnej edycji (DSM-III R) zoofilia jest już kompletnie wykreślona jako oddzielne zaburzenie z komentarzem, że "praktycznie nigdy nie jest problemem samym w sobie". W tej wersji oraz w kolejnej, najbardziej współczesnej, kwestia została zredukowana do niewielkiej podkategorii "parafilie gdzie indziej nie sklasyfikowane", niejako znikając z głównego pola diagnozy. Za zmianą kwalifikacji poszła też zmiana podejścia do terapii. Współcześnie leczy się jedynie osoby, które nie akceptują swojej orientacji zooseksualnej – tak, powoli próbuje się wprowadzać także ten termin, mający określać osoby odczuwające pociąg do zwierząt. Leczenie polega więc obecnie nie na próbie wyzbycia się kłopotliwego pociągu, ale na pełniejszym zaakceptowaniu go w sobie. Warto tu zwrócić uwagę na terminologię fachową. Zooseksualizm ma oznaczać zwrócenie swojej seksualności w kierunku zwierząt, co ma być mniej nacechowane uprzedzeniami niż "zoofilia", kojarząca się od razu z "pedofilią" i innymi "parafiliami". Dlatego można podejrzewać, że jedno z kolejnych wydań wspomnianego podręcznika DSM będzie jeszcze bardziej liberalne i zaliczy pociąg do zwierząt w poczet normalnych orientacji seksualnych.
W języku angielskim funkcjonuje też termin "bestiality", oznaczający sam seks ze zwierzętami, w odróżnieniu od "zoofilii", która z definicji musi zawierać pierwiastek emocjonalny. Zatem można być zoofilem nie uprawiającym seksu i nie będącym "bestialistą", tak jak i można być "bestialistą" nie będącym zoofilem (kiedy liczy się sam seks i nie występuje przywiązanie). Ponieważ jednak w języku polskim wspomniany termin nie występuje, postanowiłem sobie go jednak odpuścić i nie wprowadzać niepotrzebnego zamieszania w tekście.
Miłość niejedno ma imię
Trudno zbadać zoofilów, bo póki co prawie nikt się z tą etykietą nie obnosi. Jest jednak kilka prac naukowych rzucających nieco światła na to tajemnicze zagadnienie. Wspomniana już Hani Miletski za pomocą rozbudowanych kwestionariuszy i wywiadów telefonicznych przebadała 93 osoby mające kontakty ze zwierzętami, z czego prawie 90% było mężczyznami. Grupa nie była jednorodna i znalazły się w niej zarówno jednostki, które nigdy nie spróbowały seksu z człowiekiem i były wyłącznie zooseksualne, jak i ludzie, którzy przeciwnie – mieli w młodości krótki epizod zoofilskich eksperymentów, ale już nigdy do nich nie wrócili w dorosłym życiu. Tym niemniej jest to jak dotąd najbardziej wnikliwy projekt badawczy, którego wyniki pozwolą nam poznać przynajmniej ramy zagadnienia.
To może zacznijmy od faktów. Zwierzęciem, z którym kopulowano najczęściej, jest pies – samiec płci męskiej. Przynajmniej raz w życiu zabawiało się z nim 90% badanych mężczyzn i wszystkie kobiety. Z sukami robiło to 72% mężczyzn, na kolejnym miejscu rankingu najbardziej seksownych zwierząt ulokowały się: ogier (54%), klacz (52%), krowa (40%), owca (20%), kotka (20%), byk (18%), kocur (17%), świnia (16%), koza (13%) oraz ex aequo knur, cap, baran i żeński drób (po 10%). Stawkę zamyka drób płci męskiej z wynikiem 2%. U kobiet z kolei po psach najbardziej popularne były suki (73%), ogiery (55%) i kocury (27%). Z ciekawszych pojedynczych odpowiedzi wyróżnić można delfina (płci żeńskiej), króliczyce, wilki (obie płcie), lwice, tygrysice oraz… pana nosorożca. Do tego ostatniego stosunku doszło z ogrodzie zoologicznym, którego pracownik – mówiąc kolokwialnie – zrobił loda temu wielkiemu zwierzakowi.
Jeśli chodzi o częstotliwość, to była osoba, która dopuściła się eksperymentu ze zwierzęciem tylko raz, średnia szła w dziesiątki zoopartnerów, ale rekordzista dobił do imponującej liczby 4892. Szło mu tak dobrze, ponieważ zatrudnił się w klinice weterynaryjnej i praktycznie codziennie dostawał w swoje ręce nową pulę potencjalnych kochanków. Średni wiek pierwszego kontaktu seksualnego ze zwierzęciem wynosił 13 lat dla mężczyzn i 20 dla kobiet. Jedna z kobiet straciła dziewictwo ze swoim psem (podobno było fajnie). Jednak ogólnie większość badanych swój pierwszy raz zaliczyło nie ze swoim własnym zwierzęciem, ale z takim, które należało do sąsiadów lub kogoś z rodziny – tak więc uważajcie, komu powierzacie swoje pieski.
Danych jest mnóstwo, z ciekawszych można wyróżnić fakt, że większość z badanych autentycznie chce sprawić przyjemność swojemu zwierzęcemu partnerowi. Dlatego 3/4 mężczyzn robi swoim pupilom fellatio (seks oralny), a nieco ponad połowa oddaje im do dyspozycji swój odbyt w celu bycia spenetrowanym. Ogólnie zoofile są osobami bardzo otwartymi na doświadczenia seksualne. Aż 75% z nich miało w życiu przynajmniej jeden kontakt homoseksualny, a 30% uczestniczyło w seksie grupowym. Niestety, jest też i ciemna strona medalu, bo 10% miało przynajmniej jeden kontakt pedofilski i dla większości z tych osób było to doświadczenie przyjemne. Podobne dane wyszły na jaw przy pytaniu, o kim fantazjują badani podczas masturbacji – 10% przyznało, że czasem myślą wtedy o dzieciach. Niekwestionowanym liderem rankingu przy tym pytaniu były jednak zwierzęta, choć warto zaznaczyć, że aż 12% zdarza się fantazjować o byciu zgwałconym, a 17% o seksualnym sado-masochizmie.
Mimo powszechności doświadczeń homoseksualnych 3/4 badanych obu płci określiło się jako osoby stricte heteroseksualne. Mało tego, średnia ilość partnerów heteroseksualnych wynosiła 50, a homoseksualnych tylko 8. Interesująca może być też kwestia wierności. Na pytanie, czy osoba pozwoliłaby innemu człowiekowi na seks ze swoim zwierzęciem, 90% mężczyzn i 70% kobiet odpowiedziało pozytywnie. Jeden z badanych opisał nawet dość wymownie, że w jego związkach nie ma ograniczeń i jeśliby zwierzę tego chciało, to by nie stawiał przeszkód. Choć przyznał, że pewnie przez pewien czas czułby się dotknięty, nie miał jednak wątpliwości, że w końcu jednak by wybaczył zdradę. Inni z kolei stawiali sprawę jak większość zwykłych mężczyzn: "Mam silną emocjonalną więź ze swoim koniem. Co prawda wciąż lubię zabawić się z innymi zwierzętami, ale z nimi to tylko seks, nic głębokiego."
Pewnie jesteście ciekawi, co popycha ludzi do zoofilii. Najwidoczniej jest to jakiś bardziej pierwotny pociąg seksualny, ponieważ znakomita większość badanych fantazjowała o seksie ze zwierzętami na długo, zanim się do niego faktycznie zabrała. Ale są też inne czynniki decydujące o rozpoczęciu przygód zooseksualnych. Wśród najczęściej wymienianych były m.in.: ciekawość (67%), chęć okazania miłości wobec zwierzęcia (60%), przeświadczenie, że może się ufać tylko zwierzętom (43%), przeświadczenie, że zwierzę tego chciało (33%), brak ludzi, z którymi można by współżyć (30%). Z ciekawszych odpowiedzi można by jeszcze wyróżnić "Identyfikowałem się ze zwierzęciem o tej samej płci, co ja", pod czym podpisało się aż 21%. Świadczy to dość jednoznacznie o jakichś problemach tożsamościowych i tym, że ta grupa zoofilów przenosi swoje tendencje seksualne na zwierzęta. Innymi znaczącymi odpowiedziami były "Słyszałem, że inne osoby tak robią" (18%) i "Zobaczyłem przeglądając pornografię" (13%), co by świadczyło dość jednoznacznie, że zoofilią można się w pewien sposób "zarazić". Niemniej do przejęcia tego typu zainteresowań potrzebny jest jeszcze jeden czynnik, mianowicie bycie wychowywanym wśród zwierząt, co potwierdzili prawie wszyscy badani.
Innych ciekawych danych dostarczyły badania przeprowadzone przez dr Andreę Beetz z Uniwersytetu w Erlangen w Niemczech. Potwierdziły się przypuszczenia, że zoofile mają większe trudności interpersonalne, są bardziej nieśmiali i mniej towarzyscy niż przeciętni ludzie. Mają jednak w zamian przewagę na innym polu – wykazują mniej skłonności psychopatycznych, są bardziej wrażliwi na potrzeby innych ludzi, przejawiają więcej empatii, a także mają lepiej rozwiniętą znajomość języka ciała. Badaczka tłumaczyła te odkrycia m.in. tym, że zoofile muszą przechodzić przez więcej kryzysów rozwojowych związanych z samoakceptacją, co niejako wymusza na nich rozwój wrażliwości i tolerancji wobec świata. Dodatkowo, chcąc zrozumieć zwierzęta, a nie mogąc z nimi zwyczajnie porozmawiać, muszą wyczulić się na język ciała. Inną ciekawostką jest to, że aż 34% z badanych zoofili było aktywnymi działaczami na rzecz praw zwierząt. Czyżby najciemniej pod latarnią?
Skąd przychodzisz, zoofilu?
Do jakich wniosków prowadzą nas te wszystkie dane? Głównie do jednego – nie ma jednej uniwersalnej przyczyny zoofilii. To raczej efekt splotu wielu czynników, które mogą popchnąć dorastającego człowieka w tym kierunku. Ta starsza i mniej relatywistyczna seksuologia mówi o pewnej "mapie" psychicznej, po której porusza się rozwijający się człowiek. Odnóg i rozdroży jest tak wiele, że naprawdę niedużo trzeba, aby zboczyć gdzieś w boczną uliczkę. A taką właśnie uliczką jest wedle tego ujęcia zoofilia. Za przyjęciem założenia, że pociąg do zwierząt jednak jest zaburzeniem, przemawia także część danych zebranych przez Miletski. Poza zastanawiająco dużym odsetkiem osób mających inklinacje pedofilskie, wyniki mówią też o tym, że aż 40% mężczyzn było nadużywanych seksualnie, a wśród kobiet odsetek ten wyniósł 36%. Co ciekawe, liczba osób, które potwierdziły ten fakt w bezpośrednim pytaniu był niewielki, ale taki stan rzeczy wyłaniał się w odpowiedziach opisowych na inne pytania, np. o pierwszy kontakt seksualny. Najwyraźniej zadziałał tu mechanizm obronny, który wielu ofiarom każde odczuwać się osobami inicjującym kontakty seksualne z dorosłymi, bo wtedy ktoś taki nie musi już czuć się ofiarą molestowania, a jedynie osobą biorącą udział w akcie seksualnym. Nasuwa to pewne wątpliwości, czy tego typu pytania kwestionariuszowe mają w ogóle sens. Na szczęście Miletski postawiła na pytania opisowe, z których mogła wyciągnąć dane bardziej odpowiadające rzeczywistości. Wracając jednak do tematu, o patologicznym podłożu zoofilii mogą świadczyć też wyniki mówiące o zadziwiająco wysokim odsetku relacji kazirodczych, które – włączając rodzeństwo i kuzynostwo – miały miejsce aż u 44% badanych. Mnie tu jednak pachnie patologią, a Wam?
No dobra, podsumujmy. Część osób weszła na drogę zoofilii w reakcji na samotność i z uwagi na poczucie, że mogą zaufać tylko zwierzętom. Z tej grupy rekrutują się głównie osoby zooseksualne, które preferują zwierzęta bardziej niż ludzi. Wśród wypowiedzi z tej grupy znalazły się m.in. takie: "Tylko pies był moim przyjacielem. Chciałem zrobić mu przyjemność, więc zrobiłem mu loda." czy "Zwierzęta nie kryją swoich emocji, motywacji ani pragnień, są prawdomówne. Ludzie są do tego zupełnie niezdolni". Ta grupa najczęściej traktuje seks ze zwierzętami jako coś naturalnego: "Dla mnie seks z ludźmi jest perwersją. Seks z moją żoną sprawia, że czuję się brudny. Za to nigdy nie czuję się brudny po seksie z klaczą." lub "Seks z ludźmi obrzydza mnie, tak jak homoseksualistę seks z kimś przeciwnej płci".
W tej grupie seks ze zwierzętami może mieć też formę fetyszu, czyli pewnego elementu, którzy umożliwia otwarcie się na doznania seksualne. Takim fetyszem u niezoofili mogą być na przykład buty, rajstopy czy inny przedmiot, który pozwala na zdobycie poczucia psychicznego bezpieczeństwa. Zwykle warunkowanie takie ma miejsce w czasie, kiedy matka zostawia dziecko samo, a ono nieświadomie używa jakiegoś przedmiotu (najczęściej należącego do mamy) jako reprezentacji nieobecnej osoby. W efekcie dorosły człowiek używając fetyszu, pozwala sobie poczuć bezpieczeństwo, które zostało powiązane z przedmiotem właśnie w dzieciństwie. A takie ukojenie emocjonalne umożliwia pełniejsze rozkoszowanie się seksem. Prawie wszyscy zoofile badani przez Miletski wychowywali się w domach, w których były obecne zwierzęta, a dodatkowo często byli nadużywani i zaniedbywani przez rodziców. Wykształcenie się przywiązania fetyszystycznego do zwierzęcia, które zastępuje relację z rodzicem, jest więc jak najbardziej prawdopodobne. W efekcie relacja taka może owocować tendencją do kontaktów zoofilskich, właśnie w celu nieświadomego otwarcia się na seks za sprawą poczucia bezpieczeństwa, które daje kontakt z pupilem.
Część zoofili kieruje się na drogę seksu ze zwierzętami na skutek niemożności zrealizowania swoich popędów z innym człowiekiem. To grupa zwana z angielska "bestiale", czyli osoby nie wykazujące zaangażowania emocjonalnego, a jedynie erotyczne. Wielu z nich po eksperymentach wieku młodzieńczego wchodzi w relacje z kobietami i już nie powtarza swoich dawnych doświadczeń. Ewentualnie wraca do nich w chwilach, kiedy kobiety są niedostępne, ale te osoby – jak już wspomniałem – wg kryteriów DSM nie są nawet kwalifikowane do kategorii "kochających inaczej", a jedynie do nieistniejącej zakładki "masturbujących się inaczej".
Jest wreszcie grupa seksualnych masochistów, dla których seks ze zwierzęciem jest próbą samoponiżenia się. Tutaj prym wiodą kobiety, które statystyczne okazują się częściej dotknięte masochizmem, także tym społecznym. Źródła tego stanu rzeczy są nieco bardziej skomplikowane, tu skupmy się wyłącznie na seksualnym S-M (sado-masochizmie). Jedna z badanych przez Miletski kobiet tłumaczyła swoje zachowania zoofilskie, jako coś jeszcze bardziej poniżającego od dominacji ze strony mężczyzny. Generalnie tego typu schemat zachowań tworzy się u ludzi, którzy w swoim własnym – zwykle głęboko ukrytym – mniemaniu nie zasługują na przyjemność i czują się winni, kiedy ją odczuwają. Cierpienie masochistyczne jest niejako pokutą, która uprzedza sam powód pojawienia się tej kary. Takie samoudręcznie już w trakcie popełniania "grzechu" zwalnia z poczucia winy, a tym samym umożliwia odczuwanie przyjemności, która w innym przypadku byłby mniej dostępna. Czasem masochizm jest wręcz okrutnym samoniszczeniem się tak naprawdę czynionym po to, aby zrobić "na złość" realnemu oprawcy z dzieciństwa, kiedy osobowość S-M dopiero się kształtowała. Dobrą ilustracją tej motywacji jest historia najbardziej znanej aktorki zoo porno Bodil Joensen. Wychowywana przez destrukcyjną matkę, bita i niekochana, została w wieku 12 lat napastowana przez obcego mężczyznę. Kiedy powiedziała o tym wydarzeniu mamie, ta obwiniła ją o wszystko i pobiła. Szukając drogi zemsty, Bodil wybrała masochistyczną autodestrukcję i wykrzyczała wtedy do niej, że jak dorośnie, będzie uprawiać seks z knurami. Odwet okazał się skuteczny, bo matka w histerii nabrała przekonania, że jej córka sprzymierzyła się z diabłem, co sporo mówi o klimacie tego domu. Ostatecznie Bodil dotrzymała słowa i działając w przemyśle pornograficznym szybko zyskała przydomek "Dziewczyna od wieprzy". Jednocześnie poza masochizmem Joensen przejawiała dużo miłości do zwierząt. Jej najbliższym przyjacielem była suczka Spot, którą Bodil zabrała ze szpitala dla zwierząt. Owczarek niemiecki był uprzednio bity i zabiedzony, jednak odzyskał siły przy nowej pani. W wywiadzie Joensen wyznała: "To był zawsze był tylko mały, słaby piesek. Była moją przyjaciółką. Rozumiała, co mówię. Była szczęśliwa, kiedy ja byłam szczęśliwa. I smutna, kiedy ja byłam smutna. Spot była jedynym stworzeniem, które kochało mnie za to, że jestem sobą. Nie chciała niczego w zamian. Pocieszała mnie, kiedy byłam chora." Po stracie Spot Bodil wpadła w depresję i alkoholizm, który doprowadził ją do śmierci.
Najciekawszą z psychologicznego punktu widzenia grupą są chyba ci zoofile, którzy przenoszą na zwierzęta swoje najbardziej wewnętrzne potrzeby psychologiczne. Psychoanalitycy od dawna podejrzewali, że przynajmniej niektórzy zoofile realizują swoje nieakceptowane popędy seksualne na zwierzętach. Jedną z możliwości może być opisywany już przeze mnie kompleks Edypa, który zostaje zastępczo wcielony w życie. Podczas kopulacji ze zwierzęciem w głębi duszy takiej osoby może się rozgrywać wyparta scena kontaktu z własną matką lub inną postacią, z którą seks jest zakazany jako kazirodztwo. Wśród przypadków opisanych przez Miletski jest na przykład osoba, która była molestowana przez własną babcię. Było to takie wykorzystywanie przez rozbudzanie – wspólne spanie, dotyk, aranżowanie sytuacji, w której mały chłopiec musi zobaczyć kobietę nago. Możemy się tylko domyślać, że takie molestowanie dawało babci malca złudzenie, że wciąż może pobudzić kogoś z "mężczyzn", jednak dla ofiary mogły to być wrota do zoofilii. Badany nie potrafił sobie przypomnieć szczegółów i przyznawał, że musiał je wyprzeć, ale możemy się domyślać, że w dziecku postawionym w takiej sytuacji rośnie zakazane pożądanie, które nie może być nazwane po imieniu i musi szukać ujścia w formach zastępczych. Ponieważ psychika zawsze stara się wybierać mniejsze zło, łatwiej jej było zaakceptować seks ze zwierzętami niż świadomość własnych kazirodczych tendencji. Dla lepszego zamaskowania człowiek może sobie wyobrażać, że sam jest podczas tego stosunku zwierzęciem. W świetle badań ujawniających, że do kontaktów między członkami jednej rodziny dochodziło aż w 44%, ta koncepcja źródeł zoofilii wydaje się całkiem prawdopodobna w odniesieniu do całkiem sporej grupy badanych.
Zoofilia nasza powszednia
Tyle teorii klinicznej. A teraz zejdźmy jeszcze na chwilę do poziomu codzienności. Zapewne dla ok. 95% z Was – czytających te słowa – sama myśl o kontakcie seksualnym ze zwierzęciem wydaje się obrzydliwa. W rzeczywistości jednak jest spora grupa osób, które dadzą się na takie igraszki namówić. Tak, namówić, ponieważ nasza otwarta na seksualność kultura, także w tym względzie nie znosi ograniczeń. Najsłynniejszym poradnikiem seksualnym dla kobiet była "Magia seksu" napisana przez słynnego głównie z horrorów Grahama Mastertona. Na zachodzie książka stała się bestsellerem już w roku wydania, czyli w 1976, choć w Polsce furorę zrobiła dopiero po upadku komuny, a tym samym i cenzury. Na liście polecanych przez autora sposobów masturbacji jest i taki: "Nałóż na srom świeżo ubitą śmietanę, i jeśli masz w domu kota, skłoń go, by ją wylizał." Ile kobiet w rzeczywistości przeżyło tę zoofilską przygodę, trudno powiedzieć. Faktem jest natomiast, że książka rozeszła się na świecie w nakładzie 3 milionów egzemplarzy. Jeśli przyjmiemy, że tylko co setna osoba wcieliła powyższą poradę w życie, świat wzbogacił się o 30 000 nowych zoofilek. "Kici, kici, pancia da kotkowi śmietanki…"
Jeśli już o kotach mowa, warto przypomnieć, że stoją one bardzo wysoko w hierarchii zoofilek. Tym niemniej kobiet uprawiających seks ze zwierzętami jest wyraźnie mniej niż facetów. Jak to uzasadnić? Dość prosto – kobiety są generalnie bardziej emocjonalne (choć, niestety, współcześnie jest to coraz mniej zauważalne). Obowiązuje tu ta sama zasada, co w świecie heteroseksualistów. Mężczyźni dużo częściej sięgają po klasyczne porno, bo kobiety mają jego własną, uczuciową wersję – harlequiny. W rzeczywistości panie sublimują swoje seksualne potrzeby i realizują w bardziej emocjonalny sposób. A teraz niespodzianka – koty pełnią podobną rolę, co harlequiny. Często są one zwierzęcym substytutem mężczyzny, z którym co prawda (zwykle) nie uprawia się seksu, ale za to można się do niego przytulić, popieścić, przygotować mu kolację. Poznali się na tym nawet spece od reklamy. Do czasu kampanii z Evą Longorią, Sheba – luksusowa marka żarcia dla kotów – uderzała właśnie w tę nieuświadomioną zależność. I robiła to bardzo konsekwentnie. Strona produktu utrzymana była w klimacie smutnego romansu, z nastrojową muzyką i baaardzo konkretnymi tekstami, które uwzględniały takie pozycje jak "romantyczna kolacja we dwoje" czy "śniadanie w łóżku". Z kim? Oczywiście z kotem! A do tego kalendarz, w którym w bardzo romantycznym tonie opisano takie soft-zoofilskie wydarzenia jak Walentynki czy Dzień Kobiet. Czym różnią się klientki Sheby od miłośników zoo porno? Płcią :)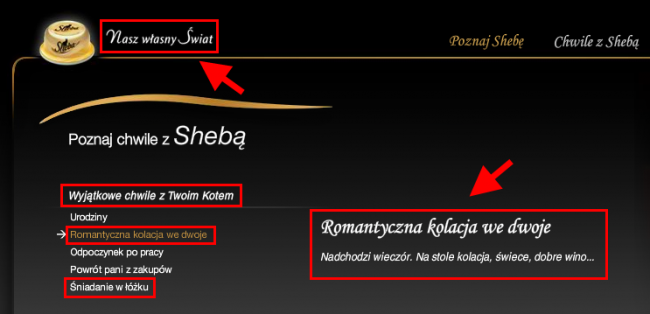 Zoofilki cenią sobie też to, że futrzaki są wierne, miłe i przyjemne w dotyku. Jedna z kobiet badanych przez Miletski ujęła to tak: "Zwierzęta są żywymi, lojalnymi, emocjonalnymi stworzeniami, często zdolnymi do wielkiej miłości i oddania. Co może być bardziej naturalnego od kochania takich istot. Seks z martwym, plastikowym przedmiotem – to jest dopiero dziwne!"
So-li-darność! , czyli zoofile na barykadach
Choć to jeszcze nie do pomyślenia, powoli rodzi się ruch oporu przeciwko dyskryminowaniu zoofili. I to nie byle gdzie, bo – uwaga – u naszych południowych sąsiadów. Organizacja nosi nazwę Equality For All (Równość dla wszystkich)  i walczy o równe traktowanie wszystkich bez wyjątku – także zwierząt, włączając w to ich prawo do seksu z ludźmi. Z analizy zamieszonych tam tekstów wynika, że są to osoby, które łączy tylko pasja do zoofilii oraz fakt, że… popierają Baracka Obamę, w którym widzą przyjaciela zwierząt. Boję się tylko, że gdyby wpadli na te artykuły członkowie sztabu Romneya, to poparcie poparcie ze strony zoofilów mogłoby się okazać pocałunkiem śmierci. Warta przejrzenia jest jeszcze zakładka z linkami, wśród których znajduje się ta oto perełka www.marryyourpet.com (Poślub zwierzaka). Co prawda ceremonia nie jest ważna – jak dotąd – w świetle żadnego państwa, ale jeśli sprawy pójdą konsekwentnie w tym kierunku, co obecnie, to wcale nie wykluczam możliwości, że kiedyś będą to związki wpisywane do dowodu osobistego. Znając życie, pionierem będzie Australia, czyli kraj który jako pierwszy wprowadził do paszportów trzecią płeć – "nieokreśloną". Amatorzy angielskiego humoru z pewnością dostrzegą na stronie arcyidiotyczną reklamę "divorce your pet", czyli "rozwiedź się ze swoim zwierzakiem" (prawy dolny róg, polecam odtworzenia całej "historyjki", gdyby się przypadkiem zacięła). Jak widać związki międzygatunkowe także przeżywają swoje wzloty i upadki.
Podjąłem próbę skontaktowania się z Equality For All (EFA), która zakończyła się częściowym powodzeniem. Moje pytania zostały przekierowane przez tę organizację do reżysera powszechnie zbanowanego filmu (wyrzucili go nawet z Youtube) pt. "Coming Soon". Dzieło to dokumentuje życie i działalność zoofili zrzeszonych w EFA, wśród których dominują rodowici Czesi, choć jest też i uchodźca seksualny z Wielkiej Brytanii, gdzie do niedawna za zoofilię groziła jeszcze kara dożywocia. Sam autor, używający pseudonimu Sir Tijn Po, jest, co najmniej, ekscentrykiem. Jak ktoś nie wierzy, proszę zajrzeć na jego stronę. Tak więc Sir Tijn Po utrzymuje, że choć sam nie jest zoofilem, zaangażował się w walkę o prawa tych ostatnich. Jego największym osobistym wkładem jest wspomniany film, który można za darmo obejrzeć pod adresem www.comingsoon.cz. Jakość nie powala, jest za to angielski dubbing. Jeśli macie oczy bardzo szeroko otwarte na świat – obejrzyjcie, nie ma tam ani cienia pornografii.
W filmie występuje wiele ekscentrycznych postaci, nie będę próbował nawet tutaj streszczać ich sylwetek. Jeślibym miał jednak wskazać tę najciekawszą, to byłby to pan pojawiający się w 57. minucie dokumentu. Rzeźnik, który stracił żonę i odnalazł ją zreinkarnowaną w świni, którą miał zamiar zabić. Od tej pory traktuje maciorę jako swoją partnerkę, nosi jej zdjęcia w portfelu, a nawet chce mieć z nią dzieci. Ma jednak świadomość, że będą to małe różowe prosiątka, poczęte przy pomocy pana inseminatora. Jak dla mnie groteski dopełnia scena początkowa, pokazująca, jak ten sam człowiek bez mrugnięcia okiem oprawia inną świnię, która najwyraźniej już nie przypomina mu żony, nota bene całkiem ładnej ze zdjęcia.
Wróćmy jednak do głównego tematu. EFA ma żal do organizacji gejowskich, że nie wspierają zoofili w ich walce o równe prawa. Tym bardziej, że ci ostatni czują się kimś w rodzaju dzielnych homoseksualistów walczących o równouprawnienie w USA lat 60-tych. Sami geje wolą jednak zachować bezpieczny dystans od swoich nowych,samozwańczych towarzyszy broni i ma to pewne logiczne uzasadnienie. Z jednej strony pozycja gejów i lesbijek nie jest na tyle stabilna, by ryzykować upapranie się w nowym skandalu obyczajowym, w końcu jeszcze nie wszędzie wywalczyli sobie prawo do adopcji. A po drugie, wydaje się, że wielu homoseksualistom zoofilia wydaje się po prostu wstrętna i… nienaturalna (co za ironia losu). Poza tym rodzi się kłopotliwe pytanie, czy jeśli dzisiaj przyznamy prawa zoofilom, to kto upomni się o nie jutro – pedofile, a może nekrofile? Między innymi o to postanowiłem spytać EFA, organizacja odpowiedziała mi ustami wspomnianego Sir Tijn Po. Poniżej tłumaczenie:
Czy jeśli bronisz zoofilii, powinieneś bronić także pedofilii? Zadałem sobie to pytanie podczas kręcenia "Coming Soon". (…) Odpowiedź, której sobie udzieliłem, jest taka, że chociaż chcę odrzucić nakazy biblijne, to dalej nie wierzę w to, że wszystko jest dozwolone. Chcę żyć w społeczeństwie, które czyni tak mało krzywdy wszystkim stworzeniom, jak to tylko możliwe. Mam na myśli fizyczną krzywdę, ponieważ nie wierzę w dusze, duchy i krzywdę duchową. Więc kiedy analizowałem zoofilię, doszedłem do wniosku, że jest wielu ludzi, którzy autentycznie kochają zwierzęta i nigdy nie zrobiliby niczego, czego w ich odczuciu samo zwierzę nie chciałoby zrobić. Tak samo wszyscy właściciele zwierzaków domowych próbują zrozumieć chęci swoich pupili najlepiej, jak tylko potrafią. I nie widzę żadnego problemu w rozszerzeniu tych działań o aspekt seksualny. Wiadomo przecież, że niektóre zwierzęta miewają stosunki seksualne z przedstawicielami innych gatunków (wystarczy zajrzeć na YouTube) i że czasem zwierzęta same inicjują seks z ludźmi. Zatem jeśli człowiek chce umożliwić zwierzęciu zrealizowanie tych popędów, to ja nie mam problemu z zaakceptowaniem tego stanu rzeczy. Nawet jeśli to człowiek inicjuje kontakt seksualny, to, tak długo jak zwierzę jest zachęcane, ale nie zmuszane, nie widzę problemu. I oczywiście nie sądzę, by takie rzeczy były gorsze niż różne inne zachowania wobec zwierząt, które są kompletnie legalne i powszechnie tolerowane, np. jedzenie mięsa, noszenie skórzanych ubrań, polowania, posiadanie zwierząt domowych, eksperymenty medyczne, szkolenie zwierząt do cyrku, wyścigi koni czy psów itp.
Dzieci jednak należą do innej kategorii z kilku powodów. Po pierwsze nie są (przynajmniej w naszej kulturze) sprzedawane, wystawiane, zjadane, obdzierane ze skóry, nie poluje się na nie, nie eksperymentuje na nich itd. Są chronione przynajmniej tak samo jak dorośli, o ile nie bardziej. Zatem porównywanie praw dzieci i zwierząt jest absurdem. Lecz nawet, jeśli cywilizacja zmieniłaby się tak bardzo, że wszystkie zwierzęta otrzymałyby te same prawa co ludzie, dalej widziałbym między nimi różnice. Kluczową jest ta, że dzieci stają się osobami dorosłymi i nawet wtedy pamiętają swoje dzieciństwo i mogą dopiero później poczuć wstyd, ból, poczucie wykorzystania. Dzieci przechodzą fundamentalną przemianę między dzieciństwem a dorosłością, więc nawet jeśli bylibyśmy pewni, że dzieci czują przyjemność podczas kontaktu seksualnego, nie wiedzielibyśmy, jak dziecko będzie się z tym czuło, kiedy dorośnie.
Nawet gdyby społeczeństwo zaakceptowało pedofilię (jak zrobiło to wiele antycznych kultur), dziecko wciąż może czuć się wykorzystane i naznaczone. Zwierzęta, kiedy już osiągną dojrzałość seksualną, nie wydają się mieć tej zdolności refleksji, aby mogły żałować przeszłych zachowań seksualnych i nagle poczuć się wystraszone swoimi poprzednimi kontaktami seksualnymi z człowiekiem. Myślę, że z tego powodu nigdy nie dojdziemy do punktu, w którym zakazalibyśmy zwierzętom nagości, publicznej kopulacji, wydalania itp. Nigdy nie spotkałem się z nikim (nawet ze strony najbardziej fanatycznych wojowników o prawa zwierząt), kto by sugerował, że powinniśmy zacząć ubierać zwierzęta i zakazać ludziom oglądania ich seksualnych zbliżeń, ponieważ zwierzęta nie wykazują żadnej samoświadomości dotyczącej ich własnej seksualności. Oczywiście zwierzęta są bardzo wybredne w wyborze partnera i potrafią okazać niezadowolenie. Ale kiedy już raz okażą pożądanie, nie wydaje mi się, aby była możliwość zaistnienia jakiegoś późniejszego żalu ani wstydu z ich strony.
Dlatego osobiście wspieram EFA, ale jestem przeciwnikiem jakichkolwiek zachowań pedofilskich, nawet jeśli byłyby one zainicjowane przez dzieci. Oczywiście jest tutaj miejsce na dyskusję, do jakiego wieku uznajemy czyn za pedofilię, ponieważ różne europejskie kraje mają różne uwarunkowania w tym względzie, a w USA sytuacja jest różna nawet w sąsiednich stanach. Więc także w tym względzie jest jakieś szare pole. Ale prawie wszystkie kraje wydają się zgadzać, że przed okresem dojrzewania seks powinien być zakazany i mnie oczywiście też to przekonuje.
Jestem także przeciwny mordowaniu, niewolnictwu (które jest dopuszczone przez Biblię) i każdej formie nadużywania. Ale poparłbym pewne formy nekrofilii, na przykład kiedy dwoje partnerów godzi się na seks, kiedy ten drugi umrze – nie miałbym problemu z zaakceptowaniem tego. Śmierć jest tajemnicą i nikt nie wie, co się dzieje po śmierci i jeśli ktoś decyduje, że chciałby, aby uprawiano z tym wtedy seks, kim jesteśmy, żeby się na to nie zgadzać?
Wreszcie, choć EFA wspiera zwierzęta i nie akceptuje wśród członków osób, które nie odżegnują się w jasny sposób od jakiejkolwiek formy przymusu lub sadyzmu, nie wydaje mi się, żeby uważali się za największych obrońców zwierząt na świecie. EFA zdaje sobie sprawę, że jest wielu nie-zoofili, włączając w to mnie, którzy wspierają ideę praw zwierząt w równym stopniu. Są nawet członkowie EFA, którzy jedzą mięso, co zakrawa na ironię, ale domagają się za to humanitarnego podejścia do hodowli, pozbawiania życia itp.
Muszę jednocześnie przyznać, że nie słyszałem o żadnym członku EFA, który wspierałby pedofilię. EFA co prawda nigdzie nie napisała tego wprost, ale oni są tak ewidentnie przeciwni cierpieniu, że nie wydaje mi się możliwe, aby istniał jakikolwiek członek popierający tego typu zachowania.
Swoją drogą, czy to nie Biblia wspiera pedofilię ze swoim wyraźnym brakiem limitu wieku dla ślubu i czynności seksualnych. Czy to nie biblijna Rebeka miała 3 lata, kiedy została wydana za mąż?


EPILOG, czyli czwarte dno
Powiem Wam szczerze. Sam nie wiem, co o tym wszystkim myśleć. Facet pisze z sensem. Co więcej, potrafi postawić granicę między tym, co dopuszczalne i tym, co jego zdaniem już nie. Jest liberałem i umie obronić swoje poglądy. Mimo wszystko dla mnie zoofilia jest ewidentnym zaburzeniem, choć czasem niełatwo jest znaleźć jej przyczynę. Ale czy moje przekonanie, że ktoś jest szalony, może upoważnić mnie do zabronienia mu realizacji własnego szczęścia po swojemu?
Przyjmę na chwilę niewdzięczną rolę adwokata diabła. Osobiście należę do ludzi "brzydliwych". Nie interesuje mnie np. seks analny i mam wewnętrzne przekonanie, że kiszka odchodowa została stworzona (przez Boga?) w innym celu. Z rozmów z moimi przyjaciółmi wynika jednak, że niektórzy z nich nie podzielają mojej niechęci. I co? I nic, nie obchodzi mnie, co oni sobie tam robią w zaciszu swoich domów. A przecież teoretycznie mógłbym rozwinąć w sobie jakiś niezdrowy wstręt i zastanawiać się, gdzie być może jeszcze niedawno zawędrowała ręką, którą ktoś mi właśnie podaje na powitanie. Ale wiecie co? Nie myślę o tym. Podobnie wyobrażam sobie, że mógłbym nie myśleć, co robi jakiś mój znajomy ze swoim psem czy kotem. I to jest chyba całkiem zdrowe podejście, bo uzmysłowienie sobie, jak duży odsetek ludzi spacerujących ze swoimi czworonogami po parku zrobiło z nimi coś jeszcze, chyba by mnie przytłoczyło. Twoja sypialnia/stajenka/chlewik – Twoja sprawa. Przynajmniej o ile nie krzywdzisz zwierząt, ale na dobrą sprawę nawet zbytnie troszczenie się o domniemany interes czworonogów pachnie hipokryzją. W końcu wykorzystujemy zwierzęta powszechnie i to na wszelkie możliwe sposoby. Łamiemy wolę konia (kto zajmował się kiedyś ujeżdżaniem, ten dokładnie wie, o czym mówię), każąc mu nosić nasz ciężar. Ogłupiamy psy, by biegały za rzuconym patykiem, na co dzień zmuszając je do krańcowego posłuszeństwa, np. ciągając je na smyczy. Bezwstydnie, nagminnie ingerujemy także w seksualność zwierząt! W dzisiejszych czasach pan knurek nie spotyka się już z panią świnką – maciory są sztucznie zapładnianie, co pewnie jest dla nich dużo większym stresem niż uświęcona przez naturę kopulacja. Kastrujemy nasze psy i koty, a jeśli nawet nie, to niczym najgorsi tyrani porcjujemy im dostęp do kontaktów seksualnych, które byłyby przecież powszechne w naturalnym środowisku. Do tego masowa hodowla w warunkach, które są jednym wielkim łamaniem naturalnych popędów i instynktów. To już nawet nie jest niewolnicza praca zwierząt pociągowych, na której wyrosła nasza cywilizacja. Dzisiaj to przede wszystkim czysta tortura życia w stresie i wbrew naturze, czyli w tzw. warunkach hodowlanych. Skoro jesteśmy na co dzień takimi gnębicielami zwierząt, dlaczego nagle wybuchamy świętym oburzeniem, kiedy dochodzimy do kwestii seksu?
Myślę, że wiem dlaczego. My po prostu traktujemy zwierzęta tak, jakby były dziećmi. Uważamy, że są słodkie i niewinne, ale nie potrafią podejmować za siebie wyborów. I w tym kontekście wstręt do zoofilii jest jak najbardziej zrozumiały. W końcu nikt, kto ma w sobie choć odrobinę empatii, nie będzie popierać pedofilii. Może warto sobie jednak zdać sprawę z tego, że dorosłe zwierzęta są dojrzałe i w związku z tym gotowe do odbywania stosunków seksualnych. I chcą robić to ze wszystkimi członkami swojego stada, do którego często zaliczają także ludzi. To przewrotne, ale sam fakt, że dostrzegamy w zwierzętach odpowiednik ludzkich dzieci, jest wykorzystywaniem zwierząt do zaspokajania naszych własnych potrzeb. Ale one zwykle są dorosłe, tylko my nie chcemy tego zauważać.
Jest chyba jeszcze coś. Zoofilia jest dużo łatwiejsza do zaakceptowania, kiedy nie musimy jej widzieć. Nawet rzucenie okiem na zoo porno budzi u mnie odczucie wstrętu. Ale podobnie mam w przypadku porno gejowskiego, a często nawet odnośnie tego niby "normalnego", w którym wulgarne kobiety są w niezbyt estetyczny sposób "gwałcone" przez jakiegoś napakowanego typka (przepraszam tu koneserów tej sztuki filmowej). To nie moja bajka, ale nikomu nie zakazuję oglądać sobie tych produkcji, ani nawet naśladować, byle w zaciszu domowego ogniska.
Tyle ode mnie. Na koniec dwa filmiki. Pierwszy to "humoreska", która ukazuje coś przewrotnego – jak wygląda świat widziany oczami zoofila. Najbardziej rozbawił mnie jednak jeden z komentarzy pod filmikiem: "Kurde, wcale się mu nie dziwię…".
Drugie video to dla odmiany tragedia dokumentalna, będąca wyrywkiem z "Coming Soon" i pokazująca, do czego może prowadzić chęć zaprowadzenia "normalności". Komentarz wydaje się zbędny.
To już wszystko, co miałem do przekazania w tym wyjątkowo długim wpisie. Skoro dojechałeś – Drogi Czytelniku – aż tak daleko, jesteś zapewne wnikliwym człowiekiem, którego nie przeraziło tabu tu poruszane. Doceniam i gratuluję. Skoro wiesz już tyle, masz też pewnie wyrobione zdanie na temat zoofilii lub przynajmniej zarys swoich poglądów na ten temat – podziel się nimi z nami pisząc parę zdań komentarza i głosując w sondzie zamieszczonej po prawej stronie u góry wpisu. Ale jeśli masz zamiar bluzgać – zrób to pod swoim prawdziwym imieniem i nazwiskiem.