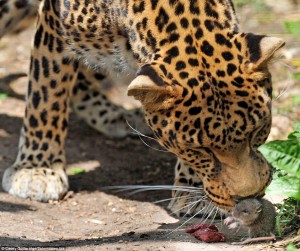 Wszyscy czasem zachowujemy się tak, jak nam każą, to oczywiste. Czasem jednak nasi mocodawcy są mikroskopijnych rozmiarów i mieszkają wewnątrz nas samych. Nie mam tu na myśli żadnego superego, czy innego elementu psychiki. Chodzi dosłownie o takie małe stworzonka, które mają swoje interesy i realizują je modyfikując nasze zachowanie.
W najprostszy możliwy sposób robi to wirus grypy. Gdy jesteśmy jego nosicielami, żywicielami i wykonawcami jego poleceń – kaszlemy i kichamy, a właściwie to on kaszle i kicha nami. Ma w tym ważny interes, bo rozsiewa się dalej i infekuje inne osoby z otoczenia zarażonego. Te objawy grypy to nic innego jak efekt pociągania odpowiednich sznureczków w naszym organizmie.
Ok, takie władztwo da się jeszcze wytrzymać. Wirus wścieklizny idzie jednak dalej. Zakażone zwierzęta tracą instynkt samozachowawczy – przestają się bać naturalnych wrogów, jednocześnie stając się agresywne i nieprzewidywalne. Do tego pojawia się u nich wodowstręt. Oczywiście wszystko to leży w interesie wirusa. Zakażone zwierzę podchodzi do innych, co już samo z siebie prowokuje walkę, i pozwala wirusowi przejść na kolejne zwierzę. Wodowstręt wynika zaś z tego, że wirus gromadzi się w ślinie. Obrzydzenie do wody sprawia, że zwierzę go nie wypłukuje i ugryzienia stają się bardziej zaraźliwe. Taka perspektywa dla ludzkiego nosiciela nie jest już najlepsza – śmierć w agonii, przy wybuchach agresji i napadach omamów, kiedy nie poznaje się już nawet własnej rodziny jest perspektywą dość przerażającą. Jedyna pociecha, że nie jest to stan długi i praktycznie zawsze kończy się śmiercią. Praktycznie, bo medycyna zna przypadek, że komuś udało się przeżyć. Nie warto się tym jednak pocieszać, bo praktycznie łatwiej trafić szóstkę w totka. Dwa razy pod rząd.
Jest jednak żyjątko, które zmienia naszą osobowość na dobre, a my wcale nie zdajemy sobie sprawy, że ktoś zaczął pociągać za nasze wewnętrzne sznureczki. Marionetka jest tak pewna własnej wolnej woli, że nie zauważa swojej zmiany. Żyjątko to atakuje osobowość. Nazywa się toksoplazmoza i jest pierwotniakiem. By być precyzyjnym, tak nazywa się choroba wywołana przez naszego mocodawcę. A on sam nosi miano Toxoplasma gondii. Prawda, że ładnie?
By zrozumieć co nim kieruje, a w efekcie co kieruje nami, trzeba uzmysłowić sobie życiowe cele tego pierwotniaka. Po pierwsze, gdyby mógł być tego świadomy, wcale by się nie ucieszył, że siedzi w naszym mózgu. Jako ludzie mamy stosunkowo nikłą szansę być zjedzeni przez kota. A to koty są jego żywicielami ostatecznymi i jako takie są niezbędnym ogniwem w cyklu życiowym pasożyta. Tak więc z punktu widzenia Toxoplasmy gondii najlepiej by było, gdybyśmy byli myszą lub szczurem. Nie jesteśmy, ale pierwotniaki o tym nie wiedzą i robią nam to samo, co zrobiłyby z gryzoniem – zmieniają zachowanie. Szczur chory na toksoplazmozę traci lęk przed drapieżnikami. Zwyczajnie nie czuje strachu i nie reaguje na zapach ani widok kota. W istocie pasożyty żyjące w jego mózgu, chcą żeby dał się zjeść. Gryzoń jest tylko żywicielem pośrednim – ma dać schronienie swoim mocodawcom tylko na jakiś czas, a potem dać się pożreć, by pasożyt mógł przejść na kota. W kocie pierwotniaki rozmnażają się. Nie zmienią jednak jego zachowania, bo w sierściuchu pasożyt rozgaszcza się nie w mózgu i mięśniach, a w przewodzie pokarmowym. Jego cysty (potomstwo) wydalane są wraz z kałem. Kiedy kocia kupka wchodzi w kontakt z jedzeniem innych ssaków, zostają one zarażone i nowe pokolenie Toxoplasmy gondii instaluje się w ich mózgach, by mówić im, co mają robić, by dać się zjeść.
Swego czasu można było zobaczyć w Angorze zdjęcie przytoczone u góry tego wpisu z podpisem: "Wielki kot zaopiekował się myszką". Pokusiłem się, by odnaleźć w sieci pierwowzór i tam jeden z podpisów brzmiał już: "Najodważniejsza myszka na świecie". Prawda jest jednak bardziej trywialna. To po prostu chora myszka, którą, niczym marionetką, kieruje jej władca – Toxoplasma gondii. Lampart nie był nawykły do konsumpcji żywego obiadu, więc ze zdziwienia pozwolił mysiemu intruzowi podprowadzić sobie część posiłku, czym musiał rozczarować pasożyty zainstalowane w mózgu gryzonia. Ot, i cała tajemnica odwagi i opiekuńczości, którą próbowano nam sprzedać.
Skoro wiemy już, co kieruje pasożytem i co kieruje myszką – pasożyt, odpowiedź na pytanie w jaki sposób Txoplasma gondii kieruje nami, staje się coraz bardziej oczywista. Zmienia naszą osobowość, byśmy dali się zjeść kotu. W jaki dokładnie sposób?
Do badań wykorzystano test osobowości Cattella, czyli precyzyjne narzędzie psychologiczne. Porównano wyniki osób zainfekowanych i zdrowych. Okazało się, że pierwotniak ma wpływ na nasze… superego. Mówiąc wprost – zdejmuje hamulce. Osoby zainfekowane wykazywały na "skali G" wyniki "niskiego superego". Rezultaty na pozostałych skalach zależały od płci. Zainfekowani mężczyźni stawali się bardziej podejrzliwi i zamknięci, a kobiety odwrotnie – ufne, wylewne, pewne siebie i bardziej aktywne seksualnie. Skąd taka zależność? Przypuszcza się, że pierwotniak znosi hamulce społeczne zawarte w superego. Kultura od kobiety wymaga większej wstrzemięźliwości seksualnej i pewnego wycofania – to jednak mężczyźni zdominowali przestrzeń społeczną. Tymczasem zainfekowani mężczyźni stają się bardziej podejrzliwi i nieufni, czyli tacy, jacy byli w dawnych czasach, kiedy żyliśmy w małych grupach z silną hierarchią dominacyjną. Powstanie superego jest efektem ograniczającego wpływu kultury, która wskazuje nam, jakie cechy należy ukrywać, a jakie pielęgnować. Wpływ społeczny wymusza na mężczyznach okazywanie ufności i kooperatywności – żeby zamiast po staremu rywalizować, mogli jednak wspólnie pracować i żyć obok siebie w zagęszczeniu wynikającym z warunków cywilizacyjnych. Obecność pierwotniaka w naszym mózgu po prostu znosi nam nieco te kulturowe ograniczenia.
Toxoplasma gondii pociąga także za inny sznureczek. Jej nosiciele stają się bardziej skłonni do ryzyka. Odważna myszka skończy w paszczy kota (chyba że będzie miała szczęście i ten kot okaże się niemającym instynktu łowieckiego mieszkańcem zoo), odważny człowiek… pod kołami samochodu. Badania medyczne ustaliły, że nosiciele Toxoplasmy kilkukrotnie częściej powodują wypadki drogowe. Pewnie kiedyś, wraz z rozwojem medycyny będziemy się z niej leczyć, na razie jednak nie ma skutecznych leków. Odpowiednio dobranymi antybiotykami udaje się zaleczyć jedynie pierwotną infekcję. Taka terapia stosowana jest w sytuacji, gdy Toxoplasma powoduje problemy organiczne (raczej rzadkie przypadki) oraz u kobiet w ciąży, by infekcja nie przeniosła się na dziecko. Nie ma jednak na razie skutecznego sposobu na wyrugowanie form przetrwalnikowych pierwotniaka, które "bunkrują" się w organizmie człowieka i stają się nie do ruszenia dla tradycyjnych antybiotyków. Badania nad nowymi lekami trwają.
Rodzi się też inne ciekawe pytanie – ilu czytających ten wpis jest już marionetkami? Wbrew pozorom całkiem sporo – być może co czwarta lub piąta osoba. Prawdopodobieństwo bycia nosicielem zależy od wieku. Im dłużej żyjemy, tym więcej mieliśmy sposobności do zarażenia się. Ilość nosicieli waha się w zależności od kraju, środowiska życia i diety od kilku do kilkudziesięciu procent. Zarazić się można albo mając kontakt z kocią kupą (ale taką starą, ponad jednodniową, bo cysty potrzebują trochę czasu, żeby się rozwinąć), albo poprzez jedzenie niedogotowanego mięsa. Ten pierwszy sposób jest częstszy u ludzi mieszkających na wsi oraz mających koty – statystycznie 70% tych zwierząt jest nosicielami. Choć i dzieci bawiące się w przyblokowych piaskownicach też są w grupie ryzyka, bo kotki czasem załatwiają tam swoje potrzeby. Drugi sposób zarażenia człowieka związany jest z jedzeniem niedogotowanego mięsa. Kiedy kocie odchody wchodzą w jakiś sposób w kontakt z pokarmem zwierząt gospodarskich, pierwotniak przedostaje się do ich mózgów i mięśni. Wtedy nosicielami stają się np. świnie czy krowy, które ostatecznie zostają przez nas zjedzone. Jeśli mięso było niedogotowane, to do naszego przewodu pokarmowego trafiają żywe pasożyty, które kontynuują swoją działalność wewnątrz nas, a my niezauważenie dla siebie tracimy hamulce morlane…
Wbrew pozorom zarażenie się przez zjedzenie zainfekowanego mięsa wcale nie jest rzadkim przypadkiem – prawie połowa z badanych produktów mięsnych dostępnych w sklepach miała w sobie pierwotniaki. Zabija je ciepło, więc szczególnie dużym ryzykiem zarażenia dotknięci są miłośnicy niedopieczonych steków i tatara. Taka forma mięsa jest szczególnie chętnie i często jadana w Paryżu, stąd aż 80% mieszkańców tego miasta jest nosicielami Toxoplasmy. Być może więc słynna swoboda seksualna Francuzek ma cichych współautorów, ukrytych głęboko w zwojach mózgowych swoich ludzkich marionetek.
Uzupełnienie tego tekstu znajduje się w jednym z kolejnych wpisów - Władcy marionetek 2
PS. Spotkałem parę opinii, że tekst jest nierzetelny, bo gdzie indziej o tym wszystkim nie piszą. Co prawda zbierając materiały do wpisu nie korzystałem z Wikipedii, ale zauważyłem, że dla wielu internautów jest ona ważnym autorytetem. Zamiast poprzestawać więc na opisie polskojęzycznym, polecam sięgnąć do angielskiej wersji tej encyklopedii, bo opis toksoplazmozy w naszym języku jest niepełny i faktycznie nie uwzględnia badań nad zmianą zachowania człowieka. Niedowiarkom polecam też przeczytanie kilku badań na ten temat z bazy EBSCO (po angielsku).