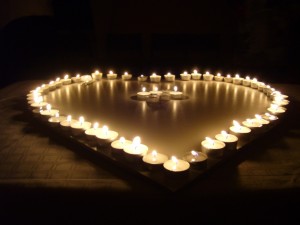 Ostatnio pisałem o tym, że miłość, a więc i szczęście, wymaga pracy, tak jak każda inna sztuka. Oczywiście wymaga jednak czegoś więcej niż nauczenie się obcego języka, czy perfekcyjne opanowanie jakiejś dyscypliny sportowej. Aby kochać, potrzebujemy otwartego serca, wiary i… odwagi. Miłość z samej swojej natury jest procesem zachodzącym między ludźmi. Nawet jeśli jest nieszczęśliwa i niespełniona, to zawsze dotyczy pewnej relacji. W tym konkretnym przypadku obiektem miłości jest jedynie obraz w umyśle lub wspomnienie kogoś, ale człowiek kochający nigdy nie jest ze swoim uczuciem sam.
Z tego też powodu głównym wrogiem miłości jest narcyzm. Cecha ta wiąże się egocentryzmem i egoizmem, czyli ukierunkowaniem nie na drugiego człowieka, ale na siebie samego. Erich Fromm przezwyciężenie narcyzmu nazywa wręcz warunkiem miłości. Z czym więc trzeba wygrać? Przede wszystkim z wykrzywianiem postrzeganej przez siebie rzeczywistości. Osoba narcystyczna widzi świat jedynie z punktu widzenia jego przydatności dla swoich własnych celów. Wszystko ma wartość tylko o tyle, o ile jest użyteczne i sprawia przyjemność. Tak też postrzegane są inne osoby. Mogą być dobrymi obiektami do wykorzystania – jako "podziwiacze" (naszego wyglądu, posiadanych pieniędzy, zdobytego prestiżu) lub osoby pozwalające zdobyć jeszcze wyższy status. W oczach osoby narcystycznej partnerka może być jedynie ładną ozdobą, dobrą inwestycją, przydatną służącą lub wielbiącym obiektem. W związku partner zawsze musi być w jakiś sposób przydatny. A jeśli z czasem przestaje być użyteczny lub pojawia się opcja zastąpienia go innym, jeszcze korzystniejszym obiektem, to trudno – rachunek potencjalnych zysków i strat jest nieubłagany. W efekcie narcystyczne podejście bardzo zaburza perspektywę postrzegania świata, który staje się bardzo subiektywny.
Miłość jest stanem, w którym bardziej jest się sobą samym będąc z drugą osobą, niż samemu. Innymi słowy kochające się osoby dopełniają się nawzajem i obie czerpią z tego faktu siłę życiową. Nie można więc rozwijać w sobie miłości, nie rozwijając empatii wobec drugiej osoby. Kluczem jest nauczenie się wyczuwania drugiej osoby. Nie chodzi tu o jakieś zgadywanie, ale taki rozwój empatii, który pozwala od razu zauważyć, co się dzieje z drugą osobą. Ludzie wrażliwi na innych i zżyci z sobą, dostrzegają takie rzeczy bez słów, często po samym głosie lub wyrazie twarzy. Wyczucie drugiej osoby nie jest sprawą łatwą, zwłaszcza, jeśli jest się zainfekowanym tym destrukcyjnym narcyzmem. Jednak każdą strukturę osobowości można zmiękczyć pracą nad sobą, więc przezwyciężenie narcyzmu jest możliwe. A jeśli chce się rozwijać w sobie miłość i poczucie szczęścia – wręcz konieczne.
Dobrym przykładem wyczuwania drugiego człowieka jest relacja matki i dziecka. Każda kobieta z rozwiniętym instynktem macierzyńskim potrafi odróżniać nawet bardzo subtelne sygnały płynące od swojego malucha. Od razu wie, kiedy jej dziecko chce jeść, a kiedy potrzebuje przytulenia. Zauważa jego zmiany w jego mimice i ciele, a w efekcie wykrywa rodzące się żądania i niepokoje jeszcze zanim się ujawnią. Budzi ją płacz dziecka, kiedy inne, nieraz głośniejsze dźwięki nie wyrywają jej ze snu. Ona po prostu aktywnie wyczuwa przejawy życia swojego dziecka. Nie jest jednak niespokojna ani nerwowa. takie wyczucie jest stanem czujnej równowagi, czułej na każdy sygnał pochodzący od obiektu miłości. Oczywiście relacja matki do dziecka jest czymś szczególnym, ale dzięki niej lepiej możemy wyobrazić sobie, w którym kierunku powinniśmy się rozwijać, aby pokonać samych siebie w związku dwojga dorosłych ludzi i przezwyciężyć swój narcyzm.
Skoro narcyzm przejawia się w postrzeganiu świata, walka z nim nie ogranicza się tylko do rozwoju uczuć. Trzeba rozwijać także rozum. Tym bardziej, że emocjonalna postawa kryjąca się za rozumiem to pokora. Aby ją zdobyć, trzeba pozbyć się narcystycznych złudzeń, a więc także marzeń o wszechwiedzy i wszechpotędze, jakie miało się w dzieciństwie. Znamienne jest to, że jako dzieci naturalnie przeżywamy swój narcystyczny okres, wielbiąc w tym czasie superbohaterów i marząc, by być tacy jak oni. To czas "Power Rangers", "Supermana" i bohaterów naiwnego kina akcji. Część ludzi niestety nie potrafi do końca wyzwolić się od tych marzeń. W efekcie, choć inteligentni, mogą nie rozwinąć w sobie rozumu, bojąc się stanąć twarzą w twarz wobec realnych ograniczeń. W swojej własnej perspektywie nieomylni i wyjątkowi, nie mają możliwości, by wykształcić postawę pokory i zdobyć się na obiektywizm wobec świata.
Ten problem dotyczy w różnym stopniu nas wszystkich. Jednak jeśli chcemy opanować sztukę miłości, musimy dążyć do obiektywizmu w każdej sytuacji życiowej. Trzeba też nauczyć się wyczuwać te momenty, w których ów obiektywizm zatracamy i popadamy w sidła narcyzmu. Czasem pewnie nawet zdamy sobie sprawę z tego, że właśnie w nie wchodzimy, ale jakąś dziwna duma nie pozwoli nam przyznać się do błędu przed samymi sobą. Warto wtedy przemyśleć całą sprawę już na chłodno i wyciągnąć wnioski na przyszłość. Ponieważ ćwiczenie czyni mistrza, kolejnym razem powinno być nam już łatwiej powstrzymać kolejny swój wybuch narcyzmu. Trzeba też stale dostrzegać różnicę miedzy swoim wizerunkiem pokazywanym otoczeniu i zniekształconym przez narcyzm, a naszym prawdziwym "ja". Realne jest bowiem to, jacy jesteśmy naprawdę, niezależnie od swoich interesów, potrzeb i obaw. Jak podkreśla Fromm – zdobyć obiektywizm wobec siebie i świata to przebyć połowę drogi do opanowania sztuki miłości. Jednak kluczowe jest to, że ten obiektywizm musi odnosić się do każdego, z kim wchodzimy w kontakt, a nie być tylko luksusem, który oferujemy wybranym.
Miłość wymaga także wiary. Choć w naszym kręgu kulturowym wiara zwykle przeciwstawiana jest rozumowi, wcale nie musi być wobec niego antagonistyczna. Wiarę da się podzielić na dwie kategorie – racjonalną i nieracjonalną. Ta ostatnia polega na przyjęciu czegoś za prawdziwe jedynie dlatego, że tak twierdzi jakiś autorytet lub większość ludzi. W dużym stopniu tyczy się to wiary religijnej, która bazuje u nas na sentencji "nie zobaczył, a uwierzył". Urodziliśmy się w kulturze katolickiej, która wyznaje dogmaty, czyli prawdy niezrozumiałe z definicji. Są one obiektem wiary, ponieważ tak mówią autorytety, a przytakuje im większość ludzi. Wiara irracjonalna za swoje źródło w poddaniu się potędze odczuwanej jako przemożna, wszechwiedząca i wszechmocna. Wymusza ona jednocześnie rezygnację z potęgi własnego rozumu i doświadczenia, ponieważ za prawdę uznaje się słowa autorytetów, które nie tolerują dyskusji.
Istnieje jednak wiara racjonalna. Ma ona swoje źródło we własnym przeżyciu, w zaufaniu co do własnej potęgę myśli, obserwacji i osądu. Opiera się ona o nasze niezależne przekonania, często wbrew obowiązującej opinii większości. Wiara racjonalna jest elementem stałości każdej relacji międzyludzkiej. Zarówno przyjaźń, jak i miłość, wymagają wiary w drugą osobę. Wierzyć w drugą osobę oznacza być pewnym jego stałości i niezmienności w ważnych dla nas kwestiach. Postawa ta buduję się właśnie poprzez doświadczenie i empatię. Z czasem zaczynamy żywić przekonanie, że ktoś jest na tyle dobrą osobą, że możemy mu zaufać. Nie wiemy tego na pewno, dochodzimy do takiego wniosku właśnie na podstawie naszych doświadczeń z nim. My po prostu zaczynamy wierzyć w drugą osobę i jest to właśnie wiara racjonalna.
Chcemy także, aby w nas wierzono. Dzieje się to już od najmłodszych lat życia. Rodzice tak często zapominają, że ich obowiązkiem jest wierzyć we własne dzieci. Być przekonanymi, że są one wartościowe, że można im zaufać i że sobie poradzą. Tym właśnie różni się wychowanie od manipulacji. To pierwsze polega na aktywnym wspomaganiu dziecka w realizacji jego potencjału. Zawsze z troską, nigdy z wrogim przymusem. Przeciwieństwem wychowania jest autorytarne tresowanie. Bazuje ono na przekonaniu, że dziecko samo z siebie nie jest wartościowe, a stanie się takie, tylko wtedy, kiedy wpoi się mu postawę, którą dorośli uważają za właściwą, a wyruguje wszystko co autonomiczne. Surowy ojciec często potrafi być katem, odreagowującym swoje życiowe frustracje. Samemu czując się skrzywdzonym, broni swojego "ja", uznając swoją w odruchu obronnym krzywdę za słuszną (by nie czuć nienawiści do własnego ojca) i niszcząc w ten sam "słuszny" sposób swojego syna.
Efektem wychowania jest to, czy już jako dorośli my sami w siebie wierzymy. Jeśli mieliśmy szczęście mieć rodziców, którzy aktywnie wspierali nasz wrodzony potencjał, zwykle czujemy się pewnie. Zarówno w towarzystwie, jak i w związku czy sami ze sobą. Zdajemy sobie sprawę z istnienia swojego "ja", z tego jakie ono jest. Znamy swoje mocne strony, ale i ograniczenia. Mamy też świadomość swojej wewnętrznej siły i przeświadczenie o stałości swojego "ja". Wiemy, kim jesteśmy i że sedno nas samych już się nie zmieni, niezależnie od tego, jaki będzie otaczający nas świat. Mamy świadomość wyznawanych wartości i stałości swoich uczuć. Tym samym osoby o prawdziwym, silnym "ja" (ego), mogą być niezależne od innych. Nie zmieniają zdania pod wpływem strachu, nie mają tendencji do konformizmu. To, że ktoś wierzył w nas, owocuje tym, że ostatecznie my wierzymy w siebie.
Wiara w siebie jest bardzo ważna dla miłości. Jedynie człowiek, który ją ma, może dochować wierności innym, ponieważ może racjonalnie wierzyć, że w przyszłości pozostanie taki, jaki jest dzisiaj. W efekcie obietnica tylko takiej osoby ma sens, ponieważ tylko taki ktoś może być pewny, że będzie czuł i postępował tak, jak się tego obecnie spodziewa. Wiara w siebie jest warunkiem koniecznym, abyśmy mogli cokolwiek obiecywać, inaczej będą to tylko pobożne życzenia. Ostatecznie do szczęścia potrzebna jest wiara we własną miłość, w zdolność budzenia miłości u innych i jej trwałość.
Niestety czasem nasza wiara okazuje się nietrafna. Zdarza się, że ludzie nas zawodzą, a niekiedy wręcz boleśnie ranią. Dlatego oprócz wiary, trzeba wykształcić w sobie odwagę. Jest to umiejętność podejmowania ryzyka bez względu na grożące nieprzyjemności. Będąc odważnymi, godzimy się z możliwością zaznania rozczarowania i bólu. Fromm pisze, że ten kto domaga się bezpieczeństwa i pewności, jako najważniejszych warunków życia, nie może mieć wiary, a zatem i nie może rozwinąć w sobie miłości. Obwarowując się przed cierpieniem w wygodę, posiadanie i dystans do innych, stajemy się więźniami samych siebie. Na to, aby być kochanym i kochać samemu, potrzeba odwagi, uznania pewnych wartości za warte wyrzeczeń oraz wytrwałości w ich kultywowaniu. Niestety tak wielu osobom brakuje tych cech.
Praktykowanie wiary i odwagi zaczyna się od drobiazgów życia codziennego. Chcąc rozwijać w sobie miłość, musimy starać się zauważać, kiedy i gdzie tracimy wiarę i zaczynamy zachowywać się tchórzliwie. Nie uciekajmy przed uświadomieniem sobie tego faktu – nikt nie jest idealny i wszyscy się czasem potykamy. Grunt to zachować się szczerze do samego siebie i uczciwie przemyśleć, jak do tej utraty dochodzi.
Kiedy i w jakich sytuacjach zachowujemy się tchórzliwie?
Jakie preteksty sobie wtedy wynajdujemy?
Jak naprawdę chcielibyśmy się zachować?
Co nas przed tym powstrzymuje?
Jak możemy naprawić nasze poprzednie upadki?
Jeśli chcemy być szczęśliwi, po prostu musimy sobie uświadomić, jak sprzeniewierzenie się naszej własnej wierze nas osłabia, jak ta zwiększona słabość prowadzi nas do kolejnych sprzeniewierzeń, zamykając błędne koło. To trudny i wymagający samodyscypliny proces. Jednak dopiero kiedy się go nauczymy, będziemy mogli zdobyć wystarczając dystans do siebie samych, by wyrwać się z tego zaklętego kręgu, jakim jest nasz własna słabość.
PS. Chyba nie bez przyczyny symbolem wiary, a w konsekwencji wierności, jest pies. On wierzy w swojego pana i jest mu oddany. Choć czasem spotyka nas w życiu wielkie rozczarowanie i wiara zaczyna się chwiać, warto pamiętać, że racjonalna wiara uznaje swoje porażki i w efekcie to jej nie zabija. Możemy mylić się, co do jednej osoby, ale musimy pamiętać, że jej postawa nie jest postawą całego świata. Tak często jedna nieszczęśliwa miłość, sprawia, że tracimy wiarę nie tylko w daną osobę, ale i miłość samą w sobie. W konsekwencji gubimy też przekonanie, że jeszcze będziemy kiedyś szczęśliwi. Dlatego pamiętając o wierze racjonalnej, nie pozwalajmy, by jedno rozczarowanie, mogło zabić głębię naszej wiary w swoją szczęśliwą przyszłość.