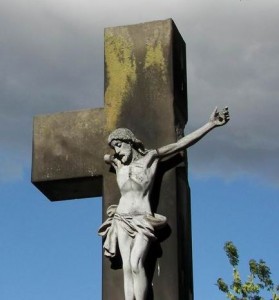 Dużo się ostatnio mówi o wojnie krzyżowej toczącej się pod Pałacem Prezydenckim. Walka o rząd dusz nie jest jednak wymysłem nowym, toczyła się już w Polsce wielokrotnie. Jeszcze ciekawiej się robi, kiedy dochodzi do starcia nie dwóch, a kilku wyznać i wzajemnie sobie wrogich światopoglądów. O takiej sytuacji pisałem kiedyś w kontekście Przystanku Woodstock, który kilka lat temu był prawdziwym poligonem dla poławiaczy wyznawców. Dlatego w ramach swoistego "bonusu" postanowiłem załączyć tu swój artykuł, który swego czasu miał iść w Dużym Formacie, ale z powodu różnych zawirowań utknął po drodze. Tak więc to dość długi tekst w formie autorskiego reportażu, ale jeśli ktoś lubi poczytać, to zapraszam do zapoznania się.
Bitwa pod Kostrzynem
…czyli tańce wojenne między religiami
Mały przygraniczny Kostrzyn co roku staje się miejscem niecodziennego widowiska. Od jakiegoś już czasu odbywa się tu o tyle słynny, co wzbudzający sporo skrajnych emocji, Przystanek Woodstock. Co roku impreza staje pod znakiem zapytania i dochodzi do prawdziwej przepychanki między organizatorami, a lokalnymi obrońcami moralności. Kostrzyńskie pola są jednak miejscem batalii o wiele bardziej zażartej, choć toczącej się w cieniu. Jest to walka o serca i umysły. Ile armii, tyle taktyk. Obrona w okopach, walka podjazdowa, partyzantka, terroryzm. Mam 23 lata, jestem studentem psychologii. Byłem w centrum wydarzeń.
Harcownicy kruszą pierwsze kopie
Noc przed wyjazdem. Słucham radia. Przerzucam stacje. Jedynka, Trójka, Zetka. Smęty. Radio Maryja. Trafiam na dyskusję o Przystanku Woodstock. Dzwoniący dziwnie jednomyślni. Że niekatolicki, że deprawujący, że ogólnie zbrodniczy. Dyskutanci wzajemnie się nakręcają. Jakaś kobieta wychodzi z apelem zjednoczenia wszystkich ludzi dobrej woli i rozbicia tej oazy rozpusty. Bo jest niewychowawczy, psuje polską młodzież, odwraca jej uwagę od rzeczy naprawdę ważnych. Takich jak rocznica Powstania Warszawskiego. Młodzież to przyszłość narodu, Przystanek ją psuje. A o przyszłość trzeba walczyć.
Za murami twierdzy
Kostrzyn. Walka nabiera rumieńców. Nad rozległym polem góruje Pokojowa Wioska Kriszny. Rozbili duży, otoczony z zewnątrz płotem obóz w strategicznym miejscu na wzniesieniu. Duże kolorowe namioty, stylistyką mocno zakorzenione w kiczu, a w nich uśmiechnięci, orientalnie ubrani ludzie. Budzą ciekawość. Dookoła widać tłumy woodstokowiczów. Główny namiot jest wielkości małego boiska do piłki nożnej. W jego cieniu odpoczywa z kilkuset ludzi. To jedno z nielicznych miejsc, w których można schronić się przed lejącym z nieba żarem. Na scenie członkowie ruchu odśpiewują swoją mantrę. Dorośli, dzieci. Ubrani w różnobarwne szaty. Za nimi tańczą zmysłowo młode, atrakcyjne kobiety. One też przykuwają uwagę. Jeszcze tu wrócę.
W sąsiednim namiocie można za darmo upiększyć się kwiecistymi wzorkami malowanymi ręcznie przez wyznawców. Chętnych nie brakuje.
W kolejnym wróżby. Te już płatne. Po 25 zł. Za stołem siedzi wróżbita o śniadej skórze w turbanie pod kolor komputera. Do przepowiadania przyszłości używa nowiutko wyglądającego laptopa. Nowoczesność musi kosztować. W kolejnym świątynia. Słońce doskwiera straszliwie. Kładę się wewnątrz na piasku obok innych. Wyznawcy na scenie mantrują. "Hare Kriszna, Hare Kriszna, Kriszna Kriszna, Hare Hare, Hare Rama, Hare Rama, Rama Rama, Hare Hare". Słowa ciągle te same. Odśpiewywane zawodzącym głosem na falujące orientalne melodie. Kilku młodych ludzi zaczyna tańczyć. Nie wyglądają na wyznawców. Wydaje się, że bawią się całkiem dobrze. Ciekawe czy coś dzisiaj pili. Upał wciąż niemiłosierny. "Hare Kriszna, Hare Kriszna…".
Ze snu budzi mnie dziwnie obcięty jegomość w długiej, jasnej szacie. Wyciąga w moim kierunku apetycznie wyglądającego banana. Po chwili wahania biorę, zaskoczony tak nieoczekiwanym darem. Nie za bardzo wiem, jak dziękować. Po polsku pewnie nie zrozumie. Moi sąsiedzi też dostają owoce. Banany, arbuzy, gruszki. Trochę mi głupio, w końcu o nic nie prosiłem. Nie wiem, jak się odwdzięczyć. Rozglądam się dookoła. Człowiek od owoców stoi przy ołtarzu. W ręce trzyma kadzidło, wymachuje czymś, co wygląda na wielki puszysty pędzel. Z tyłu wygląda jak "czyrliderka". Mantra trwa. Kapłan kończy swe obrzędy, zaczyna obchodzić zgromadzonych, "częstując" kadzidłem. Pokazuje też skróconą instrukcję obsługi: zagarnąć dym i skierować na czubek głowy. Nic trudnego. Jak tu odmówić. Leżę dalej, słucham, myślę. Mam! Reguła wzajemności, uczy się o tym już na pierwszym roku psychologii. W końcu każdy odczuwa chęć odwzajemnienia się za wyświadczoną przysługę. Nawet nieproszoną. Plus naturalna tendencja do konsekwencji. W końcu dobrowolnie wziąłem udział w tych obrzędach. Czy jako obdarowanemu będzie mi wypadało odmówić wzięcia udziału w uroczystości a potem przed samym sobą krytycznie myśleć o tej religii? Oczywiście, że nie. Sprytna taktyka. Pora przyjrzeć się strategii.
Śpiewy się kończą. Brawa. Lider rozpoczyna przemowę. Potrzebuje tłumacza. Jak większość wyznawców Kriszny zgromadzonych na Woodstocku. W prostych słowach nakreśla reguły wyznania, sens mantry. Brzmi dość przekonująco. Mówi o więzi duchowej, samoudoskonalaniu, wyrzeczeniu przemocy, radości z obcowania z Bogiem. Z twarzy bije mu spokój i radość. Niespodziewanie do rozmowy włącza się niezauważony przybysz. Na pierwszy rzut oka widać, że z Woodstockiem ma mało wspólnego. To starsza, siwa pani w poważnym stroju. Ktoś raczej z drugiej strony barykady – zarówno tej kulturowej jak i religijnej. Z delikatnym, jakby fałszywym uśmiechem wypytuje o Krisznę. Ciekawią ją wiszące na ścianach obrazy. Kapłan, lub może tylko mędrzec, gdyż jego funkcja nie została jasno podana, grzecznie odpowiada na wszystkie wątpliwości. Za pośrednictwem tłumacza, Polaka, zapewne współwyznawcy. Starsza pani odchodzi. Nie wydaje się być przekonana. Świątynia napełnia się znowu muzyką. W kolejnych namiotach także tłumy. Upał najwyraźniej służy wyznawcom Kriszny. Oczywiście tylko pod warunkiem, że ich celem jest zwabienie ludzi pod swój dach, zainteresowanie religią, a może i coś więcej. Temu jednak kategorycznie zaprzeczają.
Zaglądam do dużego namiotu z ławeczkami. Tu się dyskutuje. Na podwyższeniu siedzi ktoś mający autorytet i jego Polak-tłumacz. Odpowiada na pytania.
- Jaki jest wasz stosunek do stosunek do zwierząt – pyta młoda piegowata hippiska. Odpowiedź o ich poszanowaniu i braterskiej miłości do nich najwyraźniej jest po jej myśli. Teraz zaczynam rozumieć dziwne ruchy, jakie wykonywał człowiek w jasnych szatach nad stołem z owocami – delikatnie strzepywał mrówki. Czciciele Kriszny najwyraźniej nie są hipokrytami.
- A co z komarami? – dopytuje się jakiś niedowiarek. – Też mamy je chronić?
- Tak, dopóki nam nie szkodzą bezpośrednio. Jak już kłuje nas w rękę, to – Hare Kriszna! – pada odpowiedź, na końcu której mędrzec ze śmiechem wykonuje gest mający naśladować zabicie natrętnego insekta. Inne pytania dotyczą sensu reinkarnacji i medytacji. Odpowiedzi zawsze pełne serdeczności, o radości z życia, o szczęściu. Nabieram przekonania, że to całkiem optymistyczna i przyjazna religia. Ktoś dociekliwy wierci jednak dalej.
- A co z seksem? Uprawiacie seks?
- Tylko w celach reprodukcyjnych. Dla przyjemności nie jest nam potrzebny, wolimy przeznaczyć tę energię na kontakt z Bogiem.
Rozczarowanie na twarzach słuchaczy. Powoli tracą zainteresowanie. To też skądś znam. "Pułapka ukrytych kosztów". Tak to się nazywa w psychologii manipulacji. Wady wyjdą później, jak już osoba zwabiona zaletami zaangażuje się.
Zahaczam o namiot poświęcony jodze. Chętni ćwiczą na rozłożonych karimatach razem z mistrzem o egzotycznie brzmiącym nazwisku. Próbują go nieśmiało naśladować. Nóg za głowę nie założą, ale zabawy mają co niemiara. Wyjmuje z kieszeni ulotki, które dostałem przed wejściem na teren obozu. Zaraz, zaraz, mamy coś o jodze… Jedna nosi podtytuł "Mistyczna Droga do Boga", a druga "Sztuka kreowania rzeczywistości". Czytam, że Laja Joga to "orędzie Bożej miłości", "czysta esencja wszelkiej mistyki i religii" oraz "droga do pojednania i zjednoczenia z Bogiem". Ciekawe, czy wiedzą to osoby wyginające się właśnie na podłodze. I czy moi uczelniani wykładowcy zdają sobie sprawę, że "współczesna psychologia bazuje na elementarnej tajemnicy Joginów".
W kolejnym namiocie prelekcja o wegetarianizmie. Argumenty atrakcyjne, pasujące do młodych zbuntowanych. To my możemy zmienić świat, wpływać na politykę międzynarodową. Jedząc mięso, wspieramy globalizm. Nie jedząc, zmieniamy oblicze gospodarki. Chwytliwe. Są też fakty naukowe. Człowiek ma długi przewód pokarmowy jak roślinożercy, którego mięsożercy nie potrzebują. Zapomina się jedynie, że jako gatunek wszystkożerny musimy mieć cechy przystosowane do jedzenia obu pokarmów. Żaden dowód. Cały namiot obłożony jest od wnętrza plakatami promującymi wegetarianizm, których nie powstydziłaby się renomowana agencja reklamowa. Perfekcyjne chwyty marketingowe. Modelka w futrze trzymająca obdarte ze skóry zwierzę, mała dziewczynka przytulająca się do cielaczka. Jest nawet kobieta ubrana w strój z kapusty ze zmysłowo zaznaczonym wcięciem w biodrach. Za wysłuchanie wykładu zostaję obdarowany jabłkiem. Teraz czuję się trochę nieswojo z tym, że próbowałem dyskutować. Może zrobiłem niepotrzebną przykrość swojemu darczyńcy…? A może to co czuję nie jest przypadkowe.
"Nakręcony" wysłuchaną przemową idę do pobliskiej jadłodajni wegetariańskiej, prowadzonej przez wyznawców Kriszny. Za jedyne trzy złote solidny, bezmięsny posiłek. To tanio. Zapewne stąd kolejki. Po kilkunastu minutach czekania dostaję swoją porcję. Proszę nieśmiało o dokładkę. Dostaję ją od pani nakładającej ryż. Uśmiech gratis. Ciekawe, czy to przypadek, że dziewczyny, które wysłano na scenę do rytualnych tańców, są jakby bardziej atrakcyjne niż te, które wyznaczono do obsługi kuchni? Siedząc na trawie rozglądam się dookoła. Mój wzrok pada na dużą tablicą z logami sponsorów. Już wiem, czyje produkty właśnie spożywam. I skąd się wziął ten banan, podarowaniem którego tak mnie zaskoczono w namiocie świątynnym. Teraz wiem – "to nie jest zwykły banan", cytując slogan darczyńcy. Czuję jakby lekkie rozczarowanie. Chyba dar stracił dla mnie na znaczeniu…
A w namiocie głównym kończy się właśnie wspólne mantrowanie. Ci, którym się spodobało, nie muszą zanadto żałować. W sklepiku nieopodal mogą kupić specjalne koraliki do samodzielnego odśpiewywania mantry. O szesnastu paciorkach, bo tyle razy należy mantrować Krisznie. Ale muszą się dobrze "zakręcić", bo – jak mówi zachęcający – nie sprzedają tego tak od ręki. Widać wyznawcy Kriszny znają także psychologiczną zasadę niedostępności. Im coś jest trudniej dostępne, tym cenniejsze i bardziej pożądane. Przemawiający nie chce zniechęcać potencjalnych nabywców wielkością wyrzeczeń.
- Grunt to zacząć, nawet tylko kilka razy dziennie – zapewnia.
Lotne brygady
Ranki i wczesne popołudnia na Woodstocku to czas szczególnie trudny. Gorąco i nudno. Dobra pora na powłóczenie się po polu namiotowym. Natrafić tam można na Przystanek Jezus, część zajętą przez orędowników religii katolickiej. Właściwie to trudno dokładnie wydzielić jego granice. Przystanek Jezus przyjął bowiem zupełnie inna strategię działania. Na miejscu pod zadaszonym namiotem pełniono tylko dyżury. Reszta przystankowiczów rozchodziła się po całym woodstockowym polu namiotowym. Szukała tam chętnych do rozmowy. Ludzi, którzy czują się zagubieni, chcących się wygadać i posłuchać o Bogu. Częstowali chlebem. Przyjmowano ich różnie. Równie często zagadywano i pozdrawiano, co wyzywano od "czarnych" lub jeszcze mniej wybrednie. Przeważali księża, zakonnicy i siostry zakonne. Sporo było też ochotników z różnych młodzieżowych organizacji katolickich. W cieniu namiotu Przystanku Jezus przyjemny chłodzik. Góruje nad nim wielki biały krzyż. W środku duży portret Chrystusa. Odpoczywam. Niemal natychmiast podchodzi do mnie dziewczyna i proponuje talerz grochówki. Za darmo. Zaczynamy rozmawiać o Woodstocku, potem o Bogu. Dosiada się kilka osób. Kilka innych rozmawia, siedząc w kółku z księdzem w pobliżu nas. Mówię, że byłem w Pokojowej Wiosce Kriszny. Moja rozmówczyni krzywi się. Przecież to sekta.
- Człowiek może znaleźć szczęście tylko w obrębie religii, w której się wychował – zapewnia. I tylko Jezus daje zbawienie. Dosiada się jakiś chłopak, chce się wygadać. Jest pod wpływem alkoholu, a może i czegoś więcej. Z uwagi na swój stan, zdania składa dość niezdarnie. Mówi o problemach osobistych. Kłopoty w domu, brak pracy. Nie chcę przeszkadzać, więc przesiadam się do grupki obok. Tam rozmowę prowadzi Justyna, wolontariusz z cywilnej organizacji katolickiej. Skupiło się wokół niej kilku długowłosych wątpiących. Ktoś zauważa, że Pismo Święte, którego używa, jest dziwnie nowe. A dużo w nim pozaznaczanych kolorowymi wklejkami fragmentów. Inni ochotnicy mają takie same Pisma. Czyżby zaznaczenia również te same? Podchodzi jakiś podpity długowłosy młodzieniec.
- I Świętego Mikołaja też nie ma. Czas dorosnąć. – wtrąca się, po czym odchodzi w swoją stronę, śmiejąc się złośliwie. Rozmowa trwa nadal. O tym, jak do Justyny przyszedł Jezus.
- Przyszedł do mnie w sms-ie. Dosłownie. Dostałam od koleżanki wiadomość z wyrazami miłości i podpisem "Jezus" – zapewnia. Justyna przyjęła, że to faktycznie On posłużył się telefonem komórkowym.
- To sam Chrystus za pośrednictwem mojej koleżanki wysłał mi tę wiadomość – ożywia się.
Wróżenie z laptopa, nawracanie przez sms-y – XXI wiek zrywa ze schematami.
Ruszają partyzanci
Zbliża się msza święta. Moi rozmówcy jadą na nią lub idą załatwić swoje sprawy. Zostaję sam. Niespodziewanie dosiada się do mnie inny młodzieniec. Przedtem stał tylko z boku i nasłuchiwał. Ma na imię Henryk. Nie wyróżnia się wyglądem, ubrany jest tradycyjnie, bez subkulturowych naleciałości. Twierdzi, że ma podobne wątpliwości natury religijnej co ja. Chciałby ze mną porozmawiać. Częstuje mnie wodą. Rozmawiamy, choć właściwie to on mówi.
- Spotkałem Chrystusa. Przedtem byłem wątpiący. Poznałem pewnych ludzi, którzy mówili, że znają Zbawcę. Osobiście. Przedtem nie wierzyłem im. Ale byłem u nich w domu. Dopiero jak wyszedłem, poczułem to. Byłem przerażony. Straciłem władzę w ciele. Umarłem. Myślałem, że to już koniec. I wtedy On do mnie przemówił. Spotkałem Go. To Jezus przywrócił mnie do życia. Teraz dla Niego żyję – ciągnie łagodnym, spokojnym głosem. Ci, przez których poznał Boga, wciąż go wspierają. Czy jest katolikiem? Mówi, że "w pewnym sensie", bo księży nie uznaje i preferuje osobisty kontakt z Bogiem. Chociaż nie ma na czole wypisanych słów "uwaga sekta", konwencja nie pozostawia wątpliwości. Spotyka się z innymi w knajpce o wymownej nazwie "Niebo". Pewnie mógłby mnie do niej zaprowadzić, ale jakoś boję się spytać.
- A tak w ogóle to skończyłem socjologię, aktualnie pracuje w firmie komputerowej – utrzymuje. To pierwsze wydaje mi się o tyle prawdopodobne, że subtelny sposób, w jaki próbuje mną manipulować, pewnie nie wziął się znikąd. W pewnym momencie przybywają posiłki. Podchodzi parka znajomych Henryka. Witają się z nim i ze mną. Takie przypadkowe spotkanie. Wyglądają całkiem normalnie i sympatycznie. Z rozmowy wychodzi, że są to osoby mądre i inteligentne, koleżanka Henryka zastępuje podobno na wykładach jakiegoś profesora. Okrążenie wokół mnie zaczyna się zamykać. Henryk wyjmuje telefon komórkowy. Mam wrażenie, że zaraz poprosi mnie o numer. Postanawiam dyskretnie się ulotnić pod pretekstem umówionego spotkania ze znajomymi. Mój rozmówca przystaje na to z ociąganiem, zapewniając, że zawsze chętnie ze mną porozmawia.
- Nim odejdziesz, pozwól mi się jeszcze za ciebie pomodlić – prosi. Zgadzam się, był przecież dla mnie bardzo miły, poczęstował wodą, mówił po imieniu. Ku mojemu zdziwieniu Henryk wyciąga rękę, kładzie ją na moim ramieniu i w prostych słowach prosi Jezusa Chrystusa, by i mnie zaszczycił swoja obecnością, bym i ja mógł Go spotkać. Tak jak on Go spotkał.
"Jezus" kontratakuje
Znowu mijam namiot Przystanku Jezus. Ktoś wita mnie po imieniu. To Justyna, o czym wtedy nie wiedziałem, gdyż najzwyczajniej w świecie zapomniałem jej imienia. Ona moje pamiętała. Zrobiło mi się miło, poczułem się ważny. Pamięć do imion – jeden z psychologicznych filarów pozyskiwania czyjejś sympatii. Zaczynamy rozmawiać. Nie za bardzo jej wychodzą dywagacje teologiczne. Po chwili przypomniała sobie:
- Nie powinnam wdawać się z tobą w dyskusje, tylko mówić o tym, jak spotkałam Jezusa.
Zastanawiam się, kto powiedział, że nie powinna. Nie pytam jednak, by jej nie urazić. Rozmawiamy więc o kontakcie Justyny z Chrystusem. Jego portret wisi za naszymi plecami. W międzyczasie podchodzi do niego chłopak wyglądający na "metala". Robi sobie zdjęcie przy wizerunku Jezusa. Nie byłoby w tym nic dziwnego, gdyby nie fakt, że pokazuje przy tym tak zwane "różki". Gest popularny wśród miłośników ciężkiej muzyki, a kojarzony powszechnie ze znakiem szatanistów. On chyba nie spotkał jeszcze Jezusa. Wciąż dyskutuję z Justyną. Miła osóbka. Często nieznacznie mnie dotyka. Tak mimochodem, po przyjacielsku chwytając za rękę lub obierając z listków trawy moje ubranie. Zastanawia mnie, czy ona "już tak ma", czy to świadomie wykorzystywany zabieg socjotechniczny. Dotyk buduje wrażenie bliskości. W popularnym eksperymencie psychologicznym kelnerka, która dotykała przypadkiem swoich klientów, dostawała wyższe napiwki. Czyżby i Justyna o tym wiedziała? A może popadam w paranoję? Co by nie było, sądząc po trafnej technice, Justyna to właściwy człowiek na właściwym miejscu. Tymczasem zjawia się mój stary znajomy Henryk. Wita się wylewnie. Przypomina, że zawsze jest chętny do rozmowy. Po czym odchodzi w swoją stronę. Budzi tym podejrzenia Justyny. Stawiam kawę na ławę i otwarcie mówię o swoich przypuszczeniach co do Henryka. Ona nie wydaje się być tym ani specjalnie zdziwiona, ani zainteresowana. Dzień jak co dzień. Pogadaliśmy jeszcze chwilę i rozeszliśmy się.
Terroryści w akcji
Kilka metrów dalej przystaję koło, całkiem zresztą marketingowego, plakatu stylizowanego na ogłoszenie o poszukiwanym przestępcy. Jezus Chrystus przedstawiony jako bandzior rodem z dzikiego zachodu o numerze 777 (czyżby analogia do trzech szóstek jako znaku Szatana?) i obietnica nagrody – życie wieczne. Do pełni groteski brakuje tylko pospolitego wtedy napisu "Poszukiwany żywy lub martwy". I bez tej sentencji plakat przykuwa uwagę. Jest miejscem, w którym przechodnie szczególnie często się fotografują. Opodal spotykam kolejnego nowego znajomego. W chłopaku kręcącym się w pobliżu poznaję jednego z przygodnych tancerzy podskakujących tego samego dnia w namiocie świątynnym Kriszny. Z krótkiej rozmowy wynika, że ma ksywę Hose i jest z Gorzyc.
- Wywalili mnie z namiotu Kriszny. Za dużo szalałem. Musieli mnie wyrzucać kilka razy, bo nie dawałem za wygraną – chwali się bez cienia smutku. – Na co dzień chodzę do kościoła, ale generalnie jest mi wszystko mi jedno, gdzie się bawię. Wyznawcy Kriszny to pozytywni ludzie, choć trochę śmieszni. Zwłaszcza po piwie – śmieje się. Hose nie wnika w teologiczne rozważania. Dla niego Jezus to "zajebisty koleś" i tyle. Księży też lubi, choć lubiłby bardziej, gdyby nie czepiali się, tak jak ojciec Rydzyk.
Za ojcem Rydzykiem nie przepada też niejaki Cybul. Na Woodstocku nietrudno spotkać ludzi wyglądających dziwacznie i nietuzinkowo. Cybula nie sposób jednak przeoczyć. Przechadza się po polu trzymając wielki krzyż nad sobą. Na krzyżu tym wisi postać nieodparcie kojarząca się z wielką dmuchaną lalką, występującą czasem w filmach pornograficznych. Kogo ta groteska przedstawia?
- To jest ojciec Rydzyk w wersji damskiej – słyszę w odpowiedzi. – Za co go tak nienawidzę? Stary, ja jestem z Torunia, tu każdy go nienawidzi – rozwiewa moje wątpliwości Cybul. Wydaje się być rozdrażniony moją dociekliwością, więc przestaję już przeszkadzać mu w jego pielgrzymce.
Jednostki specjalne
Ciekawe, czy Cybul wie, że na Woodstock przyjechali ojcowie redemptoryści. Bawili się pod główną sceną podczas koncertów. A to ten sam zakon z którego pochodzi sam słynny ojciec Rydzyk. Mnie ten fakt zaciekawia na tyle, że zadaję sobie trud odszukania jednego z nich. Spotkam ojca Darka. Z daleka, tańcząc na drodze, wygląda jak zwykły, dobrze podchmielony, woodstockowicz. Odróżnia go tylko charakterystyczny habit z białą stójką i pasem. Na pytanie, jak mu się podoba na Woodstocku, trudno mu znaleźć odpowiedź.
- Widzę tu wiele zła – podkreśla.
- A dobra? – dopytuję się. Nie od razu jestem w stanie sprowokować do odpowiedzi. W końcu przyznaje niechętnie:
- Dobra też troszeczkę można tu znaleźć .
Na inne tematy nie chce zabierać głosu. Stwierdza, że i tak za dużo już powiedział. Poleca mi się pomodlić, bo od tego jest Przystanek Jezus.
- W pozostałych kwestiach zadzwoń pod (56) 6552361. Do Radia Maryja. – wykręca się.
A pacyfiści dezerterują
Znowu zgłodniałem. Wracam do Pokojowej Wioski Kriszny, bo tam najtaniej. Na głównej scenie występuje teatrzyk kukiełkowy. Coś jakby "Czarodziej z krainy Oz" w wersji indyjskiej. Trafiam na moment, jak małego Krisznę i jego przyjaciół pożera wieloryb. Zainteresowanie znikome. Kupuję sponsorowany przez znane firmy obiad i, by nie nudzić się przy posiłku, zachodzę do namiotu, w którym prowadzone są dyskusje. Tym razem już inny mędrzec przekonuje do uroków swojego wyznania. Padają nawiązania do religii katolickiej. Że wszyscy wyznajemy jednego i tego samego Boga, ale wyznawcy Kriszny są mniej agresywni. Mędrzec mówi, jak do ich Pokojowej Wioski przychodzili księża i atakowali, wyzywali od sekciarzy. Że przywłaszczyli sobie Boga. Jakiś długowłosy chłopak siedzący obok mnie cynicznie komentuje do towarzysza to, co zasłyszał.
- Ja się z nimi nie bawię, ale Woodstock to 250 tysięcy ludzi. Na pewno coś z niego wyszarpną. Oni, Jezus i wszyscy inni – mówi bez entuzjazmu. Robi się zimno. Odchodzą śpiewając ironicznie piosenkę Kazika Staszewskiego:
"Tańce wojenne między religiami
Tyle setek lat. Cele zawsze te same
Tylko formy inne. I to mnie przeraża
To co dla Boga, jest dla cesarza"
.