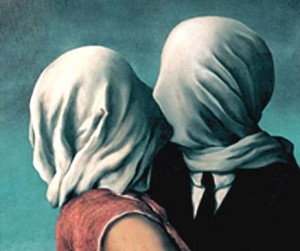 Mówi się, że miłość jest ślepa. Nieprawda, ona ma bardzo ostry wzrok. To my jesteśmy ślepi, a przynajmniej nie potrafimy spojrzeć na świat jej oczami. To trochę tak, jak z ludźmi i pszczołami. One widzą obiekty także w ultrafiolecie, którego nasze narządy zmysłów nie rejestrują. Niemniej świat widziany ich oczami jest równie realny, jak nasz, choć do nas pewne informacje nie docierają. Ten wpis będzie właśnie takim przysłowiowym opowiadaniem ślepemu o kolorach – poszukamy nieświadomych powodów jak najbardziej dostrzegalnego dla nas stanu zakochania.
Kiedy mówimy o miłości, bardzo często mamy na myśli zakochanie. To z reguły pierwszy i najbardziej spektakularny okres w rozwoju tego uczucia. To etap, w którym idealizujemy naszego partnera. Badania aktywności mózgu pokazują wprost, że samo patrzenie na obiekt zakochania powoduje spadek aktywności obszarów odpowiedzialnych za krytyczne myślenie. Dlaczego tak się dzieje?
Jeśli nie wiadomo o co chodzi, to warto spojrzeć na sprawy z punktu widzenia ewolucji. W końcu to ona nas ukształtowała. Płytko patrzący ewolucjonista zacząłby zapewne porównywać zakochanie do pożądania – tak bardzo ktoś wydaje nam się atrakcyjny, że nie możemy o nikim innym myśleć. Jednak nie tędy droga, a wie o tym każdy, kto sam przeżył zakochanie, zwłaszcza takie od pierwszego wejrzenia. Doznanie to musi być na tyle częste, że stało się uniwersalnym motywem występującym w niezliczonej ilości dzieł tworzonych w różnych czasach przez odległe od siebie kultury. Klasycznym przykładem są szekspirowscy kochankowie Romeo i Julia. Choć pochodzący z dwóch zwaśnionych rodów, zostali spleceni więzami wszechwładnego zakochania, które sprzeciwiło się rodzinie, regułom i całemu światu. Podobne losy spotykają tysiące bohaterów mniej lub bardziej kiczowatych romansideł, czytanych z pasją przez kobiety na całym świecie. Jakimś trafem wszystkie one w mniej lub bardziej świadomy sposób marzą o księciu z bajki, który przyjedzie po nie na białym koniu i porwie ze sobą do swojego zamku.
Młode samice szympansów w okresie pierwszej rui mają znamienną tendencję, aby samotnie wyprawiać się w okolicę granic obszaru kontrolowanego przez swoje stado. Nie jest to  mile widziane przez współplemieńców, bo gatunek ten jest bardzo terytorialny. Pod pozorem miłych małpek kryją się zwierzęta, które toczą ze sobą krwawe wojny graniczne, w których trup ściele się gęsto, także wśród dzieci, a zdobyczne "kobiety" są bezceremonialnie gwałcone. Innymi słowy sytuacja przypomina relację między zwaśnionymi rodami Capuletich i Montecchich z dramatu Szekspira, w którym to Julia sprzeniewierzyła się woli ojca z powodu… zakochania w Romeo. W efekcie żadne zakazy nie mogły jej zatrzymać i w ostateczności uciekła z młodzieńcem z wrogiego klanu.
Ludzie, tak jak dzisiaj szympansy, przez miliony lat żyli w zamkniętych, zwalczających się nawzajem grupach. Było to korzystne z punktu widzenia ewolucji, ponieważ stada, w których rozpowszechniły się lepsze geny, zdobywały przewagę nad konkurencyjnymi grupami. Rodziło to jednak jeden istotny problem – ryzyko tzw. chowu wsobnego, czyli sytuacji w której dochodzi do związków kazirodczych. Jeśli osobniki mieszałyby się tylko wewnątrz własnej grupy, to w kilku kolejnych pokoleniach wszyscy byliby ze sobą spokrewnieni, co zrujnowałoby populację genetycznie. Dlatego ewolucja wymyśliła… zakochanie.
To bardzo silne uczucie pozwalało wyrwać niektóre z młodych, a więc najbardziej płodnych, samic i skrzyżować je z samcami z innej grupy. Dzięki temu geny ulegały sporadycznemu wymieszaniu i ewolucja mogła dalej następować jako rywalizacja między wciąż wrogimi stadami. Stąd też natura zakochania jest przesycona tak silnymi emocjami. W końcu jak inaczej dałoby się skłonić poszczególne osobniki do podejmowania ryzyka związanego z uciekaniem do obcej grupy. Tym bardziej, że takie "przejścia" mogą się różnie skończyć, bo w grę wchodzi zazdrość samic z klanu, do którego dopiero się dołącza.
Dzisiaj nie żyjemy już w małych, wrogich sobie nawzajem stadach. Jednak wciąż zakochujemy się w osobach nie zawsze akceptowanych przez nasze rodziny, a ojcowie i bracia często reagują mniej lub bardziej skrywaną zazdrością o partnerów swoich córek i sióstr. A niejedna Julia czasami ucieka z jakimś obcym Romeo. Lub przynajmniej marzy o tym, rozczulając się na filmowych czy książkowych romansach opartych na tej archaicznej żądzy. Co nieprzypadkowo jest tym częstsze, im młodszych osób dotyczy – w końcu to hormony skłaniają nas do romantyzmu, seksu i ryzyka.
Tak więc natura zakochania musi być gwałtowna i sprzeczna z tzw. "zdrowym rozsądkiem", wpajanym nam przez rodzinę. Dużo ciekawszym pytaniem jest jednak to, dlaczego dana osoba ma tendencję aby zakochać się w takiej, a nie innej osobie. Tu właśnie wkraczamy w sferę "ultrafioletu", którym będzie dla nas psychoanaliza.
Zygmunt Freud zauważył, że ludzie mają tendencję, aby zakochiwać się w osobach  posiadających cechy, których sami nie akceptowali u rodzica przeciwnej płci. Jest to mechanizm nieświadomy i szczególnie wyraźny w przypadku zakochania od pierwszego wejrzenia. Choć w pierwszej chwili może wydawać się podejrzane, że z jednej strony mowa o cesze, czyli czymś trwałym i złożonym, a z drugiej o "pierwszym wejrzeniu", czyli przelotnym wrażeniu, to jednak tak właśnie działamy. Naszą opinię o drugim człowieku, a więc i jego cechach, kształtujemy już w ułamku pierwszej sekundy, w którym go widzimy. W psychologii społecznej nazywa się to "efektem halo". Ciekawe jest to, że są to często trafne założenia. Nasze nieświadomość przykłada zakodowane w pamięci wzory osób i zachowań, które już znamy, do widzianego właśnie obrazu nowej osoby i porównuje na zasadzie podobieństwa. A potem wrzuca wynik tych zabiegów do świadomości w postaci gotowej już opinii. Ponieważ cały ten proces dzieje się poza zakresem świadomości, jest idealnym miejscem na małe przekręty ze strony naszej psychiki.
Ale powoli. Tak więc mamy ojca i matkę lub przynajmniej kogoś w ich roli, bo czasem ojca zastępuje w rodzinie dziadek lub wujek, a matkę babcia czy ciocia. Jeśli nasze wzory rodzinne były poprawne i nastroiliśmy się na podobieństwo rodzica tej samej płci, homoseksualizm raczej nam nie grozi (poza pewnymi wyjątkami, ale w tym wpisie je pomińmy). Tym samym nastrajamy się na seksualnie na rodzica płci przeciwnej, co wiąże się z opisywanym już przeze mnie kompleksem Edypa. Jeśli wszystko układa się dobrze, cały ten kompleks przechodzimy poprawnie i godzimy się, że mama należy do taty i odwrotnie, a jedyne, co możemy zrobić, to stać się takim jak tata (jeśli jest się chłopcem) lub jak mama (kiedy sprawa dotyczy rozwoju dziewczynki).
Tym samym od samego dzieciństwa mamy zakodowany obraz kobiecości  lub męskości, który w nieświadomy sposób będzie nas pociągał albo odpychał. Żeby było śmieszniej, nasz ideał partnera zmienia się w czasie, ale właśnie w obrębie podobieństwa lub przeciwieństwa do naszego rodzica. Wiąże się to z okresem buntu lub konfliktów z rodzicami, co jest szczególnie wyraźnie w okresie dorastania. Sięgnijmy pamięcią wstecz. Dla przykładu, jeśli jesteś facetem i Twoja matka jest blondynką, jest spore prawdopodobieństwo, że w okresie nastoletniego buntu preferowałeś brunetki, ale kiedy już dorosłeś, wróciłeś do blondynek – oczywiście o ile Twój obecny obraz matki jest pozytywny, a nieświadome negowanie jej było spowodowany tylko dorastaniem. Jeśli dalej masz o niej mniej lub bardziej nieświadomie negatywne zdanie, pewnie wciąż wolisz ciemnowłose. Trzeba przy tym zaznaczyć, że tyczy się to relacji miłosnych a nie czystego pociągu seksualnego. Podobnie rzecz się tyczy kobiet i ich ojców.
Musimy też pamiętać, że to nakierowanie na naszego rodzica nie może być krańcowe. Zbyt podobny partner rodziłby w nas lęki kazirodcze. Nie chodzi też koniecznie o tą przykładową zbieżność koloru włosów, ale raczej pewne fundamentalne cechy wyglądu, zachowania i charakteru – pociągłą lub podłużną twarz, delikatne lub mocne rysy, karnację, temperament czy choćby gesty i ton głosu.
Ten mechanizm dobrze wyjaśnia też  przyczynę tego, że "każda potwora znajdzie swojego amatora". Często jest tak, że tęgie i z pozoru nieatrakcyjne kobiety znajdują mężczyzn, dla których faktycznie są pociągające wbrew obowiązującym kanonom urody. Dzieje się tak właśnie dlatego, że mama takiego nonkonformisty także była większych gabarytów lub wręcz przeciwnie – była bardzo chuda, ale on w swoim umyśle neguje ją i wybiera typ przeciwny.
Wróćmy jednak do Freuda, któremu chodziło o coś jeszcze głębszego. Często jest tak, że akceptujemy naszych rodziców tylko częściowo. Z jednej strony doświadczamy ich jako z gruntu  dobrych, ale dostrzegamy też cechy, których nie akceptujemy, choć może to być nawet nieświadome. Tak więc wtedy, kiedy widzimy kogoś po raz pierwszy, uruchamia się wspomniany efekt halo. Jeśli oceniana osoba posiada cechy, których nie akceptowaliśmy u naszego rodzica przeciwnej płci (lub tej samej w przypadku osoby homoseksualnej), włącza się nieświadomy mechanizm przeniesienia. W efekcie przenosimy wyparte w okresie kompleksu Edypa pożądanie z rodzica na spostrzeganego człowieka i się w nim zakochujemy. Do naszej świadomości trafia wrzutka o treści "TO ONA!", ale bez świadomości procesów pośredniczących wspomnianych powyżej. Do tego dochodzą archaiczne, wbudowane nam przez ewolucję mechanizmy dążenia wbrew zdrowemu rozsądkowi do potencjalnie wrogich osobników, choć w tym przypadku ta wrogość nie polega na pochodzeniu z obcego stada, tylko posiadaniu negatywnych cech, które przenieśliśmy z obrazu własnego rodzica.
W efekcie wpadamy w uczucie, które ani nam do końca nie służy, ani wcale nie rozwiązuje naszych problemów. A często wręcz je pogłębia. Erich Fromm takie fatalne zauroczenie nazywa "bałwochwalczą miłością" i przeciwstawia miłości prawdziwej, głębokiej i opartej na wspólnym rozwoju. Trzeba tu przy tym rozgraniczyć to, co zdrowe, od tego, co związane z problemami. Zakochanie jest niezbędne do tego, aby związek był trwały i szczęśliwy. Aby skończyć jako weseli, trzymający się za ręce mimo upływu lat staruszkowie, na początku po prostu musi wybuchnąć wielka miłość, a potem trzeba poświęcić dużo, dużo wysiłku pracy nad relacją. Jednak zakochanie od pierwszego wejrzenia to coś więcej – to obsesja oparta nie nieświadomych potrzebach. Pewnym pocieszeniem jest to, że taki fatalny wybuch uczuć nie grozi się każdemu. Aby mógł nam się przytrafić, musimy mieć rozbity obraz matki/ojca i nie być świadomymi ani tego rozdźwięku, ani naszych wewnętrznych konfliktów.
Wbrew hollywoodzkim romansidłom takie fatalne zauroczenie, o którym przecież wielu marzy, wcale nie jest konstruktywne. Wpadamy w spiralę wzajemnych przeniesień i nieświadomych konfliktów, co bez świadomej pracy nad taką relacją kończy się najczęściej spektakularnym zerwaniem lub kuriozalnym łańcuchem rozstań i powrotów. Lub też całkowitym rozpieprzeniem sobie życia. Dość klasycznym przykładem tego ostatniego są kobiety, które wybierają sobie problemowych partnerów. Zakochują się w mężczyznach mających problem z alkoholem, rozwiązłością czy egoizmem. Nieświadomie wybierają faceta przypominającego ich własnego ojca, który wcale nie był aniołem dla matki. Ale za to był… pierwszą miłością tej właśnie zagubionej w męskim świecie kobiety. To, czy taki patologiczny związek okaże się trwały, zależy od osobowości tejże dorosłej już córki. Jeśli ma ona rys masochistyczny, prawdopodobnie nigdy już się nie wyzwoli z takiego patologicznego związku i wciąż będzie próbowała uratować (zmienić) swojego ojca w osobie swojego partnera. Jeśli jest w niej więcej odruchów obronnych, prawdopodobnie ucieknie od jednego, ale z czasem znajdzie sobie podobnego. Tak właśnie działają nieświadome mechanizmy u dziewczyn, które narzekają wiecznie na "męskie świnie", który to typ faceta same przecież sobie ciągle wybierają.
Dlatego, jeśli mamy tendencję, aby wpadać w takie fatalne związki, warto usiąść na chwilę w ciszy i poszperać w swojej pamięci. Kim były dotychczasowe obiekty naszego uczucia? Co je łączyło z naszym rodzicem? Czego nie potrafiliśmy zaakceptować u taty lub mamy? Świadomość i rodzące się z niej emocje są kluczem do przepracowania swoich problemów i wyjścia z nieświadomego schematu.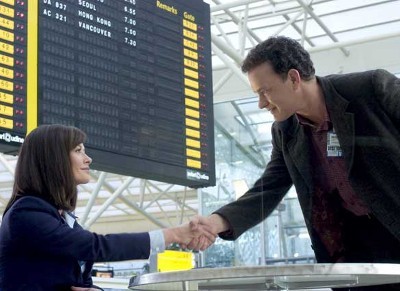 Widzieliście może film Spielberga pt. "Terminal"? Opowiadał on historię człowieka uwięzionego przez głupie przepisy na dworcu lotniczym. W tle przewijał się  motyw stewardesy, której nie układało się z mężczyznami. Zawsze byli oni w typie zimnego drania i ostatecznie ją krzywdzili. Grany przez Toma Hanksa bohater był inny – wrażliwy, romantyczny i waleczny, ale ostatecznie został odrzucony. Nie miał szans wygrać z nieświadomością kobiety i (jak można domniemywać) z jej negatywnym ojcem, a właściwie jego psychicznym obrazem zakodowanym w doświadczeniu tej nieszczęśliwej osoby. Smutne, ale jakże często prawdziwe. To dlatego psychologia jest tak wartościową dziedziną wiedzy – ale psychologia głębi, a nie ta jedynie słuszna, bo "naukowa", która może jednie powiedzieć jak człowiek zapamiętuje ciągi bezsensownych sylab lub gdzie lepiej umiejscowić światło stopu w samochodzie. Zgłębianie  zależności psychicznych daje nam ważny wgląd w nas samych, nasze związki i relacje. Tędy biegnie droga do samorozwoju. Niekiedy, aby nie pobłądzić na jakimś wyjątkowo trudnym odcinku tego szlaku, potrzebujemy przewodnika, którym jest terapeuta. Ale zawsze przydatna jest mapa – czyli wiedza o topografii ludzkiego umysłu. Myślę, że warto zbierać wiedzę i powolutku próbować rysować sobie mapkę swojej własnej psychiki. I to niezależnie od tego, jak nam się akurat w życiu układa, ponieważ można być pięknym, wykształconym i bogatym, ale przez nieświadomość samego siebie i tak przegrać swoje życie z kretesem.