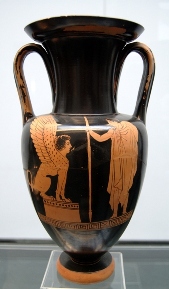 Mity to historie o herosach i bogach. Jednak często zawierają w sobie alegorie dotyczące bardzo uniwersalnych cech ludzkiego życia. Mit o Edypie opowiada o bardzo powszechnym konflikcie, który choć wstydliwy, w jakimś zakresie dotyka każdego człowieka.
Edyp był młodzieńcem, który zabił własnego ojca i ożenił się ze swoją matką. Miał z nią także dzieci, więc z pewnością nie było to białe małżeństwo. Motorem dla jego losów była – co ważne – żądza władzy i męska dominacja. Najpierw to Lajos, ojciec Edypa, kazał porzucić swojego nowo narodzonego syna w górach, bojąc się, że jego potomek zabije go i posiądzie jego żonę, czyli swoją własną matkę. Tak wieściła wyrocznia. W istocie miała rację, ponieważ dorosły Edyp spotkał na swojej drodze orszak ojca. Młodzieniec nie chciał ustąpić drogi starszemu, więc nawiązała się walka. Edyp wyszedł z niej zwycięsko, zabijając przeciwnika, czyli własnego ojca. Później w nagrodę ze swoje czyny dostał też rękę królowej – swojej matki. Tragedia przewidziana przez wyrocznię sprawdziła się w pełni. Choć nie był świadomy, że mordowany przez niego mężczyzna jest jego ojcem, a królowa to w istocie jego matka, Edypa spotkały ogromne nieszczęścia. Ostatecznie z poczucia winy wydłubał sobie oczy.
Ta mroczna historia niesie pewne przesłanie – choć kazirodztwo jest złem, skłonność ku niemu nie jest nam zupełnie obca. Po pierwsze świadomość tendencji kazirodczych budzi w nas ogromne poczucie winy, w końcu Edyp za karę wydłubał sobie oczy. Po drugie realizacja tych skłonności związana jest z wrażeniem zwycięstwa i dominacji, ponieważ wiąże się z pokonaniem najsilniejszego wroga – własnego rodzica.
W praktyce psychoanalitycznej mechanizm ten nieprzypadkowo nosi nazwę kompleksu Edypa. Polega on na tym, że rodząca się seksualność dziecka w naturalny sposób ukierunkowuje się na najbliższy i najbardziej emocjonalnie ważny obiekt – własnego rodzica. Około piątego roku życia nasi rówieśnicy nie są dla nas szczególnie interesujący. To takie same dzieci jak my. Jednocześnie mama lub tata należy do "lepszego" świata – jest prawie wszechmocny, daje poczucie bezpieczeństwa. Rodzic płci przeciwnej staje się naszym pierwszym obiektem miłosnym, co w czasach rodzącej się seksualności, owocuje właśnie naturalnymi tendencjami kazirodczymi.
Tu pojawia się jednak pewien ważny problem – mama zwykle jest zajęta przez tatę i vice versa. Dlatego też efektem kompleksu Edypa jest konflikt – z jednej strony chęć związania się z rodzicem (np. matką), z drugiej wrogość do naturalnego rywala (w tym przypadku ojca). Nie jest to łatwa sytuacja dla dziecka. Dlatego tak łatwo w tym czasie o psychiczne urazy, które w dorosłości mogą owocować nerwicami i/lub narcyzmem.
Pozytywnym rozwiązaniem kompleksu Edypa jest sytuacja, w której dziecko w naturalny sposób przegrywa rywalizację o rodzica. Matka okazuje się być zarezerwowana dla ojca, a ojciec dla matki. Wtedy dziecko zaczyna godzić się z przegraną i rekompensuje sobie swoje odrzucenie na tym polu przekierowaniem zainteresowania na bardziej dostępne obiekty – swoich rówieśników. Jednocześnie chłopiec zaczyna identyfikować się z własnym tatą, a dziewczynka z mamą. W ten sposób objawia się mechanizm obronny zwany identyfikacją. Działa on nieco abstrakcyjnie, na zadzie takiej, że "skoro ja nie mogę być ze swoją matką, to niech już będzie mój rywal (ojciec), a ja będę taki jak on, dzięki czemu nie stracę jego miłości, a do tego będąc takim jak on, będę po części tak potężny jak on".
Tak wygląda pozytywne rozwiązanie tego naturalnego problemu rozwojowego. Niestety nie każdemu jest dany tak pozytywny scenariusz i u niektórych osób kompleks Edypa pozostaje aktywny i nierozwiązany. Część chłopców, niczym mityczny Edyp, wygrywa swoje pojedynki z ojcami. Dzieje się tak z różnych powodów. Często przyczyną jest rozwód rodziców. Ojciec znika, matka jest nim rozczarowana i w swoim rozżaleniu nieświadomie komunikuje swojemu synowi – "ty nie jesteś taki jak on, jesteś lepszy i nigdy byś czegoś takiego mamusi nie zrobił". W tym momencie syn jest już "ugotowany", ponieważ nie ma możliwości, by przeciwstawić się temu uwiedzeniu. Kompleks Edypa zostaje ugruntowany. Co się dzieje dalej? Zwykle chłopiec taki zostaje zwycięskim Edypem. Jest roszczeniowy do świata, wszystko mu się należy. Wywalczył przecież główną nagrodę – swoją matkę. Jak teraz miałby komukolwiek ustąpić drogi? Zwycięski Edyp jest dumny, a wręcz zarozumiały. Do tego roszczeniowy i nieugięty. Do świata potrafi być bojowy i waleczny i głęboko przeżywa porażki – wtedy nie przyznaje się do nich i bywa mściwy.
Podobnie dzieje się w przypadku, gdy ojciec jest w domu, ale nie spełnia oczekiwań matki. Wtedy zawiedziona kobieta również może zwrócić się ku synowi, który jest z nią bardziej zżyty niż mąż i lepiej ją rozumie. Choć królem oficjalnie wciąż pozostaje ojciec, matka daje wtedy swojemu synowi odczuć, że to on jest tym lepszym, tym, który jest jej bliższy. Chłopiec, który już raz wszedł w buty zwycięzcy, nie będzie chciał z nich wyjść – stanie się synkiem mamusi, na zawsze z nią związanym. Może już nigdy nie zdecydować się na związanie z inną kobietą – w końcu która dorówna matce? Nie da się jednak zabić impulsów płynących z id (wewnętrznych popędów), można je jedynie sublimować. Dlatego zamiast używać swojego libido (popędu seksualnego), osoba taka może kierować swoją energię do walki intelektualnej, np. politycznej. Może też wypierać swoje poczucie winy związane z kompleksem Edypa i projektować ją na innych. Dzięki temu ktoś taki sam przyjmuje pozę niepokonanego Edypa, który – nie zdając sobie sprawy ze swojego grzechu – objawia się światu jako waleczny, mściwy i nieugięty wojownik.  Jest królem swojego podwórka, a dzięki wspomnianych projekcjom we wszystkich innych widzi złe intencje, nie rozumiejąc, że to tylko jego wyparte poczucie winy i fałszywej wyjątkowości. Chyba wiecie, którego polityka szczególnie mam tu na myśli.
W przypadku kobiet kompleks Edypa bywa nazywany kompleksem Elektry, ale trzon zjawiska jest ten sam. Dziewczyna nieświadomie podkochuje się we własnym tacie i wchodzi w rywalizację z matką. Rodzi się konflikt, który powinien zostać rozwiązany przez porażkę dziewczynki w tej wojnie o ojca, a w konsekwencji przez identyfikację z mamą. Kiedy się tak nie dzieje i tata okazuje szczególne względy dziewczynce, staje się ona małą królewną, czyli "córeczka tatusia". To taki kobiecy Edyp, który jest kapryśny, roszczeniowy i równie narcystyczny.
Triumfalni zwycięzcy w rzeczywistości są osobami głęboko cierpiącymi. Jeśli narcyzm ustępuje poczuciu winy, rodzą się objawy nerwicowe. Edyp, kiedy uświadomił sobie, co zrobił, z dławiącej rozpaczy ukarał się wyrywając sobie oczy. To obrazuje siłę tego konfliktu, który może przejawiać się na przykład w snach. Osobie, która nie miała okazji pozytywnie rozwiązać kompleksu Edypa, może śnić się, że uprawia seks z matką lub ojcem. Takie wizje – co naturalne – przyprawiają o poczucie winy, które może przejawiać się lękiem zupełnie niezwiązanym z kazirodztwem, a nawet z seksualnością. Ale to już zależy od budowy konkretnej psychiki i doświadczeń, które daną osobę spotkały.
Jednak same występowanie takich snów nie jest czymś jednoznacznie negatywnym – obecność cieni świadczy o tym, że gdzieś tli się światło. Tym samym przerażające sny mogą być drogą do uświadomienia sobie konfliktu i faktycznego przepracowania owego kompleksu. Warto przy tym wiedzieć, że każdy ma sny. To, że ich nie pamiętamy (zaraz po przebudzeniu, bo chwilę potem  i tak same zanikają), to tylko efekt działania naszej nieświadomości, która cenzuruje sny, wyrzucając w niepamięć te budzące konflikt (lęk).
Wracając jednak do kompleksu Edypa – to bardzo naturalna sprawa, nawet z punktu widzenia naszych małpich kuzynów. U nich także młode samce próbują kopulować w własnymi matkami, czemu jednak te ostatnie stanowczo się sprzeciwiają. Występuje też zazdrość o matkę – malec zwykle próbuje atakować dorosłego samca, który dobiera się do jego mamy. Na szczęście dla malucha, szympansy są wyrozumiałe dla takiej naturalnej zawiści i nie czynią młodemu zazdrośnikowi krzywdy.
Syn, który pokonuje ojca tak naprawdę odnosi tylko pyrrusowe zwycięstwo. Pyrrus też był królem. Pokonał potężny Rzym, jednak straty, jakie poniósł w tej wygranej bitwie, były tak ogromne, że ostatecznie skończył jako przegrany w kontekście całej wojny. Trudno jest opuścić tron, który już raz się zajęło. Są jednak sytuacje, w których po prostu trzeba zostać pokonanym, i to dla własnego dobra.