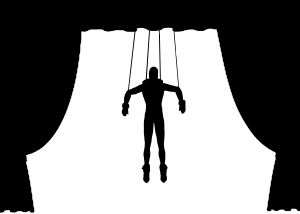 Parę dni temu zadzwonił telefon. Kiedy odebrałem, pani po drugiej stronie słuchawki przeszła ostro do rzeczy. Przedstawiła się, że dzwoni z agencji pośrednictwa pracy i niezadowoleniem wypaliła: "Muszę Panu powiedzieć, że dawano nie widziałam tak niechlujnie przygotowanego CV." W pierwszej chwili mnie zamurowało. Skąd, u diabła, znają techniki prowokacyjne w zwykłej agencji pośrednictwa pracy? Najwyraźniej psychomanipulacja na dobre zawędrowała pod strzechy.
Według podobnej zasady prowadzi się rozmowy rekrutacyjne do służb mundurowych lub w kwestii pozwolenia na broń. Najpierw psycholog chwali danego kandydata – mówi mu przyjemne rzeczy i podbudowuje jego ego. By potem przeprowadzić bezpardonowy atak. Nie ma tu znaczenia prawdziwość pochwał czy krytyki. Liczy się zachowanie rozmówcy. Jeśli zareaguje złością, nadmierną urazą lub agresją – odpada. To test na zachowanie w sytuacji konfliktu.
Policjant nie powinien dać się sprowokować żadnym wyzwiskiem czy jakąkolwiek prowokacją, to chyba zrozumiałe. Zaskakujące jest jednak, że praktycznie identyczną zasadę stosuje się już w przypadku rozmów rekrutacyjnych, nawet takich przez telefon. Nie miało znaczenia moje CV. Nawet z czysto logicznego punktu widzenia nie fatygowano by się tylko po to, żeby powiedzieć mi, że "mam najgorsze CV, jakie w życiu widzieli". Chodziło o coś zupełnie innego. Po tej jednej prowokacji można bardzo wiele powiedzieć o rozmówcy. Gdybym uniósł się urazą lub złością, byłoby jasne, że mają do czynienia z osobą o wrażliwym ego, skłonną do konfliktu. Gdybym zaczął się tłumaczyć i wycofał – dla osoby dzwoniącej stałoby się jasne, że nie potrafię wybrnąć z konfliktu i odnaleźć się w nieprzychylnym otoczeniu. Cała ta, co by nie było pogłębiona, wiedza zależała od jednego, dobrze dobranego zdania. Trzeba tylko wiedzieć, jakie słowa wypowiedzieć i jak interpretować odpowiedzi.
Psychologia to potężne narzędzie i w rękach sprawnego szermierza stanowi skuteczną broń. Nie mam tu na myśli prostych zagrywek rodem z Cialdiniego. W polityce stosuje się ją codziennie – na nas, społeczeństwie. Gdy przygotowywałem sobie w myślach ten wpis, przypomniała mi się sytuacja, w której znalazł się Andrzej Lepper po wybuchu "seksafery". Do swojego programu zaprosił go wtedy Tomasz Lis. Na pierwszy rzut oka sprawa była przegrana i wydawało się pewne, że Lepper idzie na ścięcie – krytyczny prowadzący i bardzo nieprzychylna widownia. Ale Lepper nie był sam, do wystąpienia przygotowywał go słynny skądinąd Piotr Tymochowicz. Co by nie myśleć o tym człowieku, zna się na swojej robocie.
Niestety nie ma tego odcinka programu na Youtubie i muszę odwołać się do opisu. Wyglądało to w ten sposób, że Andrzej Lepper wszedł do studia i od razu zastosował "wybicie z rutyny". Wszyscy byli przygotowani na klasyczny schemat – oskarżony o udział w seksaferze polityk będzie się bronił, atakowany przez prowadzącego i wyśmiewany przez widownię. Tymczasem Lepper wparował szybkim krokiem i to on zabrał się do rozdawania kart. Przełamał schemat, czym zaskoczył wszystkich zebranych. To on zaczął oskarżać – machał ręką, wygrażał palcem. Prowadzący z zaskoczenia stracił inicjatywę. Na publikę Tymochowicz (zapewne) też przygotował sposób. Przy pierwszym zdaniu Andrzeja Leppera widownia buchnęła śmiechem. Osoby na niej siedzące korzystały z rozproszenia odpowiedzialności – nikt nie chciał by przemówić osobiście, ale w grupie ludzi o podobnych poglądach czuły się pewnie. Przy pierwszej salwie śmiechu Lepper wybrał, zapewne zgodnie z przygotowaną strategią, jedną osobę z pierwszego rzędu. Wskazał na nią palcem i oskarżycielko spytał: "Dlaczego się pan śmieje? Proszę mi odpowiedzieć!" Kamerzysta – czego się oczywiście można było spodziewać – posłusznie pojechał ujęciem wzdłuż palca Leppera i kadr zatrzymał się na przerażonej twarzy tego wybranego widza. Oczywiście facet z widowni był tak zaskoczony i zestresowany nagłym obrotem sytuacji, że nie był w stanie wydukać niczego sensownego. I to był strzał w dziesiątkę. Od tej chwili już nikt z widowni się głośno nie zaśmiał. Lisa zatkało, widownia się wystraszyła i od tej pory program prowadził już praktycznie… Andrzej Lepper. Tak oto rozbicie rozproszenia odpowiedzialności, zagrożenie sankcją (wyciągnięciem pojedynczej osoby przed kamerę) i mechanizm zwany "wybiciem z rutyny" dokonało rzeczy z pozoru niemożliwej i z pewnej ofiary stworzyło realnego triumfatora. Można Tymoczowicza nie lubić, ale cenić po prostu trzeba :)
To był przykład manipulacji na poziomie grupy. Doświadczamy jej na co dzień i to różnych okolicznościach, choć polityka tu z pewnością przoduje – naprawdę podziwiam też strategów projektujących komunikację premierowi Tuskowi. Na poziomie indywidualnym psychomanipulacja jest jednak jeszcze donioślejsza. Potrafiąc nakreślić czyjąś osobowość, ma się praktycznie klucz do zachowania danej osoby. A dla wykształconego i wprawnego obserwatora, nie jest to wcale takie trudne – w pewnym zakresie można powiedzieć coś o osobowości z samej postawy, sposobu mówienia, a nawet zwykłego zdjęcia.
Jednak zwykle zdrowe osoby z tej możliwości nie korzystają, bo stosowanie psychomanipulacji to pewnego rodzaju samoupodlenie się. Trochę jak kłamstwo – wszyscy mogą kłamać, ale jednak nie wszyscy z tego prawa korzystają. Im ktoś mniej kłamie (choćby nawet potrafił), tym bardziej świadczy to o jego poziomie samorozwoju i ludzkiej dojrzałości.
W manipulacji celują za to jednostki psychopatyczne. One nie mają wyrzutów sumienia, a główną wartością ich życia jest skuteczność. Po trupach do celu, to ich dewiza. Dla nich wywierania wpływu to po porostu najskuteczniejsza droga do sukcesu, a nie coś niegodnego. Taką osobowością wykazują się często sprzedawcy. Nastawieni na cel, bezwzględni, egoistyczny. Psychopatia to zaburzenie, które bardzo skutecznie idzie w parze w psychomanipulacją, a więc i sukcesem. Jednak kosztem jest utrata głębi życia, duchowości, czy – jak by to ujął Erich Fromm – zdolności do miłości.
Tu pojawia się pewne fundamentalne pytanie. Czy należy upowszechniać wiedzę o psychomanipulacji wśród społeczeństwa? Wielu specjalistów z tej dziedziny odpowiada, że tak. Uzasadniają to tym, że warto poznać taktykę wroga, aby móc się skutecznie bronić. Po części może to i prawda, ale zapewne spośród osób, które sięgają po pozycje dotyczące wywierania wpływy, zdecydowanie więcej jest tych, co chcą manipulować, niż tych, którzy chcą zgłębiać tą dziedzinę dla samoobrony.
Na pewnej konferencji naukowej poświęconej wywieraniu wpływu, rozpoznano działacza jednej z sekt. Pojawiło się pytanie – czy należy go wyprosić? Nie ulegało wątpliwości, po co zawitał na konferencję i jak owa sekta wykorzystuje wiedzę z tego zakresu. Ale z drugiej strony, może dyskryminacja z uwagi na wyznanie też byłaby przejawem uprzedzenia?
Ale wracając na swoje podwórko. Poznałem kilku policjantów, jak i osoby, które do policji się nie dostały. Jedna z tych ostatnich opowiadała mi ze złością, że "ta głupia baba" (czyli psycholog przeprowadzająca z nią rozmowę) nagle zaczęła ją atakować i krytykować. Moja rozmówczyni nie wiedziała dlaczego jej nie przyjęli. Jako, że miała wyraźne cechy osobowości narcystycznej, mogłem sobie wyobrazić jak zareagowała na tą prowokację. Ale nie podałem jej wyjaśnienia. Nie chciałem, żeby próbowała jeszcze raz podchodzić do egzaminu, bo w końcu nieprzypadkowo odpadła na testach psychologicznych – nie nadawała się do tej pracy.
Czy więc nie jestem hipokrytą, zdradzając tu na tym blogu te same techniki, których wolałem nie wyjaśniać swojej znajomej? Zastanawiam się, gdzie jest granica oddzielająca to, co może być powiedziane, od tego, co lepiej przemilczeć. Ile można przekazać? Tyle, ile napisane jest w popularnych książkach psychologicznych?
Może lepiej kiedy będę opisywał osobowości (do czego powoli zmierzam), nie wskazywać na czułe punkty? Są one przecież gotowymi guzika, które może wcisnąć potencjalny manipulator.