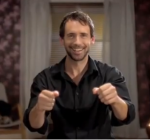 Mówi się, że "historia jest nalczycielką życia." Jeśli już jakiejkolwiek nauce przypisywać to szlachetne miano, to raczej psychologii. Można ją odnieść do wszystkich elementów świata, które tyczą się człowieka. Czyli w sumie do całego naszego życia. Także do reklamy. Jednak wtedy, patrząc na poziom rodzimych reklam, trzeba by przyznać, że większość marketingowców to się na życiu nie zna. Ale zdarzają się wyjątki.
Pierwsze kontaktów psychoanalizy ze światem reklamy nie były szczególnie owocne. Jak to bywało w pionierskich czasach Freuda i kolegów, wiele tez stawiano ze zbytnią pewnością. Jedna z firm dała się ponieść psychoanalitycznemu twierdzeniu, że kobiety, które pieką ciasto, sublimują w ten sposób chęć posiadania dziecka. Przygotowano stosowne reklamy, ale cała akcja zakończyła się klapą. Pewnie pieczenie ciasta może i bywa zastępczym sposobem wyrażenia niespełnionego instynktu macierzyńskiego, ale na pewno nie dla ogółu użytkowników proszku do pieczenia.
Ostatnio reklama znowu uwrażliwia się na przekaz psychologiczny. Coraz częściej w projektowaniu komunikacji marketingowej używa się insightu, czyli wglądu. Pojęcie to określa przekaz zawarty między wierszami, to dlaczego konsumenci naprawdę wybierają dany produkt. Kiedyś uważano, że najlepiej zapytać wprost, dlaczego dana osoba postępuje w ten a nie inny sposób. Jednak większość ludzi nie wnika głęboko w swoje motywy postępowania i odpowiada schematycznie, np. "wybieram to piwo, bo ma najlepszy smak." Jednak w testach ślepej próby okazuje się, że większość badanych wcale nie potrafi rozróżnić piwo jakiej marki właśnie pije.
Ludzie nagminnie używają mechanizmu racjonalizacji. Robią coś z swoich głębokich, wewnętrznych pobudek, które często mają umocowanie w nieświadomych emocjach. Ale spytani, szukają racjonalnych odpowiedzi. Wtedy sięgają właśnie po schematy w rodzaju przytoczonego powyżej.
Inna sprawa to nowatorstwo. Tradycyjne badania focusowe polegają na zadawaniu pytań pewnej reprezentatywnej dla klientów grupie ludzi. A ludzie, jak to ludzie, odpowiadają zgodnie z refleksją inżyniera Mamonia z "Rejsu" – "No jakże może podobać mi się piosenka, którą pierwszy raz słyszę." Trudno więc w ten sposób badać nowatorską koncepcję, bo z pewnością przepadnie jako za mało poznana, aby móc się podobać za pierwszym razem.
Do tego dochodzi kwestia projekcji. Sam zapisałem się kiedyś na tego typu badanie. Pokazywano mi kawałki filmu reklamowego z prośbą o interpretacje tego, co widzę na ekranie. A widziałem na nim, że chłopak podrywa dziewczynę. Dopiero, kiedy potem zobaczyłem tą reklamę w telewizji uświadomiłem sobie, że on jej nie podrywał. To ja miałem takie myśli odnośnie dziewczyny, która przeprowadzała ze mną tą rozmowę, a nieświadomie przypisałem te intencje bohaterowi.
Dlatego tak cenny jest insight, czyli stwierdzenia prawdziwych motywów postępowania w oparciu o dane, ale często też intuicję badającego. Pierwszym wyraźnym przykładem takiego podejścia były reklamy LOTTO. Zaczynali od naprawdę niskich lotów:
"Milion sposobów na wygraną. Codziennie" – ot, suchy fakt, o czym każdy wie, a jednak wielu nie gra i po tej reklamie grać nie zacznie.
Potem jednak zmienili strategię na bardziej przemyślaną. Zapytali się – jakie emocje powodują, że ludzie chcą być bogaci. Dlaczego tak właściwie komuś miałoby zależeć na pieniądzach? Wnioski były bardzo konstruktywne – ludzie chcieliby być bogaci, żeby wreszcie uwolnić się od przymusów i konwenansów, zdobyć komfort niezależności i powiedzieć szefowi, że ma spadać. Temu służyła reklama z Kowalskim, który przychodzi do pracy wakacyjnie ubrany i mówi do swojego przełożonego "Teraz to mi to LOTTO".
Potem stratedzy LOTTO poszli dalej i pokazali inne motywacje – pieniądze pomogą zdobyć atrakcyjnego partnera i luksus. Powstały dwie reklamy – jedna o facecie, który podrywa wymarzoną "laskę" z pracy i druga o kobiecie w sile wieku, która podrywa przystojnego kelnera. A na koniec uderzenie – "Nie pozwól, by ktoś zgarnął twoje marzenia. Zagraj w LOTTO. Wszystko przed tobą." A więc przebiegła gra na emocjach – wszyscy o czymś marzymy i na pewno znamy kogoś, kto gra w LOTTO, więc też grajmy, bo on "zgarnie" nasze marzenia, nim sami zdążymy je urzeczywistnić.
Inną świetną reklamę opartą na insight-cie miałem okazję zobaczyć w pociągach IC. Na siedzenia przylepiona jest taka prosta reklamówka: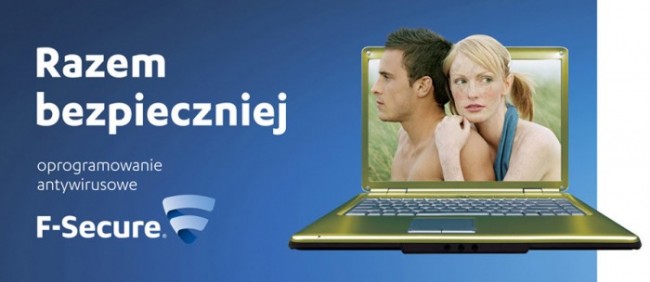 Prosta, ale jakże trafna. Widać z niej, że reklama adresowana jest do kobiet, co pewnie jest o tyle celne, że kobiety statystycznie gorzej znają się na komputerach i łatwiej je namówić do zakupu programu antywirusowego nieznanej marki. Niepewna, zalękniona kobieta przytula się do silnego faceta. Wszystko jest tak, jak być powinno – dziewczyna ma delikatną urodę, a chłopak wygląda na silnego, ale nie brutalnego. Do tego hasło "Razem bezpieczniej". Myślę, że gdybym był samotną, nieco bojącą się i nieznającą na komputerach dziewczyną, to do razu poleciałbym kupić ten produkt.
Czasem bywa też, że twórcy reklam stawiają wyłącznie na kreację. I ona faktycznie jest błyskotliwa. Ale co z tego, jeśli jest nie ma prawa być skuteczna.
Swego czasu firma Nicorette wypuściła taką reklamę:
Reklama to nawiązywała, całkiem celnie nota bene, do trwającej właśnie kampanii do europarlamentu. Komunikacja gdzieś się jednak w niej gubi i kończy na samej błyskotliwości hasła, z pominięciem procesu psychicznego. No bo kto kogo zaprasza do urn? W domyśle mądrzy niepalący zapraszają głupich palących. Do tego "wybór należy do ciebie", czyli "palisz, bo chcesz". Zatem sens komunikacji jest mniej więcej taki: "jesteś głupi, bo palisz, więc umrzesz z własnej winy". A że nikt nie chce czuć się głupi, winny, ani uświadamiać sobie swojej śmiertelności – jest niemal pewne, że komunikat zostanie wyparty. Czyli reklama jest, a efektu nie.
I tu przydałoby się nieco psychoanalizy. Wystarczyło by przerzucić winę na kogoś innego (poza "ja"), by komunikat był łatwiej przyjęty. "Producenci papierosów zapraszają do urn" zmieniłoby kontekst, wskazując wroga nie w samym sobie (nałogowiec-samobójca), ale na zewnątrz ("ktoś cię wykorzystuje, byś sobie szkodził"). Do tego należało by przerzucić odpowiedzialność z "nie pogrzeb swojej szansy" na "nie daj pogrzebać się żywcem".
To bardzo prosty mechanizm – zamiast atakować "ja" osoby, której postawę chce się zmienić, trzeba jedynie wzbudzić w niej motywację do samoobrony. Wykorzystanie aspektu nieufności wobec wielkich koncernów ("oni chcą mnie wykorzystać i zarabiają na truciu mnie, więc muszę się bronić") dałoby w efekcie zupełnie inny odbiór. Czyli ostateczna zmiana przekazu z "nie daj dupy, ty idioto" na "nie daj się wyruchać tym idiotom" ;)
Na szczęście są też reklamy, które potrafią zawrzeć i celny insight i świetne wykonanie.
Wreszcie przestano sztampowo straszyć krwią i kalectwem, co i tak nie dawało efektów, bo ludzie mają tendencję żeby wypierać zagrażające komunikaty. Wolimy myśleć, że "mnie to nie się to nie stanie" i w pewnym sensie jest to złudzenie, które pozwala żyć – uwalnia od obaw związanych z codziennym ryzkiem. Bez niego szybko popadlibyśmy w stany lękowe, a na wojnie wszystkich musiano by rozstrzelać za dezercję – gdyby żołnierze znali statystyki, nikt nie byłby na tyle szalony, żeby iść w pierwszym szeregu.
W tej reklamie zastosowano proste przełożenie nacisków. Emocjonalny komunikat skierowano do kobiet (żona i córka), które w założeniu są bardziej ostrożne i mają wymóc dbanie o bezpieczeństwo na swoich szarżujących mężczyznach. Nie straszono mężczyzn, którzy mają naturalną tendencję do podejmowania ryzyka, a więc i stosowanie wyparcia wobec zagrożeń, co i tak nie byłoby skuteczne.
Dla kontrastu coś dokładnie przeciwnego:
Ta reklama komunikuje "matko każ swojemu synowi zapiąć pasy, bo cię zabije". Gdyby to jeszcze syn ginął, to można by mówić o jakiejś grze na emocjach, ale tak? Która matka troszczy się bardziej o siebie niż swoje dzieci? Kreatywny dowcip kompletnie położył skuteczność przekazu.
Reklama w założeniu ma wpływać na ludzi. Jednak tam, gdzie forma (kreacja) przeważa nad treścią (strategią komunikacyjną), trudno mówić o zmianie postawy.
.
Polecam także zapoznać się z wpisem: Psychologia w polityce