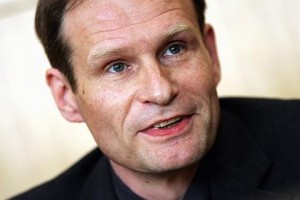 Zastanawialiście się kiedyś, jak byście przyrządzili męskiego penisa? Mam nadzieję, że nie. Jednak gdybyście kiedyś mieli stanąć przed tym niełatwym kulinarnym wyzwaniem, doświadczenie Armina Meiwes`a sugeruje unikać smażenia go bez uprzedniego skruszenia w zamrażarce lub zalewie octowej. Nawet sparzenie okazało się nie dawać wystarczająco dobrych rezultatów. Doświadczeni kanibale wiedzą, że penis sam z siebie jest zbyt "gumiasty" i przed położeniem na patelni mięso musi skruszeć.
Dokładnie rzecz biorąc Armin Meiwes użył następującego przepisu: podsmażył świeżo odciętego członka z czosnkiem, solą i pieprzem. Mimo serwowania wraz z czerwonym wytrawnym winem, potrawa okazała się niejadalna, bo mięso było zbyt twarde, aby dało się pogryźć. Ostatecznie zjadł go więc pies kucharza. Dla ścisłości należy dodać, że na surowo ta część człowieka była jeszcze trudniejsza do przełknięcia, bo ludzkie prącie – choć miękkie – ciągnie się i trudno je przegryźć na mniejsze kawałki.
Kolejne potrawy były już bardziej przemyślane. Pierwsze prawdziwe danie Armin zjadł dwa dni po zabójstwie. Był to stek z sosem z zielonej papryki z czosnkiem i gałką muszkatałową. Na talerz trafił obok ziemniaczanego puree oraz kapusty brukselki. Towarzyszył mu kieliszek południowoafrykańskiego czerwonego wina. Podobno pierwszy kęs był dziwny, bo – jak przyznał Meiwes – "Smak mięsa ludzkiego można porównać do wieprzowiny, choć jest nieco bardziej gorzki, silniejszy. Jest całkiem smaczne." W rzeczy samej nie chodziło o sam smak, ale o jego niezwykłe źródło. Armin wprowadził w życie to, o czym marzył od dawna. Czuł, jak łączy się ze swoim posiłkiem, który już na zawsze będzie jego częścią. Ta chwila wymagała docenienia. Dlatego do jedzenia zasiadł przy swojej najlepszej zastawie i świecach. Zeznał potem, że to było "jak komunia", co w sumie nie było takim znowu odległym porównaniem.
Kanibalizm jest nam bliższy, niż mogłoby się wydawać. Choć na co dzień nie zdajemy sobie z tego sprawy, nasza religia odwołuje się do niego u samych swoich podstaw. W sensie symbolicznym przyjęcie komunii to przecież zjedzenie ciała Jezusa Chrystusa, co dla kapłana jest dodatkowo doznaniem wręcz wampirycznym, bo polega na wypiciu krwi człowieka-boga. Jednak to tylko symbolika, którą przecież wypychamy ze świadomości. Co więc kieruje prawdziwymi kanibalami?
Nie jest to głód, choć wielokrotnie w historii świata ludzie zjadali się nawzajem, kiedy brakło lepszego pożywienia. Szczególnie łakomym kąskiem były dzieci, co skrupulatnie odnotowali europejscy kolonizatorzy badający obyczaje pewnych afrykańskich plemion z Lesotho. Nie gardzono także dorosłymi, którym łamano nogi, czyniąc niezdolnymi do ucieczki. W ten sposób powstawała swego rodzaju żywa spiżarnia. W Europie też wybuchały podobne epizody, nawet stosunkowo niedawno. Na Ukrainie podczas przymusowej kolektywizacji w latach międzywojennych zanotowano setki aktów kanibalizmu, choć to zapewne kropla w morzu rzeczywistych zajść w tym trudnym okresie. Najczęściej to sami rodzice porzucali lub wręcz mordowali i zjadali swoje dzieci. Z ewolucyjnego punktu widzenia ma to nawet pewne uzasadnienie. Kiedy głód zagląda w oczy, lepiej jest odzyskać część energii zainwestowanej w dzieci (które i tak bez rodziców nie miałyby szans przeżycia) i poczekać na lepsze czasy. Pokłosie takich praktyk bardzo wyraźnie widać w bajce o Jasiu i Małgosi. To opowieść niemieckiego pochodzenia i oryginalni bohaterowie nazywali się Hansel i Gretel. W pierwotnej wersji historia mówi o tym, że w czasach głodu namówiony przez złą macochę ojciec wywodzi dzieci w las i zostawia je same na pewną śmierć. Tam jednak znajdują domek wiedźmy, która chce pójść jeszcze dalej niż ich rodzice i dzieci zjeść. Baśń ta nie jest do końca wyssana z palca i wedle wszelkiego prawdopodobieństwa sięga czasów Wielkiego Głodu, mającego miejsce jeszcze w średniowieczu. Do tej bajki jeszcze wrócimy.
Z zupełnie innych powodów kanibalizmem parały się pewne plemiona Amazonii i Nowej Gwinei. Wierzyły one, że zjadając pokonanego przeciwnika, przejmują jego siłę, odwagę i inne przymioty ducha. Ale żeby było śmieszniej, nie są to obyczaje typowe tylko dla "dzikich". W Starym Świecie wierzono w szczególną moc ludzkiej wątroby. To z niej miały się brać ludzkie namiętności, złość i odwaga. Dlatego we Włoszech dopełnieniem wendetty było zjedzenie tego organu wyrwanego z wnętrzności wroga. Ale także zapisy z krajów arabskich odnotowują, że i tam podzielano te przekonania. Po bitwie pod Uhud niejaka Hind (żona wpływowego mieszkańca Mekki) zjadła wątrobę pokonanego wodza, nota bene wujka Mahometa. Nawiasem mówiąc niewiele brakowało, a i sam prorok przedwcześnie zakończyłby tam swoją karierę, ponieważ został podczas tej przegranej potyczki zdzielony kamieniem w twarz, co jednak udało mu się przeżyć. Gdyby miał mniej szczęścia, zapewne i jego wątroba zostałaby pożarta przez wrogów.
Głupie przedwieczne przekonania? Chyba nie, skoro do dzisiaj wierzy się, że jedzenie byczych jąder wzmaga potencję i libido. Z naukowego punktu widzenia nie ma takiej możliwości, bo testosteron w nich zawarty rozpada się podczas gotowania. Przeświadczenie to jest po prostu pozostałością po naszych częściowo już zapomnianych kulinarnych przekonaniach.
W istocie nasz bohater z początku tego tekstu – Armin Meiwes – podzielał je do tego stopnia, że był głęboko przekonany o tym, iż znajomość języka angielskiego przeszła na niego z mięsa zjedzonego przez siebie człowieka. W istocie w wywiadach telewizyjnych mówił bardzo dobrą angielszczyzną, używając całkiem wyszukanych słów, choć był rodowitym Niemcem, tak jak i jego posiłek. Dla jasności opowiedzmy więc tę historię od końca. Armin Meiwes został skazany za morderstwo, choć mordercą de facto nie był. Nie był nawet psychopatą.
Właściwy wątek tej przyprawiającej o gęsią skórkę historii zaczyna się w chwili, gdy Armin zamieszcza w internecie ogłoszenie. Poszukuje "dobrze zbudowanego mężczyzny, który chciałby być przeze mnie zjedzony". Nie miało to miejsce oczywiście na żadnym Gumtree, a na forum dla "pasjonatów" o dość jednoznacznej nazwie The Cannibal Cafe. Pod ogłoszeniem podpisał się "Franky" – zapamiętajcie to imię. Choć może wydawać się to zaskakujące, odpowiedziało ponad 200 osób. Z częścią z nich Armin się nawet spotkał. Niestety (dla niego), nie byli do końca pewni swojej decyzji i w kluczowym momencie się wycofywali. Kilka spotkań miało miejsce w wynajętym pokoju w hotelu. Jedna z osób chciała, aby Armin opisywał kawałki mięsa, które widzi na jej ciele – takie jak schab, karkówka, stek – a potem używał tych zwrotów w korespondencji mailowej. Bardzo ją to rajcowało, ale to wszystko – żadnego zabijania. Był człowiek, który fantazjował, by zostać "usmażony jak kurczak". Była osoba, która chciała zostać ogłuszona młotkiem, a potem zaszlachtowana. Ale nikt nie decydował się do końca zrealizować tych fantazji, mimo, że Armin przygotował już w swoim domu pokój-rzeźnię. Była w niej klatka na ofiarę, hak do powieszania ciał, odpływ na krew oraz ściany wygłuszone materacami. I wtedy zgłosił się Bernd Jurgen Brandes. Był bardzo poważny, co do swoich zamiarów zakończenia życia. Okazał się nieco starszy niż chciał Meiwes, ale po wysłaniu zdjęcia został zaakceptowany w roli posiłku. "Wyglądał dobrze. Miał wysportowaną figurę, jak sobie wyobrażałem. To był bardzo fajny, cudowny facet" – wyznał potem spełniony kanibal.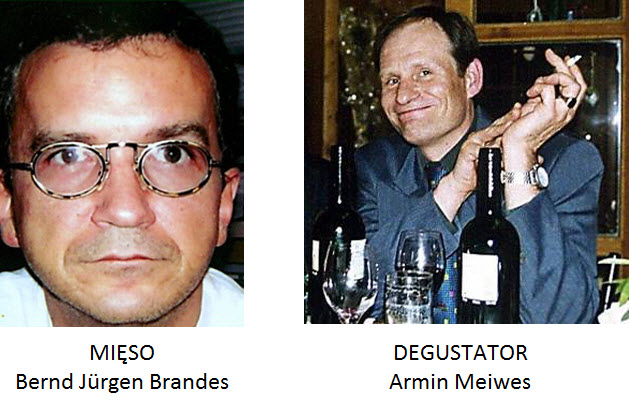 Brandes wziął dzień wolny z pracy, sporządził też testament, w którym przepisał wszystko swojemu męskiemu kochankowi. Skasował dane z komputera, by uniemożliwić wyśledzenie go. Był bardzo uważny – także bilet kupił za gotówkę, by nie pozostawić żadnych śladów poprzez płacenie kartą. Z Meiwesem spotkali się na dworcu kolejowym. Kiedy wsiedli do samochodu, Brandes zaczął obmacywać swojego przyszłego oprawcę. Pod dom zajechali już nadzy. Tacy też weszli do środka, gdzie rozmawiali chwilę, pijąc kawę. Dalsze szczegóły znamy już z filmu, który nakręcił Meiwes. Atmosfera spotkania była… nadspodziewanie luźna. Na nagraniu widać dwóch facetów żartujących z kształtów cieni na ścianach. Dla ścisłości dodajmy, że użycia kamery chciał sam Brandes. Miał nadzieję zobaczyć, jak będzie wyglądało z boku spełnienie jego największego marzenia – odgryzienie penisa. Nie dowiedział się tego jednak od razu. Mężczyźni zaczęli uprawiać seks. Działo się to z inicjatywy Brandesa, ale nie dało mu przyjemności. Uznał, że jego partner jest zbyt słaby, by odgryźć mu penisa. Faktycznie – w kluczowym momencie Meiwes się zawahał. W efekcie Brandes zrezygnował i pojechał z powrotem na dworzec. Ale tam zatrzymał go Armin i przekonał, że tym razem da radę. Wrócili do domu. Mimo zdecydowania Meiwesa penisa Brandesa nie udało się jednak odgryźć. Nawet nóż nie dawał rady. Dopiero użycie kuchennego noża do mięsa zakończyło się pełnym sukcesem. Brandes wył, a krew tryskała z otwartej rany. Po upływie pół minuty jednak przestał i… z rozczarowaniem przyznał, że już nie boli. Ten "dyskomfort" był wynikiem wziętej uprzednio dużej dawki leków przeciwbólowych, popitych syropem na kaszel. Najwidoczniej panowie przesadzili w ilości użytych wspomagaczy. Trudno się jednak dziwić, dla obojgu był to "pierwszy raz", a dla Brandesa siłą rzeczy także ostatni.
Kolejną odsłoną tej makabry były wyczyny kucharskie, o których czytaliście na początku tego wpisu. Po nieudanej kolacji Brandesowi zrobiło się zimno. Gospodarz przygotował mu więc gorącą kąpiel. Choć trudno w to uwierzyć, to wykrwawiający się na śmierć mężczyzna był szczęśliwy. Według Meiwesa doznawał wręcz euforii taplając się w wannie pełnej swojej krwi zmieszanej z wodą. Kiedy gość brał kąpiel, gospodarz poszedł… czytać Star Treka.
Ku zaskoczeniu Armina po upływie kilku godzin Brandes wciąż żył. Nie był jednak w najlepszym stanie. Po przetransportowaniu do łóżka zemdlał. Za jakiś czas przebudził się na moment, ale znów stracił przytomność. Meiwes postanowił mu ulżyć. Pocałował swoją ofiarę w usta, po czym wziął nóż. Odłożył narzędzie zbrodni, by znowu go pocałować. Pomodlił się. Prosił Boga o przebaczenie. Po kolejnej chwili chwycił nóż i poderżnął gardło wciąż żyjącemu kochankowi. Nie czuł przyjemności.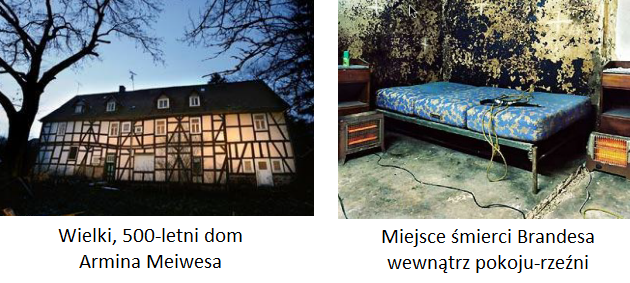 Tego, jak zabić i oprawić człowieka, dowiedział się uprzednio z internetu. Odciął głowę i pozwolił krwi wypłynąć. Ciało Brandesa podwiesił na haku przytwierdzonym do sufitu. Umył je gorącą wodą. Rozciął na pół i wyjął organy wewnętrzne. Mięso podzielił na kawałeczki i zamroził w woreczkach. Kości ramienia zmielił na mąkę. Po tak przygotowane mięsko sięgał tylko przy specjalnych okazjach. W ciągu najbliższych kilku miesięcy zjadł go 20 kg. Kiedy zjawiła się u niego policja, drugie tyle wciąż czekało w zamrażarce.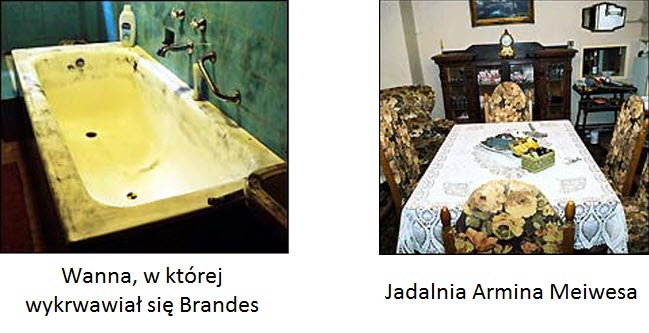 Armin wpadł przez zachłanność. Choć mięso Brandesa wciąż leżało jeszcze w lodówce, Meiwes postanowił poszukać kolejnej ofiary. Zamiast niej zjawiła się u niego policja. Na komputerze Armina funkcjonariusze trafili na mieszaninę zdjęć i filmów, którymi były sceny śmierci, tortur, kanibalizmu oraz zdjęcia z wakacji. Trafili też na kasetę, na której sfilmowany był wieczór spędzony z Brandesem.
Chcielibyście ten film obejrzeć? Wielu ciekawskich chciało, bo na forach dla sadystów i kanibali znalazłem sporo wpisów wyrażających takie marzenie. Niektóre osoby oferowały nawet za to nagranie znaczne sumy pieniędzy. Dla zdrowej psychiki oglądanie tego "dokumentu" nie byłoby jednak dobrym pomysłem. Część ekspertów sądowych, którzy z okazji procesu byli zobowiązani zapoznać się z zawartością kasety, musiało korzystać potem z pomocy psychologicznej. Zdiagnozowano u nich PTSD, czyli Zespół Stresu Pourazowego, co dość dużo mówi nam o wrażeniu, jakie robi dzieło duetu Meiwes-Brandes.
Jeśli sądzicie, że macie równie wrażliwą psychikę, nie czytajcie dalej tego tekstu. Poniżej zamieściłem kilka zdjęć, które wyciekły z procesu. Powiem wprost – są dość przerażające. Dodatkowego dreszczyku dodaje fakt, że nie jest to lalka, ani sztuczna krew. Tym mięsem jest prawdziwy człowiek, którego największym marzeniem było być zjedzonym żywcem. Ze szczególnym uwzględnieniem własnego penisa. I marzenie to zrealizował. Umarł… spełniony.


Czy da się zrozumieć szaleństwo? Tak, ponieważ nic na tym świecie nie dzieje się przypadkiem. A w sprawie Meiwesa mamy nawet całkiem sporo danych. Spróbujmy zatem – odwołując się do psychologii – zajrzeć w głąb umysłu, który zwrócił się ku kanibalizmowi.
Ustalmy najpierw fakty. Armin Meiwes nie jest psychopatą. Ma ukształtowaną moralność, czuje wyrzuty sumienia. Nie chciał zabijać, rozumiał jednak, że jest to jedyna droga do zjedzenia człowieka. Badający go psychiatrzy ocenili, że jest prawdomówny i wiarygodny. Naprawdę czuł wyrzuty sumienia, że pozbawił kogoś życia. Zrobił to jednak w – jak sądził – wyższej sprawie. Zresztą Armin nie był nawet prawdziwym mordercą. Szukał ofiary, która sama pragnie umrzeć. Nie zabił też żadnej z osób, które spotkały się z nim w celu omówienia szczegółów swojej śmierci. Jedna z nich wisiała już podobno na haku w pokoju-rzeźni, ale Meiwes uwolnił ją, gdy tylko wyraziła takie życzenie. Mało tego – Armin dorabiał sobie też jako opiekunka do dzieci. Był opisywany jako osoba godna zaufania, sympatyczna, pomocna. Lubiły go nie tylko dzieci, ale także ich matka, która zadeklarowała, że zaufałaby Arminowi w kwestii opieki nad swoimi pociechami nawet po tym, kiedy wydało się, za co go aresztowano.
Czyni go to bardzo ciekawym, czystym przypadkiem. Kryminalistyka zna sporo kanibali-zabójców, ale wszyscy oni są skażeni socjo- lub psychopatycznym zaburzeniem osobowości. Armin jest pod tym względem zdrowy. Nie stwierdzono też u niego objawów schizofrenii, dzięki czemu jego słowa są sensowne, spójne i konsekwentne.
Zacznijmy jednak od teorii. Czym jest dla człowieka jedzenie? W sferze intrapsychicznej jest uzyskiwaniem bezpieczeństwa. Niemowlę płacze, kiedy jest głodne. W tym pierwotnym okresie życia dziecko nie ma jeszcze zarysowanej tzw. granicy "ja-świat". Tym samym nie rozumie, że ono i mama to dwie różne osoby. Największą przyjemnością dla niemowlęcia jest pochłanianie – sytuacja, kiedy pierś matki trafia do małych ust i płynie z niej pożywienie, przynoszące ulgę w dyskomforcie głodu. Dziecko wtedy symbolicznie pochłania matkę, a przynajmniej tak subiektywnie to odczuwa.
Jeśli nawet z dorosłej perspektywy wydaje się to dziwaczne, to te archaiczne stany świadomości są w nas stale obecne. To dlatego wiele osób w sytuacji stresu obgryza paznokcie czy ołówki. Stres wywołuje chęć ukojenia, więc psychika nieświadomie sięga do sprawdzonych wzorców i uspokaja się, kiedy coś trafia do ust. Niektórzy ludzie wręcz dosłownie zajadą stres, co jest jeszcze bardziej bezpośrednim nawiązaniem do niemowlęcych doświadczeń. Zresztą psychiczne odrzucenie zależności od matki już w dorosłym życiu daje dokładnie przeciwne rezultaty i owocuje tendencjami anorektycznymi.
Jak wyglądało dzieciństwo Armina Meiwesa? Do pewnego czasu względnie normalnie. Miał dwójkę przyrodnich braci, z którymi spędzał praktycznie cały czas. Ale pewnego dnia wszystko się odmieniło. Meiwes opisał jedno ze swoich traumatycznych wspomnień, kiedy jego ojciec po prostu wsiadł do samochodu i wyjechał. Mały Armin biegł za autem, ale tata już się nie zatrzymał. Niedługo potem ojciec zabrał z domu dwójkę swoich dzieci z pierwszego małżeństwa. Armin został sam z matką, dla której był to już trzeci związek zakończony porzuceniem. Postanowiła więcej nie ryzykować i na swojego partnera-opiekuna wyznaczyła małego synka. Była przy tym despotyczna, roszczeniowa i zimna. Armin został w tej relacji psychicznie wykastrowany. Kontrolowany i zatrzymywany w domu, praktycznie nie miał przyjaciół. Czuł się bardzo samotny. Marzył o młodszym bracie. Te marzenia przybrały formę permanentnych fantazji. Wyobrażał sobie, że spędza czas z wymyślonym bratem, rozmawiają, bawią się. Zawsze razem, nigdy sam. Brat miał na imię… Franky.
W tym też czasie pojawiły się u Armina dziecięce fantazje kanibalistyczne. Pierwszą iskrą mogła być opowieść o Hansel i Gretel, którą czytała mu mama. Zapamiętał, że fragment, w którym wiedźma przygotowuje się do pożarcia Hansela-Jasia, wydawał mu się wtedy bardzo intrygujący. Iskra padła na podatny grunt. Jako bardzo samotne dziecko zaczął fantazjować o tym, że zjada swoich rówieśników ze szkoły, "aby już zawsze byli ze mną". Wyobrażenia te były reakcją na odrzucenie ze strony otoczenia. Ponieważ żył sam z apodyktyczną, uzależniającą i nieco dziwaczną matką, nie miał jak rozwinąć umiejętności interpersonalnych, co zaowocowało społeczną alienacją. Ukojenie znajdował w wyobraźni. W skrzywionym świecie Armina, zablokowanym na wczesnodziecięcych doświadczeniach, regresja (cofnięcie się w psychicznym rozwoju) była procesem wręcz naturalnym. Jak możemy się domyślać, chęć posiadania przyjaciół zlała się z jedynym znanym mu, prawdziwie przyjemnym doświadczeniem – karmieniem. Choć z racjonalnego punktu widzenia zakrawa to na absurd, z perspektywy psychologii głębi jest czymś naturalnym. Tak jak niektóre pierwotne plemiona wierzyły w łączenie się ze zjadanymi ludźmi poprzez przejmowanie ich cech, tak pierwotna umysłowość Armina popychała go do nieświadomej chęci pochłonięcia innych dzieci, których towarzystwa tak bardzo pragnął.
Impulsem do rozwoju tych archaicznych przekonań mogła być bajka o Jasiu i Małgosi, ale dalej żyły one już swoim własnym życiem. Armin wspominał o rozczłonkowywaniu w dzieciństwie lalek i pieczeniu ich na ogniu. Wtedy też doszło do niego, że zjedzony człowiek musi, niestety, być uprzednio zabity. I to znalazło swój wyraz w młodzieńczych fantazjach. W zeznaniach wspomniał, że już w dzieciństwie filmował siebie usmarowanego ketchupem i udającego, że jest zabijany. Później zaczął gromadzić na komputerze zdjęcia i filmy ilustrujące nagłą śmierć. Wydaje się, że to wtedy rozwinął się w nim aspekt sadystyczny. Ten rys osobowości nie polega tylko na zadawaniu bólu, ale także na dominacji. W przypadku stosunkowo łagodnego usposobienia Armina sadyzm przybrał ostatecznie formę dominacji nie przez agresję, ale poprzez pochłanianie. To on miał zjeść drugą osobę, a nie być zjedzonym. Posiłek miał stać się fizycznym i namacalnym Frankym, czyli młodszym (a więc i słabszym) bratem.
W czasie dorastania Franky został nieco useksualizowany przez Armina. Fantazje o bracie nabrały wtedy homoseksulanego zabarwienia. Meiwes nie był jednak jednoznacznym gejem. Prawdopodobnie do czasu pamiętnego wieczora z Brandesem nie przeżył nawet prawdziwych kontaktów homoseksualnych. Odrzucony przez rówieśników, nie miał za bardzo wyboru i zwrócił się do jedynego znanego mu formatu wzoru relacji międzyludzkich – do mężczyzn, bo bycie chłopcem znał przecież z autopsji. Jedyna kobieta, z jaką miał kontakt, była w końcu odrzucająca, zimna i despotyczna, więc nie mogła się kojarzyć z obiektem pożądania. Mimo wszystko Armin próbował później kontaktów z płcią przeciwną, ale nie szły mu one zbyt dobrze. Wszystkie dziewczyny, które byłby w stanie sobą zainteresować, były skreślane przez zaborczą matkę, zazdrosną o jedynego syna.
Ciekawe jest to, że seksualność nie była głównym motorem napędowym kanibalistycznych tendencji Meiwesa, jak zdarza się to w przypadku znanych psychopatycznych morderców. Pierwszy raz doznał przyjemności seksualnej nie jedząc Brandesa, ale dopiero oglądając film z pamiętnego wieczoru. Nie wiemy, co dokładnie go w nim podniecało. Możemy się jedynie domyślać, że było to poczucie bezpieczeństwa, jakie daje spełnienie marzeń o symbiotycznym zlaniu się z obiektem uczuć. Właśnie uczuć, ponieważ Armina "kręciło" zjedzenie tylko takiego człowieka, z którym miał jakąś realną więź psychiczną. Zanim zdecydował się na pochłonięcie kogoś, przedtem musiał go poznać, porozmawiać, zaprzyjaźnić się. To całkiem racjonalne, jeśli mieli spędzić razem resztę życia. Nie tylko dosłownie, ale i w przenośni, bo Meiwes głęboko wierzył, że zjedzony mężczyzna będzie już na zawsze jego częścią. "Zabiłem człowieka i zjadłem go. Od tego czasu on jest zawsze ze mną" – zeznał później. Armin wierzył, że z każdym kęsem zbliżał się do Brandesa. Zjadanie byłego kochanka – jak twierdził – uzupełniało go, dawało mu bratnią duszę. To był jego infantylny, pierwotny sposób na przejmującą samotność.
Jest jednak coś, co wskazuje na pewne seksualne podłoże kanibalistycznych zapędów Meiwesa. Szukał ładnej ofiary. W swoim ogłoszeniu wyraźnie zaznaczył, że poszukuje młodego, dobrze zbudowanego mężczyzny. Prosił też o nagie zdjęcie. Nie jest to jednak nic szczególnie dziwnego. Badania psychologiczne wykazały, że ludzie (także ci zdrowi) byliby bardziej skłonni zjeść osobę, którą uważają za atrakcyjną. To trochę jak z seksem. Kiedy jest pełen pasji i miłości, kochankowie smakują się nawzajem – całują, liżą, gryzą. Z prostytutką takie praktyki raczej nie mają miejsca, bo nie wywiązuje się relacja psychiczna, a okazyjny seks okazuje się tylko metodą wyładowania napięcia. Podobnie było z Arminem, którego w jakiś sposób pociągali mężczyźni i ten, którego miał pochłonąć, musiał mu się po prostu podobać. Dla niego jedzenie było zapewne czymś podobnym do wzajemnego oddania dwojga kochanków, którzy są dla siebie atrakcyjni zarówno fizycznie jak i psychicznie.
Czy po takim, co by nie było, trudnym dzieciństwie życie Armina mogło ułożyć się inaczej? Tak, i przez pewien czas sprawy przybierały całkiem korzystny obrót. Po wstąpieniu do wojska Meiwes po raz pierwszy w życiu poczuł się akceptowany. W efekcie… jego uporczywe fantazje ustąpiły. Skorzystał z biura matrymonialnego i znalazł sobie partnerkę. Nawet się z nią zaręczył. Kiedy związek się rozpadł, doszedł do wniosku, że nie jest mu to do niczego potrzebne i porzucił myśl o dalszym szukaniu relacji z kobietą i narażaniu się na kolejne porażki. Sprawy skomplikowały się po 12 latach względnie stabilnego życia, kiedy Armin prawie zapomniał już o swoich fantazjach. Matka Meiwesa uległa wypadkowi samochodowemu i trzeba było się nią opiekować. Armin odszedł z wojska i wyjechał do swojego rodzinnego domu. Tam wszystko wróciło na stare tory. Matka dalej była zimna, dominująca, a teraz jeszcze roszczeniowa. Wzywała syna cały czas, ciągle domagając się uwagi i spełniania jej kaprysów, czego Armin szczerze nienawidził. Dalej była też jego nieubłaganym kontrolerem. O stopniu uzależnienia od matki świadczyć może fakt, że już jako dorosły mężczyzna musiał prosić ją o pozwolenie na wyjazd na wakacje. Kiedy wymarzył sobie rejs jachtem, matka wezwała do siebie kapitana statku i o wszystko go wypytała. A podczas podróży wymagała od syna, by dzwonił do niej codziennie i zdawał relację.
Jednak po kilku latach matka Meiwesa zmarła. Wtedy też jego samotność sięgnęła zenitu. Przedtem był więźniem swojej zimnej matki, ale jednak nie był nigdy do końca sam. Po jej śmierci fantazje kanibalistyczne wybuchły ze zdwojoną siłą. Znikła też jedyna osoba, która ograniczała realizację mrocznych fantazji Armina. Miał teraz cały dom dla siebie. Nie próżnował. Na górze urządził sobie wspomniany już pokój-rzeźnię. Zaczął umawiać się z potencjalnymi ofiarami. Resztę historii już znacie.
Ale to wciąż tylko połowa prawdy. Druga jest nawet bardziej przerażająca. O ile można jeszcze jakoś zrozumieć potrzebę pochłonięcia kogoś, to jak wytłumaczyć chęć bycia zjedzonym?
Bernd Jürgen Armand Brandes nie może opowiedzieć już swojej historii. Pozostają nam poszlaki. Spróbujmy odtworzyć z nich portret człowieka, który sam wpisał się do karty dań Meiwesa. Wiemy o nim niewiele. Psychiatrzy sądowi uznali, że nieświadomie winił się on za śmierć matki, która zginęła w wypadku samochodowym, kiedy Brandes miał 12 lat. Jednak ojciec utrzymywał, że było to ukryte samobójstwo. Mogło mieć ono związek z odkryciem przez Brandesa swoich tendencji homoseksualnych. Został za nie odrzucony przez ojca i atmosfera w domu posypała się zupełnie. Być może przyznanie się do nich przed matką wpłynęło na jej decyzję? A może tak tylko wydawało się Brandesowi? Tego się już nigdy nie dowiemy na pewno. Tak domniemywali jednak eksperci sądowi analizujący sprawę. I mieli ku temu powody. Największą fantazją Brandesa było, aby ktoś odgryzł mu penisa. Jest to nic innego jak pozbawienie seksualności. W pewnym sensie nawet ukaranie za nią. Obrazu całości dopełnia seksoholizm Brandesa. Uprawiał on seks z wieloma ludźmi, ale podobno nie sprawiał mu on wielkiej przyjemności. Próbował tego na wszelkie możliwe sposoby – z kobietami, mężczyznami, w tym także z męskimi prostytutkami. Seksoholizm jest uzależnieniem, które – jak każdy stan maniakalny – zabija doświadczanie złych, niechcianych emocji. Jak alkoholik tłumi swoje wewnętrzne emocje piciem, tak osoba uzależniona od seksu robi to, angażując się w przygodne kontakty, które jednak nie dostarczają przyjemności, ale raczej rozładowanie, chwilę odurzenia.
Brandes od czegoś uciekał. Szukając wciąż silniejszych doznań seksualnych odciągał uwagę od tego, co badający sprawę psychiatrzy zdiagnozowali jako poczucie winy. O ile w Meiwesie można doszukać się rysu sadystycznego, Brandes był jego przeciwieństwem i uzupełnieniem. Był seksualnym masochistą. Podczas erotycznego zbliżenia chciał być bity i poniżany, co wielokrotnie wymuszał na swoim kochanku, męskiej prostytutce z dworca Berlin Zachodni. Jednak Emanuel, bo pod takim pseudonimem pracował call-boy, nigdy nie zgodził się na odgryzienie ani odcięcie penisa Brandesa.
Co go mogło w tej myśli tak bardzo podniecać? To samo, co i innych seksualnych masochistów, czyli nieświadoma chęć bycia ukaranym. Ten typ zaburzenia kształtuje się u ludzi przeżywających swoją seksualność przez pryzmat poczucia winy, która uniemożliwia im czerpanie pełnej satysfakcji ze zbliżenia. Kiedy masochista jest bity lub poniżany, czuje, że oto odpokutowuje już swój aktualny grzech. A to pozwala mu otworzyć się na przyjemność seksualną, która bez równoległego poniżenia przytłoczyłaby go poczuciem winy. Odgryzienie czy też obcięcie penisa miało być zapewne takim symbolicznym ukaraniem za homoseksualizm, a może i spowodowaną nim śmierć matki. Pozwoliło Brandesowi odpokutować za swoje nieakceptowane przez najbliższych tendencje i dosłownie pozbyć się swojej seksualności. Cieszył się także z tego, że zostanie zabity, co jest przecież najwyższą formą kary. Wszystko to było przemyślane i do pewnego stopnia wyreżyserowane. Przed swoim przyjazdem Brandes uzgodnił drogą e-mailową z Arminem, występującym w roli gospodarza imprezy, szczegóły swojego ostatniego w życiu wieczoru.
Spotkanie tych dwóch kochanków musiało być wyjątkowym doświadczeniem. Obaj czujący się dojmująco samotni na tym świecie, ale jednak każdy w inny sposób. Armin doczekał się kresu swojej alienacji, realizując marzenie o posiadaniu Franky`ego, wewnętrznego przyjaciela, który już nigdy go nie opuści. Brandes odpokutował swoje wewnętrzne winy, a umierając w wannie wypełnioną własną krwią, czuł się szczęśliwy i zrealizowany. Może nie wszystko było w tym spotkaniu idealne. Może i Brandes był rozczarowany, że tak mało go boli, może Armin nie poczuł się w pełni wypełniony i po kilku miesiącach zaczął szukać kolejnego męskiego "kąska". Ale – przewrotnie mówiąc – czy ci dwaj panowie nie zrealizowali jedynie swoich marzeń, które idealnie się uzupełniły?
Z podobnym dylematem musiał zmierzyć się sąd. Sprawa od początku budziła wiele emocji. Po pierwsze – kanibalizm nie jest w Niemczech karalny. Po drugie Brandes sam chciał umrzeć, więc sąd pierwszej instancji skazał Meiwesa tylko na osiem i pół roku więzienia za aktywną pomoc w samobójstwie. Jednak prokuratura złożyła odwołanie. Po ponownym rozpatrzeniu procesu zakwestionowano zgodę Brandesa na śmierć, poważając jej ważność w sensie prawnym. Powołano się na problemy psychiczne zmarłego i fakt przyjęcia przez niego leków przeciwbólowych. W połączeniu z alkoholem miały one uniemożliwić Brandesowi racjonalne podjęcie decyzji w temacie swojej śmierci. Nie bez znaczenia była też opinia biegłego, który stwierdził, że Armin po wyjściu z więzienia wciąż mógłby przejawiać fantazje dotyczące zjadania mięsa młodych ludzi. Ostateczny wyrok brzmiał więc – dożywocie.
Czy Armin Meiwes i Bernd Brandes byli odosobnionymi przypadkami na tym z gruntu zdrowym świecie? Na pewno nie. Niemiecka policja ocenia, że kanibalizmem interesuje się ok. 10 tysięcy naszych zachodnich sąsiadów. Przeliczając według liczby ludności, w Polsce powinno ich być więc mniej więcej 5000. Jeśli do realizacji swoich marzeń zabiera się tylko co setny, daje nam to pięćdziesięciu aktywnych kanibali. To chyba dość racjonalne rachunki, bo według samego Meiwesa w dwa razy od Polski większych Niemczech jest ich "ponad 100". Z częścią z nich Armin miał nawet sposobność się kontaktować. Dlatego w jednej ze spraw mógł pełnić podobną rolę, jaką odegrał Hannibal Lecter w "Milczeniu owiec". Meiwes pomógł policji ustalić prawdopodobny profil psychologiczny mężczyzny, który mordował i zjadał dzieci. Niemniej kanibal-seryjny morderca nie został ujęty. Prawdopodobnie Meiwes miał po prostu pecha, a wielu innych, bardziej ostrożnych znajomych z Cannibal Cafe do dzisiaj delektuje się smakowitymi potrawami z "ludziny". To może być także Twój sąsiad z naprzeciwka. Armin był zawodowym żołnierzem, potem zajmował się naprawą komputerów. Brandes był pracownikiem biurowym. To zwykli, przeciętni ludzie, jakich wielu mijamy codziennie w drodze do szkoły lub pracy. Trzeba pamiętać też, że przyczajony, ukryty kanibal może wyskoczyć z nawet najbardziej szanowanej i spokojnej osoby. Pewien szwedzki profesor medycyny w nagłym szale odciął i zjadł wargę swojej żony. W USA miał miejsce atak zdrowego, zdawałoby się, człowieka, który pod wpływem narkotyków pewnego dnia po prostu odgryzł twarz przypadkowo napotkanemu mężczyźnie (uwaga – bardzo drastyczne zdjęcia!). "Ludożercy" to nie tylko mieszkańcy dzikich wysp z odległych czasów. My wszyscy się od nich wywodzimy, a niektórzy wciąż potrafią usłyszeć w sobie wołanie na obiad, wykrzyczane przez naszych dawno zapomnianych przodków.