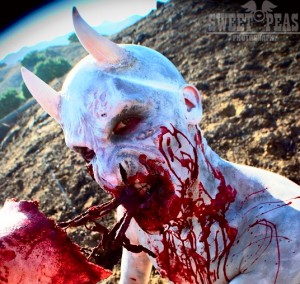 Występowanie opętania jest faktem, potwierdzonym przez WHO, czyli Światową Organizację Zdrowia. We współczesnym świecie liczba przypadków owładnięcia przez demony intensywnie rośnie. Dowodem jest ilość zła na kuli ziemskiej. Dopóki sytuacja była opanowana przez egzorcystów i Świętą Inkwizycję, zła było zdecydowanie mniej. Jednak wraz z nastaniem oświecenia liczba działających na ziemi demonów wzrosła, a wynikiem tego były pierwsza i druga wojna światowa oraz komunizm, a w ostatnich czasach także terroryzm.
Choć może się to wydawać szokujące, tego właśnie uczą na wydziale psychologii jednego z polskich uniwersytetów. Co prawda Uniwersytet im. Kardynała Stefana Wyszyńskiego zaczynał jako Akademia Teologii Katolickiej, jednak od 1999 roku jest normalną uczelnią wyższą finansowaną z budżetu państwa na równi z UW, UJ, UAM i innymi. Co więcej, nie jest to jedynie "wiedza fachowa" wykładowców i studentów tejże szkoły, ale swoisty towar eksportowy, który uczelnia stara się spopularyzować. Okazją są na przykład organizowane na UKSW Psychologiczne Pikniki Naukowe – znamienny jest tu przymiotnik "naukowy". W jednym z nich miałem okazję uczestniczyć. Wśród wykładów znalazł się też taki, który był poświęcony opętaniu w świetle psychologii. Prowadził go psycholog i psychoterapeuta, tytułowany "ksiądz doktor", Romuald Jaworski. Nie miał on wątpliwości co do istnienia zjawiska opętania, choć jego "dowody" z naukowością nie miały nic wspólnego, bo argument, że ilość zła w świecie wzrosła po nastaniu oświecenia (owe wojny światowe, komunizm i terroryzm) jest po prostu absurdalny. Zgromadzona na wykładzie kadra naukowa i pozostali słuchacze najwyraźniej nie podzielali jednak mojego wrażenia, bo pytania z sali świadczyły o bardzo poważnym potraktowaniu głoszonych tez. Jedna z osób dociekała na przykład, czy noszenie bransoletki pochodzącej z Tybetu, którą dostała od koleżanki, może być niebezpieczne. Odpowiedź "księdza doktora" była twierdząca: takie amulety mogą otwierać demonom drogę do duszy właściciela.
Podsumowując – mamy XXI wiek, a na jednym z państwowych uniwersytetów bez żadnego zażenowania naucza się o opętaniu pod szyldem nie tylko "psychologii", ale i "naukowości".
ALE… może opętanie faktycznie istnieje, choć na razie nie możemy go udowodnić naukowo? Nie raz w historii nauki bywało już tak, że pewne hipotezy początkowo wyśmiewano, a dużo później wracały w chwale do łask. Dryf kontynentów opisano na wiele lat przed jego udowodnieniem, porównując linie brzegowe Ameryki i Afryki, które po prostu pasują do siebie. Koncepcję wyśmiano, a była prawdziwa. Przyjrzyjmy się więc też opętaniu, także w kontekście tez głoszonych ex cathedra na UKSW.
Prowadzący wykład ksiądz doktor utrzymywał, że naukowość opętania potwierdza WHO. I rzeczywiście w ICD-10, czyli w klasyfikacji chorób skonstruowanej przez Światową Organizację Zdrowia, która obowiązuje także w Polsce, znajduje się pozycja F44.3. Nazywa się ona "trans i opętanie" i jest opisana jako: Zaburzenia cechujące się przejściową utratą własnej tożsamości i pełnej orientacji co do otoczenia. Obejmują wyłącznie te stany transu, które są niezależne od woli, niechciane i nie zachodzą w sytuacjach akceptowanych ze względów religijnych czy kulturowych. Nie ma tu jednak słowa o mówieniu różnymi językami, czy nadludzkiej sile, które relacjonują egzorcyści. Jest tylko stwierdzenie faktu, że człowiek traci własną tożsamość i orientację, stając w opozycji wobec obowiązującej religii i kultury. Nic więcej. Idąc dalej, można spojrzeć na tę pozycję diagnostyczną z większego dystansu i zapytać, czego to F44.3 jest podkategorią. Otóż lista zaburzeń oznaczonych jako F44 zawiera "Zaburzenia dysocjacyjne (konwersyjne)", czyli zjawisko znane psychologii i wyjaśnione już w czasach Zygmunta Freuda. Oddajmy głos ICD:
Wspólnym rysem zaburzeń dysocjacyjnych czy konwersyjnych jest częściowa lub całkowita utrata normalnej integracji pomiędzy wspomnieniami przeszłości, poczuciem tożsamości, wrażeniami czuciowymi i kontrolą ruchów ciała. (…) Zaburzenia te były wcześniej klasyfikowane jako różne typy "histerii konwersyjnej". Obecnie uważa się, że są one pochodzenia psychogennego i są ściśle związane w czasie z urazowymi wydarzeniami, nierozwiązywalnymi czy "nie do zniesienia" sytuacjami, czy też z zaburzonymi relacjami z otoczeniem. Objawy często są odbiciem wyobrażeń pacjenta o tym, jak przejawiałaby się choroba somatyczna. Badanie lekarskie i dodatkowe nie potwierdzają żadnej znanej choroby somatycznej czy neurologicznej. Poza tym można się dopatrzeć, że utrata funkcji jest wyrazem potrzeb psychologicznych czy konfliktów. Objawy mogą rozwijać się w ścisłym związku ze stresem psychologicznym i często występują nagle.
Biiiip! UKSW udzieliło błędnej odpowiedzi. Co prawda uczynił to osobiście prowadzący ksiądz doktor Jaworski, ale nikt z siedzącej w pierwszym rzędzie kadry naukowej nie protestował. W ICD-10 trans i opętanie to jedno z zaburzeń psychicznych, wyróżniające się właściwie tylko tym, że ktoś uważa się za opętanego.
Idźmy jednak dalej. Mimo że oficjalna nauka rozmija się z polską myślą psychologiczną (reprezentowaną przez UKSW), doniesienia o opętaniu nie są wcale takie rzadkie. Czy da się je wytłumaczyć, opierając się tylko na psychologii i odrzucając religię? Czymże by wtedy były?
Relacje z egzorcyzmów często wspominają o tym, że opętany mówił nieznanymi sobie językami, czyli posiadł dar języków. Nie jest to jednak proza Owidiusza, tylko mało zrozumiałe mamrotanie. Staje się to wielkim polem do interpretacji dla słuchacza. To, co zostanie zrozumiane, zależy w dużym stopniu od nastawienia i oczekiwań odbiorcy. Podobne rozbieżności co do sensu słyszanych słów są nad wyraz powszechne.  Nie musimy wcale szukać daleko. Weźmy na przykład… tekst piosenki wokalisty o mało wyraźniej dykcji. Powiedzmy "Yellow Ledbetter" nagrany przez Pearl Jam – każdy słyszy tam to, co chce. Teksty utworu spisane przez fanów różnią się diametralnie i myślę, że także każdy zaangażowany egzorcysta znalazłby tam coś dla siebie.
Wracając jednak do języków – pozornie może nam się wydawać, że nie znamy łaciny. Nie znamy jej aktywnie, ale pasywnie to z reguły tak całkiem, całkiem. Nie wierzysz? Spójrz na tę listę sentencji – z całą pewnością wiele z nich wyda Ci się znajomych. W rzeczywistości każdy z nas zna dziesiątki, jeśli nie setki słów w tym języku. W połączeniu z mamrotaniem i kreatywnym słowotwórstwem daje to pole do zainscenizowania całkiem rozwiniętej opętańczej przemowy. Imaginacja odbiorcy zrobi resztę.
Egzorcyści podkreślają też, że osoby opętane cechuje nadludzka siła. Słynna z filmu Emily Rose, czyli Anneliese Michel, miała mieć ją "niewspółmiernie dużą w stosunku do swojej masy ciała". Jednak nie jest to zdolność występująca wyłącznie w opętaniu. Ludzkie ciało posiada znacznie większe możliwości, niż jesteśmy w stanie uruchomić w codziennym życiu. Właśnie choroby psychiczne potrafią je uwypuklić. Zdrowy człowiek nie jest w stanie długo leżeć na plecach z uniesioną głową.  Osoba chora na schizofrenię katatoniczną potrafi czynić tak przez wiele godzin, a nawet dni. Zjawisko nazywa się "poduszką katatoniczną". W zasadzie określenie to oddaje jego esencję. Chory myśli, że ma głowę na poduszce, a jego odcięte od doświadczeń zmysłowych ciało nie wysyła komunikatów przeczących temu stanowi rzeczy. W rezultacie mięśnie schizofrenika zdolne są do niespodziewanego wysiłku, który dla zdrowego człowieka byłby nieosiągalny. Jak wiadomo – wiara czyni cuda.
No dobrze, powiedzą sceptycy, ale przecież opętania zdarzają się też wśród osób niewierzących. O ile katolik może bać się Szatana, w którego w istocie wierzy, ale żeby ateista?
Wyjaśnienie jest wbrew pozorom bardzo proste. Wszyscy żyjemy w tej samej kulturze, w której zło jest utożsamiane z Szatanem, a dobro z Bogiem, nawet jeśli nie oddajemy hołdu żadnej z tych postaci. Jeśli w psychice jakiegoś człowieka rozwija się poczucie winy i przeświadczenie o tym, że on sam jest zły, jego umysł w naturalny sposób może przypisać ten stan rzeczy kulturowemu schematowi. W istocie takie jest źródło opętania – podział (dysocjacja) własnego "ja" na dobre i złe. To złe "ja" przypisywane jest zgeneralizowanemu "złu", czyli w naszej kulturze właśnie Szatanowi.  I rzeczywiście jakoś dziwnym trafem nie zdarzają się opętania międzykulturowe. Nasz rodzimy diabeł infekuje tylko nasze umysły, nie męcząc Indian dorzecza Amazonki, a amerykańskie duchy dają spokój Europejczykom.
Wyjaśnienie, dlaczego opętanie spotkało konkretnych ludzi, może się nieco różnić. Opętanie to w gruncie rzeczy jedynie objaw, a nie specyficzne zaburzenie psychiczne. Kluczowy mechanizm wygląda mniej więcej tak. Dziecko żyje w świecie, który zakazuje mu być złym, ale jednocześnie to domniemane zło w nim nieustannie widzi. Komunikat wysyłany do kształtującej się osobowości jest taki: "jesteś złym dzieckiem, rozczarowujesz mamę/tatę –  nie wolno ci tego robić, bo nie będziemy cię kochać". Wtedy przyszły opętany, aby utrzymać miłość opiekunów, dostosowuje się do ich nierealnych wymagań i wykształca w sobie silne mechanizmy wyparcia i zaprzeczenia – wszystko to, co określano jako złe, zostaje wyparte ze świadomości i zanegowane. Życiem zaczyna rządzić ja fałszywe, czyli ten obraz, który został narzucony przez opresyjne środowisko. Ja prawdziwe (zawierające zdrowe – bo prawdziwe – impulsy złości i seksualności) zostaje zaklasyfikowane jako złe i z czasem coraz skuteczniej wypierane. Nagradzane przez otoczenie ja fałszywe staje się dominujące i to ono kieruje życiem "grzecznego dziecka". Jednak z czasem człowiek dojrzewa i narastają w nim instynkty i popędy, które zostały w dzieciństwie wyparte. "Złe" ja prawdziwe próbuje przebić się do świadomości, co w gruncie rzeczy jest zdrową reakcją i jedyną drogą do wyleczenia. Jednak im bliższe jest ono ujawnienia, tym intensywniej człowiek je wypiera. Z czasem zaczyna przeczyć, że to potępione ja prawdziwe jest częścią jego osoby i staje się "czymś obcym". Następuje dysocjacja, czyli podział psychiki. Kiedy "złe" ja prawdziwe przebija się wreszcie do świadomości, zostaje przypisane Szatanowi właśnie z uwagi na uwarunkowania kulturowe – w naszej kulturze zło ma twarz diabła. Wszystko to świadczy, jak wielki dramat przeżywa "chory na opętanie" człowiek. Jego prawdziwa natura, w której mieszczą się także jak najbardziej zdrowe impulsy (agresja i seksualność), jest tak usilnie zwalczana przez tę oficjalną i zewnętrzną część psychiki, że staje się czymś obcym. W efekcie w doświadczeniu osoby opętanej ta nieakceptowana, obca część zaczyna władać jego ciałem, choć w istocie jest to tylko część własnej psychiki, która wyrywa się na wolność.
Interesującą ilustracją może być opowieść zamieszczona niegdyś na arcyciekawym blogu "Studium poczwarki". Autorka miała szczęście – nie wysłano jej do egzorcysty. Zamiast tego poszła do psychoterapeuty, który pomógł jej odkryć bolesną prawdę leżącą u podłoża jej "opętania". Niestety, jest to przypadek odosobniony. Po Polsce grasuje dziś grubo ponad 100 egzorcystów. I to za cichym przyzwoleniem psychiatrów i psychologów, którzy niekiedy sami podsyłają im swoich pacjentów. Nie tyczy się to tylko lokalnych szpitali. Będąc na praktykach na oddziale psychiatrii Wojewódzkiego Szpitala Bródnowskiego w Warszawie miałem okazję wypytać o opętanie. Stanowisko tamtejszych psychiatrów było niejednoznaczne. Ci, z którymi o tym rozmawiałem, niby nie wierzą w opętanie, ale były przypadki, że do egzorcysty odsyłali, bo "nigdy nic nie wiadomo".  Wiadomo za to, że wspomniane na początku UKSW nie jest wcale w swoich zabobonach osamotnione.
Polecam też wypowiedzenie się w sondzie na blogu i zajrzenie na profil "Trzeciego dna" na Facebooku – zamieściłem tam kilka ciekawych linków.