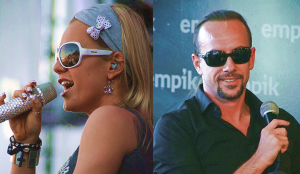 Religia niejedno ma imię. Czasem można usłyszeć niepochlebne zdanie o kulcie pieniądza lub urody. Z pewnością jest w tym coś na rzeczy, jednak jest to raczej wyraz kulturowych wartości, a nie prawdziwie religijnych zapędów. Są jednak inne drogi, którymi popkultura wchodzi w buty boga. Aby się temu bliżej przyjrzeć, trzeba zdać sobie sprawę, że ludzie ze swojej natury są… politeistami.
Jak wiadomo człowiek, tak jak większość małp, jest zwierzęciem stadnym. Aby unikać stanu ciągłego zagrożenia i nieustającej walki każdego z każdym, ewolucja wykształciła w tej grupie zwierząt hierarchiczność. Członków każdego małpiego stada można uszeregować pod względem ważności. Tak więc istnieje samiec alfa, bata, gamma i tak dalej. Podobnie jest w linii żeńskiej, w której też da się wyróżnić "kolejność dziobania". Ta ostatnia sentencja dobitnie świadczy też o tym, że stadna hierarchia nie ogranicza się tylko do ssaków. Paradoksalnie w "kolejności dziobania" nie chodzi o to, która kura może pierwsza dziobać ziarenka. Chodzi o agresję i zastraszanie. Ptak stojący najwyżej w stadzie może dziobnąć każdego innego – i dla przypomnienia, kto jest tutaj najważniejszy, często to robi, wymierzając spontanicznie cios innej kurze. Osobnik beta może dziobać każdego, oprócz alfy. Reguła ta działa dalej aż do samego dołu drabiny stada, stopniowo ograniczając zakres ofiar, a powiększając liczbę "oprawców" danego ptaka.
W czasach, w których liczebność grup ludzi wynosiła kilkanaście do kilkudziesięciu osobników, nie było problemu. Każdy wiedział, gdzie jest jego miejsce i kogo może dziobać, a komu musi ustępować. U małp drabina społeczna zwykle jest stabilna, a przewroty i zmiany statusów zdarzają się niezwykle rzadko. Dzięki temu walka jest czymś szczególnym, a nie normą i w efekcie stado może współpracować. Kooperacja jest niezbędna przy polowaniu, patrolowaniu okolicy czy wojnie z sąsiednią grupą. Gdy każdy zna swoje miejsce, wysiłek wojenny można skoncentrować na walce ze wspólnym wrogiem, zamiast na konflikcie ze współplemieńcami. Tak jest współcześnie np. u szympansów i było przez ponad milion lat u ludzi.
Jednak w ostatnich tysiącleciach (czyli w ułamku czasu względem perspektywy kształtującej nas ewolucji), ludzie zaczęli gromadzić się w nietypowo duże grupy. Zamiast kilkudziesięcioosobowego stada pojawiły się plemiona, a z czasem miasta i państwa. Sprawy się pokomplikowały. Już nie znało się wszystkich ze swojej grupy, a wobec tego hierarchia stada zaczęła stawać się mniej osobista, a bardziej oparta na opowieściach. Gdzieś tam daleko żyje władca wywodzący się z naszego ludu, a władający takimi a takimi ludźmi. Wygrał on takie bitwy, pojął za żonę taką a taką kobietę, zabił innego wielkiego króla ("samca alfa") i dokonał takich to czynów. Powtarzane opowieści z czasem i dystansem stawały się mitami, jak było zapewne w przypadku Iliady opowiadającej o wojnach w Azji Mniejszej widzianej z perspektywy europejskiej Grecji. Z czasem historyczni bohaterowie stawali się herosami i bogami. Takie były też zapewne koleje losu nordyckich bogów Odyna i Tora, w których upatruje się echa postaci dawnych wodzów. Notabene od ich imion pochodzą używane do dziś w języku angielskim nazwy dni tygodnia. Thursday to zniekształcone "Thor`s day" (dzień Tora), a Wednesday to dawne "Odin`s day" (dzień Odyna). Stąd też w języku angielskim nazwy dni tygodnia pisane są z wielkiej litery – w końcu chodzi o imiona dawnych bogów.
Dzisiaj dawne kulty zanikły, ale psychologiczne mechanizmy, które doprowadziły do ich powstania, wciąż działają. Ponieważ ewolucja wykształciła w nas hierarchiczność, mamy tendencję, by poważać jednostki postawione na drabinie społecznej wyżej od nas samych. Nie znając ich osobiście, musimy posiłkować się właśnie opowieściami o nich. Ponieważ jednostki "alfa" budzą szacunek, mamy naturalną tendencję, by je naśladować. Tak było w naszym pierwotnym stadzie, w którym przywódca wyznaczał standardy i od którego łaski zależało też miejsce w grupie innych osobników. Zdobyć szacunek u szefa, to awansować w górę, stracić jego względy, to spaść w dół. Tak było też potem, kiedy nasi przodkowie czcili z pokorą dawnych bogów i bohaterów, prosząc zaocznie o wstawiennictwo i pomoc, np. szczęście na wojnie, w miłości lub interesach. Niewiele zmieniło się wraz z nastaniem chrześcijaństwa. Bogów zastąpili święci, którzy stali się takim politeistycznym panteonem w pozornie monoteistycznej religii. Dalej pełnili oni funkcję typową dla swoich poprzedników – byli podziwianymi wzorami do naśladowania, przyjmowali ofiarne modlitwy w zamian za duchową opiekę, czynili legendarne cuda i tym de facto tworzyli nową mitologię. Wciąm pamiętam przekazywane mi na katechezie losy św. Stanisława Kostki, czy biskupa Stanisława – zdrajcy skazanego na poćwiartowanie, którego ciało cudownie się zrosło. Obaj panowie, którzy do dzisiaj są oficjalnymi patronami Polski, byli w swoim czasie zwykłymi ludźmi. Jednak z czasem uzyskali oni status adekwatny do dawnych bóstw opiekuńczych. I tak owi święci w specyficzny sposób zastąpili starosłowiańskich Świętowida czy innego Radogosta, zapełniając tę samą lukę – co prawda legendarnego i mistycznego – ale jednak "samca alfa".
A dzisiaj? Nikt nie interesuje się kolejami losu św. Stanisława Kostki – może poza panią Zosią, moją katechetką z podstawówki. Chrześcijaństwo w coraz mniejszym stopniu pełni funkcję tego tradycyjnego zapychacza wewnętrznej potrzeby podziwiania jednostek "alfa". O ile Bóg ojciec, Maryja i Jezus wciąż odpowiadają za kluczowe ludzkie tendencje i dlatego nie wypadają z obiegu tak szybko, to politeistyczni święci interesują już tylko garstkę wiejskich staruszek. Co więc się stało z tą naszą psychologiczną potrzebą? Wygasła? Niemożliwe. Znalazła sobie po prostu nowe ujście. Celebryci – oto nasi nowi bogowie. Zapełniają lukę po świętych i demonach. Są naszymi "samcami alfa" (i samicami). Choć nie znamy ich, tak jak dawniej śledzimy ich losy poprzez opowieści. Kiedyś piękna Afrodyta i mroczny Hades, dzisiaj "boska" Doda i demoniczny Nergal. Budzący zachwyt lub przerażenie, kreujący losy świata zwykłych śmiertelników. Pudelek, Fakt, pisma kobiece czy bałwochwalcze programy telewizyjne dają nam nieustanną pożywkę dla tej archaicznej potrzeby. Dalej próbujemy naśladować nasze "alfy" podążając za wyznaczaną przez nich modą. Słuchamy z zapartych tchem o ich wojnach, podbojach i klęskach. Oglądamy codziennie te zmagania, nawet nie zdając sobie sprawy z istoty tego "boskiego igrzyska". Jest to po prostu współczesna fascynacja widokiem szamotaniny dwóch naczelnych małp, okładających się pięściami o prawo bycia tą pierwszą w naszym wielkim popkulturowym stadzie.
poprzedni wpis na temat religii >>
zdjęcia zaczerpnięte z Wikipedii