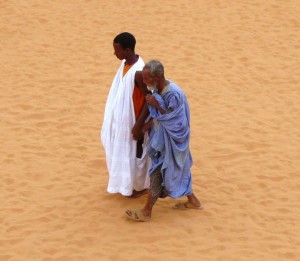 Ofert wyjazdu do Mauretanii próżno szukać w ofertach biur podróży. W sumie trudno się dziwić – straszna bieda, nieznośny upał, praktycznie wszechobecna pustynia, chaos komunikacyjny, cykliczne zamachy stanu. Na obszarze ponad 3 razy większym od Polski, mieszka tylko nieco ponad 3 miliony ludzi. I to najczęściej w opłakanych warunkach. To już trzeci świat pełną gębą. Jeśli zabłądzą tu jacyś zagraniczni turyści, to jedynie dlatego, że Mauretania znajduje się na lądowym szlaku łączącym Europę z czarną Afryką. Wszystko to wygląda mało zachęcająco, przynajmniej dla statystycznego turysty. Jednak samo w sobie stanowi niebagatelną atrakcję dla bardziej "awanturniczo" nastawionego podróżnika, dla którego ważniejsza od komfortu "all inclusive", jest przygoda.
Wjeżdżających do Mauretanii wita szerokie na 3 kilometry pole minowe, o czym pisałem już we wpisie Sahara Zachodnia – ziemia niczyja. Już samo to jest adekwatną wizytówką kraju, który do tuzinkowych z pewnością nie należy. Pierwszym miastem po mauretańskiej stronie jest okryte grubą warstwą kurzu Nouadhibou. To już prawdziwy trzeci świat – bez bankomatów, pełen skleconych z dykty baraków, rozpadających się, niemalże antycznych samochodów i oślich zaprzęgów. Europejskie nawyki przestają tu być w jakikolwiek sposób przydatne. Czas staje się pojęciem względnym i zależnym wyłącznie od Boga - wszystko dzieje się "Inshallah", czyli "jak Bóg da". Sposób traktowania zwierząt może zdruzgotać co bardziej wrażliwego podróżnika. Sadystyczne zakatowanie osła na środku ulicy nie zwraca niczyjej uwagi, podobnie jak rzucanie przeznaczoną na ubój żywą kozą.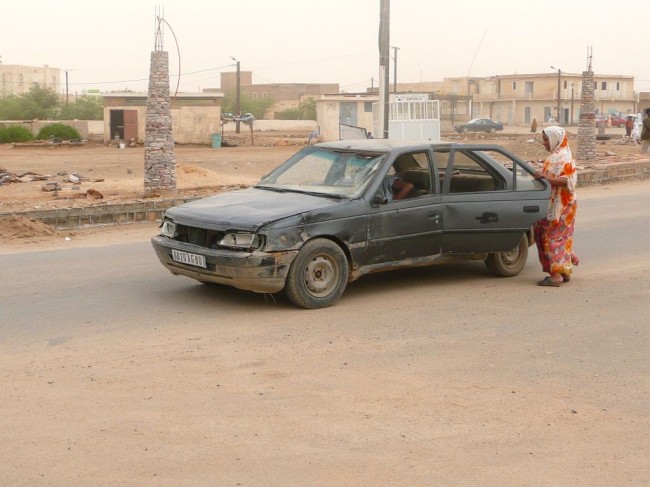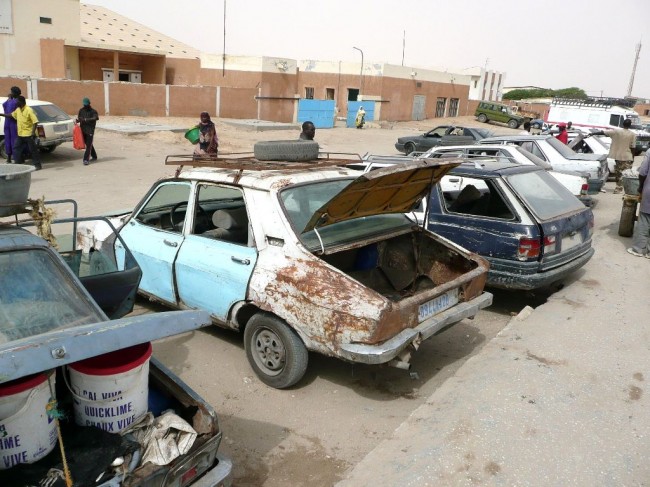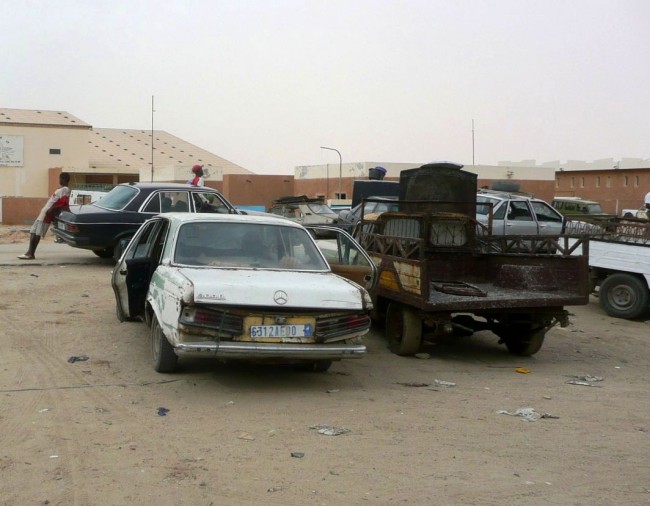 Konkurujące z zaprzęgami samochodowe pojazdy zadziwiają swoją wytrzymałością. Na pierwszy rzut oka nie mają prawa trzymać się kupy, a co dopiero jeździć. W tym pierwszym pomaga im często obwiązanie odpadających elementów metalowym drutem, w tym drugim – popchnięcie. Światła nie są do niczego potrzebne, podobnie wskaźniki, zamek w drzwiach czy lusterka. Trzeba więc uważać komu się macha, bo przejazd takim wehikułem może się zakończyć podtruciem spalinami z dziurawego tłumika. W Mauretenii każdy samochód jest taksówką – wystarczy kiwnąć ręką na ulicy i wynegocjować cenę. Rolę autobusów przejęły stare Mercedesy. Popularne niegdyś "beczki" wożą pasażerów – upchanych według schematu: dwóch na przednim siedzeniu, czterech na tylnim - między miastami oddalonymi od siebie nieraz o cały dzień drogi. Istnieje także kolej. Co prawda tylko jedna nitka, ale jej wyjątkowość sprawia, że stała się jedną z nielicznych, ale jakże specyficznych atrakcji Mauretanii.
Samo Nouadhibou nie ma do zaoferowanie nic z tradycyjnych atrakcji. Może ucieszyć tylko pasjonatów postapokaliptycznych wizji rodem z "Mad Maxa". Tuż za miastem ciągnie się po horyzont wielkie cmentarzysko okrętów. Pordzewiałe, zatopione wraki, wystają z wody miotane przez wiatr i kontrastujący z szarą pustynią ciemny ocean. W tle z pyłu przebijają wciąż dymiące kominy rozsypujących się fabryk. Z tej scenerii wybija się przycupnięte u stóp klifu koczowisko, którego nie można nazwać nawet domem. Namiot ze szmat, stara łódka, pordzewiałe beczki, wyleniały pies oraz kupy śmieci wyrzuconych przez morze i skrupulatnie zebranych przez mieszkańców – cały dobytek. Po "domostwie" krząta się kobieta z dzieckiem, na oko około dziesięcioletnią dziewczynką. Widząc nieoczekiwanych przybyszów, próbuje gestem zaprosić do siebie. Potem sama przychodzi i rozwija na piasku swój malutki straganik. Kilka muszel, guziki, niekompletne koraliki, stara fajka, plastikowe zabawki, a właściwie ich resztki. Cały asortyment morza, jedyny towar jakim może handlować.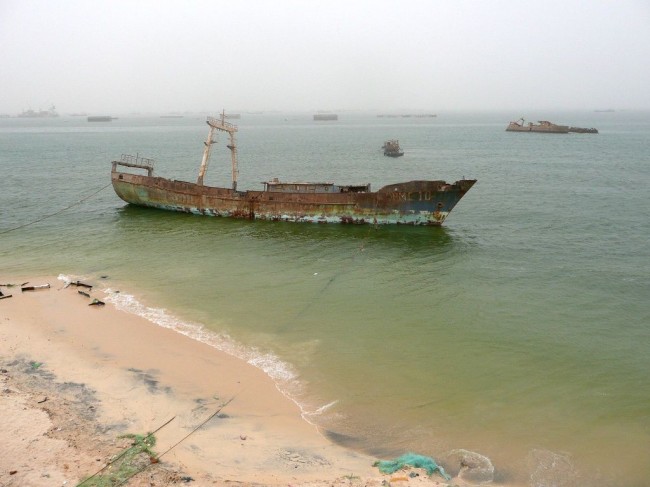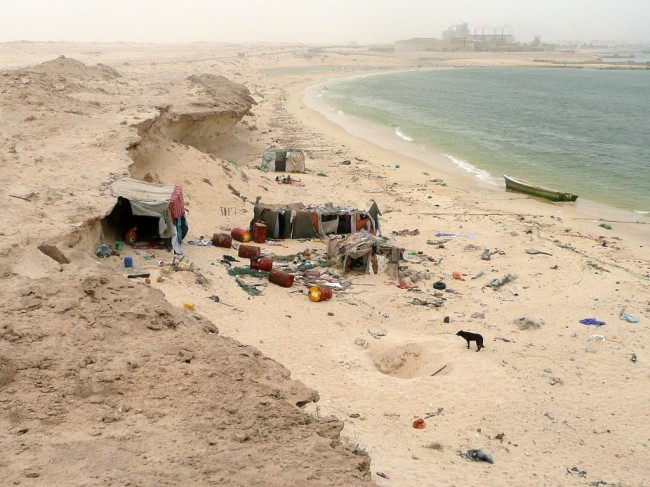 Stacja kolejowa leży kilka kilometrów za miastem. Już pierwszy jej widok każe pożegnać się z tradycyjnym wyobrażeniem podróży pociągiem. Ot, nieco większa murowana szopa z odpadającym niebieskim tynkiem. Peron stanowi piasek utwardzony luźno rzuconymi kamieniami i potłuczonymi muszlami, w oddali przechodzący łagodnie w piaszczyste wydmy. Powoli schodzą się ludzie. Czas mija, wszyscy czekają na przyjazd pociągu – "Inshallah". W końcu z pyłu wyłania się zdezelowana lokomotywa. Za nią kolejna i kolejna. Ciągną najdłuższy pociąg świata, który z wagonami ma ponad 2 kilometry. Codziennie wozi rudę żelaza z kopalń położonych w głębi Sahary, po czym wraca pusty. Powolny przejazd całego składu ciągnie się w nieskończoność. Dla tych, którzy nie zmieszczą się w jednym pasażerskim wagonie, pozostaje przejazd w "węglarce", a właściwie "rudziarce". Jest to jednak ekstremalne przeżycie – cały skład szarpie, trzeszczy i przede wszystkim pyli. Do tego stopnia, że w otwartych wagonach towarowych niemożliwe staje się jedzenie, a nawet oddychanie bez osłony twarzy. Dlatego, gdy tylko pociąg ostatecznie zatrzymuje się, rozpoczyna się prawdziwy bój o miejsca w wagonie pasażerskim. Numeracji miejsc nie przewidziano, dlatego pozostaje albo sprawny abordaż przez okno, albo pół doby w warunkach, które nawet miejscowi uznają za trudne. A do lalusiów z całą pewnością nie należą. Sam wagon pasażerski także nie zostawia wątpliwości, gdzie się znajdujemy. Wedle wszelkiego prawdopodobieństwa jest jeszcze spadkiem po czasach kolonialnych, które skończyły się prawie 50 lat temu. Brak światła, nieobecne drzwi do toalety, wydarte fotele. Niesamowity ścisk nie przeszkadza jednak miejscowym cieszyć się życiem. Jeden z naszych współpasażerów zabrał ze sobą butlę gazową. Podróż mija mu na gotowaniu obiadu, a potem ponad godzinnym ceremoniale gotowania herbaty, która z uwagi na islamski zakaz spożywania alkoholu, stała się arabskim przysmakiem. Niesamowicie słodka, wielokrotnie przelewana w celu uzyskania pianki. Prawdziwi mistrzowie ceremonii potrafią czynić to godzinami i ucelować strumykiem napoju w niewielką szklaneczkę z naprawdę imponującej wysokości.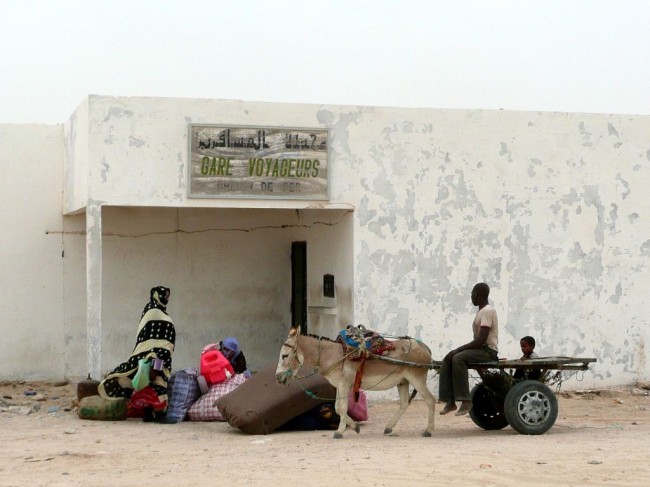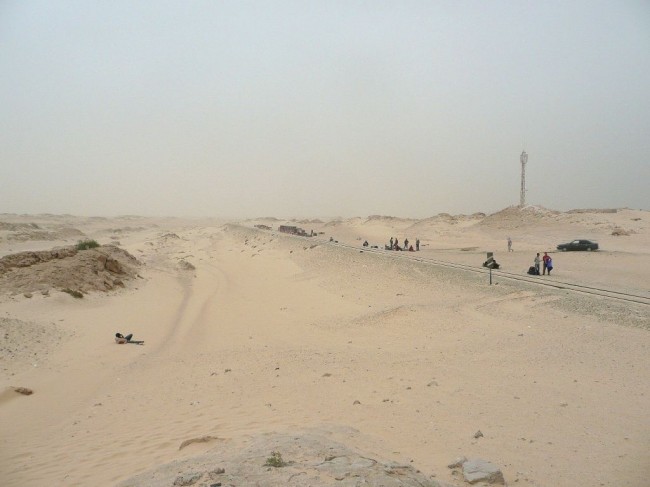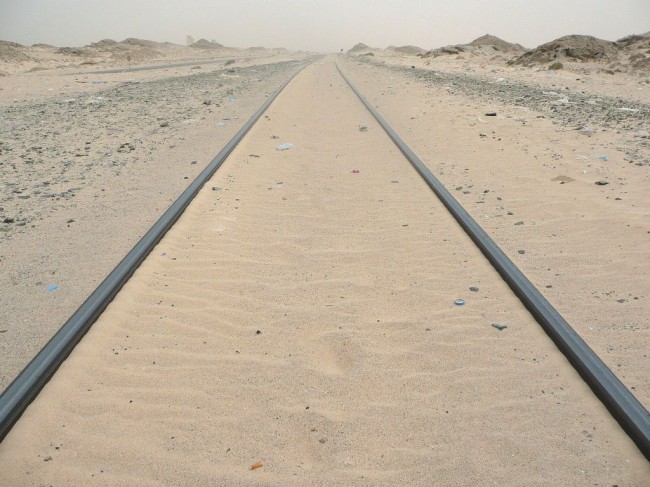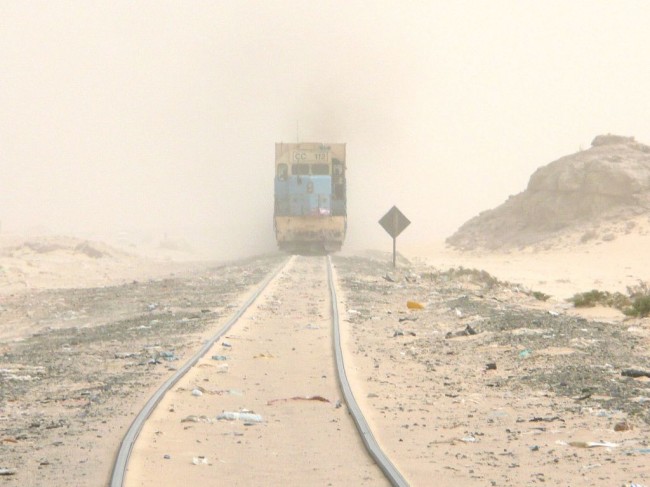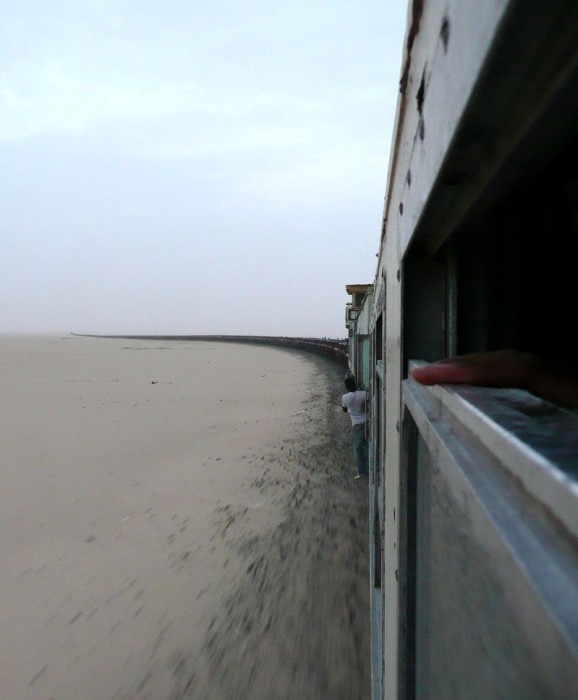 Ta noc jest bezsenna. Pociąg cały czas szarpie, przez okna sypie się Sahara w postaci mgły piasku, a ścisk uniemożliwia rozprostowanie nóg. Nad ranem robi się poruszenie, wysiadka dla jadących do Ataru. O ile barak w Noadhibou można było od biedy nazwać jeszcze stacją, to ten przystanek jest najzwyklejszą pustynią. Podróżni pakują się do podstawionych samochodów terenowych – w tej części kraju nie ma asfaltowych dróg. Po kilkunastu metrach od ruszenia, samochód, którym jedziemy dosłownie gubi koło i zagrzebuje się w piasek. Trzeba przesiąść się na inny. Ten, po paru godzinach jazdy po wyboistych bezdrożach dowozi już swoich pasażerów do oazy, którą trudno właściwie nazwać miastem. Nieco kojących zielenią palm, trochę niewysokich budynków, parę słabo zaopatrzonych sklepików, targowisko – cały Atar.
Jest środek lata, jedynym czynnym miejscem, mogącym przyjąć turystów jest niewielki kemping niedaleko centrum. Właściwie wszystko tu jest niedaleko centrum, które stanowi placyk z dwoma nieco lepiej zaopatrzonymi sklepikami. Ich wyjątkowość polega na posiadaniu towarów luksusowych, do których w mauretańskich warunkach należą owoce i warzywa. Prawie całą powierzchnię kraju zajmują piaski Sahary, która może zapewnić przeżycie tylko niewielkiej populacji wielbłądów, kóz i podobnie niewymagających zwierząt hodowlanych. Wszystkie inne produkty spożywcze muszą być sprowadzone, co czyni je drogimi nawet dla Europejczyka, a dla lokalnego pasterza praktycznie niedostępnymi. Dla przykładu, kilogram jabłek to wydatek odpowiadający prawie 10 złotym, półlitrowy kartonik mleka – 5 zł. Dominują produkty francuskie, jednak odnaleźć można też mleko o swojskiej nazwie "Łaciate". Przebłysk dumy z zasięgu dystrybucji rodzimego przemysłu spożywczego chłodzi jednak adnotacja, że kartoniki pochodzą z programu "Mleko z klasą", który zorganizowany był jako pomoc dla polskich dzieci. Jakim cudem trafiło ono jako komercyjny produkt do mauretańskich sklepów, można się tylko domyślać.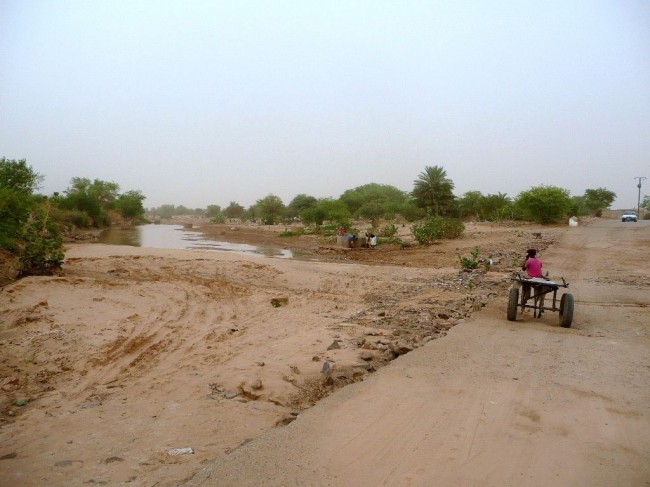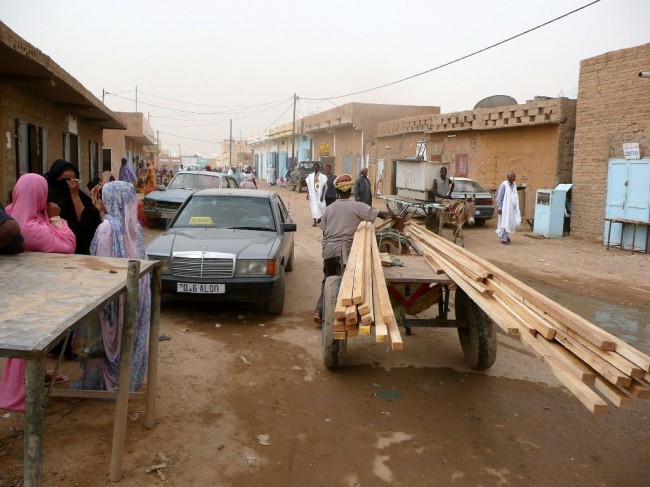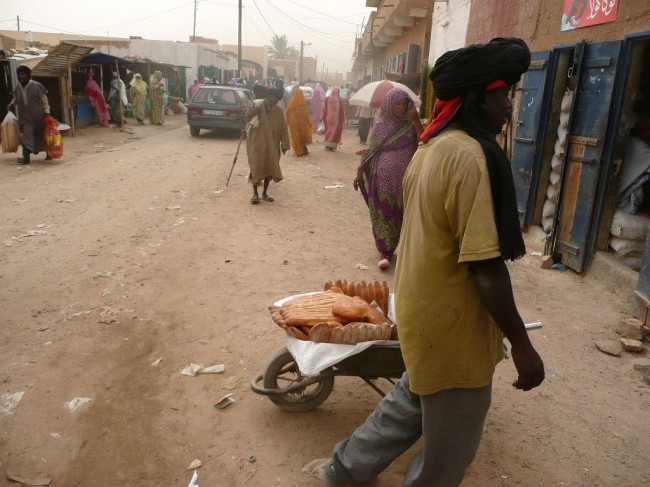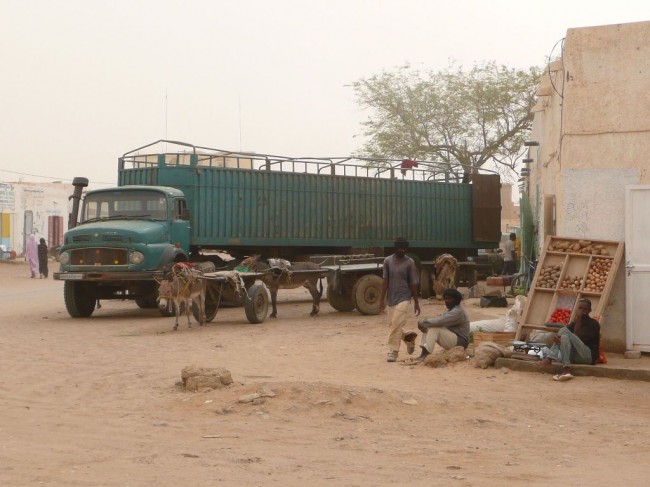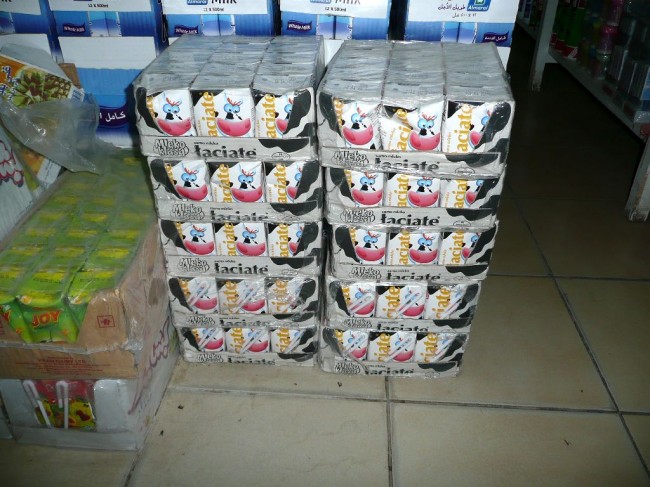 Sam Atar można obejść w godzinę, ale niewiele jest tu do zobaczenia. Jedyną atrakcją są wyprawy na pustynię – wielbłądami lub jeepami. Warto jednak pomyśleć o aklimatyzacji. Sahara u wybrzeży oceanu bywa chłodna, by nie powiedzieć wręcz zimna. W głębi lądu staje się piekarnikiem. W dzień początkowo trudno przemóc się do jakiegokolwiek wysiłku, nocą z gorąca trzeba spać na zewnątrz, w czym usilnie przeszkadzają burze piaskowe. Chwilami bywa jednak mokro, choć pada tu jedynie przez niewielki wycinek lata. Deszcze mają postać gwałtownych ulew, które jednak szybko pochłania pustynia, a po epizodycznych rzekach pozostają tylko wiórki spękanego błota.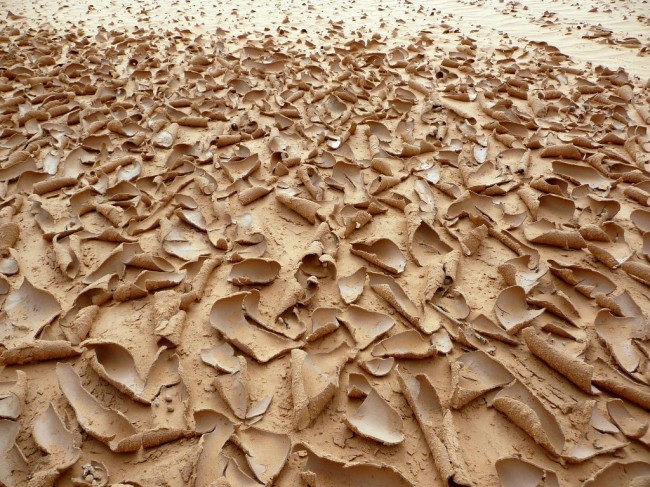 Kemping, z prozaicznego powodu bycia jedynym czynnym, staje się miejscem spotkań bardzo nielicznych w tym upalnym okresie turystów. Zrządzeniem losu pojawiają się dwaj Niemcy, którzy jadąc terenowymi samochodami mają zamiar przebyć Saharę i dostać się do Mali. Trudno nam odmówić sobie wykorzystania takiej okazji, więc zabieramy się "na stopa" w nieznane. Wyprawa przez sam środek pustyni, brzmi piekielnie ciekawie. Jednak z czasem okazuje się, że przewaga jest wyraźnie po stronie piekła.
Ciąg dalszy w tekście "Droga przez piekło"