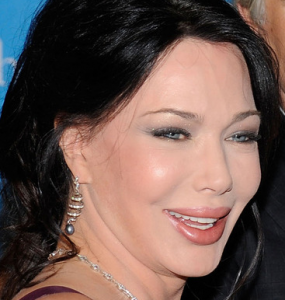 O ile dziewczyny obdarzone niezbyt wybijającą się urodą często w głębi duszy narzekają na ten stan rzeczy, los piękności budzących powszechne uznanie wcale nie jest dużo lepszy. Jest inny, a niekiedy bywa wręcz bardziej uciążliwy. Uroda ma to do siebie, że przemija. Ktoś, kto na tej niestabilnej cesze zbudował swoje poczucie wartości, niezawodnie musi przejść traumę rozczarowania. Jak długo można być tą najpiękniejszą? W czasach botoksu i operacji plastycznych dość długo. Jednak czasu nie da się oszukać, a zbytnia upartość kończy się tak, jak na zdjęciu obok.
Prędzej czy później nadchodzi spotkanie z nieuniknionym – zdanie sobie sprawy, że własne piękno przeminęło. Wtedy pojawia się pytanie:  jak dalej żyć, skoro filar własnej wartości właśnie się rozsypał? Konsekwencją może być depresja lub rozpaczliwe próby odmłodzenia się, które nierzadko prowadzą do sytuacji wręcz dramatycznych.  Aktorka Hunter Tylo, niegdyś bardzo atrakcyjna kobieta, zamiast elegancką damą w średnim wieku, wolała stać się… młodym potworkiem. Co znamienne – serwisy plotkarskie bardzo się z tego faktu ucieszyły. Oto kolejny ideał sięgnął bruku, ku uciesze zakompleksiałej gawiedzi wychowanej przez owe serwisy plotkarskie w kulcie wyidealizowanego piękna.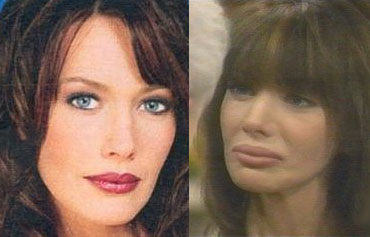 W konsekwencji tłum prześmiewców zaczął szydzić z próżności gwiazdki "Mody na sukces" i kilku innych niskobudżetowych produkcji. Ale warto zrozumieć, że to nie próżność pcha ludzi w ręce cynicznych chirurgów plastycznych, gotowych w dowolny sposób zniekształcić ludzką twarz. Mechanizmem jest coś znacznie głębszego – obrona własnego "ja" (w psychoanalizie powiedzielibyśmy – "fałszywego self"). Jeśli czyjeś poczucie wartości, zależne jest od pięknego – w domyśle młodego – wyglądu, jest on gotowy zrobić wszystko, byle tylko ową esencję siebie zachować w nienaruszonym stanie.
Fałszywe self rodzi się w psychice człowieka, który miłość dostaje warunkowo, jako wyraz podziwu ze strony najbliższych za swoje zewnętrzne cechy lub zdolności. Jest to obraz samego siebie bazujący nie na realnej esencji człowieka z wszystkimi silnymi i słabymi stronami, tylko na jego zewnętrznych atrybutach cenionych przez otoczenie. Jeśli dziecko nie jest kochane bezwarunkowo, za sam fakt, że żyje i jest dzieckiem swoich rodziców, lecz za swoje ewentualne osiągnięcia, jego postrzeganie siebie staje się zaburzone. Tu wszystko zależy cechy lub zachowania, które jest nagradzane miłością. Jeśli będzie nią skrupulatność, tworzy się osoba, która za wszelką cenę będzie starała się być dokładna i obowiązkowa. W psychoanalizie nazwalibyśmy ją osobowością kompulsywną. To jeszcze nie jest najgorszy scenariusz, bo – choć to bardzo ograniczający gorset –  takie zachowanie można kontynuować do końca życia, stale uzyskując warunkową samoakceptację ze strony własnego zaprogramowanego na skrupulatność self. Gorzej jest, kiedy jest się kochanym właśnie za urodę, bo jak wiadomo – ona przemija. Stąd owa rozpaczliwa pogoń za swoją atrakcyjnością, która jest w istocie próbą rozpaczliwego zachowania poczucia elementarnej wartości własnej. To jak rozpaczliwe łapanie oddechu przez tonącego, który z uwagi na panikę nie może uświadomić sobie, że chaotyczne wymachiwanie kończynami jeszcze bardziej go pogrąża. Tak jak panika w wodzie prowadzi do utopienia, tak rozpaczliwe ratowanie własnej wartości przez starzejącą się piękność, prowadzi paradoksalnie do oszpecenia. Dlatego warto zrozumieć, że takie destrukcyjne ciągi zabiegów plastycznych to nie próżność – to przeraźliwa rozpacz skrzywdzonego człowieka, którego przekonano, że jego wartościowość wynika jedynie z jego atrakcyjności.
Pułapki piękna dają o sobie znać jednak już dużo wcześniej. Ponieważ osoby płci przeciwnej tak bardzo lgną do "ciach" i "zajebistych dup", łatwo jest takiej wyjątkowo atrakcyjnej osobie wpaść w spiralę płytkich związków. W efekcie może "rwać" seksualnych partnerów, jak "świeże wiśnie". Doświadczać dużo, intensywnie, ale płytko. Trudno wtedy przeżywać relację dogłębnie i angażować się w rzeczy nieprzyjemne, jak nieuniknione przecież kłótnie, poświęcenia i staranie o drugą osobę. A na tym polega przecież dojrzała miłość, która jest elementem kluczowym dla poczucia własnego szczęścia, o czym tak wnikliwie pisał Erich Fromm.
Wielkie rozczarowania spotykają też często partnerów takich nieprzeciętnie atrakcyjnych osób. Najpierw obiekt westchnień wydaje się czymś cudownym, ale z czasem zaczyna się codzienne życie, a w nim konflikty, docieranie się i walka o związek i jego rozwój. I wtedy okazuje się, czy to wszystko nie jest przypadkiem zbudowane na kruchych podstawach. Skoro taka nieprzeciętnie piękna osoba cieszy się tak powszechnym uwielbieniem, nie zawsze ma motywację, by poświęcać się dla wspólnego dobra i walczyć o partnera. Przecież wystarczy jej wyjść do klubu lub hotelowej restauracji, by wszystko zaczęło się od nowa i znowu być noszoną na rękach. To może uzależnić i prowadzić do serii krótkich związków, tak typowych dla pięknych hollywoodzkich aktorów.
Z drugiej strony, kiedy ktoś chce zatrzymać przy sobie tak nieprzeciętnie atrakcyjnego, musi nieraz poświęcać siebie i swoje racje. W efekcie relacja może zostać zaburzona. Piękniejszy partner jest traktowany lepiej przez tego mniej atrakcyjnego, który wie, jak łatwo może stracić swoją cenną zdobycz. Niestety nie da się tak długo żyć. Tłumione frustracje i pretensje w końcu albo obracają się przeciw walczącej ze swoimi uczuciami osobie, albo wybuchają nagle w zwielokrotniony i destrukcyjny sposób.
Bardzo dobrze oddaje to jedna z "opowieści terapeutycznych" – takich "case studies", którymi doświadczeni terapeuci dzielą się na zajęciach. Do terapii zgłosił się mężczyzna po trzydziestce. Był bardzo dumny ze swoich osiągnięć. Opowiedział, że ma bardzo piękną żonę, o którą musiał rywalizować z innym facetem. Był strasznie dumny, że to on wygrał – mawiał, swojemu terapeucie, że "Sie wie jak zdobywać kobiety". Ten pokonany rywal był jednak przez ową dziewczynę uważany za atrakcyjniejszego. Jednak to nasz bohater był bardziej zdeterminowany i ostateczni postawił na swoim zostając mężem owej piękności. Jednak w czasie terapii okazało się, że było to pyrrusowe zwycięstwo. Jego żona ciągle była bliska, aby żałować swojego wyboru. W przypadku konfliktu, wypominała mu, że mogła mieć tego drugiego. Z powodu swojej atrakcyjności faktycznie nie miałaby problemu z byciem poderwaną także przez kogoś nowego. Ostatecznie okazało się, że owo "sie wie, jak zdobywać kobiety" było tylko takim narcystycznym maskowaniem własnego rozczarowania i poczucia gorszości wzmacnianego jeszcze przez ten nierówny związek.
Dodatkowo piękne osoby mają naturalną tendencję, by się na swojej urodzie koncentrować. Skoro wszyscy dookoła chwalą ich za wygląd, nie trudno popaść w przesadne przywiązywanie do niego uwagi. A im dalej w las, tym więcej drzew i w efekcie faktycznie osoby wybitnie urodziwe mają tendencję, by zaniedbywać inne, ważniejsze dla samorozwoju dziedziny życia, jak rozum, wiedza, refleksyjność, czy wartości duchowe.
Myślę, że coś jest na rzeczy w stereotypie, że piękne kobiety (ale pewnie i faceci) nie są zwykle zbyt mądre, zwłaszcza w znaczeniu refleksyjne. Zaryzykowałbym nawet tezę, że kluby w mieście można podzielić na dwie grupy – ten modne, w których jest mnóstwo pięknych dziewczyn, i te fajne (bardziej klimatyczne, rockowe czy artystyczne), w których uroda bywalczyń nie jest aż tak wyraźna. Tak więc klimat miejsca w jakiś dziwny sposób łączy się ze specyfiką odwiedzających dane miejsce ludzi, a to z kolej koreluje z ich atrakcyjnością. Przy czym fajniejszymi osobami okazują się być te dziewczyny mniej rzucające na kolana. Nie wiem, to tak z moich własnych obserwacji. Jestem bardzo ciekaw Waszego zdania – to naprawdę bardzo otwarta kwestia, więc każdy może się wypowiedzieć i wnieść coś do dyskusji.
Kult piękna ma też inne negatywne odbicie. Jeśli na co dzień podziwiamy urodę ludzi nie tylko wybitnie atrakcyjnych, ale wręcz komputerowo wyidealizowanych, zaczynamy zmieniać swoją własną perspektywę. Prawda ekranu zaczyna nam się mieszać z prawdą życia. Nierzeczywistej urody zaczynamy żądać nie tylko od siebie, ale też od naszych partnerów życiowych. Nie było wielkim odkryciem badanie, które pokazało, że po tym, jak napatrzymy się na zdjęcia z kolorowych magazynów, gorzej oceniamy i siebie i nasze otoczenie. W efekcie osoby poddane takiej sesji oglądania okładkowej urody niżej oceniały wartość swoich partnerów i były mniej zadowolone z własnego życia. Nie jest to zaskakujące, ale daje do myślenia.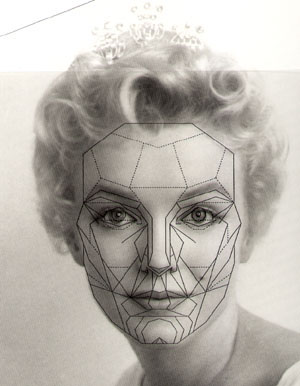 Co bardziej humanistyczne umysły zachodu zaczynają zauważać ową pułapkę kultu wyglądu. Powstał nawet nowy termin – "lookism", określający dyskryminację ze względu na atrakcyjność. W równouprawnieniu nie chodzi już tylko o płeć czy rasę. W czasach, gdy Murzyn może być prezydentem USA, a młodzież wielbi twórczość czarnych raperów, główne pole dyskryminacji zaczyna zmieniać swoje położenie. Czy naprawdę najwartościowsze są osoby o klasycznej, okładkowej urodzie? Czy sam fakt bycia atrakcyjnym daje mandat do bycia wzorem do naśladowania? Oczywiście nie i dlatego lukizm powoli staje się wyrazem buntu na tą kulturową dyskryminację. Nie tak dawno w Szwecji miała miejsce dziwna procesja. W kraju tym obchodzone jest święto, podczas którego tradycyjnie główne skrzypce gra najładniejsza dziewczynka, przewodząca pochodowi dzieci. Tym razem na to miejsce wystawiono… czarnego chłopca nietypowej urody. Przesadzili? Nie w moim odczuciu. To po prostu prowokacyjna odpowiedź na pytanie, kto jest najbardziej wartościową i godną uwielbienia jednostką. Ta odważna postawa organizatorów postawiła sprawę jasno – nie chodzi ani o płeć, rasę ani piękno zewnętrzne.
I ja się, kurna, z tym zgadzam.  Sami zadajcie sobie pytanie – z kim chcielibyście dzielić życie? Nie tylko w kwestii związków, ale też w sferze przyjaźni, współpracy i zabawy. Czy kluczem do odpowiedzi na to pytanie jest wygląd? Czy może jednak inne, bardziej psychiczne cechy?
Wygląd mamy taki, jaki został nam dany w genach. Ewentualne piękno nie jest ani naszą zasługą ani osiągnięciem, jak więc mielibyśmy budować na nim swoją wartość? Warto w rozsądny sposób dbać o atrakcyjność, jednak musimy pamiętać, że uroda to tylko ładne opakowanie, przyjemny dodatek.
Choć kultura wskazuje nam, co jest piękne, to jednak nasze indywidualne gusta mogą bardzo ten wzorzec zmieniać. Jedni wolą blondynki, inni brunetki – dlaczego? Odpowiedź na to pytanie nie jest wcale taka oczywista. Podobnie z innymi aspektami wyglądu. Dlaczego pewni faceci lecą na kobiety z wielkimi cyckami, a inni koncentrują się przede wszystkim na ładnej buzi? To o wiele ciekawsze zagadnienia niż wyczekiwanie na odpowiedź, która z dziewczyn z telewizji jest najbardziej godna zostania ikoną urody.
Żeby poznać zarówno korzenie własnych preferencji co do wyboru partnera, jak i swoje szanse u poszczególnych typów płci przeciwnej, trzeba wgłębić się nieco w psychologię. A właściwie psychoanalizę, bo nasze gusta mają swoje źródła w indywidualnych doświadczeniach. Jednak i w tym względzie można wyrysować pewne interesujące prawidłowości, mogące stanowić wskazówkę dla naszego funkcjonowania na polu relacji damsko-męskich. Jak więc jest z tymi cyckami i preferowanym kolorem włosów? O tym postaram się napisać w jednym z kolejnych wpisów.