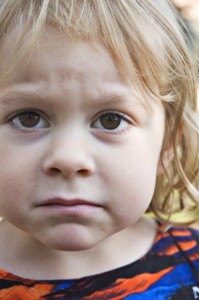 Istnieje na tym świecie uczucie, które jest fundamentalne dla naszego jestestwa. Od jego jakości i siły zależy nasze zachowanie, nasze szczęście, a nawet to, że żyjemy. To uczucie matczynej miłości.
Pierwotna relacja dziecka z matką stanowi zręby całego życia. W pierwszych tygodniach mama jest wszystkim, co realne dla niemowlęcia – karmi, pielęgnuje, przytula, uspokaja. Psychoanalitycy zauważyli, że na samym początku dziecko nawet nie odróżnia opiekunów od siebie samego. W tworzącym się umyśle malucha istnieje tylko popęd (np. głód) i jego rozładowanie, za które odpowiada właśnie matka. Taka sytuacja wewnętrznej symbiozy trwa ponad pół roku. Dopiero wtedy psychika dziecka jest stanie w pełni wprowadzić rozróżnienie na "ja" i "inni".
To bardzo ważna faza. Choć świadomie jej nie pamiętamy, to już w tym pierwotnym okresie zaczynają się tworzyć fundamenty osobowości, która jest przecież esencją nas samych. Kiedy opieka jest dobra, a więź z matką stabilna – dziecko nabiera wewnętrznego przekonania, że życia jest raczej przyjemne i dobre niż nieprzyjemne i trudne. W tym czasie buduje się podstawowe zaufanie do świata i poczucie wewnętrznego bezpieczeństwa.
Co się jednak dzieje, gdy tych pozytywnych doznań brakuje? W ekstremalnych przypadkach dziecko choruje i umiera. Niestety to prawda, którą naukowo potwierdzono już… w średniowieczu. Pierwszy znany historii naukowy eksperyment z zakresu psychologii, przeprowadził na początku XIII wieku Fryderyk II Hochenstauf, król Sycylii, Niemiec, Jerozolimy oraz cesarz Świętego Cesarstwa Rzymskiego. Był to niecodzienny władca, bardziej pasujący do renesansu niż wąsko patrzącego na świat średniowiecza – to on m.in. wprowadził koncepcję zera do europejskiej arytmetyki. Ale wracając do psychologii. Tenże władca zlecił przeprowadzenie niecodziennego eksperymentu. Kazał oddzielić grupę dzieci od rodziców i oddać pod opiekę mamek. Chciał zbadać, jaki język jest językiem naturalnym. Zakazał więc w jakikolwiek sposób odzywać się do niemowląt. Kobiety nie wchodziły więc w żadne istotne interakcje. Zakładał, że ludzie rodzą się znając jakiś język pierwotny, a swojego codziennego uczą się w wyniku socjalizacji. Eksperyment z jednej strony potwierdził brak tego domniemanego języka pierwotnego – dzieci wykształciły do komunikacji między sobą swój własny kod nieartykułowanych dźwięków, klaśnięć i gestów. Jednak Fryderyk odkrył też wagę bliskich relacji dla prawidłowego rozwoju. Dzieci były chorowite i w większości pomarły, ponieważ, jak zapisał kronikarz: "nie mogły żyć bez pieszczot, radosnych twarzy i czułych słów swych przybranych matek".
Niestety brak czułości ma wpływ nie tylko na psychikę, ale i na ciało. Współczesna nauka z oczywistych względów nie przeprowadza już takich eksperymentów, jednak wnioski Fryderyka potwierdziły się przy okazji wojen światowych. Stwierdzono, że sieroty mają mniejszą masę ciała, gorsze zdrowie i występuje wśród nich wyższa śmiertelność, niż w przypadku dzieci wychowanych w tradycyjnych rodzinach. Jednak także w tym przypadku brak odpowiednich relacji z matką (lub jej odpowiednikiem) jest niszczący dla psychiki dziecka. Niedostatecznie dobra opieka w tym pierwotnym okresie prowadzi do powstania charakteru socjopatycznego, schizoidalnego lub oralnego, o czym opowiem przy okazji wpisów poświęconych poszczególnym osobowościom.
Wracając jednak do miłości matczynej. Jest ona doświadczeniem cudownym w swej wyjątkowości i jednocześnie niezbędnym każdemu dziecku. Niestety nie jest czymś, co można wytworzyć samemu, gdy dobrej matki zabrakło, kiedy była potrzebna. Przepiękny "Hymn o Miłości" z Nowego Testamentu mówi: "Gdybym też miał dar prorokowania i znał wszystkie tajemnice, i posiadał wszelką wiedzę, i wszelką możliwą wiarę, tak iżbym góry przenosił, a miłości bym nie miał, byłbym niczym." W jakiś sposób ten fragment oddaje dramat życia bez miłości. Nie ma w nim jednak pocieszenia dla ludzi, którzy tej wychwalanej miłości w tym kluczowym momencie życia nie doświadczyli. Niestety z pustego i Salomon nie naleje, zatem dzieci, które nie były kochane, w dorosłości mają problem z tym, by samemu rozwinąć w sobie zdolności do kochania innych miłością dojrzałą. W tej trudnej sytuacji znajduje się niestety wiele dzieciaków zamkniętych w domach dziecka. Desperacjo starają się one zapełnić na ile tylko się da tę palącą potrzebę bliskości. Garną się instynktownie do wszelkich "wujków" i "cioć", które są choćby na chwilę zawitają w progi ich zbiorowej samotni. A kiedy gości nie ma, oddają się charakterystycznemu bujaniu się w przód i w tył, nazywanemu potocznie "chorobą sierocą". To ich sposób na wewnętrzne uspokojenie się.
"Choroba sieroca" i kołysanie dziecka do snu bazują na tym samym mechanizmie, który wdrukowała nam w geny ewolucja. Nasi przodkowie przez setki tysięcy lat byli nomadami, nieustannie przemieszczającymi się z miejsca na miejsce. Idąc przed siebie, nosili swoje dzieci na rękach lub plecach. Podczas marszu dziecko było… kołysane. Ewolucja premiowała płaczliwe dzieci, bowiem te spokojne była narażone na niebezpieczeństwo pozostawienia na poprzednim postoju. Dzisiaj, kiedy nie nosimy już swojego potomstwa przez cały dzień ze sobą, wciąż mamy zakodowane stare mechanizmy przetrwania. I chcąc nie chcąc musimy się do nich odwoływać, chcąc ukołysać do snu zaniepokojone niemowlę.
Jednak dlaczego także starsze dzieci wychowane bez rodziców wpadają w mantrę kołysania się? Dzieje się tak w sytuacji, gdy maluchy w niemowlęctwie nie dostały nawet tej fundamentalnej bliskości, która pozwoliłyby przejść do kolejnej fazy rozwoju psychicznego. Gdy wszystko przebiega zgodnie z naturalną koleją rzeczy, obiekt miłości dający poczucie bezpieczeństwa zostaje zinternalizowany (włączony) na stałe w psychikę małego człowieka i kołysanie nie jest już potrzebne. Psychoanalityk powiedziałby, że takie starsze dziecko, które wciąż oddaje się kołysaniu, doznaje regresji do tej fazy życia, w którym nastąpił uraz. A w przypadku dziecka z "chorobą sierocą" tym okresem było właśnie niemowlęctwo. Nie będąc tego świadome, przypadkiem odkrywa, że bujanie ciałem uspokaja je. To jego kołysanka od nieznajomej… matki, która odeszła.