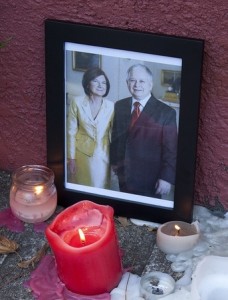 Już Erich Fromm piszący o kulturze Ameryki lat 70-tych zauważył, że życie społeczeństw kręgu kultury zachodniej staje się coraz bardziej jałowe duchowo. Dla jednych dziś zabrzmi to jak truizm, dla innych jak obelga, jednak przyjrzyjmy się bliżej współczesności. Codzienne sprawy toczą się wokół kilku rzeczy – pieniędzy, prestiżu lub też pozycji społecznej i rozrywki. Jako społeczeństwo na co dzień toczymy raczej jałowe dyskusje o wspomnianych sprawach, rozświetlane czasem tylko iskierką politycznego bełkotu, bo poziom świadomości politycznej wśród ludu jest co najmniej umiarkowany. Teoretycznie zostaje jeszcze religia, ale od niej też stopniowo odchodzimy, a jeśli już praktykujemy to często dość powierzchownie i dla zachowania pozorów. A w to miejsce wkracza z podniesionym czołem kultura "mieć", zupełnie wypychając poza nawias humanistyczne "być".
Czego brakuje? Idei, która by jednoczyła, dawała jakąś wieź międzyludzką. W systemie kapitalistycznym z zasady każdy sobie rzepkę skrobie. Nawet relacje uczuciowe mają obecnie tendencję do spłycania się, co jest wynikiem kultury przesyconej seksualnością i wyrachowaniem. Współczesny człowiek bardziej martwi się o to, jak oceniają go inni, czy jest przez nich szanowany i uważany za atrakcyjnego, czy ma bogate życie erotyczne, niż o to, czy czuje się spełniony emocjonalnie. W badaniach przeprowadzonych wśród amerykańskiej młodzieży okazało się, że największą wartością dla młodych dziewczyn jest atrakcyjność seksualna, a potem długo, długo nic.
Czy kiedyś było inaczej? W dużym stopniu tak. Ameryka miała swój ruch hippisowski, który z założenia szukał jakichś duchowych przeżyć. Czasem błądził, ale sens był wyraźny – ludzie są braćmi, jesteśmy wspólnotą, więc skupmy się na dobrych uczuciach, żyjmy tym, co nam daje życie. Upadek tych ideałów nastąpił w USA nieco wcześniej niż w Polsce, ponieważ przez całe lata 80-te nasze społeczeństwo było mocno zaangażowane w walkę o wolność. Ludzie działali w Solidarności, młodzi wykrzykiwali swój bunt na koncertach, np. parafrazując słynną wtedy piosenkę Perfektu ze słów "chcemy być sobą jeszcze" do "chcemy bić ZOMO". Wspólna idea jednoczyła ludzi, dawała oparcie i poczucie wspólnoty.
Jakiś czas po zmianie systemu dawne trendy pozostawały w dużym stopniu aktualne. Był to czas festiwalu w Jarocinie, polaryzowania się młodzieży między skinów, panków i metali. Ludzie szukali siebie, wypracowywali swoje wartości. Jednak im głębiej wsiąkaliśmy w kulturę zachodu, tym bardziej nasze podejście stawało się materialistyczne. Obecnej młodzieży nie chodzi już o idee, raczej o pokazanie siebie jako osoby wyjątkowej, godnej podziwu, atrakcyjnej. Jasne, że zawsze te cechy były wartościami, ale kiedyś nie najważniejszymi, a przede wszystkim nie jedynymi.
Co za tym idzie – współczesne społeczeństwa są wyjałowione duchowo, brakuje im autentycznych, głębokich przeżyć oraz więzi międzyludzkiej. Na co dzień nie jesteśmy tego świadomi, ale te braki są w nas i wybuchają ze zwielokrotnioną siłą w pewnych znaczących momentach. Ponieważ wyobcowani w swoim narcyzmie ludzie cały czas nieświadomie tęsknią do poczucia jedności, dają się ponieść masowym wybuchom uczuć.
Jeden z nich mieliśmy nie tak dawno szansę obejrzeć. Śmierć pary prezydenckiej była takim właśnie katalizatorem potrzeb. Ludzie żyjąc w świecie wyjałowionym z głębokich uczuć, wyładowali ją zbiorowo w czasie żałoby narodowej. To był czas, kiedy nie trzeba było się kontrolować. W psychoanalizie takie wydarzenia nazywa się ekranem projekcji, czyli sytuacją, na którą projektujemy swoje wewnętrzne stany psychiczne. Oto powstaje sytuacja, która pozwala nam wyrzucić z siebie głęboko skrywane konflikty i potrzeby, jednocześnie pozwalając nie przyznawać się przed samymi sobą, że je posiadamy.
Na śmierć pary prezydenckiej ludzie masowo reagowali wybuchem egzaltowanych uczuć. Z obiektywnego punktu widzenia były to osoby bardzo od nas odległe, a do tego niespecjalnie lubiane. Gdyby nasze uczucia były adekwatnie wyrażane, powinniśmy czuć dużo większy żal po śmierci sąsiadki z bloku naprzeciwko, niż po odejściu obcych osób znanych nam tylko z telewizji. Tak naprawdę wybuch emocji skierowanych na parę prezydencką tyczył się nas samych i naszych bliskich. Ponieważ ludzie negują i wypierają swoje potrzeby duchowości i głęboką uczuciowość, tylko w takim przypadku mogą dać upust swoich wypartym emojom. Ludzie nie płakali tyle nad losem ofiar, co nad swoimi własnymi przeżyciami, trzymanymi głęboko pod skórą. Tyle, że łatwiej wybuchnąć żalem po kimś obcym, niż zdać sobie sprawę z własnych skrywanych potrzeb i konfliktów. Ktoś mógł płakać nad losem nielubianego i pogardzanego prezydenta, który ostatecznie okazał się mężem stanu, jednocześnie przeżywając smutek nad samym sobą, bo również czuje się niedoceniany. Ktoś inny mógł dostrzec w pani prezydentowej cudowną kobietę, bo nieświadomie kojarzyła mu się z własną matką, która taka nie była, a bardzo chciałby ją taką widzieć. Możliwości jest bez liku, wszystko zależy od psychiki konkretnej osoby. Ostatecznie zginęli ludzie, których nie znaliśmy, dla których nie istnieliśmy jako indywidualne osoby. Dowiedzieliśmy się o śmierci ikon, które widywaliśmy na ekranie. A jednak ich śmierć wielu z nas przeżyło mocniej niż odejście realnych postaci z naszego życia. Tak działa właśnie projekcja.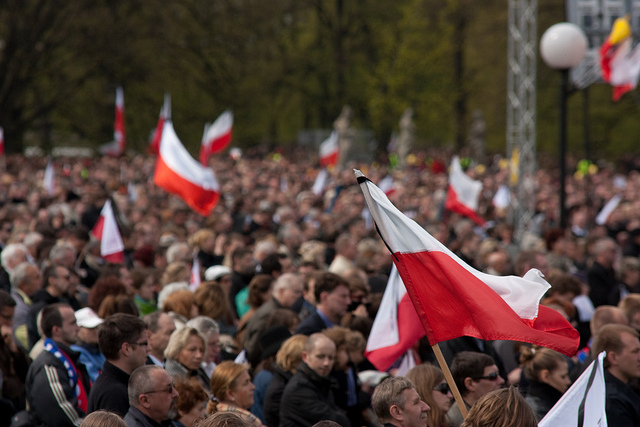 Oczywiście nie jest to tylko polska specjalność. Podobnie histeryczne reakcje można było zobaczyć po śmierci choćby księżnej Diany. Za życia nielubiana i krytykowana, po zejściu z tego świata niespodziewanie stała się ekranem projekcji skupiającym łzy milionów ludzi. Stało się tak, ponieważ ludzie ci żyjąc w sytuacji emocjonalnego i duchowego wyjałowienia, tylko czekali na okazję, by móc nieświadomie wylać swoje emocje w bezpieczny dla siebie sposób. Podobnie dzieje się po śmierci każdego większego artysty (np. Johna Lennona) czy postaci duchownej jak papież. Następuje zalew ogromnych, ale płytkich uczuć, za którymi nie idzie refleksja.
Zysk jest jednak wyraźny, ponieważ wspólne przeżywanie uczuć jednoczy. Jeśli zwykle jesteśmy stawiani w sytuacji konfliktu względem siebie (rywalizacja o pieniądze, prestiż) i obojętności (egocentryzm współczesnej kultury), to moment zbiorowej ekstazy emocjonalnej jest sytuacją, w której czujemy jedność. To euforyczne poczucie wspólnoty pozwala nam zasypać na chwilę uczucie pustki i ludzkiej samotności, którą żyjemy na co dzień.
Wszyto to ma jednak bardzo istotną wadę – jest chwilowe i szybko przemija. Wyrażane uczucia są histeryczne i egzaltowane. Nagromadzone przez długi czas i zepchnięte do nieświadomości, wybuchają z wielką siłą, ale ten wybuch jest krótki. Pojawia się wręcz efekt jojo, bowiem zaczynamy przeczyć swojej słabości i tym bardziej wracamy do starego negowania uczuć. Stąd daremność wszystkich tych wielkich obietnic, składanych przy okazji śmierci papieża czy katastrofy smoleńskiej. Żeby zmiana mogła być trwała, emocje musiałyby być świadome i poddane refleksji. Nikt tej refleksji jednak nie pragnie, bo wiązałaby się ona z bolesnym uświadamianiem sobie tej naszej ludzkiej samotności i problemów emocjonalnych z własnym życiem. Podobnie jest z psychoterapią – aby nastąpiła trwała zmiana, emocje muszą być ujawnione powoli, stopniowo, a także nieustannie poddawane refleksji, która daje nad nimi kontrolę.
Także kultura społeczna nie popycha nas w kierunku zintegrowania tych uczuć z naszą psychiką. Po pierwsze media nie tylko opisują taką histerię, ale wręcz ją podsycają. Stają się jednostronne, wiedząc, że najlepszą poczytność czy oglądalność będą miały właśnie wtedy, gdy pójdą za potrzebami tłumu. Poprawność polityczna i religijna też jest przeciwko nam. Aby zrozumieć prawdziwy kontekst wydarzenia i urealnić uczucia, które w związku z nim odczuwamy, musielibyśmy móc skorzystać z krytycznego myślenia. Nie możemy, ponieważ nasza kultura zakazuje nam mówić źle o zmarłych. Tym samym mówiąc jedynie dobrze, zamazujemy prawdę, która z natury jest skomplikowana i dychotomiczna.
Tak oto przy każdym szoku społecznym przeżywamy nasze potrzeby, ale w sposób sztuczny, po uprzednim wyprojektowaniu (przeniesieniu) ich na sytuację odległą od nas samych. Nie zastanawiamy się nad tym wszystkim, tylko czujemy, płaczemy, dramatyzujemy. Zupełnie nie zdając sobie sprawy, że tak naprawdę lamentujemy nad losem nas samych.