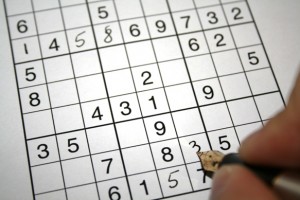 Jakiś czas temu na Uniwersytecie Warszawskim odbyła się debata pod znamiennym tytułem: "Dlaczego głupiejemy?". Zaproszenie goście wylewnie rozwodzili się nad obniżaniem potencjału umysłowego współczesnych ludzi. Problem w tym, że owi znamienici prelegenci… gadali głupoty. W pierwszej chwili może to wydać się zaskakujące, ale możliwości intelektualne naszego społeczeństwa systematycznie rosną. Rozumiem zdziwienie co większych sceptyków, jednak do takich wniosków prowadzą nieuchronnie analizy testów inteligencji, przeprowadzane już od ponad stu lat. Zjawisko to znane jest pod nazwą efektu Flynna.
Z badaniem inteligencji jest pewien problem – trudno jednoznacznie zdefiniować, czym ona tak naprawdę jest. Osobiście przychylam się do definicji najprostszej, że to zdolność łączenia faktów i odnajdywania między nimi logicznych zależności. W tym kontekście jest to cecha, którą teoretycy nazwaliby inteligencją logiczną. Myślę jednak, że jest to optymalne rozwiązanie, ponieważ nie wchodzi na pole "adaptacji do zmieniających się warunków otoczenia" ani "efektywności wykonywania zadań", co sugerują bardziej wymyślne definicje. Dzięki temu możemy mówić o inteligencji np. osoby chorej psychicznie lub autystycznej, która potrafi łączyć fakty, choć nie przekłada się to bezpośrednio na jej lepsze przystosowanie do rzeczywistości.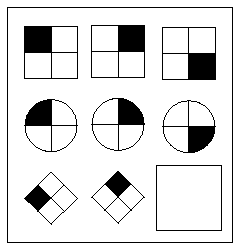 Tą drogą poszedł też John Raven, tworząc swój słynny test matryc. Jego zaletą jest właśnie uniwersalność, ponieważ nie ma w nim słów ani odniesień typowych dla konkretnej kultury. Badany ma jedynie znaleźć schemat i wybrać z zaproponowanych elementów ten, pasujący do danego logicznego ciągu. Dzięki temu możliwe stało się porównywanie inteligencji ludzi pochodzących z różnych kultur oraz żyjących w odległych czasach.
Tu jednak rodzi się kolejny problem – średni wynik ilorazu inteligencji w danej grupie po prostu musi wynosić 100. Taka jest bowiem definicja ilorazu inteligencji. Jest to poniekąd wygodne, ponieważ zaciera pewne trudne kwestie i uniemożliwia porównania, np. między różnymi kulturami, rasami, czy osobami żyjącymi w różnych czasach. Jednak 100 punktów IQ zdobyte w teście przeznaczonym dla jednej populacji nie jest tym samym 100, wyznaczonym dla innej grupy. Za każdym razem wyniki ogólne wypośrodkowuje się i tak dobiera skalę trudności, by wszystko się zgadzało.
Wyniki da się jednak porównywać, odwołując się do poziomu trudności. Wtedy na jaw wychodzą bardzo budujące wnioski. Otóż ludzie z pokolenia na pokolenie stają coraz bardziej inteligentni. I jest to tempo iście zawrotne, ponieważ - statystycznie rzecz biorąc – jesteśmy inteligentniejsi od naszych babć i dziadków o ok. 15 punktów IQ, a to pozwala nam już przeskoczyć do kolejnego segmentu. Tym samym przeszlibysmyy z grupy przeciętniaków do tych o inteligencji powyżej przeciętnej – oczywiście wg standardów z czasów II wojny światowej. Średnie tempo tego przyrostu wyznaczono na 3 punkty IQ na każde 10 lat. Przy czym tendencja to przyspieszyła, więc na początku była nieco niższa. Tym samym w ciągu jednego wieku średni poziom inteligencji wzrósł aż o ok. 25 punktów! I jak tu mówić o głupieniu?
No dobra, ale niby dlaczego tak się dzieje? Powody są zróżnicowane, jednak głównym jest rosnące skomplikowanie świata. Nasze otoczenie jest coraz bardziej wymagające. Może z dzisiejszej perspektywy wydaje się to banalne, ale samo używanie komórki lub komputera wymusza ćwiczenie zdolności intelektualnych. Musimy pojąć, co powoduje jaki efekt, domyślać się znaczenia ikon, przycisków, funkcji. Także sam kontakt z telewizorem, a jeszcze wcześniej radiem, zmuszał do myślenia, ćwiczenia wyobraźni, osłuchiwania się z nowymi słowami, poglądami, informacjami. To wszystko trzeba była zasymilować i przyswoić, co zmuszało do ćwiczenia się w obróbce informacji i wyciąganiu wniosków.
Z dzisiejszego punktu widzenia oglądanie telewizji może wydawać się potwornie ogłupiające. W istocie rzeczy takie jest, ale tylko ze współczesnej perspektywy. Wyobraźmy sobie robotnika rolnego z lat 50-tych, którego całe życie toczyło się wokół rodzimej wioski i ludzi w niej żyjących. Totalny brak symulacji intelektualnej. I nagle taka wioska zostaje objęta tzw. "głośnikowaniem". Była to taka wczesna forma radia – w każdym domu instalowano głośnik podpięty do kabla, który nadawał tylko jedną stację. W tym momencie świat tego prostego człowieka powiększył się kilkakrotnie – choć tylko o nim biernie słuchał, musiał wysilać wyobraźnię i umysł, by cokolwiek zrozumieć. Tak samo silnymi bodźcami były telewizja, kino, powszechne gazety, a teraz elektronika i komputery. Obecnie nawet włączenie głupiej pralki wymaga poznania instrukcji obsługi i pokombinowania z kilkoma schematami ustawień. Już to samo z siebie stanowi pewne ćwiczenie w łączeniu faktów i wyciąganiu wniosków. Wystarczy popatrzeć, o ile więcej czasu zajmuje nauka obsługiwania elektroniki naszym rodzicom, a jeszcze bardziej babciom i dziadkom. Statystycznie jesteśmy od nich sporo inteligentniejsi i to się przekłada na praktykę życia codziennego.
Ale to tylko statystyka. W praktyce przyrost ten nie jest wyrównany. Dużo więcej zyskują ludzie o niskich predyspozycjach genetycznych. Geniusze istnieli zawsze i jakoś rozwijali w sobie potencjał do odkryć i tworzenia wielkich dzieł. Tym samym przyrost inteligencji nie jest aż tak wyraźny w grupie osób szczególnie uzdolnionych – choć też jest w pewnym zakresie zauważalny, zapewne dzięki lepszej wymianie informacji i dostępowi do bardziej stymulujących urządzeń, takich jak komputery. Jednak najwięcej zyskali ludzie o małym potencjale genetycznym. Tym samym norma podnosi się w górę nie tyle dzięki przyrostowi ilości geniuszy, co… zanikowi intelektualnej głupoty wśród mas.
Wszystko pięknie, ale przecież wystarczy wejść na Onet lub inny popularny portal, by przekonać się, że głupota wcale nie zaniknęła. Po przeczytaniu kilkudziesięciu komentarzy, można nawet dość do wniosku, że jest w pełnym rozkwicie. Fenomen tego powszechnego wrażenie dość dobrze oddał Stanisław Lem w słowach: "Dopóki nie skorzystałem z Internetu, nie wiedziałem, że na świecie jest tylu idiotów". Tym samym trafił w sedno – głupoty wcale nie jest więcej, jednak dzięki internetowi stała się ona bardziej widoczna. Kiedyś kisiła się ona w swoim własnym sosie i aby z nią w pełni poobcować, należało wybrać się na dyskotekę do remizy lub na winko do dzielnic typowo robotniczych. Jednak dzisiaj głupota sama wychodzi do nas w świetle reflektorów. A ma do tego pełne prawo, bowiem PR głupoty swoi na solidnych podstawach. Naturalnymi ambasadorami głupoty stali się krajowi i zagraniczni celebryci, z taką Dodą czy Jolą Rutowicz na czele.
Jednak prawda jest raczej budująca – z pokolenia na pokolenie stajemy się coraz inteligentniejsi. Czy jednak samo w sobie może to być gwarancją świetlanej przyszłości? Niekoniecznie, tym bardziej, że inteligencja nie jest nieodłączną cechą naszych przywódców, bo – jak stwierdził sam Napoleon Bonaparte – "w polityce głupota nie stanowi przeszkody."