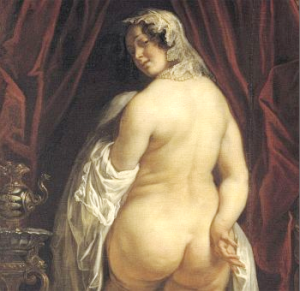 Co sprawia, że jedną osobę uważamy za piękną, a inna budzi w nas odrazę? Atrakcyjność niejedno ma imię, warto więc poznać czynniki, które sprawiają, że "pasztet" czasem przeistacza się w "niezłe ciacho", a osoba powszechnie uważana za atrakcyjną traci na urodzie w czyichś innych oczach.
Generalnie pewne rzeczy się nie zmieniają. Wszystkie kultury cenią kobiety o proporcjonalnej sylwetce. Dokładniej rzecz ujmując są to proporcje między talią, biodrami i klatką piersiową. Zmieniać się mogą pożądane wymiary dziewczyny uchodzącej za piękną, czyli jej waga, ale nie ten jeden współczynnik. Jest on uwarunkowany ewolucyjnie i świadczy o wysokiej dzietności. Dokładnej rzecz biorąc szerokie biodra prorokują większą szansę na poród bez komplikacji, co w czasach, kiedy nie było jeszcze medycyny i położnictwa, stanowiło sprawę kluczową. Mówiąc wprost, efektywniej było powierzyć swoją spermę kobiecie dającej większą szansę na zdrowe potomstwo, niż marnować dla samicy nie rokującej wysokiej stopy zwrotu z inwestycji, że się tak odwołam do języka ekonomii.
Mniej więcej w tym duchu kształtowało się nasze pojęcie atrakcyjności. Premiowana była płodność, czyli młodość i sprzyjająca porodom budowa ciała oraz ogólnie pojęte oznaki zdrowia. Męska atrakcyjność nie była aż tak istotna, ponieważ ewoluowaliśmy w stadach z gruntu patriarchalnych. To kobiety były własnością samców, a oni hierarchię ważności ustalali w oparciu o siłę oraz – co ważne – umiejętności społeczne. Nawet wśród szympansów pozycja w hierarchii nie zależy tylko od indywidualnej zdolności bojowej, ale także od umiejętności znalezienia się w grupie i awansowania w oparciu o sojusze z innymi samcami. Tu dochodzimy do jednego z filarów męskiej atrakcyjności. Kobiety u facetów bardzo cenią… pozycję społeczną, która w naszych warunkach przejawia się w postaci władzy i pieniędzy. To dokładnie tak samo, jak u naszych małpich braci. Tam też wysoka pozycja w hierarchii stada dawała lepszy dostęp do pożywienia, zatem bycie partnerką dobrze ustawionego samca daje szympansicy szansę na lepszy byt dla siebie i swoich – najczęściej wspólnych – dzieci. Wystarczy spojrzeć na żony piłkarzy, nawet tych nie najpiękniejszych. Zwykle są kobiety ponadprzeciętnej urody. Podobnie rzecz się ma z biznesmenami, celebrytami czy nawet niektórymi politykami. W przypadku tych ostatnich ich żony są często spadkiem po czasach, w których nie byli jeszcze u władzy, ale już ich kochanki są dużo atrakcyjniejsze. Najbardziej jaskrawym przykładem jest Silvio Berluscoi, choć i nasz były premier Kazimierz "Kazio" Marcinkiewicz też raczej na piękno umysłu Isabel nie poleciał. Najwidoczniej skusiło go coś innego, czego nie miała już jego żona i co było silniejsze od skwapliwie deklarowanych konserwatywnych poglądów.

W przypadku mężczyzn liczą się oczywiście też fizyczne atrybuty siły, pozwalające kobiecie czuć się bezpieczną. W czasach poprzedzających wynalezienie policji, kiedy to silniejszy narzucał swoje reguły, była ona kwestią fundamentalną. Chociaż dzisiaj nasze życie nie zależy już od siły fizycznej, dalej dużą popularnością – zwłaszcza w pewnych kręgach – cieszą się siłownie i napakowani faceci. Po części wnika to z pewnej regresji współczesnej kultury. Przez wiele poprzednich stuleci to nie cechy ewolucyjne były najważniejsze, ale czynniki społeczne. Przy zamążpójściu od wyglądu ważniejsze były układy społeczne, posiadane włości, pozycje i urzędy. Obecnie wracamy do archaicznych sygnałów, które – choć obiektywnie straciły na znaczeniu – dalej tkwią w nas jako genetyczne polecenia ewolucji.
Są jednak czynniki mające wpływ na postrzeganie męskiej atrakcyjności, które wykraczają poza wskaźniki siły fizycznej czy pozycji w stadzie. Zadziwiająco wiele kobiet w swoich prywatnych rozmowach ocenia zgrabność tyłka konkretnego faceta. Dlaczego? Odpowiedź jest dość prozaiczna – w tym przypadku chodzi o… seks. Kształtny i umięśniony tyłek pozwala sprawnie wykonywać ruchy kopulacyjne. Ma to swoje znaczenie, bo kontakt płciowy z ociężałym i sflaczałym osobnikiem był dla samic bardzo uciążliwy, zwłaszcza zanim wynaleziono pozycję od przodu. Nasi odlegli przodkowie nie znali Kamasutry i robili to w sposób najbardziej oczywisty, czyli "na pieska". Bardzo fajnie zilustronano to w kultowym filmie "Walka o ogień", pokazującym życie w czasach wczesnego homo sapiens. Jest w nim świetna scena, kiedy grupa poszukiwaczy ognia trafia do obozu plemienia stojącego na wyższym poziomie rozwoju. Dochodzi tam do sytuacji intymnej między gościem i lokalną kobietą. Ta ostatnia rozkłada nogi leżąc na plecach, a nasz główny bohater patrzy się głupio, nie wiedząc, o co chodzi. Wtedy samica idzie po rozum do głowy i wypina się w sposób "staromodny", co dla naszego podróżnika jest już jasnym sygnałem do działania. Wtedy właśnie przydawał się ten zgrabny tyłeczek.
Skoro omówiliśmy już pokrótce to, co uniwersalne, przyjrzyjmy się temu, co zależy od kultury. Jak to możliwe, że w czasach Rubensa uwielbiano kobiety monstrualnie otyłe, a dzisiaj dużym wzięciem cieszą się przysłowiowe "wieszaki"? Jak już wspomniałem, nie chodzi o różne proporcje, bo te pozostają w zasadzie niezmienne. Barok po prostu lubił, jak wszystkiego było dużo. To bardzo rozpasana epoka, w której w cenie były wszelkie obfitości. Wystarczy choćby porównać… kościoły powstałe w różnych epokach. Smukły i ascetyczny gotyk cechował późne średniowiecze, które ceniło umiarkowanie, post i ascezę. Wtedy też ideał kobiety był szczupły i wiotki, jak Danusi z Krzyżaków. Wnętrza barokowe opływają złotem, ozdobami, freskami. Podobne obfitości zaczęto przenosić na ludzkie kształty i tak ideałem stały się osoby o obfitych kształtach. Choć dzisiaj nie przejawiamy już tendencji do ascezy –a wręcz przeciwnie – to jednak nasz świat ceni dynamikę i szybkie, intensywne życie skupione w dużym stopniu na dość pierwotnej seksualności. Do tego potrzebna jest nam szczupła, sportowa sylwetka, na którą właśnie panuje moda.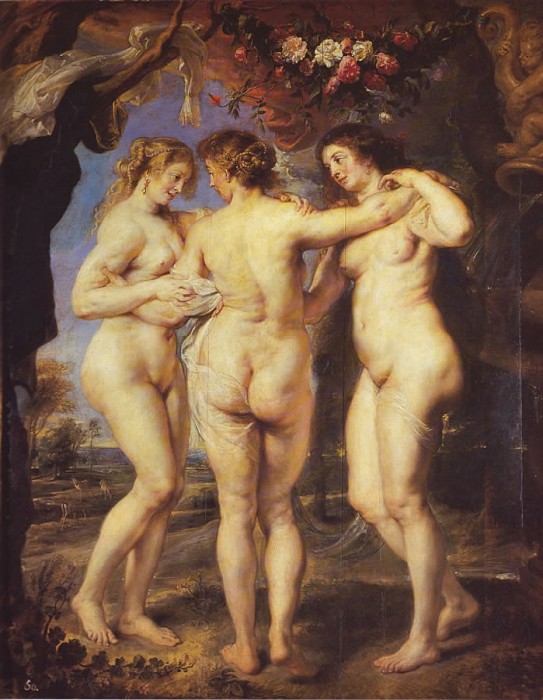 W otyłości jest jednak coś na rzeczy. Jest ona w cenie w rejonach, w których występuje niedobór żywności. Wtedy obfite kształty są symbolem dobrobytu i znacząco podnoszą prestiż, a więc i pozycję w hierarchii danej społeczności. Takim krajem jest choćby Mauretania, czyli ogromne saharyjskie państwo składający się głównie z piasku. W świeci, w którym mięso jest rarytasem, a bogactwo mierzy się w kozach, otyłe kobiety uważane są za wcielenie piękna. Gruba żona jest wizytówką zaradnego męża i powodem do chluby. Świadczy bowiem o zasobności rodziny, do której należy. Mauretańczyny nie myślą oczywiście tymi kategoriami, tylko działają intuicyjnie, jednak trendy kulturowe tak silnie narzucają nam swoje wzorce, że grubość jest dla tych facetów faktycznie podniecająca. Dość zabawnie obserwuje się tam odwrócenie sytuacji, znanej w świecie zachodnim. Podczas podróży po tym kraju zatrzymałem się w siedzibie amerykańskiej organizacji humanitarnej. Mieszkającymi tam wolontariuszami była młodzież z USA. Jak wszędzie – są osoby atrakcyjniejsze i mniej urodziwe. Jednak w Mauretanii największym wzięciem cieszyły się te wyjątkowo otyłe amerykanki, wychowane w świecie hamburgerów i Coca Coli. Miejscowi po prostu rozpływali się w zachwytach, kompletnie ignorując dziewczyny, które w naszym świecie uchodziłyby za "niezłe laski". W tej kulturze "pasztet" staje się "ciachem", i to takim biszkopcikiem, czyli najbardziej pożądanym, bo kalorycznym.
Ten przykład bardzo dobrze oddaje esencję atrakcyjności kulturowej. Chodzi w niej o prestiż społeczny, czyli przynależność do tych lepiej usytuowanych. Podobnie jest z barwą skóry. U nas panuje obecnie moda na opaleniznę, ale nie zawsze tak było. Kiedyś w cenie była skóra biała, wręcz blada. Wynikało to z tego, że jasną karnację miały tylko osoby, które mogły sobie pozwolić na niepracowanie w polu, czyli de facto na słońcu. Szlachta, zwłaszcza zachodnia, wręcz pudrowała sobie twarze na biało, żeby tam bardziej podkreślić swój prestiż. Chłopi i pośledni mieszczanie mogli być opaleni, ale nie elita. Trend ten wcale nie jest nowy. Już w czasach starożytnego Rzymu kobiety rozjaśniały sobie twarz, używając do tego celu trującej rtęci. Co prawda w dłuższym okresie czasu powodowało to zrujnowanie zdrowia, ale wielu ludzi także wtedy wolało tak jak Elwis "żyć szybko i zostawić po sobie przystojnego trupa".
Wracając jednak do ilości pigmentu w skórze. Fakt, że obecnie u nas panuje moda na opaleniznę, też nie jest przypadkowy. W czasach, w których większość ludzi pracuje w biurach lub pod dachami, to właśnie ciemna skóra świadczy o wysokim statusie, czyli po prostu bogactwie. W końcu to ludzie majętni mogą sobie pozwolić na wakacje w tropikach lub wyjazd na narty do jakiegoś słonecznego kurortu.
Wystarczy jednak zmienić kulturę, by znowu białe stało się piękne, a ciemne przybrało postać synonimu brzydoty. Nie ma bardziej obraźliwego komentarza co do wyglądu Wietnamki, niż powiedzieć jej, że ma ciemną skórę. W tym kraju, tak jak niegdyś u nas, jasną karnację mają ci ludzie, którzy nie muszą pracować w polu. Innymi słowy wszyscy ci, którzy mają wyższy status społeczny. Jest to tak głęboko zakotwiczone w mentalności tej części świata, że kobiety, którym zależy na atrakcyjności, wolą się katować noszeniem szczelnego ubrania w temperaturze przekraczającej niekiedy 40 stopni Celsjusza, niż oszpecić się opalenizną. Mimo żaru lejącego się z nieba obowiązkowym zestawem dla panien na wydaniu jest kapelusz, długi rękaw, skarpetki w kolorze jasnego ciała, takie same rękawiczki oraz maska szczelnie zakrywająca twarz. Wszystko po to, by mieć skórę możliwie najjaśniejszą, czyli według lokalnej kultury właśnie piękną.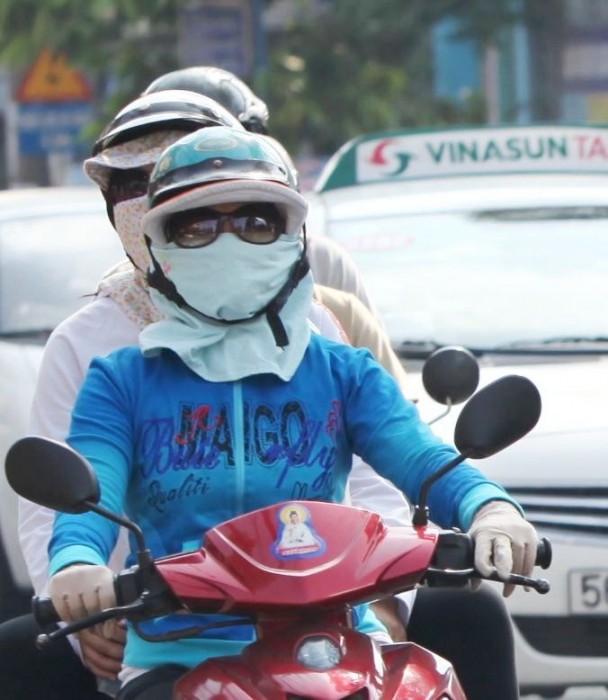 Mężczyźni nie muszą już tak bardzo unikać słońca, jednak i w ich przypadku jasny odcień skóry uważany jest za atrakcyjny. W Wietnamie każdy biały dostaje +2 do urody (na skali 10 stopniowej), co bardzo podnosi "branie" mężczyznom z północnych rejonów Europy czy Australii. Czyli zupełnie odwrotnie niż u nas, gdzie taki bonus dostają raczej ciemnoskórzy południowcy.
Ok., mamy już naturę, kulturę, teraz pora na najciekawsze, czyli czynniki indywidualne. O części pisałem już w poprzednim wpisie pt. Romeo i Julia. Pokrótce przypomnę tylko, że mamy tendencję, aby preferować osoby w typie podobnym do naszego rodzica przeciwnej płci lub wręcz odwrotnie. Wszystko zależy od tego, jak konotujemy w naszej psychice obiekt ojca lub matki.
Co jest ważne dla mężczyzny w wyglądzie kobiety? Zależy jakiego mężczyzny.
Ciało czy twarz? To wbrew pozorom ważne pytanie. Wiele dziewczyn idąc do klubu w nadziei na poznanie wartościowego chłopaka, a w przyszłości być może męża, popełnia jeden podstawowy błąd – eksponuje swoje ciało bardziej niż twarz. Co prawda każdy orze jak może i wiele dziewczyn nie wybijając się pięknem rysów woli założyć obcisłą i kusą sukienkę, zwłaszcza jeśli uważa, że ma zgrabną sylwetkę. Mając nadzieję poznać chłopaka do stałego związku, przyciągają jednak uwagę facetów wcale nie chcących się angażować. Badania udowodniły, że to, na co mężczyźni zwracają szczególną uwagę przy wyborze partnerki, zależy od ich nastawienia. Osoby szukające kogoś na stałe większą uwagę przywiązują do twarzy, a te szukające tylko przygody – do ciała. Jest to jak najbardziej logiczne, w końcu to twarz jest nośnikiem emocji, a wiązać się na stałe chcemy tylko z osobami, które nam odpowiadają psychicznie. Szczególnie dobrze dla związku rokują osoby deklarujące, że ważne są dla nich oczy potencjalnego partnera. Nie przypadkiem popularne powiedzenie mówi, że to oczy są zwierciadłem duszy. Dlatego dziewczyny (zwłaszcza), jeśli szukacie kogoś sensownego na stałe, postawcie na twarz. Dobre uczesanie i sensowny makijaż (zwłaszcza podkreślający oczy) da wam więcej niż kusa i wyzywająca sukienka. I od razu łatwiej wam będzie unikać tych słynnych "męskich świń", które mówią jedno, ale tak właściwie zależy im tylko na "zadupczeniu".
Jest też kategoria mężczyzn, dla których najważniejsze są duże cycki. Im większe, tym lepsze. Z ewolucyjnego punktu widzenia dobrze ukształtowany biust jest najbardziej atrakcyjny. Pozwalał przewidywać, że kobieta będzie mogła wykarmić potomstwo, czyli z większym prawdopodobieństwem zapewni mu przeżycie. Dzisiaj nie musimy już karmić dzieci piersią, choć zakodowany mechanizm działa dalej i płaskie kobiety są dla wielu mężczyzn mało atrakcyjne. Jednak mężczyznami uwielbiającymi duże piersi kieruje coś zupełnie innego. Zazwyczaj są to osoby, które same posiadają zadawnione deficyty kontaktu ze swoją matką lub też szukają kobiety, która będzie przedłużeniem ich matki, od której nigdy nie potrafili się do końca oddzielić. Biust partnerki jest dla nich zastępstwem dla opiekuńczej piersi własnej matki. Mężczyźni tego typu szczególnie lubią się takim wielkim biustem bawić i do niego przytulać. Niestety wiąże się to cechami psychicznymi. Jest więc spore prawdopodobieństwo, że mężczyzna taki będzie miał tendencję, aby traktować swoją biuściatą partnerkę jako zastępczą matkę. Będzie od niej zależny, będzie szukał opieki i wsparcia, co nie wróży najlepiej związkowi, tak jak każda sytuacja, w której zbyt mocno mylimy obiekt rodzica z życiowym partnerem.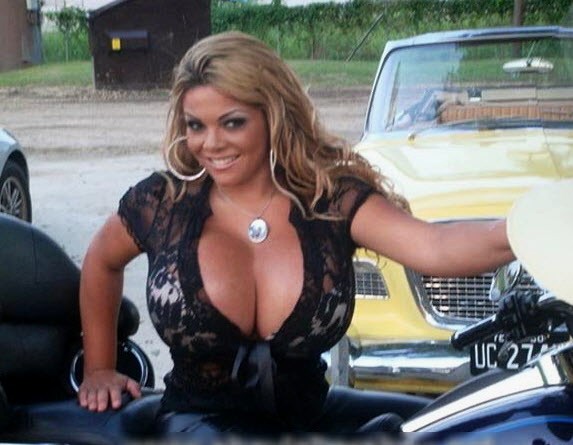 Podobnie rzecz ma się z atrakcyjnością mężczyzn. Pewien typ kobiet lubi facetów "statusiałych", takich ciepłych misiów z brzuszkiem. To też często zaszłość z dzieciństwa i konsekwencja relacji z ojcem. Misie są ciepłe i bezpieczne. Przytulą, zaopiekują się, nie zdradzą – no bo niby z kim, skoro taki typ faceta w papciach za atrakcyjnego nie uchodzi. Taka relacja niesie jednak ze sobą bardzo znaczne koszty. Na dłuższą metę zbyt bezpieczne związki, w których znajdujemy sobie zastępcze dobre mamy i ciepłych tatusiów niszczy związek od środka. Seksualność żywi się ekscytacją, pewną lubieżnością i ciągłym odkrywaniem partnera na nowo. Zbyt opiekuńczy partner zabija tę sferę życia. Pacyfikuje ją swoją dobrocią i przewidywalnością. Jeśli taka sytuacja trwa długo i nie szuka się z niej konstruktywnego wyjścia, związek staje się, przynajmniej w tej sferze, fasadowy. Jednak życie nie znosi pustki. W miejsce po "sflaczałym" partnerze wchodzą nowe osoby. Takie podmiany często mają postać erotycznych myśli czy snów o kimś innym, ukradkowego oglądania pornografii (zwłaszcza u facetów) lub marzenia o nowym miłosnym uniesieniu, ukrytego choćby w rozczulaniu się na egzaltowanych filmowych romansach (tu przodują dla odmiany panie). W dalszej konsekwencji może przyjść kolej na zdrady czy zwykłe dziwkarstwo, które wśród polskich panów cieszy wcale niemałą popularnością. Oczywiście w tych ostatnich przypadkach wiele zależy od innych czynników – moralności czy oddania partnerowi. U ludzi, którzy nie dopuszczają do siebie myśli o zdradzie, rozwijają się raczej takie zastępcze sublimacje, jak wspomniane harlequiny, ukradkowe myśli czy pornografia. U kobiet cykl relacji z partnerem-misiem układa się często w rytm zmian hormonalnych. Jest czas na przedmiesiączkową złość i frustrację, okres przytulania i szukania opieki, kiedy miś wraca do łask, oraz okres owulacji, kiedy znowu staje się nieatrakcyjny, a kobieta ciekawszym okiem zerka na bardziej męskich facetów. W tej ostatniej fazie najczęściej dochodzi do zdrad, także tych w myślach.
Utrzymanie związku w dobrej kondycji wcale nie jest łatwą sprawą. Samo przyjaźnienie się i zaufanie nie wystarczy, tym bardziej, jeśli nie chcemy poddawać się wewnętrznej dysocjacji i dzielić swoich wewnętrznych przeżyć na te "przyjacielskie" z partnerem i te "seksualne" z resztą świata. Tu dochodzimy do konkluzji tego tekstu – choć wygląd jest ważny, a w przypadku kobiet nawet bardzo, to nie należy go przeceniać. Ogromna część naszej atrakcyjności zawarta jest w psychice – nastawieniu do partnera i świata, naszym zaangażowaniu, tym czy jesteśmy nudni, czy wciąż się rozwijamy. Ale także tym, czy eksperymentujemy w łóżku, czy może popadamy w schematy. Miłość i jej pielęgnacja wcale nie są tak tajemniczymi sprawami, jak wielu z nas może wydawać. Ale to już temat na zupełnie inny wpis.