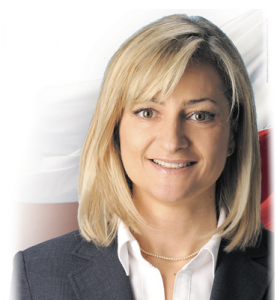 Mamy już za sobą pierwszą turę wyborów samorządowych. Teoretycznie, idąc do urny, decydujemy, który z kandydatów prezentuje najlepszy program. Jednak w praktyce to nie konkrety kierują nami, kiedy stawiamy krzyżyk przy danym nazwisku. Najwięcej do powiedzenia mają względy emocjonalne, które dopiero później są przez nas racjonalizowane. W efekcie wybieramy kogoś raczej z uwagi na uczucia, jakie w nas budzi, a dopiero potem dopowiadamy sobie, że to dlatego, że "ma dobry program", doświadczenie czy mądrze mówi. Sposobów manipulowania potencjalnym wyborcą jest naprawdę wiele i warto się im przyjrzeć z bliska.
Już gołym okiem widać, że plakaty stają się coraz bardziej profesjonalne. Przynajmniej wśród tych kandydatów, których stać na przyzwoitą agencję. Fundamentalną kwestią jest to, że sposób konstrukcji klasycznej reklamy i ogłoszenia wyborczego jednak wyraźnie się różni. Podstawową zmianą jest położenie obrazu i tekstu. O ile w tradycyjnym przekazie grafikę umieszcza się po lewej stronie, a napisy po prawej, to na plakacie wyborczym powinno być odwrotnie. Bierze się to z tego, że obrazy przetwarzamy bardziej angażując prawą półkulę mózgu, a słowa – lewą. Ponieważ nasze zmysły wysyłają informacje do przeciwnych półkul – prawa półkula jest bardziej wrażliwa na informacje położone z lewej strony (czyli obrazy lokujemy przeciwnie do półkuli – po lewej stronie), a lewa (logiczna) na te po prawej. Tak też konstruuje się loga i nagłówki gazet. Dla przykładu, to dlatego czerwony kwadracik Gazety Wyborczej znajduje się po lewej, na nie prawej, stronie napisu.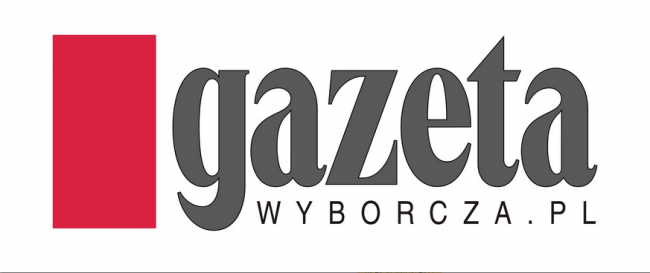 Wróćmy jednak do wyborów. W przypadku plakatów mniej znanych kandydatów, reguła to ulega odwróceniu. To imię i nazwisko danego delikwenta ma zapaść w pamięć, by zaprocentować przy urnie. Wtedy to nieświadome wspomnienie podpowiada nam rozwiązanie, które wydaje się wtedy najbardziej znajome. Psychologia naukowo potwierdziła prawdę znaną już inżynierowi Mamoniowi z "Rejsu" – że lubimy to, co już znamy. Tym samym nie będąc zdecydowanymi, z większym prawdopodobieństwem przy urnie zakreślimy znane nam nazwisko – choćbyśmy nie zdawali sobie sprawy, skąd tak właściwie je kojarzymy. Jak to się ma do plakatu wyborczego? Bardzo prosto. W tym przypadku to wizualne zapamiętanie nazwiska jest ważniejsze, więc powinno ono znajdować się po stronie lewej, typowej dla informacji wizualnych.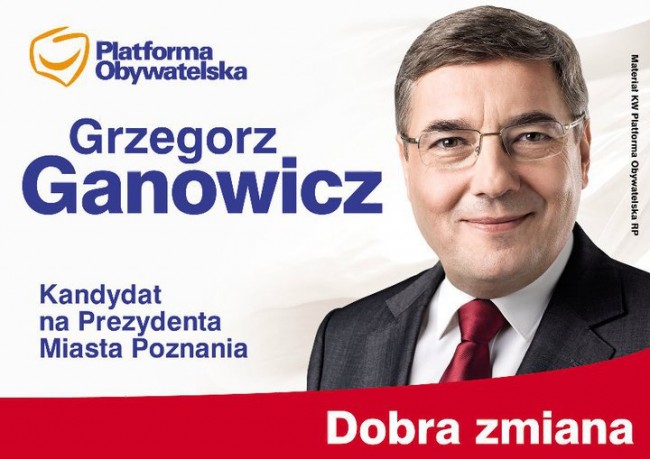 Dla przykładu mamy powyższy plakat zrealizowany w uwzględnieniem tej zasady. Niestety twórcy najwyraźniej nie byli już równie biegli w ocenie zdjęć. Pan Ganowicz ma tutaj wyraźnie niesymetryczny uśmiech, co jest… mimiczną wskazówką kłamstwa. Tak już jako ludzie mamy, że udawane emocje są niesymetryczne. Rodzi się pytanie, czy przeciętny wyborca jest tego świadomy. Odpowiedź nie jest jednoznaczna. Z jednej strony ludzie generalnie są mało świadomi, więc zapewne mało kto potrafiłby powiedzieć, dlaczego ta osoba wydaje mu się nieszczera. Z drugiej strony jednak ewolucja wykształtowała w nas nieświadome mechanizmy rozpoznawania emocji i mamy naturalną tendencję, aby odczuwać nieufność wobec tego typu fałszywych komunikatów. Nawet jeśli sztabowcy poznańskiej PO nie są za biegli z psychologii, to wystarczyłaby odrobina spostrzegawczości, by zobaczyć że ich kandydat na tym zdjęciu z miny niebezpiecznie mocno przypomina Bure`a Willisa. I nie jest to w tym przypadku komplement, bo co przystoi filmowemu twardzielowi, pokazującemu swoim cynizmem w jak głębokim poważaniu ma przeciwników, to politykowi proszącemu wyborcę jego o głos, kompletnie nie pasuje.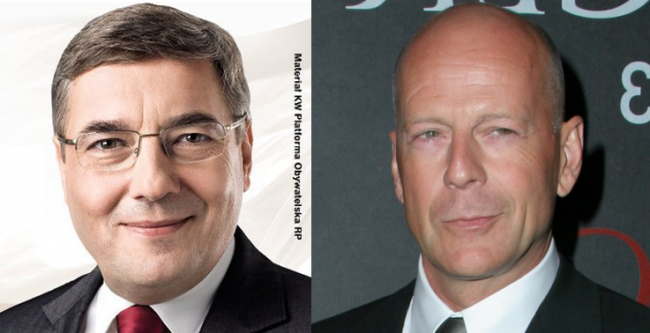 Skoro jesteśmy już przy wielkiej polityce, to trzeba przy okazji docenić nowy spot PiSu. Orędzie Jarosława Kaczyńskiego to po prostu majstersztyk. W spocie wykorzystano doskonałe tło – domowy wystrój, elegancki i inteligencki, a do tego, poprzez ciepłe barwy, budzący wrażenie bezpieczeńswa. Do tego dochodzi subtelny, choć jednoznaczny, biało-czerwony bukiet kwiatów. Jarosław ma na sobie też ciemny, elegancki garnitur, choć poprzez niezapięcie go dochodzi mały mankament braku symetrii postawy, ale to szczegół. Wreszcie ktoś pomyślał o właściwym doborze kadru. Chyba wszyscy pamiętamy jak pokracznie wyglądał św. pamięci Lech Kaczyński ze swoimi małymi rączkami na wielkim dębowym stole, co uwydatniało jego niski wzrost i budziło uczucie dysonansu. Jarosław prezentowany jest tak, by uniknąć pokazywania owej dysproporcji. A do tego kamera robi bardzo dobrze przygotowany, powolny najazd. Dzięki temu w psychice odbiorcy (przynajmniej tego mniej uprzedzonego do byłego premiera) buduje się subtelne wrażenie bliskości z tak pokazaną osobą. Także tekst przemówienia jest bardzo składny i grający na emocjach. Jarosław przechodzi od oświadczeń bardziej uniwersalnych, typowych dla męża stanu, do osobistego apelu. Moment ten jest na tyle opóźniony, że odbiorca zdąży już oswoić się z widokiem Kaczyńskiego, a do tego zgrany ze wspomnianym najazdem, budującym wrażenie bliskości.
Potem następują bardzo trafnie (z punktu widzenia interesu PiSu) dobrane zdjęcia. Prezentują one Lecha i Jarosława jako braci – od dzieciństwa aż do wspólnej działalności politycznej. Choć pozornie ich jednomyślność jest "oczywistą oczywistością", to od niedawna trwa jednak wojna o bycie kojarzonym z Lechem Kaczyńskim i jego mitem wielkiego męża stanu. Z jednej strony wizerunek tragicznie zmarłego prezydenta próbuje zatrzymać dla siebie Jarosław wraz z PiSem. Ale z drugiej próbują go zawłaszczyć renegaci z Polska Jest Najważniejsza, stawiając Lecha w opozycji do Jarosława. Tym spotem PiS stawia właśnie kropkę nad "i" w kwestii własności wizerunku św. pamięci prezydenta.
Choć sam Jarosław jest tylko sobą – zdarza mu się mlaskać, chwytać zawieszki i zawalać dykcję – to sam spot godzien jest najwyższego uznania. I to zapewne owemu spotowi wyemitowanemu na końcu kampanii można zawdzięczać to, że PiS nie poniósł aż taki wielkiej porażki, jaką przepowiadały mu sondaże. O dreszcze przyprawia zwłaszcza ostatnia cześć, z tyleż melancholijną co porywającą muzyką rodem z "Braveheart`a". W ostatnim kadrze spotu widzimy prawdziwe tabuny ludzi z flagami, którzy wyglądają jak gotowa do boju armia Williama Wallace`a. Aż chce się chwycić miecz i ściąć parę głów "platformerskich" najeźdźców, by pomścić podstępnie zamordowanego Lecha Lwie Serce.
Wróćmy jednak na ziemię. W tak zwanym "terenie" też sięgano po psychomanipulację. Choć już na odpowiednio niższym poziomie. Do ulotek Tatiany Sokołowskiej, poznańskiej kandydatki PO, dołączony był… wyborczy cukierek (ponieważ wspomnianego cukierka bezceremonialnie zjadłem, na skanie w jego miejscu znajduje się czerwony krzyżyk). Ogólnie nic specjalnego – taka mini landrynka, jakie dołączają do rachunku w średniej klasy restauracjach. W hurtowni wart jest dosłownie groszy, czyli tyle, ile wydruk samej ulotki. Mówiąc wprost – żaden z tego wartościowy prezent. Ale wystarczający, by wzbudzić w odbiorcy odruch wdzięczności i naturalną chęć odwdzięczenia się. W domyśle rewanżem oczywiście ma być zagłosowania na "dołączoną do cukierka" kandydatkę. Poza tym podstawowym mechanizmem psychomanipulacji (reguła wzajemności), jesteśmy też, niczym pies Pawłowa, wystawiani na klasyczne warunkowanie według schematu: Sokołowska (bodziec neutralny) + cukierek (bodziec przyjemny) = przyjemna Sokołowska. Choć mało to wysublimowane, najwyraźniej tym razem się sprawdziło, bo pani Tatiana do sejmiku wojewódzkiego się dostała.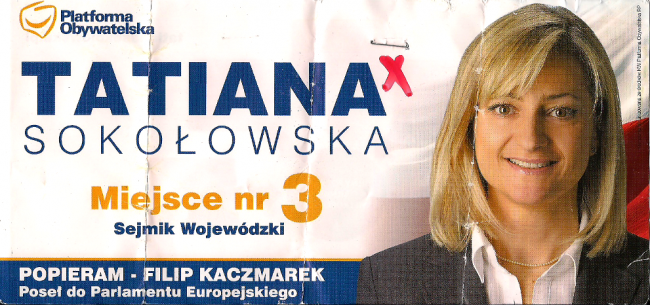 Ogólnie, choć poziom marketingu politycznego w tych wyborach samorządowych jest wyższy niż w poprzednich, to rewelacji nie ma. Zwłaszcza w mniejszych miejscowościach widać plakaty z przypadku, na których widnieją źle dobrane zdjęcia i nieprzemyślane hasła wyborcze. Z jednej strony dobrze, kiedy kandydat mówi tym samym językiem, co wyborca, ale z drugiej musi jeszcze wiedzieć, co powiedzieć oraz, przede wszystkim, jak. Siła marketingu politycznego jest ogromna. Miałem okazję przygotowywać przy okazji tych wyborów pewną mini kampanię. Pikanterii tej sytuacji dodaje fakt, że nigdy nie widziałem człowieka na oczy. Kandydat był młody, co w polityce raczej nie służy, i kompletnie niedoświadczony w działalności samorządowej. Co więcej – zupełnie nie widział też, o co mu chodzi i jaki ma program wyborczy. Jednak po krótkim wywiadzie o sytuacji w regionie udało nam się przygotować plakat, mini manifest polityczny oraz ogłoszenie do lokalnej prasy. W efekcie działania te zapewniły mu… ponad 60% głosów, dając najwyższy wynik w całej okolicy. Wystarczyło zrozumieć sposób myślenia lokalnego wyborcy i wytypować jego potencjalne oczekiwania, by potem dobrać adekwatne hasła, treść przekazu i podać mu to wszystko językiem dostosowanym do tego, którego ten wyborca używa na co dzień. Niestety z powodu lojalności do klienta nie mogę pozwolić sobie na przytoczenie tu owych materiałów wyborczych, jednak sam fakt, że "świeżak" może zdeklasować doświadczonych rywali, jest chyba wystarczająco wymowny.
Jak widać reklama jest nie tylko dźwignią handlu, ale i polityki. Dobra reklama oczywiście. Z jednej strony może to pachnieć hipokryzją – w końcu wkłada się człowiekowi usta coś, czego on sam nie powiedział, ani nawet nigdy by nie pomyślał. To prawda, ale są sytuacje, w których brak marketingowego wsparcia staje się paradoksalnie ciosem w samą esencję demokracji. Jak bowiem wiadomo, głosowanie musi być tajne. Źle poprowadzona kampania może dosłownie zdruzgotać tę zasadę, nie dając szansy na zachowanie anonimowości. Tak stało się w jednej z gmin, w której kandydat zdobył tylko jeden głos. Pech chciał, że głosować poszedł razem z… własną żoną. Pewnie gdyby ów kandydat zainwestował trochę w marketing polityczny, fundamentalna tajność głosowania nie zostałaby naruszona i zdradziecki czyn małżonki nie wyszedłby na światło dzienne. Nie ma jednak co rwać szat – gminie zapewne wyszło to na dobre, bo kto jak kto, ale akurat żona najlepiej wiedziała, ile wart jest wspomniany kandydat.