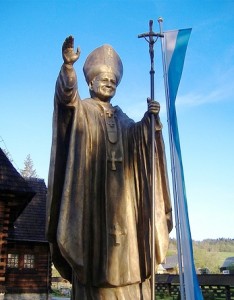 Lada dzień na ołtarze zostanie wyniesiony najsłynniejszy z Polaków. Nie stanie się tak jednak z mocy samej decyzji Kościoła katolickiego. Do beatyfikacja Karola Wojtyły potrzebne jest osobiste zaangażowanie samego Boga. Nasz papież nieco sobie ułatwił, bo to za jego decyzją liczba cudów niezbędnych do beatyfikacji została zmniejszona z dwóch do jednego. Niemniej to Bóg dokonuje owego cudu, by potwierdzić podejrzenia członków swojego Kościoła co do świętości danej osoby. Zastanówmy się przez chwilę, czy wspomniane uzdrowienie jest bardziej cudowne, czy może cudaczne.
W połowie XIX wieku zrodził się pomysł, by Maryję, matkę Jezusa, uznać oficjalnie za "niepokalanie poczętą". Paradoksalnie nie chodzi tu o powszechnie znane przeświadczenie, że Maria zachodząc w ciążę, z której narodził się Syn Boży, zachowała dziewictwo. Dogmat z 1854 roku uznał, że także poczęcie Matki Bożej przez jej rodziców – św. Annę i św. Joachima – odbyło się bez udziału grzechu pierworodnego. Trzeba jednak zaznaczyć, że nie był to pomysł odgórny, bo przed ogłoszeniem niepokalanego poczęcia, papież Pius IX zasięgnął opinii biskupów w bardzo demokratyczny sposób. 546 głosowało za przyjęciem dogmatu przy 56 głosach sceptycznych. W wyniku tego referendum papież ogłosił, co następuje: "Ogłaszamy, orzekamy i określamy, że nauka, która utrzymuje, iż Najświętsza Maryja Panna od pierwszej chwili swego poczęcia – mocą szczególnej łaski i przywileju wszechmogącego Boga, mocą przewidzianych zasług Jezusa Chrystusa, Zbawiciela rodzaju ludzkiego – została zachowana jako nietknięta od wszelkiej zmazy grzechu pierworodnego, jest prawdą przez Boga objawioną, i dlatego wszyscy wierni powinni w nią wytrwale i bez wahania wierzyć."
Żeby nie było niedomówień, głos w tej sprawie zabrała sama Matka Boża, mówiąc "Que soy era Immaculada councepciou", co w lokalnej gwarze typowej dla południowo-zachodniej Francji znaczyło "Ja jestem Niepokalane Poczęcie". Tak oto rozpoczęła się kariera największego centrum cudownych uzdrowień na Starym Kontynencie.
Dzisiejsze Lourdes to niewielkie miasteczko leżące u podnóży Pirenejów. Rokrocznie przybywają tu rzesze wiernych, licząc na cudowne wybawienie z chorób. Ma w tym pośredniczyć cudowna woda wypływająca z lokalnego źródełka. Oczywiście nie o zawartość tego płynu chodzi, tylko jego pochodzenie – z miejsca, w którym Maryja ukazała się 14-letniej Bernadette Soubirous, znanej powszechniej jako św. Bernadeta.
Spacerowanie po katedrze i w jej okolicach to naprawdę osobliwe doświadczenie. Dziesiątki, a może i setki wózków inwalidzkich, całe morze chorych i pokrzywdzonych przez los. Wszyscy liczący na cud, cud własnego uzdrowienia.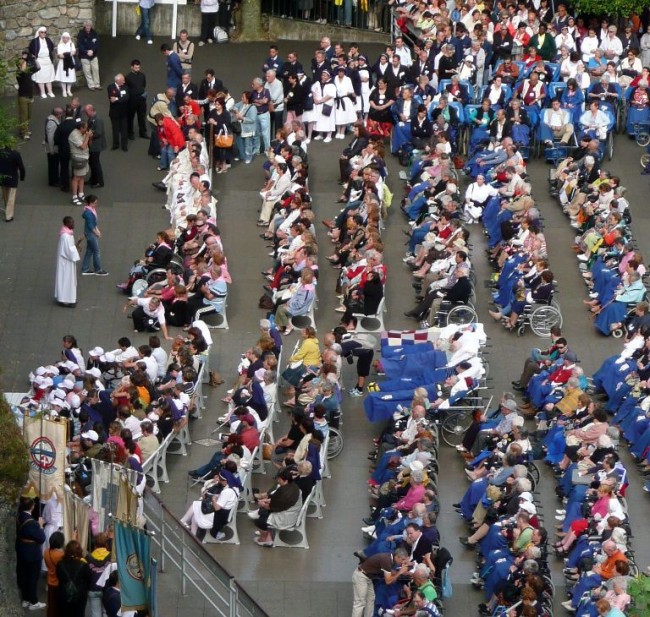 Od uznania objawień z Lourdes upłynęło już ponad 150 lat. Przez ten czas cudownego uzdrowienia szukało tam ok. 100 milionów ludzi. Niektórzy skutecznie. Kościół katolicki uznał 65 przypadków – dane na 1994 rok.
Czyli jednak cuda się zdarzają? Jak najbardziej. Przeliczmy, jak często.
Nasza szansa na cudowne uzdrowienie zależy od tego… jakiej jesteśmy płci. Jeśli jesteśmy kobietą, rośnie aż dziesięciokrotnie! Abstrahując jednak od doszukiwania się przejawów bożej dyskryminacji, odwołajmy się do prostego rachunku. Podzielenie 65 przez 100 000 000 mówi nam, że szansa na cudowne uzdrowienie po odwiedzaniu Lourdes wynosi jak 1 do 1 538 461. Dla porównania, szansa na trafienie 6 w Lotto, czyli dawnym Dużym Lotku, wynosi jak 1 do 13 983 816. W sumie nie wygląda to tak źle, bo mamy 9 razy większa szansę wyzdrowieć w Lourdes niż stać się milionerami. Osobną kwestią jest to, że kupon Lotto kosztuje 3 zł, a wyprawa do Lourdes jest co najmniej kilkaset razy droższa.
Oczywiście jestem tu nieco cyniczny. Zdrowie jest o wiele cenniejsze niż pieniądze. Choć… w tym przypadku też zdajmy się na matematykę. Wypadek lotniczy zdarza się średnio raz na 1,4 mln lotów. Czyli mamy większą szansę stracić zdrowie lub życie, lecąc po uzdrowienie do Lourdes, niż je tam odzyskać. Jeśli jednak należymy do grona pielgrzymów niskobudżetowych, jadących autokarem, nasza wyprawa z matematycznego punktu widzenia wygląda już jak statystyczne samobójstwo.
Statystyka statystyką, ale istnienia cudów samą matematyką podważyć się nie da.  Jednak te 65 przypadków cudownych uzdrowień nie zostało tak zaklasyfikowanych bez powodu. W tym miejscu musimy sobie jednak zdać sprawę z pewnego oczywistego, ale często przemilczanego faktu. Niewyjaśnione wyleczenia są znane medycynie! Rzadko bo rzadko, ale czasem zdarza się tak, że pacjent zdrowieje, chociaż nic na to nie wskazywało. I to bez względu na to, czy był katolikiem, muzułmaninem, buddystą czy ateistą.
Dzieje się tak nawet w przypadku chorób powszechnie uważanych za nieuleczalne. W przypadku raka statystyka ta wynosi, w zależności od  rodzaju, od 1:10 000 do 1: 100 000. W Lourdes z raka cudownie wyleczyły się 3 z owych 65 osób. Jeśli przyjąć, że jakieś 5% odwiedzających wspomniane sanktuarium chorowało na tę chorobę, wypadałby oczekiwać  od 50 do 500 przypadków niewytłumaczalnych wyzdrowień. Tymczasem potwierdzono 3. Zatem z czysto statystycznego punktu widzenia większe prawdopodobieństwo wyzdrowienia mieli chorzy, którzy zdecydowali się pozostać w domu.
Oczywiście to tylko uogólnienia. Możemy spokojnie przyjąć, że uzdrowień było więcej (tak między 50 a 500 właśnie), tylko nie wszystkie zostały należycie udokumentowane. Jednak to właśnie niemożność medycznego wytłumaczenia ozdrowienia jest tym, co wynosi Jana Pawła II na ołtarze. Procedura beatyfikacyjna jest nieugięta i domaga się cudu. W przypadku wielu świętych czy beatyfikowanych wystarczyły jakieś niewielkie anomalie w rozkładzie zwłok – ich wolniejsza degradacja ma być świadectwem osobistego zaangażowania Boga w losy ciała świętego. No, ale chyba nie chcielibyśmy, żeby nasz narodowy bohater jedynie wolniej sobie gnił. Dlatego Kościół rozglądał się za jakimś bardziej wzniosłym objawem świętości.
Padło na młodą francuską zakonnicę. Właściwie niewiele o niej wiadomo, bo Kościół woli swoje dochodzenie zachować w tajemnicy. Stwierdzono u niej chorobę Parkinsona, która ustąpiła na skutek modlitw za wstawiennictwem Jana Pawła II. Jakiś czas temu pojawiły się informacje, że objawy choroby jednak powróciły i część lekarzy wycofała się z opinii o niewytłumaczalnym uzdrowieniu.
Emerytowany prefekt Kongregacji Spraw Kanonizacyjnych kardynał Jose Saraiva Martins oficjalnie przyznał się do braku jednomyślności wśród lekarzy w słowach:  "To możliwe, że jeden czy dwóch konsultantów medycznych mogło mieć jakieś wątpliwości. I one niestety wyciekły. Jednak nie możemy mówić, że lekarze nie zaakceptowali tego cudu".  Kardynał Martins wyjaśnił dalej, że "wątpliwości te wymagały dalszych badań. W takich przypadkach kongregacja zaprasza do współpracy większą liczbę lekarzy i prosi ich o wyrażenie opinii." Znaczy się – jednomyślność nie jest wymagana. Czyli zupełnie jak w przypadku ogłoszenia dogmatu o niepokalanym poczęciu Maryi. Wystarczyło, że większość biskupów była tego zdania.
Po przeczytaniu poprzednich akapitów można dojść do wniosku, że nieżyjący Karol Wojtyła nie może mieć wpływu na zdrowie tych wciąż żyjących. To byłby jednak błędne rozumowanie i… zaraz zamierzam to udowodnić.
Ludzka psychika ma fenomenalne zdolności. Potrafi wpływać na ciało, sprowadzając na nie choroby, a także uzdrowienie. Niestety, jej pole działania jest ograniczone do sfer zależnych od umysłu. Psychika nie spowoduje odrośnięcia ręki ani zrośnięcia się uszkodzonego rdzenia kręgowego. Jednak potrafi np. pokonać paraliż (jeśli jest wynikiem dysocjacji), ślepotę histeryczną, bóle, wysypki lub wręcz przynieść śmierć. Opisywano, jak ludzie z kręgu kultu Voodoo faktycznie umierali po rzuceniu na nich klątwy – tak bardzo wierzyli, że umrą, iż naprawdę umierali ze strachu na jak najbardziej rzeczywisty zawał serca.
Gdy człowiekowi zawiązać oczy i wmówić mu, że dotyka się go pokrzywą, faktycznie poczuje on ból, a na jego skórze w dotykanym miejscu pojawi się zaczerwienienie. Badania wykazały też, że osobom w depresji i żałobie oraz… studentom w czasie sesji spada liczba białych krwinek, a tym samym tracą odporność.
Gdzie tu miejsce na cuda papieża? Spokojnie, zaraz zrobimy.
Doniosłym faktem z pogranicza psychologii i medycyny było odkrycie, że człowiek może opóźnić swoją śmierć, jeśli tylko bardzo tego chce. Wśród Chińczyków aż o 35% spada śmiertelność w tygodniu poprzedzającym Święto Plonów. Statystyka wyrównuje się po festiwalu, bo o tyle samo rośnie liczba zgonów. Dokładne badania wykazały, że cudowny spadek śmiertelności dotyczy tylko kobiet po 75 roku życia. Tak się składa, że obchodom Święta Plonów przewodniczą najstarsze kobiety w danej rodzinie. Są one w stanie powstrzymać nadejście śmierci przez tydzień lub dwa, po to, aby wypełnić swoje ceremonialne obowiązki. Podobne zależności występują wśród Żydów, z tą różnicą, że  to najstarsi mężczyźni przewodniczą obchodom i to im w newralgicznym momencie wydłuża się życie. Wnikliwsze analizy wykazały, że bez względu na płeć ludzie starają się dożyć  swoich urodzin i dociągnąć do kolejnego roku, naginając czas i prawa medycyny.
I tu dochodzimy do meritum. Karol Wojtyła faktycznie wpłynie na życie wielu ludzi w bardzo pozytywny sposób – wydłuży je. Beatyfikacja Polaka to ogromnie poruszające doswiadczenie dla rzeszy religijnych osób. Zapewne słuchaczki Radia Maryja, z których wiele stoi już nad grobem, bardzo ten fakt przeżywają. Przecież tak bardzo wielbiły swojego papieża, tyle czekały na potwierdzenie swojego z dawna odczuwanego przekonania o jego wielkości. I miałyby teraz umrzeć? Nie – zepną się i poczekają do maja. I to właśnie będzie prawdziwy CUD za wstawiennictwem Jana Pawła II.