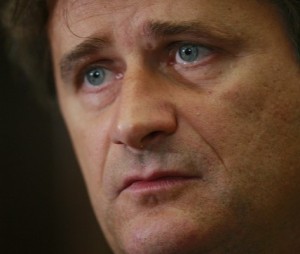 Psychologia to dziedzina stawiająca sobie za cel zrozumienie ludzkiej psychiki. Zwykle dzieje się w gabinetach terapeutycznych, ale wiele można powiedzieć także o kompletnie obcych osobach, które znamy choćby tylko z mediów. Taka zdalna analiza jest nawet jednym z elementów niektórych zajęć na studiach psychologicznych. Oficjalnie jednak żaden szanujący się psycholog tego typu opinii publicznie nie wygłosi, choć prywatnie – jak najbardziej. Ponieważ nie pracuję na żadnej uczelni ani jako terapeuta, mogę pozwolić sobie na komfort napisania więcej niż "wypada". Komu to nie odpowiada – niech nie czyta.
Jakiś czas temu odważyłem się skomentować śmierć Jadwigi Kaczyńskiej w kontekście wpływu tego wydarzenia na jednego z najważniejszych (jednak!) polityków w Polsce. W efekcie straciłem kilkanaście "lajków". Mniejsza o nie. Faktem jest jednak, że do tej pory nikogo poza Jarosławem nie opisywałem. W tym wpisie zamierzam nadrobić to niedopatrzenie.
Zacznijmy od spraw bieżących. Janusz Palikot znowu wystrzelił. I tym razem nie była to przemyślana prowokacja, tylko reakcja z poziomu nieświadomości. Chodzi mi oczywiście o wypowiedź na temat Wandy Nowickiej: "W naszych czasach nawet twardej wymiany poglądów nie uważa się za formę przemocy. A czytając to, podświadomie, czyli psychoanalitycznie, być może Wanda Nowicka chce być zgwałcona, ale to nie ze mną, bo ja nie jestem typem człowieka, który do takiej roboty się nadaje."
Politycznego kontekstu komentować nie zamierzam, setki innych osób już się do tego zabrały. Chcę tu jednak zauważyć pewną prawidłowość – jeśli ktoś z polityków lub dziennikarzy powołuje się na psychoanalizę, jego wywody zwykle mówią więcej o nim samym, niż o osobie analizowanej. Nie inaczej jest w tym przypadku (na marginesie – w psychoanalizie mówi się o "nieświadomości" a nie "podświadomości"). Ta wypowiedź Palikota świetnie wpasowuje się w jego narcystyczny rys osobowości (choć do Wałęsy to mu jeszcze wiele brakuje). Narcyzm znaczy tu tyle, że ego osoby jest oparte na swoim zewnętrznym obrazie. Ktoś taki jest zależny od reakcji otoczenia, wręcz się nią karmi. To akurat nie jest wielkim odkryciem, bo Palikot od zawsze uwielbiał szokować i manipulować reakcją widzów. Generalnie wyglądało na to, że ma gdzieś reakcje oponentów, ale kiedy mu na czyjejś opinii naprawdę zależało, wykładał się na całej długości. Tak bywało na przykład u różnych dziennikarzy, którym Palikot próbował udowadniać, że jest mądry, skuteczny i ma jakiś plan. Broniąc swojego ego potrafił opowiedzieć całą swoją cyniczną taktykę, co w oczywisty sposób musiało zrażać wyborców – w końcu nikt nie lubi czuć się wykorzystywany i manipulowany. Można było jednak odnieść wrażenie, że polityk z Biłgoraja tak bardzo chce wyjść na mądrego przed rozmówcami, że jest gotów pokazać, w którym rękawie ukrył asa (żeby mu nie zarzucali, że go nie ma) – co oczywiście musi spalić tak "ukrytą" kartę.
Wracając jednak do sprawy Nowickiej – dlaczego wprawny polityk wypluwa z siebie tekst, który go w oczywisty sposób zdyskredytuje przed częścią jego własnych wyborców? Jestem przekonany, że tu także chodzi o obronę swojego narcystycznego ego. Jeszcze na studiach robiłem badania, w którym sprawdzałem zależność osobowości od gotowości do działań odwetowych. Właśnie osoby narcystyczne były najbardziej mściwe. Zagrożone ego musi się bronić i kieruje swoją agresję na źródło problemów. Domyślam się, że tak było i tym razem. Jest to cecha tym bardziej kłopotliwa, że trudna do opanowania. Osoba narcystyczna nie tyle planuje swoją zemstę, co daje się ponieść nieświadomym tendencjom do odwetu. Nawet wbrew zdrowemu rozsądkowi. Dlatego myślę, że Janusz Palikot jest dobrym performerem, ale kiepskim materiałem na premiera. Taka cecha charakteru sprawiałaby, że dość łatwo by go było rozegrać bardziej opanowanym graczom politycznym.
Zresztą mam wrażenie, że wyczucie Palikota jest przeceniane. Prawdą jest, że umie całkiem nieźle wpasować się w aktualne trendy, ale popełnia nieraz podstawowe błędy wizerunkowe. Bardzo widocznym tego przejawem było przyjęcie w swoje szeregi Piotra Tymochowicza, czyli osoby ze wszech miar spalonej. To ktoś o wizerunku cwaniaczka, ale takiego kompletnie niewiarygodnego. Palikot przyjął go do swojej dopiero rodzącej się partii krótko po totalnej klęsce wielkiego projektu Tymochowicza, którym był portal mający zapewniać… nieśmiertelność. Cokolwiek by nie mówić o specu od kreowania wizerunku, nie jest to osoba przodująca w rankingach wiarygodności. I kiedy powstawała partia niosąca na swoich sztandarach hasła oczyszczenia polityki, jej twarzą został człowiek moralnie brudny, który cynicznie wylansował Samoobronę i jej lidera. Jeśli przyjęcie takiej osoby do nowej, świeżej partii nie jest strzałem w kolano, to co nim jest?
Palikot i jego ugrupowanie są niby trzecią siłą w parlamencie, ale przy PO i PiS to jednak wciąż jest ugrupowanie małe i niewiele znaczące. Niemniej Ruch już kilka razy miał okazję urosnąć. Tyle, że zawsze gdzieś zabrakło zdrowego rozsądku. Najpierw Palikot objawił wyborcom Tymochowicza, potem pojawiły się zbyt szczere wypowiedzi lidera partii, który czasem dawał się ponieść emocjom, tak jak i ostatnim razem. No i błaznowanie już się trochę ludziom przejadło – o ile wielu Polaków po cichu kibicowało głównemu "prześladowcy" braci Kaczyńskich, o tyle potem stało się dla nich jasne, że na dłuższą metę wolą nudnego Bronka, niż nieprzewidywalnego komika. To trochę tak, jak z Kaczyńskim, który tyle razy był na drodze do ponownego przejęcia władzy, ale zawsze jakoś na ostatniej prostej sam podkładał sobie nogę. Ale tak to już jest – największą przeszkodą do sukcesu wielu polityków jest ich własna osobowość.
Ruch Palikota teoretycznie mógłby być beneficjentem wpadek Platformy. Ale nie będzie, bo jest za mało poważny i sam się marginalizuje. Gdyby jakiemuś mądremu doradcy z zakresu marketingu politycznego udało się wpłynąć na Palikota i zmienić jego wizerunek z błazna na "męża stanu", być może otworzyłyby się drzwi do władzy. Ale jak można choćby snuć takie plany w konserwatywnej Polsce, idąc pod rękę z dość groteskowym gejem i z kobietą o wyjątkowo męskim rodowodzie (i wyglądzie)?
Poza tym w Januszu Palikocie da się zauważyć jeszcze jedną znamienną rzecz. Jest to człowiek dość… depresyjny. Prawie wszystkie jego fotografie, które można znaleźć w internecie, zdradzają takie czy inne oznaki smutku. Jest to widoczne szczególnie na poziomie oczu, które z natury rzeczy są najbardziej prawdomówne, o czym kiedyś już pisałem. Mimiczne oznaki smutku widoczne są nawet na zdjęciach, na których polityk próbuje się uśmiechać. Po co bogaty biznesmen pakuje się w politykę i robi z siebie głównego wroga dla setek tysięcy ludzi? Zaryzykowałbym tezę, że jest to próbą ucieczki od skłonności depresyjnych. Występy w telewizji, prowokacje, kłótnie i konflikty zmuszają do działania, angażują i wyciągają do zewnętrznego świata, tym samym odciągając od wewnętrznych problemów. Myślę, że to są właściwe przyczyny, dla których Palikot jest w polityce. Tym bardziej, że trudno podejrzewać by były nimi dość zmienne ideały ani tym bardziej chęć zysku (skoro ten wyjątkowo majętny polityk oddaje swoją dietę poselską na cele charytatywne). Narcyzm + depresja? Myślę, że coś w ten deseń.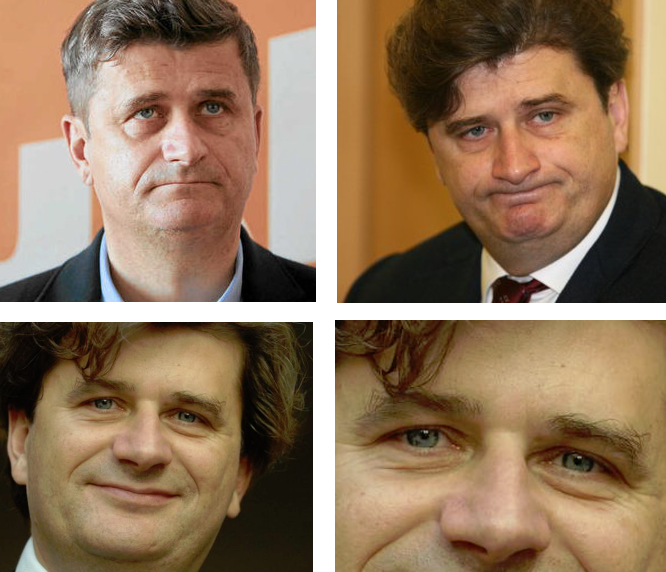 Zejdźmy już jednak z Palikota i zajmijmy się bardziej znaczącymi obecnie graczami. Platforma to dzisiaj Donald Tusk i potem długo, długo nikt. Co można powiedzieć o tym panu? Ja nie potrafię zbyt dużo. Donald jest sprawny i ma wyczucie społeczne, ale jest też śliski i bezideowy. Jedyną jego wartością wydaje się władza i jej utrzymanie, zarówno w kraju jak i w partii. Mam jednak wrażenie, że ten człowiek nie zawsze był taki sam. Kiedy przegrywał wybory prezydenckie w 2005 roku, widziałem faceta raczej miękkiego, mówiącego delikatniejszym głosem. Dzisiaj wydaje się być silniejszy, bardziej władczy i wyrachowany. Typ gracza, który rozkochał się w wygrywaniu. Stawką nie są już żadne ideały polityczne (choćby liberalizm) i ich wcielanie w życie, ale utrzymanie się przy władzy, czyli pozostanie samcem alfa. Czy tak dotkliwa (bo odniesiona wbrew rankingom wieszczącym wygraną) porażka mogła zmienić Tuska? Myślę, że tak, bo spoliczkowane (ale nie rozgromione) ego boli najbardziej.
Swoją drogą bardzo dobrze się składa, że Bronisław Komorowski nie jest samcem alfa, ani nawet beta. Gdyby w pałacu prezydenckim siedziała osoba chcąca równie mocno jak Tusk stawiać na swoim, mielibyśmy nie tyle "szorstką przyjaźń", co "cichą wojnę". Jeśli chodzi o samego Bronka, to doskonale wpisuje się on w obraz przeciętnego, stereotypowego Polaka – wąsata pierdoła, która powołuje się na tradycję, czyta Super Express, coś tam może i wie, ale czasem pomyli, a tak ogólnie to nie lubi się wychylać poza schematy. Kowalski, Nowak, Kaczmarek itd. też tacy są – prezydent to ich człowiek! I to właśnie znajduje odbicie w sondażach zaufania. No bo jak nie ufać osobie, która jest taka "polska"?
O Leszku Millerze można powiedzieć tylko tyle, że jest niezły w tym, co robi. Twardy zawodnik, który nie raz już podnosił się po nokaucie. Potrafi przyjąć ciosy, sam też nieźle boksuje, ale kiedy trzeba, potrafi być czarujący. Co tu dużo mówić – stara szkoła. Moskiewska.
No i PiS, partia, która jest wisienką na tym politycznym torciku. Podtrzymuję swoje słowa – śmierć Jadwigi Kaczyńskiej będzie miała daleko idące konsekwencje polityczne. Teraz Jarosław jest już kompletnie sam. Albo wygrają w nim siły dośrodkowe i zamknie się w sobie, może nawet popadnie w depresję, albo ruszy do ataku pomścić wszystkie swoje cierpienia. Osobowość edypalna jest mieszanką narcyzmu  i wrogości wobec rywali, a taka właśnie wydaje się być u Jarosława. Ktoś taki wyrasta z chłopca, który zyskuje wyjątkową pozycję jako "partner" matki. To Jarosław został na stałe z nieżyjąca już Jadwigą i czuł podobno z tego powodu wyższość nad bratem. Z drugiej strony naturalne byłoby, gdyby były premier jednak po cichu zazdrościł Lechowi udanego życia osobistego. Zakładam, że tak właśnie było, bo to całkiem typowa reakcja, zwłaszcza dla osób startujących z dokładnie tego samego punktu – bliźniaków. I tu dochodzi do znamiennego wydarzenia – ginie osoba, wobec której nasze nastawienie było w naturalny sposób ambiwalentne. Nie możemy przyznać przed sobą, że zazdrościliśmy, bo podważałoby to naszą wyjątkowość. Musimy więc wyprzeć z siebie poczucie winy i tę winę przypisać innym.
Osobiście należę do osób, które nie widzą w Jarosławie cynicznego gracza, ale bardzo spójną i autentyczną osobę. Kiedy mówi o zamachu, robi to w sposób naturalny i wiarygodny. On naprawdę w niego wierzy. I naprawdę chce się zemścić na tych, którzy według niego do tego  zamachu doprowadzili. Teraz ma nawet dwa powody – śmierć brata, ale i matki, która podobno zachorowała w wyniku stresu po śmierci pierwszego syna. Dlaczego tam musiał być zamach? Bo ktoś źle życzył Lechowi. Czy był to Putin? Może. Ale na pewnym poziomie był to też zapewne sam Jarosław, zazdroszczący nieżyjącemu założenia rodziny, posiadania żony, dziecka i wnuków. Z tym, że taka zazdrość była czymś naturalnym i wcale nie wstydliwym – wszyscy czasem odczuwamy w sobie niskie pobudki, tyle, że zwykle potrafimy je zaakceptować, zasymilować, a w ten sposób oswoić i zredukować. Ale czy potrafi to zrobić ktoś narcystyczny, kto z samej definicji czuje się wyjątkowy? Może być mu trudno. Wtedy złe uczucia muszą być wyprojektowane (przypisane innym osobom), które w efekcie postrzegane są jako wrogie, spiskujące, mściwe. Z takim wrogiem się nie dogaduje, takiego wroga się niszczy, a przynajmniej osadza w więzieniu. I jeśli w wyniku błędów PO Jarosław znowu dojdzie do władzy, będziemy mieli Berezę Kartuską bis.
Na koniec coś o partiach rolniczych. Jakie jest PSL, każdy widzi – rdzennie polskie i swojskie. Tu liczy się tradycja i rodzina, zwłaszcza swoja. Ciekawszymzjawiskiem była za to Samoobrona. Co by nie mówić o Andrzeju Lepperze, była to postać autentyczna. Autentycznie prosta i autentycznie waleczna. Lepper zabłysnął podczas akcji wysypywania zagranicznego zboża z wagonów. Nie było to zgodne z prawem, ale… w czasach polityki "układów" stanowiło jedyne skuteczne rozwiązanie. Do Polski importowano zboże po cenach, które zabijały rodzime rolnictwo, czego nie robiłby żaden zachodni kraj (każdy raczej wspiera własną produkcję). Ale była to świetna okazja dla rodzimych układów polityczno-biznesowych, które z okazji do zarobku rezygnować w imię jakichś narodowych interesów nie zamierzały. Andrzej Lepper położył temu kres – nielegalnie, ale skutecznie. Akcja zakończyła się sukcesem i prosty rolnik z Pomorza uwierzył w swoje możliwości. A wraz z nim uwierzyła spora część Polski.
Niestety, jest coś w starym przysłowiu, że "chłop ze wsi wyjdzie, ale wieś z chłopa nigdy". No i mimo nowo nabytej opalenizny i eleganckich garniturów, zaczęły się nieprzemyślane wypowiedzi i prostackie zachowania. Ot, cecha autentyczności. I choć wiele złego można powiedzieć o Lepperze, w jednym miał rację, choć nikt nie odważył się mu tego przyznać. Jego słynne pytanie "Jako można zgwałcić prostytutkę?" było bardzo trafnym spostrzeżeniem. Bo do żadnego gwałtu nie doszło! To był konflikt o charakterze finansowym. Nasz europoseł skorzystał z usług prostytutki za jej zgodą, ale potem jej… nie zapłacił. A ta z zemsty zgłosiła gwałt w imię zasady, że nieopłacony seks musi nim być. Tymczasem ewentualny proces powinien się toczyć nie w sądzie karnym (chyba, że za składanie fałszywych zeznań), ale w cywilnym – na gruncie nieuregulowanych roszczeń finansowych.
Ogólnie polityka i poglądy społeczne to wielkie pole dla naszych projekcji. Zastanawialiście się kiedyś, co z jednej osoby czyni zwolennika lewicy, z innej liberała, a z jeszcze innej zagorzałego konserwatystę? Wcale nie jest to racjonalna ocena sytuacji. Gdyby tak było, wyborców można by uszeregować pod względem inteligencji, a tak nie jest. Równie sprawni intelektualnie ludzie mogą stać po jednej jak i po drugiej stronie barykady. Nie jest to nawet interes poszczególnych grup społecznych, bo – pomijając PSL stawiające na rolników – nie ma wielkich rozbieżności między partiami w podejściu do, dajmy na to, biznesu, podatków czy polityki zagranicznej. O wyborze decydują nasze własne emocje i często nieświadome procesy psychiczne. Ale to już temat na zupełnie inną opowieść.