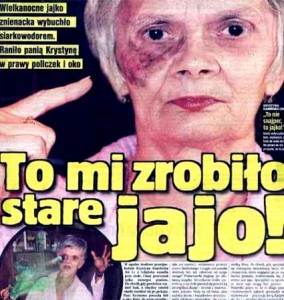 Stephen King, jeden z najbardziej poczytnych pisarzy wszech czasów, przyrównał swoją twórczość do "big Maca z dużymi frytkami". Skoro autor tak błyskotliwych dzieł jak "Zielona mila" czy "Skazani na Shawshank" jest świadomy swojego (pośledniego) miejsca w kulturze, do czego należałoby przyrównać naszych rodzimych zabawiaczy mas? Dla takiego na przykład Kominka widziałbym odpowiednik w kromce (czerstwego) chleba ze (zjełczałym) smalcem.
Inspiracją do napisania tych słów była obszerna relacja z imprezy nazwanej Blog Forum Gdańsk 2012. Prawdopodobnie nigdy bym o czymś takim nie usłyszał, gdyby nie regularne "newsy" zamieszczane na portalu naTemat, z którym do niedawna wiązałem jeszcze pewne nadzieje. Tak więc zacząłem się przyglądać temu czemuś, co nazwano górnolotnie "blogosferą". Podczas imprezy prowadzono wzniosłe dyskusje na temat kulturotwórczej i opiniotwórczej roli blogów. No cóż, wygląda na to, że także i tym przypadku król jest nagi.
Przejrzałem kilka topowych blogów. I nie dziwię się, dlaczego są topowe – są odpowiednikami gazetowych tabliodów. Autorzy udzielają tam obficie banalnych odpowiedzi na banalne pytania. No, ale za to nadrabiają pozą. Zadziwiająco wielu wojowników popkultury pisze o sobie w trzeciej osobie, np. tytuł wpisu "Metro wkurzyło Kominka", "…nawet Segritta" itp. Ostatnio jakoś tak się porobiło, że w cenie jest sukces i to nieważne na jakim polu. Wspomniane naTemat zrobiło obszerny wywiad z niejakim Arturem Kurasińskim. Przecierałem oczy ze zdumienia – kto to, k.., jest i dlaczego kogokolwiek to interesuje?
Odpowiedź jest chyba dość banalna – to interesuje statystycznego Polaka. I tak było zawsze. Najbardziej poczytnymi dziennikami są tabloidy – Fakt i Super Express. Możemy z nich poznać plotki z życia gwiazd oraz uproszczone do absurdu komentarze dotyczące bieżących wydarzeń, dokładnie w tej kolejności. A komentarze te z całą pewnością nie silą się na obiektywizm, choć emocje – owszem – budzą. Dowiemy się też trochę o życiu ludzi takich jak my i ich problemach, a na końcu możemy pooglądać kultową "gołą babę" (gdzieś w okolicach ostatniej strony). Czyli… dokładnie to samo, co na popularnych blogach. No, ale tabloidy mają jedną istotną przewagę – są wciąż bardziej poczytne. Dlatego nawet pan prezydent Komorowski postanowił bezwstydnie podlizać się tej "ważnej i unikatowej" gazecie, jaką jest Super Express, pisząc do niej list gratulacyjny z okazji urodzin. Życzył w nim redakcji "kolejnych ciekawych pomysłów", które przyczynią się do "aktywizacji obywatelskiej Polaków". Gdybym nie miał kiedykolwiek w ręku Super Expressu, pomyślałbym, że to coś w stylu The Economist. Podobnie, gdybym nie zajrzał na blogi Kominka, po tym jak go opisują, zostałbym z wrażeniem, że to jakiś wybitny krytyk literacki albo inny wielki autorytet w dziedzinie mediów.
To wszystko ma jednak jakiś wspólny mianownik. Niedawno przetoczyła się przez media dyskusja o… przyszłości mediów. Zaczęła się od niby banalnego stwierdzenia Grzegorza Miecugowa, dziennikarza TVN. Powiedział on, że największą słabością mediów jest odbiorca. Według niego tabloidyzacja mediów wynika po prostu z tabloidyzacji odbiorców. Chcąc zarabiać, telewizja, radio i gazety dostosowują się do tego, co cieszy się popularnością u jak największej masy ludzi. Sam Miecugow przyznał się, że zapraszał do swojego programu Nelly Rokitę i Andrzeja Leppera nie dlatego, że był ciekaw ich opinii, ale przez to, że oni przyciągali przed telewizory największą widownię. Z tym utyskiwaniem nie zgodził się m.in. Tomasz Machała, naczelny naTemat.pl. W swoim wywodzie dość jasno dał do zrozumienia, że rynek potrzebuje wizjonerów – w domyśle na polskim rynku jest nim on sam i jego portal. Moim zdaniem ukrywanie reklam w sponsorowanych tekstach zmianą jakościową jednak nie jest. Tak jak i sam portal – po szumnych zapowiedziach stał się zwykłą platformą blogową, pełną banałów i historii podobnych do tej o mężczyźnie trzymającym kredens. Do pełni szczęścia brakuje tam tylko Kominka i Sylwii Kubryńskiej (tej od porad, co zrobić po rozstaniu). Ale może kiedyś – kto wie.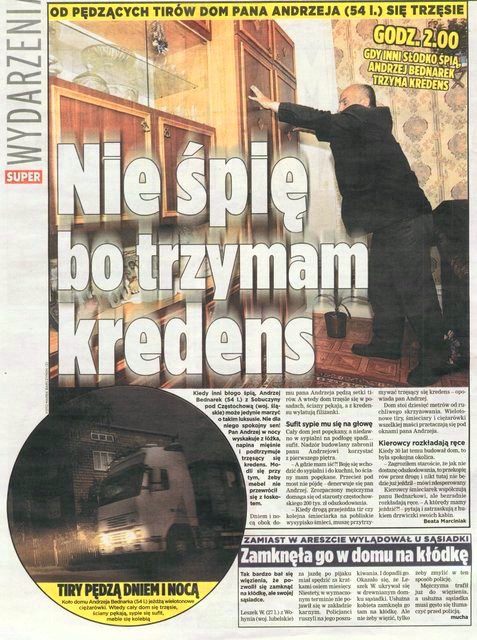 Wracając jednak do mediów – cała ta dyskusja o tym co jest przyczyną a co skutkiem, przypomina bezsensowne dywagowanie nad tym, co było pierwsze – jajko czy kura. Tak naprawdę ani jedno, ani drugie. Pierwsze jajo powstało jako prymitywna forma zarodka jakiegoś pradawnego organizmu, które od kury różniło się jak gwóźdź od komputera. Tak samo media – walcząc o rynek, schlebiają coraz niższym gustom, w efekcie te gusta kształtując i tym samym sprawiając, że z czasem muszą obniżać poprzeczkę jeszcze bardziej. To samo jest z internetem. Dziesięć lat temu było to nowe medium, dostępne dla tych bardziej skomputeryzowanych, znających angielski, mających zwykle jakieś wykształcenie lub przynajmniej ciekawość świata. Teraz z "neta" korzysta praktycznie każda pani Basia, Krysia i pan Roman spod budki z piwem. Zatem poziom portali masowych musi równać do poziomu ich przeciętnego odbiorcy. W efekcie dobry i błyskotliwy dziennikarz jest często zmuszany do odwalania (Ma)chały w imię godziwego zarobku.
Oczywiste jest też, że nasz prezydent nie kadził Super Experssowi z powodu swojego uwielbienia dla poziomu prezentowanego przez tabloidy. Robił to, bo chciał mieć dobrą prasę – gdyby nie to, że chodzi o prezydenta, przyrównałbym takie zachowanie do zwykłego… no, nie napiszę czego, żeby niepotrzebnie nie narażać się na zarzuty prokuratorskie. Niech sobie każdy sam domyśli stosowne porównanie. A że chwaląc takie plugastwo, obniżył poprzeczkę i poparł swoim autorytetem pismo dobre co najwyżej do wykorzystania w toalecie, mówi się trudno. Sytuacja ta co prawda zepsuła powietrze w otoczeniu prezydenta, ale – jak mawiał klasyk – nie nazywajmy szamba perfumerią.
Pewnie część z czytających weźmie mnie za hipokrytę, bo sam bloga prowadzę. Niby tak, ale – na B(l)oga – nie nazywajcie mnie blogerem. To określenie pasuje do Kominka i kolegów, ja raczej pisuję felietony na swojej domenie, niż bawię się w płatne recenzje iPhone`a 5. No i chyba też nie gonię za sensacją, a według Kominka fatalnym błędem jest "opisywanie rzeczywistości taką, jaką ona jest, silenie się na obiektywizm". Dla mnie ten obiektywizm jednak znaczy coś pozytywnego i zależy mi na nim dużo bardziej niż popularności, więc w jednej kategorii z "rasowymi" blogerami startować nie chcę.
No dobra, trochę sobie ponarzekaliśmy – to nawet zdrowo odreagować frustracje dnia codziennego. Jasne, że w sieci jest też trochę wartościowych rzeczy. Osobiście jestem fanem dobrych tekstów dziennikarskich, lubię poczytać, co ciekawego wymyślili Lis, Żakowski czy Najsztub. Nie zawsze się z nimi zgadzam, ale zawsze czytam z ciekawością. I pewnie, że przeglądam też kilka miejsc, które zwykle określa się blogami. Lubię zajrzeć na przykład, co ciekawego napisali autorzy zajmujący się psychologią (Neurotyk.net czy Psychika.eu), czytam też internetowe felietony Tomasza Lisa i okazyjnie paru innych autorów. Generalnie szukam albo intrygującej wiedzy albo odważnego przełamywania schematów. Z tej ostatniej kategorii poleciłbym jeszcze mniej znanego Jarka Żylińskiego – cenię faceta za to, że umie sensownie iść pod prąd. Choć pisze w tej samej kategorii co pani Dorota Zawadzka (samozwańcza "Superniania"), to jednak jego teksty są czymś więcej niż stekiem banałów i narcystycznym samozachwytem pani Zawadzkiej. Nie muszę chyba jednak mówić, kto z nich jest uwielbiany przez tłumy oklaskujących każde słowo czytelników.
Nie chcę tu pozować na jakiegoś kompletnego buntownika, bo w pewien sposób cieszy mnie to, że mam tych kilku czytelników. No, może kilkunastu, bo tyle osób odpowiedziało na mój apel i wpłaciło na zbiórkę organizowaną dla Sebastiana. Szkoda, że tak mało, ale fajnie chociaż o tyle, że udało się z tego uzbierać całych kilka stówek – mam nadzieję, że w ciągu najbliższych miesięcy zakończymy tę zbiórkę sukcesem i pomożemy facetowi wrócić do zdrowia. A co do mojej roli w tej całej blogosferze, to tak po cichu marzę, aby nie być kolejną kromką chleba ze smalcem, ale czymś w rodzaju… książki dietetycznej. Może złożonej z dość dosadnych felietonów, ale jednak dietetycznej. Mam nadzieję, że przynajmniej częściowo mi się to udaje. Tak więc Trzecie dno przestrzega – nie jedzcie zbyt dużo smalcu, bo podnosi poziom cholesterolu, co źle wpływa na procesy poznawcze ;)
PS. Kolejny, tym razem bardziej psychologiczny wpis, jest już gotowy i pojawi jakoś pod koniec tygodnia.