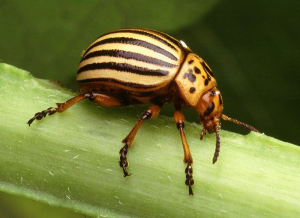 Kiedy byłem dzieckiem, często jeździłem z dziadkami na działkę. Nie było tam za wiele rzeczy do roboty. Jedyną rozrywką było dla mnie obserwowanie przyrody. Ponieważ moi dziadkowie uprawiali m.in. ziemniaki, co jakiś czas trzeba było "zebrać stonkę". Te małe czarno-białe żuczki nie wydawały się szczególnie interesujące, kiedy żerowały w swoim naturalnym środowisku. Jednak po zdjęciu z krzaka i wrzuceniu do wody, działo się coś interesującego. Jeden owad wchodził na drugiego, czym ratował na chwilę swoje życie, topiąc tamtego. Ukułem sobie wtedy pojęcie "syndrom stonki", co oznaczało dla mnie sytuację, w której jedna osoba działa na swoją korzyść, pogrążając drugą. O ile te małe owady pozbawione są cienia refleksji, ich zachowanie ma wiele wspólnego z ludzkim.
Nie powinno wydawać się specjalnie dziwne to, że ludzie są egoistami. Tak nam dyktuje rachunek zysków i strat oraz prawa ewolucji. Z tego punktu widzenia człowiek powinien być bardziej skłonny dopchać się na siłę kolejnym ciastkiem, niż oddać je głodującemu, któremu mogłoby ono uratować życie.  W istocie wielu by tak zrobiło. Chyba, że głodujący byłby z nami jakoś… spokrewniony.
Tak właśnie mówi teoria altruizmu zakotwiczona w psychologii ewolucyjnej. Potrafimy się podzielić w jednym z dwóch przypadków. Po pierwsze wtedy, kiedy mamy nadzieję, że dana osoba odwdzięczy się tym samym w przyszłości. Rachunek jest prosty – dzisiaj ja pomogę Tobie, jutro Ty pomożesz mi. Jest to w istocie bardzo silny mechanizm. Wystarczy przypomnieć sobie, jak bardzo nie lubimy tych, którzy biorą, nic nie dając w zamian.
Drugi przypadek z pozoru też jest prosty. Mówi on o sile spokrewnienia z drugą osobą, której udzielamy pomocy.  Psycholog ewolucyjny nazwałby tę sytuację doborem krewniaczym. W tym rachunku liczy się przetrwanie genów, czyli takich małych "istot", kierujących z wewnątrz wielkimi bio-robotami – organizmami żywymi. I te geny troszczą się tylko o siebie, działając w istocie jak bakterie wg zasady mówiącej, że im więcej nas, tym lepiej dla naszych przyszłych  kopii. I te nasze geny każą nam pomagać nosicielom genów podobnym do tych, siedzących w nas samych. W skrócie – pomagamy osobom, noszącym geny podobne do nas, czyli osobom spokrewnionym z nami.
Zresztą nie tylko my, zwierzęta podobnie. Kiedy kogut dostrzega na niebie drapieżnika, może zachować się w dwojaki sposób. Kiedy dookoła nie ma innych kur, nieruchomieje i wpatruje się w potencjalnego napastnika. Kiedy jednak nie jest sam, wszczyna alarm, czym naraża się na zauważenie i atak drapieżnika. Co jest jednak ciekawe – jego reakcja jest taka sama, gdy obok znajdują się gęsi lub kaczki, lecz nie, gdy jest to przepiórka. Czy jest to altruizm? Nie, to zwykła pomyłka selekcji krewniaczej. W naturalnym środowisku kury nie mieszały się z kaczkami, więc nie było problemu, że samo podobieństwo uruchomi mechanizm nieuzasadnionego ewolucyjnie altruizmu.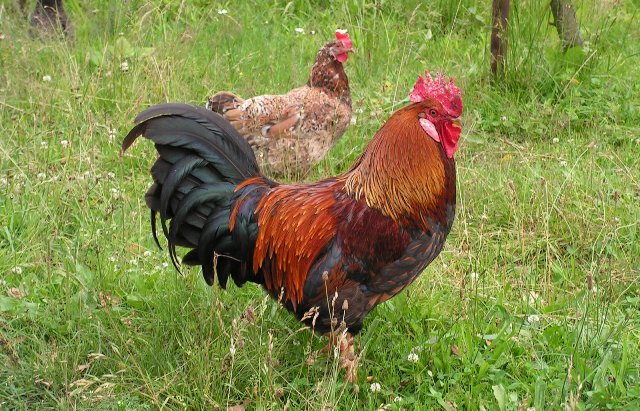 Podobnie dzieje się z ludźmi i innymi zwierzętami stadnymi. Wychowane z domach psy traktują nas jako przedstawicieli swojego stada, więc wszystkie powszechnie znane przypadki ratowania pana przez swojego czworonoga to właśnie efekt tej ewolucyjnej pomyłki. Wiedzą o tym zwłaszcza ci, którzy doświadczyli ze strony psa prób kopulacji ze swoją nogą. Jednak ten mechanizm działa i w drugą stronę – człowiek prowadzący samochód nierzadko wykonuje ryzykowne manewry na drodze, byle tylko uniknąć rozjechania wałęsającego się czworonoga. Nawet jeśli z tyłu jadą jego dzieci. Zarówno ludzie jak i zwierzęta zaliczają się błędnie do tego samego gatunku i praktykują na sobie mechanizmy selekcji krewniaczej. Szczególnie łatwo oswoić i zmylić młodego osobnika – każdego gatunku. Gdy płonie dom, zdesperowane dziecko może wejść do środka, by ratować kotka, z którym nie łączą je żadne istotne geny. Za wszystko odpowiada uproszczenie, które zakłada naturalny dla zwierząt terytorializm i instynkt stadny, czyli to, że w naszej grupie żyją tylko stworzenia z nami spokrewnione.
Brutalne? Tylko z pozoru. Zapewne nikt z czytających ten tekst nie potrafiłby spać spokojnie, jeśliby jego dzieci, siostry czy bracia umierali właśnie z głodu. A jednak gdzieś tam w Afryce czy Azji od momentu, kiedy zacząłeś czytać ten wpis, zmarło kilkadziesiąt osób. I co? I nic, bo nie byli to nasi krewni. Więc możemy dalej spać spokojnie.
Gdzieś pomiędzy naszymi własnym dziećmi i Murzynami z Afryki są jeszcze nasi kuzyni, daleka rodzina, osoby tej samej narodowości i wreszcie rasy. Nieprzypadkowo użyłem tu nieco szowinistycznie nacechowanego wyrazu "Murzyn" – jesteśmy bardziej skłonni pomóc osobie o naszym typie urody, niż "żółtkowi" czy "czarnuchowi". Tak nam każą sterujące nami geny.
**********************************************************************
13 stycznia 1982 roku w Waszyngtonie rozbił się samolot. Startujący Boeing 737 zahaczył o most i runął wprost do zamarzniętej rzeki. Większość ludzi zginęła od razu. Jednak 6 osób zdołało wydostać się z tonącego wraku i uchwycić ogona samolotu, wciąż utrzymującego się na powierzchni. Wracający z pracy do domu człowiek rzucił się do lodowatej wody na pomoc. Zwykły robotnik, pracujący fizycznie w nieodległym szpitalu dla umysłowo chorych. Po kilku metrach zatrzymały go pływające w rzece kry. Z wody wyciągnęli go przechodzący obok wojskowi, pracownicy Pentagonu. Powstrzymywali go przed ponownym wejściem do rzeki, jednak nie udało im odwieść go od kolejnej próby. Zaimprowizował linę z kabli i wskoczył ponownie do wody. Z uwagi na lód udało mu się przepłynąć tylko kilkadziesiąt metrów i jedyne co mógł zrobić, to krzyknąć tonącym, żeby się nie poddawali. O mało nie przypłacił tego życiem.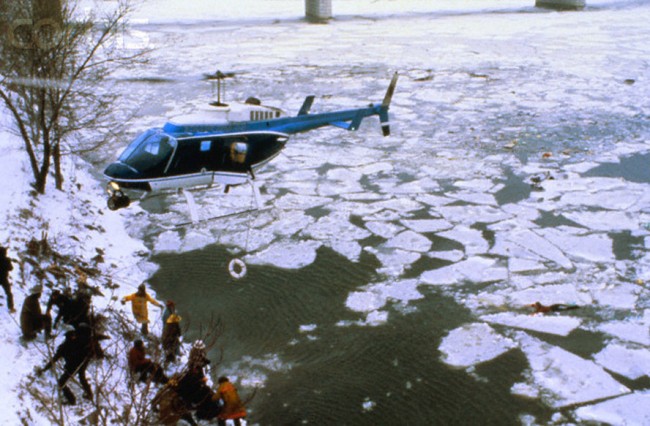 Rozbitkom nie można było skutecznie pomóc. Wysłany na ratunek helikopter, z powodu niekorzystnych warunków pogodowych, nie mógł zrobić nic innego, niż rzucić linę tonącym osobom. Ryzykując swoim życiem, pilot zniżył się do jednego z rozbitków tak bardzo, że płoza helikoptera zanurzyła się w wodzie. Kiedy pierwszy człowiek był już bezpieczny na brzegu, maszyna powróciła do tonących. Ponownie rzucono linę. Pochwycił ją niejaki Arland Williams i… wcisnął w ręce innego rozbitka. Helikopter powrócił za parę minut, a wtedy ten sam mężczyzna przywiązał do niej kolejnego człowieka – kobietę najbardziej ranną w wypadku. Ponieważ pilot miał świadomość, że kolejny raz może już nie zdążyć, rzucono także drugą linę. Ostatecznie z wody poderwano troje ludzi, ponieważ ta najbardziej ranna osoba, zdołała jeszcze chwycić kolejnego człowieka – ogarniętą paniką kobietę, która właśnie straciła męża i dziecko. Ta ostatnia nie zdołała się jednak utrzymać i po chwili wpadła znowu do lodowatej wody. Na ratunek rzucił się zwykły, wąsaty, skromny urzędniczyna, który wracał właśnie z pracy. Ryzykując własne życie, wyciągnął tonącą na ląd, czym uratował jej życie. Druga z kobiet także nie zdołała się utrzymać. Tę z kolej uratował członek załogi helikoptera, który nie zważając na ryzyko, wyskoczył z maszyny wprost do wody. Jedyną osobą, która nie przeżyła tej heroicznej akcji ratunkowej był sam Arland Williams. Ten sam, który dwa razy odmówił ratunku, ocalając tym samym życie dwojgu innych ludzi.
Czy jego geny były wadliwe? Nie ratował swoich krewnych, nie patrzył też na kolor skóry, ani kształt ich oczu. Ryzykował swoje życie, by wyciągnąć innych z opresji. Zapewne miał nadzieję na własny ratunek – wierzył zapewne, że jeszcze zdąży się uratować potem. Jednak nie zdążył i zakończył swoje życie w otmętach przerażająco zimnej wody. A jednak mógł chwycić linę i żyć – nikt nie miałby do niego najmniejszej pretensji, że sięgnął po ratunek.
Co sprawia, że jedni ludzie zachowują się jak stonki i w obliczu zagrożenia potrafią na przykład zabić i zjeść współtowarzyszy niedoli, a inni zaryzykują własne życie, by ich uratować? Zachowanie kanibali ratujących siebie kosztem innych doskonale tłumaczy teoria doboru naturalnego – przeżyją najsilniejsi. Doborem krewniaczym można wyjaśnić poświęcenie swojego życia dla rodziny, a może i narodu. Ale co tłumaczy zachowanie Williamsa, który ratował obce osoby, ponosząc przy tym śmierć? Podobnymi odruchami wykazali się i wspomniany urzędnik, który nie mniej ryzykując, wyciągnął jedną z kobiet, jak i robotnik ze szpitala, który wskoczył do wody, nie widząc nawet, komu spieszy na pomoc. Ten pierwszy pytany, jaką myśl miał w głowie, kiedy decydował się rzucić na ratunek, odpowiedział z naturalną szczerością: "ktoś musi wejść do tej wody".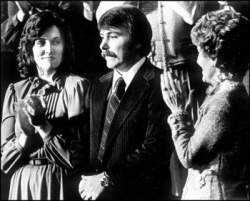 Nawet pilot śmigłowca o mało nie przypłacił swojej desperacji życiem, nie mówiąc już o jego towarzyszu, który dobrowolnie wyskoczył z maszyny na ratunek tonącej kobiecie. Co odróżnia tych ludzi od wielu innych, przyglądających się temu dramatowi z bezpiecznego brzegu? Relacje są zgodne, że najmniej pomocy udzieliły paradoksalnie służby ratownicze, czyli pogotowie ratunkowe i straż pożarna. Także zawodowi żołnierze, oficerowie z Pentagonu, wykazali się dużo większą ostrożnością w narażaniu swojego życia. Co więc warunkuje prawdziwy altruizm?
Pierwsza myśl zapewne podpowie nam, że jest to coś, co moglibyśmy nazwać "istotą człowieczeństwa", czyli tym, co odróżnia nas od zwierząt. Niestety, świadczy to tylko o tym, że nie doceniamy naszych mniejszych braci. Z przeprowadzonych już w latach 60. badań wiemy, że zwierzęta też są skłonne do altruizmu. Karmienie grupy makaków uzależniono od tego, czy były one skłonne pociągnąć za sznur powodujący wstrząs elektryczny u innej małpy. Aby była jasność – były to osobniki tego samego gatunku, ale niespokrewnione. Makaki dość szybko nauczyły się zdobywać pożywienie, jednak, kiedy pojęły, na czym polega zależność, zaczęły same się głodzić. Przy czym nie wszystkie okazały się altruistami w równym stopniu – 13% zdecydowało się najeść kosztem cierpienia innego osobnika, ale reszta (czyli aż 87%) zdecydowała się głodować. Najbardziej "ludzka"(?) z małp konsekwentnie odmawiała jedzenia przez prawie dwa tygodnie.
Doskonale widać na tym przykładzie, że altruizm nie tylko nie jest typowy jedynie dla ludzi, ale że i w przypadku zwierząt w dużym stopniu zależy od cech jednostkowych, osobowościowych. Bardziej "psychopatyczne" małpy najadały się do woli przy akompaniamencie cierpień innego nieszczęśnika, a te empatyczne wyrzekały się przyjemności, aż do granicy własnej śmierci z wycieńczenia. Niestety, nie znamy przyczyn tych różnic – czy jedne małpy były bardziej socjalizowane od drugich. Wiemy jedynie, że pozycja społeczna nie odgrywała w tym przypadku istotnej roli.
Jest jednak reguła, która wzmacnia empatię i wśród makaków i wśród ludzi. Tym czymś jest wspólnota przeżyć. Małpy, które same były uprzednio poddawane torturom, później decydowały się na pociągnięcie za sznurek powodujący wstrząs elektryczny u innego osobnika. Podobnie jest z nami – tym bardziej pomagamy innym, im bardziej się z nimi identyfikujemy. Dlatego też w działalność charytatywną często angażują się osoby, które same zaznały w swoim życiu cierpienia. To tylko jeden z czynników, ponieważ równie ważna jest konstrukcja osobowości – rodzaj używanych mechanizmów obronnych oraz jakość doświadczeń (zwłaszcza wczesnodziecięcych) z ważnymi osobami. Krótko mówiąc, cierpiący psychopata czy narcyz raczej wyprze swoje złe doświadczenia, niż zidentyfikuje się z osobami cierpiącymi z podobnych powodów i udzieli im pomocy.
Podobnie jest też z datkami charytatywnymi. Jeśli wyłączymy ich jawność (czyli efekt "lansowania się") okaże się, że bardziej skłonni do bezinteresownej ofiarności są ludzie stosunkowo niebogaci, czyli tacy, którzy żyją przeciętnie – mają co jeść, ale wiedzą, jak to jest nie mieć. Tych ludzi jednoczy wspólnota doświadczeń. Bogacze zwykle nie są tak hojni – przynajmniej jeśli porównywać proporcje między ich wpłatami, a dysponowanymi środkami. Bill Gates przez długi czas gardził filantropią. Jednak kilka lat temu razem z innymi miliarderami przekazali na cele charytatywne lwią część swoich majątków. Być może nawet w życiu bardzo bogatych ludzi przychodzi moment, w którym zdają sobie sprawę, że życie i pieniądze są ulotne. Wszystkich nas czeka śmierć i sam fakt, że nasze geny będą sobie istniały dalej, jakoś nas nie pociesza. Jedyną skuteczną drogą, aby opanować strach przed śmiercią, nie wypierając go, jest znalezienie sposobu na poczucie jedności ze światem. Niektórzy potrzebują do tego pośredniczącej idei Boga, inni mogą wprost odwołać się do ludzkości i poczuć się jej częścią. Bardziej empatyczne osoby idą nawet dalej i dostrzegają swoją wspólnotę z wszystkimi czującymi organizmami – angażują się w pomoc cierpiącym zwierzętom lub nawet przechodzą na wegetarianizm. Jako ludzie mamy to szczęście, że posiadamy w sobie cząstkę wolnej woli. Dzięki niej potrafimy częściowo stać się zbuntowanymi (bio)robotami, które nieraz z premedytacją ignorują część poleceń wydawanych przez sterujące nami geny, domagające się wyrachowanego egoizmu – własnego, rodzinnego, rasowego i gatunkowego. Być może tą drugą drogą poszedł właśnie Bill Gates, rozdając większość swojego gromadzonego latami majątku. I nawet jeśli sam altruizm jest tylko pomyłką nastawionej na promocję własnych genów ewolucji, to chyba lepiej, abyśmy byli bliżej głodującego makaka, niż bezrefleksyjnej stonki.
PS. Skoro już o altruizmie mowa, to chciałbym tu wspomnieć o swojej nadziei na Waszą pomoc. Pół roku temu założyłem zbiórkę na portalu foundrisingowym  - takim do zbierania pieniędzy na szlachetne cele. Liczyłem, że poświęcając swój czas (na ten post na przykład dwa pełne wieczory), dam radę uzbierać z pomocą czytelników tego bloga przynajmniej część pieniędzy potrzebnych na wózek inwalidzki dla pewnego człowieka, którego spotkało życiowe nieszczęście. Założyłem sobie, że do mikołajek uzbieram tysiąc złotych, przy czym sam włożyłem pierwsze 50. Niestety, mając powiedzmy 200 stałych czytelników, nie dałem rady uzbierać nawet połowy tej kwoty, choć wychodziłoby mniej niż 5 zł na głowę. Trochę to dla mnie przykre, ponieważ pisząc, staram się dawać Wam coś od siebie, angażując w to wiele czasu. Liczyłem, że może dorzucicie parę złotych do wózka dla Michała w ramach rewanżu. Parę osób faktycznie wpłaciło i za to moje wyrazy uznania dla nich. Przedłużyłem zbiórkę do świąt – dajcie mi, proszę, nieco motywacji do dalszego pisania, a Michałowi pokażcie, że na ludzi można liczyć – przynajmniej na niektórych.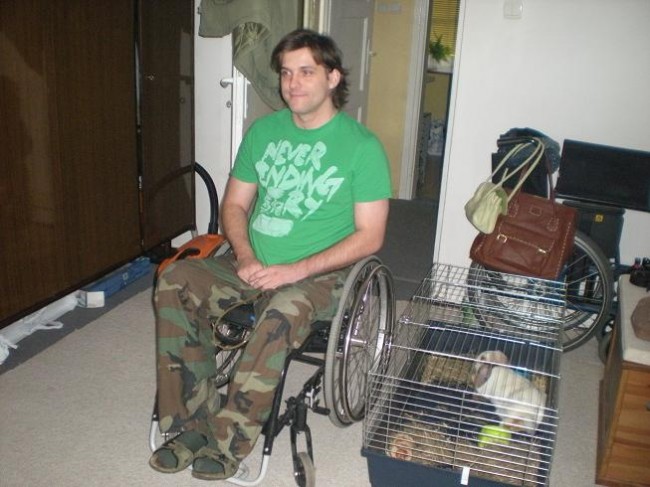 .
.