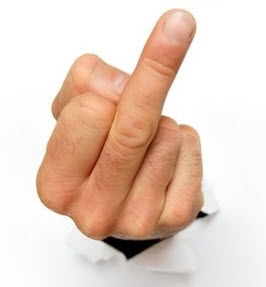 Penis, chuj, kutas, fujara. Te i parę innych eufemizmów opisują ten sam narząd. To niezwykle ważna część ciała każdego mężczyzny, o czym świadczą m.in. męskie porównania prowadzące niejednokrotnie do życiowych kompleksów. Niezbyt artystyczne podobizny męskich członków "zdobią" też niejedna szkolną ławkę i przystanek autobusowy. Choć żyjemy w czasach rozwiniętej cywilizacji, wciąż tkwią w nas zwierzęce instynkty. Dlatego, choć nieświadomie, wciąż bardzo często wymachujemy swoimi penisami przed nosem innych ludzi.
Choć na co dzień chodzimy dość szczelnie ubrani, to jednak pewnych instynktów nie da się zabić, można je co najwyżej sublimować. Nasi przodkowie, tak jak niektóre współczesne małpy, regulowali swoje stosunki dość dosłownie – jeden pieprzył drugiego. Przy czym ten pieprzony był zawsze na niższej pozycji w stadzie niż pieprzący. Pisałem o tym już poprzednio w tekście "Chuj ci w dupę", jednak nie zmieściłem wtedy pewnego istotnego wątku – gestów.
Tak więc kiedyś świat był prosty – dominujący samiec dosłownie dymał słabszego i żadne napisy na murach nie były potrzebne, żeby podkreślić, kto tu jest ważniejszy. Niestety, kultura trochę nam pokomplikowała życie za sprawą ubrań i zakazów seksualnych. Wciąż jednak wysyłamy jednoznaczne komunikaty mówiąc "chuj ci w dupę", "jebać Legię/policję/PZPN", "pierdol się" itp.
Człowiek jest w końcu istotą skupiającą się na doznaniach wzrokowych, więc nasze penisy wysyłane "w dupę" adwersarza mają także swoją namacalną postać. Staje się nią stosownie użyty… palec.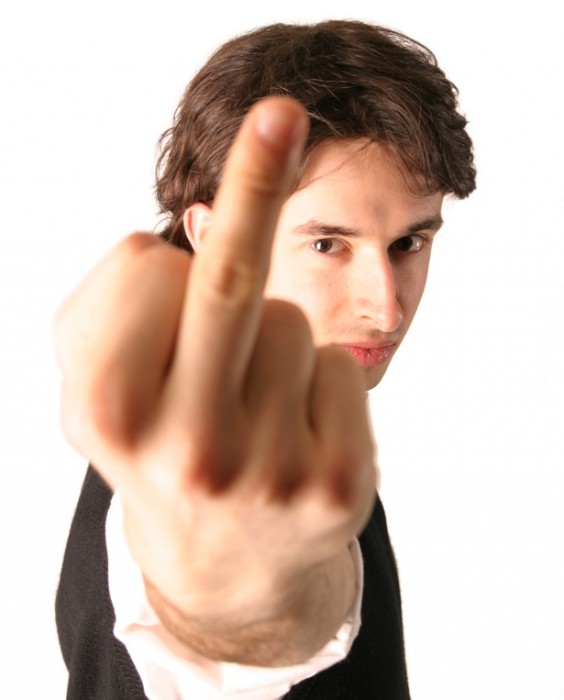 Najbardziej oczywisty gest to rzecz jasna popularny "fuck". Jego kształt nie pozostawia wiele złudzeń – to po prostu odwzorowanie sterczącego penisa. Pełnię alegorii można zobaczyć w popularnym w kulturze anglosaskiej dodatkowym potrząsani ręką w górę i w dół – to właśnie odpowiednik pieprzenia kogoś, poddany uprzednio stosownej sublimacji.
To jednak tylko część penisów, którymi machamy na co dzień. Przypomnijmy sobie, jaki gest wykonujemy grożąc komuś. Potrząsanie palcem to symboliczne grożenie agresją, która na skutek testosteronu jest biologicznie przypisana mężczyznom. A że symbolem męskości jest członek, to gest ten jest niczym innym jak wymachiwaniem penisem, którego w zastępstwie reprezentuje palec.
Tu dochodzimy to pewnego trudnego tematu – wielkości przyrodzenia. Ponieważ jest ono kojarzone z męskością, jego gabaryty stają się odzwierciedleniem tej analogii. Faktycznie we wszystkich kulturach penis jest kojarzony z płodnością i siłą. Na przykład w Wielkiej Brytanii swoim przyrodzeniem epatuje "Olbrzym z Cerne Abbas". Co się rzuca w oczy na tym wizerunku, to z pewnością pała i to niejedna. Nie wiadomo dokładnie, kiedy i z jakich pobudek powstało powyższe dzieło, jednak jego kultowa forma jest oczywista. Ogniskuje się w nim męska siła, witalność, waleczność, wyrażane przez broń, muskuły i… wielkie, sterczące przyrodzenie.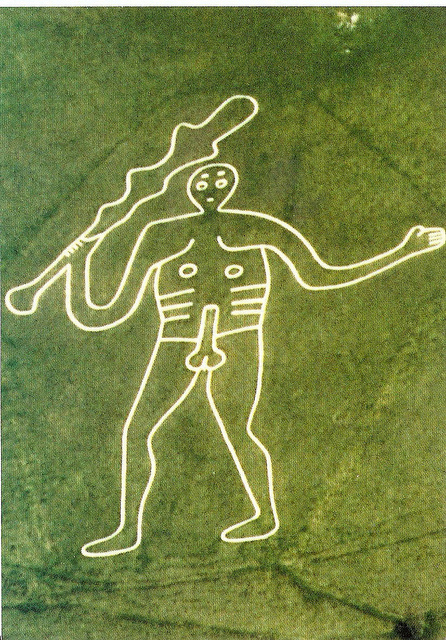 Jednakże myliłby się ten, kto łączyłby męskiego członka tylko z agresją. Symbolika sterczącego penisa może być też jak najbardziej pozytywna – wtedy wzwód oznacza witalność i jest radosną afirmacją życia. Gest uniesionego kciuka to właśnie odzwierciedlenie tej pozytywnej roli męskiego członka. Męska potencja to w tym kontekście potencjał do życia – "wszystko działa, jest dobrze" to przekaz tego gestu. Ciekawostką jest jednak, że nie zawsze tak było. Początkowo wyciągnięty kciuk był gestem znanym z aren walk gladiatorów. Jednak w starożytnym Rzymie jego znaczenie było… odwrotne. Gest uniesionego do góry kciuka oznaczał "tak, zabij go" – był to więc penis oznaczający agresję. Ale jednocześnie też przepowiadał radość spragnionego krwi tłumu. Tak więc cesarz lub gubernator pokazujący gest uniesionego kciuka, decydował w ten sposób o śmierci, a nie przeżyciu, pokonanego. Drogi rozumienia tego gestu rozeszły się w zależności od kultury i dzisiaj w Grecji znaczy on tyle, co dla nas wyciągnięty palec środkowy – "pierdolę cię" i dalej ma znaczenie agresywne. Jednak niezależnie od kultury samotny palec oznacza sublimację męskiego penisa. Różnica polega tylko na interpretacji przyczyn jego "wzwodu" – czy jest to radosne sterczenie świadczące o dobrej kondycji, czy jednak chęć podporządkowania sobie (odbytnicy) rywala.
Świadomość roli palca w gestykulacji może okazać się przydatna do oceny czyjegoś nastawiania. Nie wszystkie gesty są na tyle ostentacyjne, by angażować całe ręce. Niektóre wykonujemy nieświadomie, wciąż jednak czerpiąc z ich źródła. Dla przykładu możemy odwołać się do sposobu trzymania rąk w kieszeniach. Zupełnie inny sygnał wysyła ktoś chowający dłonie w pełni, a inny ktoś, kto wystawia ze spodni kciuki. W tym znaczeniu kciuk to ciągle odpowiednik penisa i eksponowanie go świadczy o pewności siebie i zdecydowaniu.
Interpretując gesty trzeba jednak umieć odróżnić te, wynikające z nieświadomych atawistycznych tendencji, jak symbolika penisa, od tych, które są dziedzictwem kultury. W krajach anglosaskich na przykład jako "pierdol się" występuje też gest uniesionych dwóch palców – wskazującego i środkowego. Nie chodzi tu seks grupowy z udziałem penisa kolegi, ale o przekaz wywodzący się jeszcze ze średniowiecza. Złapanych do niewoli angielskich łuczników okaleczano wtedy obcięciem dwóch palców, by uniemożliwić im strzelanie. Zatem ci, którzy byli jeszcze pełnosprawni, pokazywali ten gest swoim wrogom, sugerując w ten sposób – "pierdol się, dalej mam dwa palce". Podobnie gest "wiktorii", typowy dla naszej polskiej Solidarności. Jest on tylko symbolem litery "V", pierwszej w wyrazie "victoria", czyli "zwycięstwo".
Wracając jednak do penisa i jego symboliki. Wydawać by się mogło, że nie ma lepszego zastępstwa męskiego członka niż palec. Wbrew pozorom jest i – jak pokazał w 1980 roku na olimpiadzie w Moskwie Władysław Kozakiewicz – jest to gest całkiem uniwersalny. W Polsce nazywa się potocznie "wał". Nie wiem, jak nazywa się w innych częściach świata i czy w ogóle jest spotykany, prawdą jest jednak, że radzieckie władze domagały się odebrania polskiemu tyczkarzowi medalu i dożywotniej dyskwalifikacji "za obrazę narodu radzieckiego". Widocznie charakterystycznie zgięte przedramię nie pozostawiało Rosjanom wątpliwości, o jaki przekaz chodzi. Zapewne innym narodom także, ponieważ zdjęcie Kozakiewicza pokazującemu widowni, co o niej sądzi, obiegło cały świat. Czy w głowie widzących go pojawił się wyraz "penis" lub "pieprzyć"? Pewnie nie, ale przecież na tym polega siła zbiorowej nieświadomości, że nie trzeba rozumieć źródła, by bezbłędnie odczytać znaczenie gestu. Także "gestu Kozakiewicza".
Zygmunt Freud w swoich pismach mówił o dwóch wielkich popędach – życia, czyli libido, i o popędzie śmierci, czyli o agresji. Jest to oczywiście tylko część prawdy o psychice człowieka, jednak kiedy zdamy sobie sprawę, jak pierwotna jest to część naszej natury, zaczniemy dziękować losowi, że urodziliśmy się w czasach, w których penis naszego adwersarza został zredukowany do zawieszonego w powietrzu palca, zostawiając nasze kiszki odchodowe w błogim spokoju.
PS. Więcej gestów i informacji o nich zamieszczę w notkach na Facebooku – link do fanpage`a Trzeciego dna znajduje się w boksie po prawej lub na górze pod ikoną "dołącz". Polecam dopisanie się do konta – postaram się wrzucać na Facebooka różne dodatkowe informacje, które nie zmieściły się w tradycyjnych wpisach na blogu.