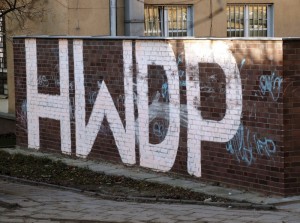 Ile razy widziałeś na murze wymowny napis HWDP (nie do końca poprawny skrót od "Chuj w dupę policji") czy modne ostatnio JP ("Jebać policję")? Jeśli nie żyjesz w jakimś getcie dla wyższych sfer, to na pewno często. Czy jednak kiedykolwiek zastanawiałeś się, co on naprawdę znaczy i co faktycznie kierowało osobą trzymająca puszkę ze sprejem?
Raczej nikt z piszących nie miał na myśli chęci odbycia faktycznych kontaktów seksualnych ze stróżami prawa. Ale czy na pewno?
Homoseksualizm nie jest obcy ani naszym ludzkim przodkom, ani małpim kuzynom. W języku prymatologów (badaczy małp naczelnych) nazywa się on "dosiadaniem". Dominujący w danej relacji samiec chwyta podwładnego od tyłu i wykonuje kilka pchnięć biodrami. Nie jest to kopulacja jedynie dla seksualnie przyjemności, bo w większości wypadków są to jednak symboliczne gesty – nie dochodzi do penetracji ani orgazmu – szkoda cennej spermy.
W ten sposób małpy regulują swoją hierarchię dominacyjną. Ktoś silniejszy, stojący wyżej w stadzie, może dymać każdego stojącego niżej. I z reguły regularnie to robi, żeby podległy samiec pamiętał, gdzie jego miejsce. Osobnik Alfa regularnie dosiada wszystkich innych ze swojego stada. Dokładnie to samo robi oczywiście z małpimi kobietami, ale to już zupełnie inna relacja, bo nawet ostatni samiec w grupie ma wyższą pozycję niż najsilniejsza samica. Dlatego też u naczelnych (więc i u ludzi) wykształcił się mechanizm dosiadania. Z natury rzeczy gwałci się samice, które niejako z automatu podległe są wszystkim dorosłym samcom. U szympansów gwałt i stosunek seksualny praktycznie zlewają się. Dość powiedzieć, że z szympansem dzielimy 99,6% aktywnych genów, a sam szympans jest bliżej spokrewniony z człowiekiem niż każdą inną małpą (tak więc, Drogi Czytelniku, bliżej Ci do szympansa, niż szympansowi do goryla).
Także u ludzi występuje dosiadanie i to jak najbardziej seksualne. Na przykład legendarne gwałty więzienne. Największy bandzior mógłby z powodzeniem ulżyć sobie dzięki masturbacji, ale często wybiera stosunek analny. Czy jest on przyjemniejszy? Trudno powiedzieć, ale jedno jest pewne – ustanawia on w ten sposób hierarchię dominacyjną. Gwałcący zawsze stoi w niej wyżej niż gwałcony, nazywany pogardliwie "cwelem".
Czy taki więzienny samiec Alfa uważa się za geja? Bynajmniej, uważa się za prawdziwego mężczyznę. Co więcej, za geja uważa się często osobę gwałconą. Jest to szczególnie widoczne w kulturach islamskich, gdzie napiętnowani są tylko pasywni partnerzy tej "interakcji". Prawdopodobnie to jedna z przyczyn tak dużej, w pewnych kręgach, niechęci do homoseksualistów – gejem jest ten, który "daje dupy", czyli jest miękki, podległy innym. A twardziele gardzą mięczakami.
Wciąż głęboko w nas drzemie dziedzictwo dzikich przodków. Obecnie zakryła je kultura i nie okazujemy już seksualności tak jawnie jak kiedyś. Teraz to temat tabu, a do tego samo dosiadanie byłoby trudne technicznie w dobie spodni i bielizny – małpy mają pod tym względem zdecydowanie prościej. Jednak nie da się wyrugować tego, co przez miliony lat wtłoczyła nam w geny ewolucja. Możemy jedynie sublimować swoje nieakceptowane popędy. I cały czas to robimy, tyle że nieświadomie.
Zamiast czynów używamy słów. HWDP znaczy tyle, co "to my tutaj rządzimy", ale w ukrytym domyśle ten komunikat ma ciąg dalszy: "… i gdybyśmy żyli tak jak nasi przodkowie, to zruchalibyśmy was w dupę, cwele!"
Jeśli przyjrzymy się strukturze przekleństw, to okaże się, że bez względu na kulturę antropologiczny przekaz jest ten sam i dotyczy dominacji, czyli dosiadania. Anglicy, kiedy chcą kogoś upokorzyć, mówią "fuck you", czyli "pierdolę cię". Rosjanie są nieco wygodniejsi i domagają się uległej współpracy "paszoł na chuj", czyli "wskakuj na dzidę". Polacy informują kogoś, że "chuj mu w dupę" – w antropologicznym domyśle chuj wypowiadającego te słowa.
Mniej wulgarne, ale nie mniej wymowne, są wyrazy typu "dupek" (ktoś, kto daje dupy), czy angielskie "asshole", czyli "dziura w dupie". No i oczywiście "ty cwelu", co ma dokładnie ten sam kontekst. Podobnie należy rozumieć sentencje "dałem dupy" ("nie wykazałem się siłą i dominacją"), czy "wyruchałem kogoś w dupę" (byłem od kogoś lepszy, zdominowałem go").
Tytułowa sentencja "chuj ci w dupę", przetłumaczona na język antropologii kulturowej, znaczy więc tyle, co "to ja tutaj rządzę i jestem ważniejszy od ciebie". Choć zapewne nie tylko profesor Miodek uznałby, że można wyrazić ten sam sens piękniejszą polszczyzną, to czasem jednak wolimy lapidarną dosadność.
Zbytnia dosadność bywa jednak zabójcza. Być może pamiętacie słynną sprawę gwałtu butelką. Pięciu wyrostków zaczepiło na przystanku spokojnego chłopaka i ostatecznie wepchnęli mu butelkę w odbyt. Po przeczytaniu poprzednich akapitów, chyba już możecie się domyślić czemu…
Gwałty analne na mężczyznach nie są ograniczone tylko do środowiska niewykształconych małolatów. Bardzo podobnego czynu dopuścił się książę Dubaju, które imię nosi najwyższy obecnie budynek świata. Z pewnością jest to osoba wykształcona i obyta na salonach. A jednak zgwałcił swojego dłużnika metalową pałką.
Ludzie są zwierzętami. Ale z reguły jakoś sobie z tym radzimy. Wykształciliśmy wspaniałą kulturę, która całkiem nieźle tłumi w nas to, co złe i okrutne, a rozwija prawdziwie ludzkie wartości – altruizm, wyrozumiałość, litość i sprawiedliwość. Tak długo, dopóki nasza ciemna strona będzie sublimowana przez słowa, jesteśmy bezpieczni przed nami samymi. Dlatego, kiedy następnym razem zobaczysz poczciwe w gruncie rzeczy "HWDP", pamiętaj, że w tej formie to tylko niegroźne cienie naszych zapomnianych przodków.
Wpis na ten sam temat: Penis na wyciągnięcie ręki